DE SPOTLIGHT INTERVIEW with interior designer Sarah Sham, principal designer at Essajees Atelier, Mumbai, India.
SARAH SHAM is a Mumbai based interior designer who has become one of the top young designers to be followed today in India..
DE Editor in chief Anirudh Datta had a detailed interaction with the designer for the DE Spotlight interview series where Sarah talks about her design journey and shares her latest home interiors project for our "beautiful homes edition" – The Park by Lodha a fun, bright & colourful apartment in Mumbai.
The interior design arm of Essajees, a 106-year-old company, Essajees Atelier was established in 2014 by Sarah Sham as an independent design practice founded on the legacy and ethos of the Essajees brand.
Up there among Mumbai's best, Essajees deals with art, antiques, and collectibles apart from custom-made flooring and high-end furniture. Some of the clients that Essajees services include the Reliance Group, Taj Hotels around India, the GVK family, Gautam Singhania and the Birla family amongst many others.
Essajees Atelier is a small team of very dedicated professionals who ensure that every project is overseen with detail, care and utmost personal attention. Essajees Atelier has successfully completed more than 40 residential and commercial projects. Essajees Atelier was awarded the Best Interior Design award at WadE Asia, a women powered design awards ceremony that celebrates women designers. She also was awarded Pool Magazine's Best Design Award for her project 266 The Wine Room and Bar. She has also been awarded as one of India's top 100 Designers, amongst many others.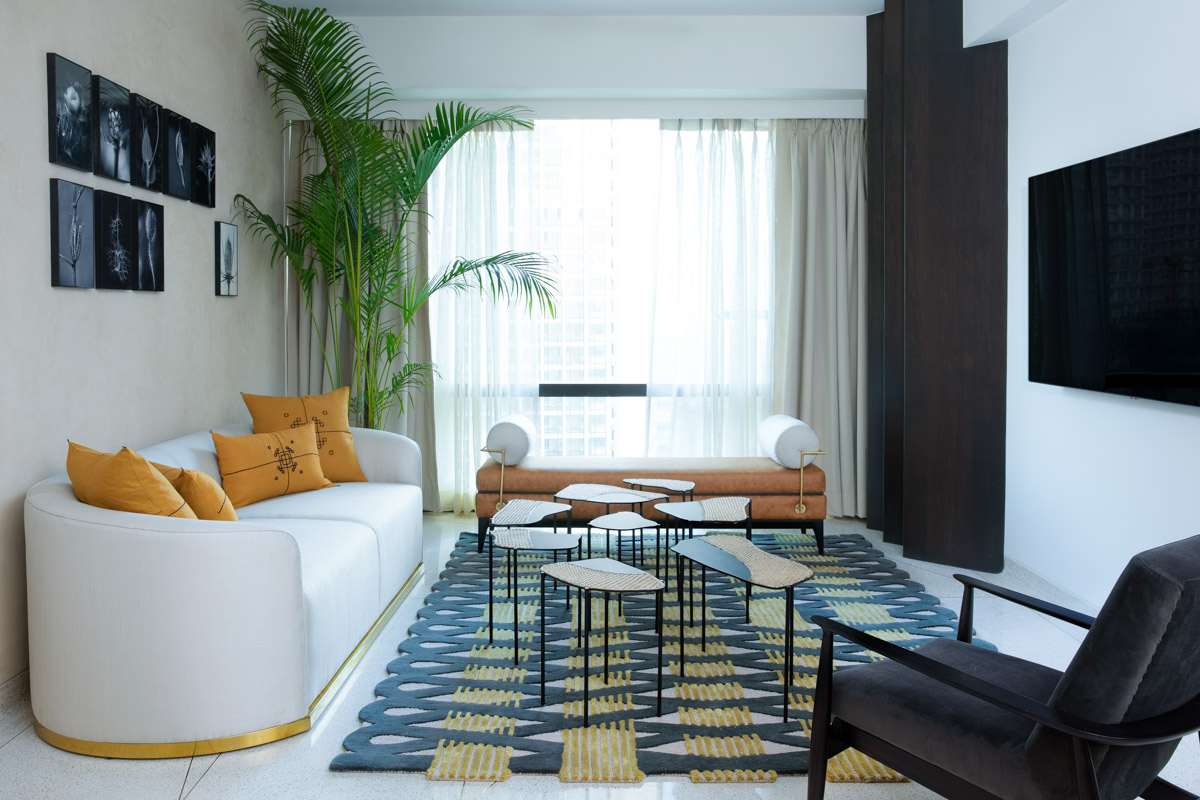 Furniture, design and floor spaces aside, Sarah is a fitness enthusiast and hits the gym at every given chance. She is also a pet-parent to a dog and a cat, between whom she juggles her time at home Sarah talks about her design journey and shares her latest residential interior project for our DE "beautiful homes edition". Sarah also shares her idea for a perfect home and gives tips about sustainable approach in interior design.
AD : What inspired you to pursue a career in Design?
SS : It all happened by chance, I never planned to be an interior designer, however growing up in a fourth generation furniture and antiques company definitely left me with a deep sense of love and appreciation for all things design.
AD : How have you been coping up with this lockdown to stay creative at home? How was this at home experience with family?
SS : It's been really hard staying creative at home, but thankfully my team has been extremely supportive and we have had a lot of fun all together in this lockdown brainstorming. The first lockdown was almost easier, there was a sense of optimism, this time around with lockdown 2.0; I am feeling a real lack of positivity all around, so as a studio we are trying our best to motivate each other as much as possible and focus on churning out the best designs we have ever done.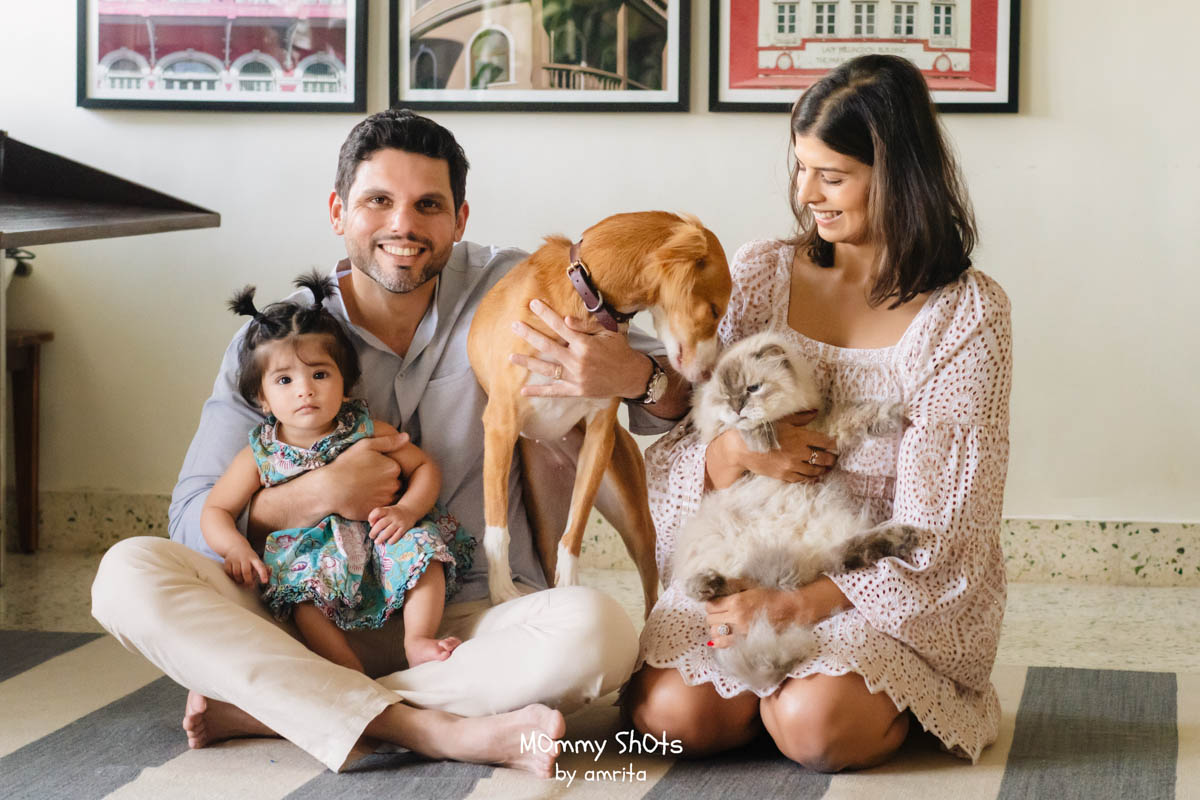 AD : What is your definition of a perfect "home" not as a designer but as a client?
SS : Any space that a home owner feels happy in, is home.
AD : This edition is about celebrating the importance of our Homes, staying indoors safe in this pandemic made us connect with our homes more than ever. How would you define your process to design a home that transforms the living of the resident?
SS : Design is all about improving the way you live your everyday life and enhancing the functionality of it. We get a full sense of all of our clients habits and preferences at home before we start designing so we can make them love their home even more.
AD : You're most proud – favorite house you designed till now? Anything specific you like to share about this project that makes it special for you?
SS : My parent's home, which I designed for them as a going-away present before I got married. We had so much fun designing this and its one of the few projects I get to live in and enjoy all the time, unlike all the other spaces I have done.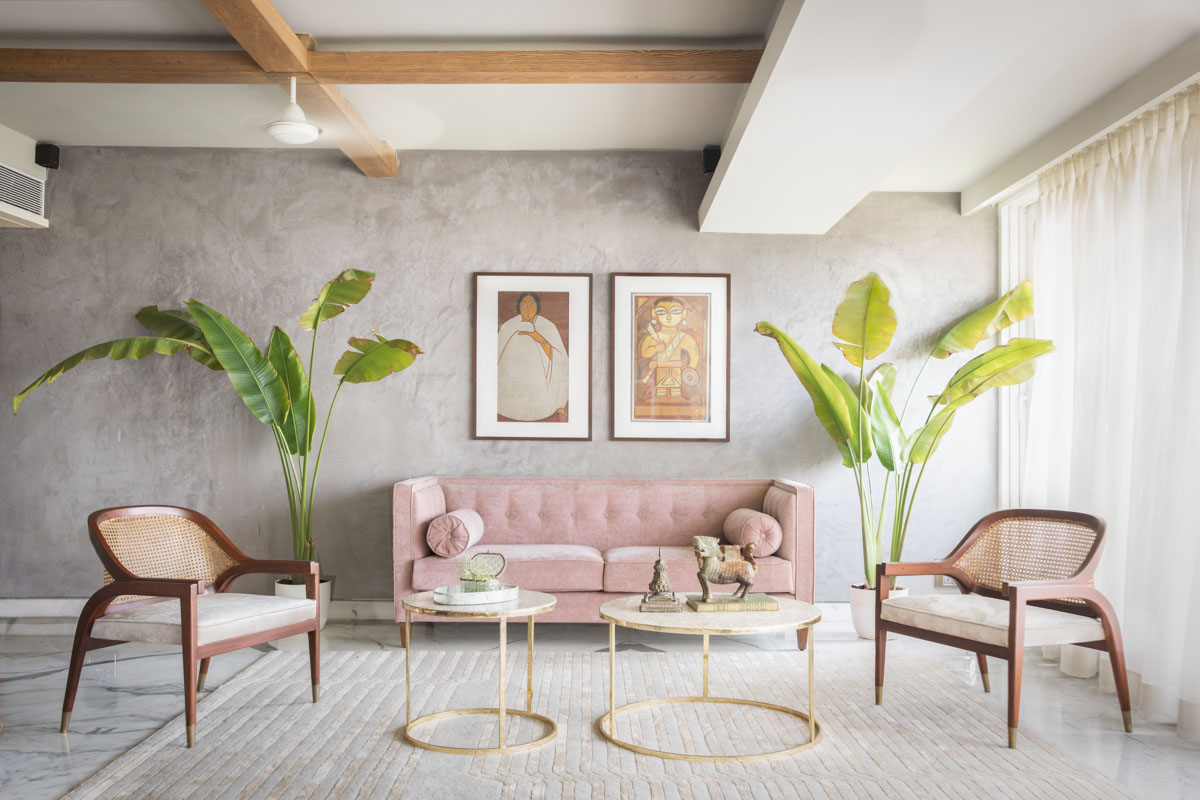 AD : your latest residential interiors – Park by Lodha, Mumbai. Tell us something about this project.
SS : When we saw this home for the first time it looked exactly like any other builder finished apartment. While it was a three bedroom house all of the rooms seemed extremely small and extremely cramped. We were wondering what we could do to make sure that this house looked completely individual and completely unique to all of the other hundreds of apartments that were there in the same complex. Our client is the owner of Bharat tiles, and we really wanted to find a way to include his beautiful tiles into the design of the space. For the living room area we used terrazzo with brass accents in the flooring. For the daughters bedroom we used a colourful hexagon flooring with a floating bed from the ceiling. For the sons bedroom we use accents of grey red and white which are all of his favourite colours. For the master bedroom we used a custom-made did as a headboard which we pasted onto the wall and which was made specially for this project in black and white terrazzo with a wood flooring. While the apartment is extremely small we would like to think that we have made it look spacious bright colourful and have a lot of elements of fun within the space.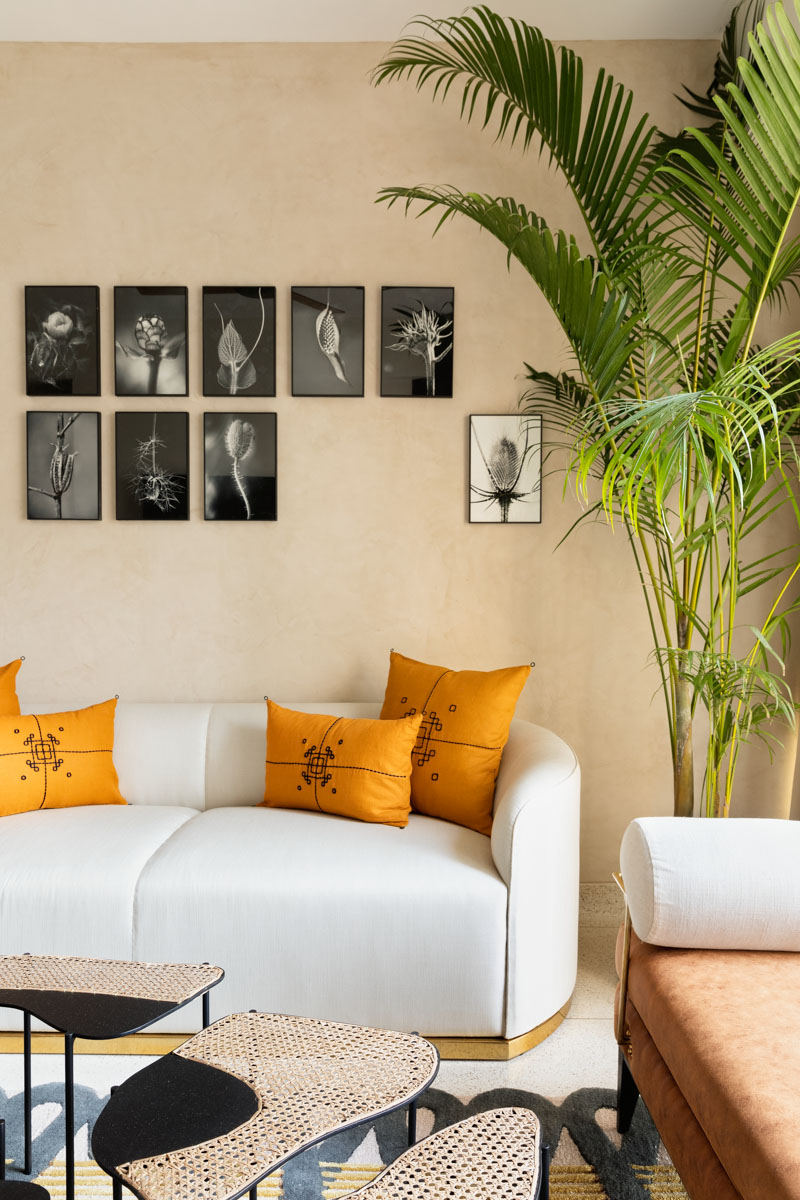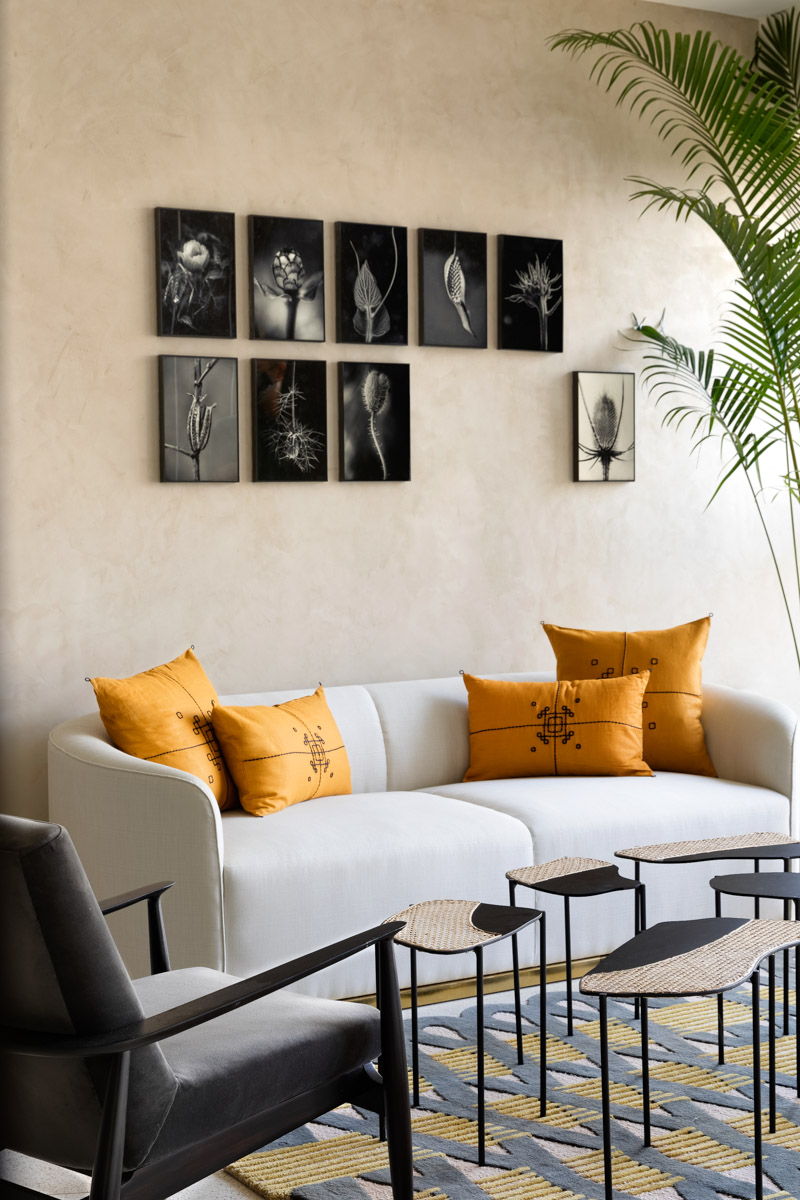 AD : What would you say is your favorite design element of this home?
SS : I love the maximisation of space in what is a very small apartment layout.
AD : The world is now slowly realising the seriousness about climate change. What is your take on sustainable practice in interior design today? How can one achieve and contribute to it with respect to interior design as designers?
SS : The problem in our industry is that there are a lot of materials that are not sustainable that are predominantly available and those that are sustainable are perceived as more expensive. As a whole, every single material and the entire industry needs to go through an overhaul where the selling or use of such materials should be completely banned. The need of the hour is to move towards a greener way to build homes, and if there are so few restrictions or regulations on what is sold and available then consumers tend to go for what is cheapest or most readily available and that is a large issue.
Read the full interview below in our DE magazine Edition.
check out the above full story in our
DE MAY-JUN 2021 Edition  ; introducing the Beautiful Homes edition!!
#LetsTalkDesign