Hardesh Chawla & Monica Chawla, the principal designers at Essentia Environments, Gurgaon founded in 1999. Monica & Hardesh have been designing and building dream spaces for their clients and have in the process redefined elegant luxury.
DE Editor in chief Anirudh Datta had a detailed interaction with the designers for the DE Spotlight interview series where Hardesh and Monica talk about their design journey at Essentia Environments and share their latest residence with DE INDIA.
Essentia Environments embodies global refinement and an indigenous design sense reflective of the contemporary & classic designs from the world of interiors. the creative calling of leading interior design duo Monica and Hardesh Chawla – Essentia Environments is India's premier design and build company that also happens to be one of the most innovative. The design duo founded Essentia Environments in 1999 with the object of carrying out the business of interior design, turnkey execution, manufacturing and supplying furniture and home decor accessories to their discerning clients.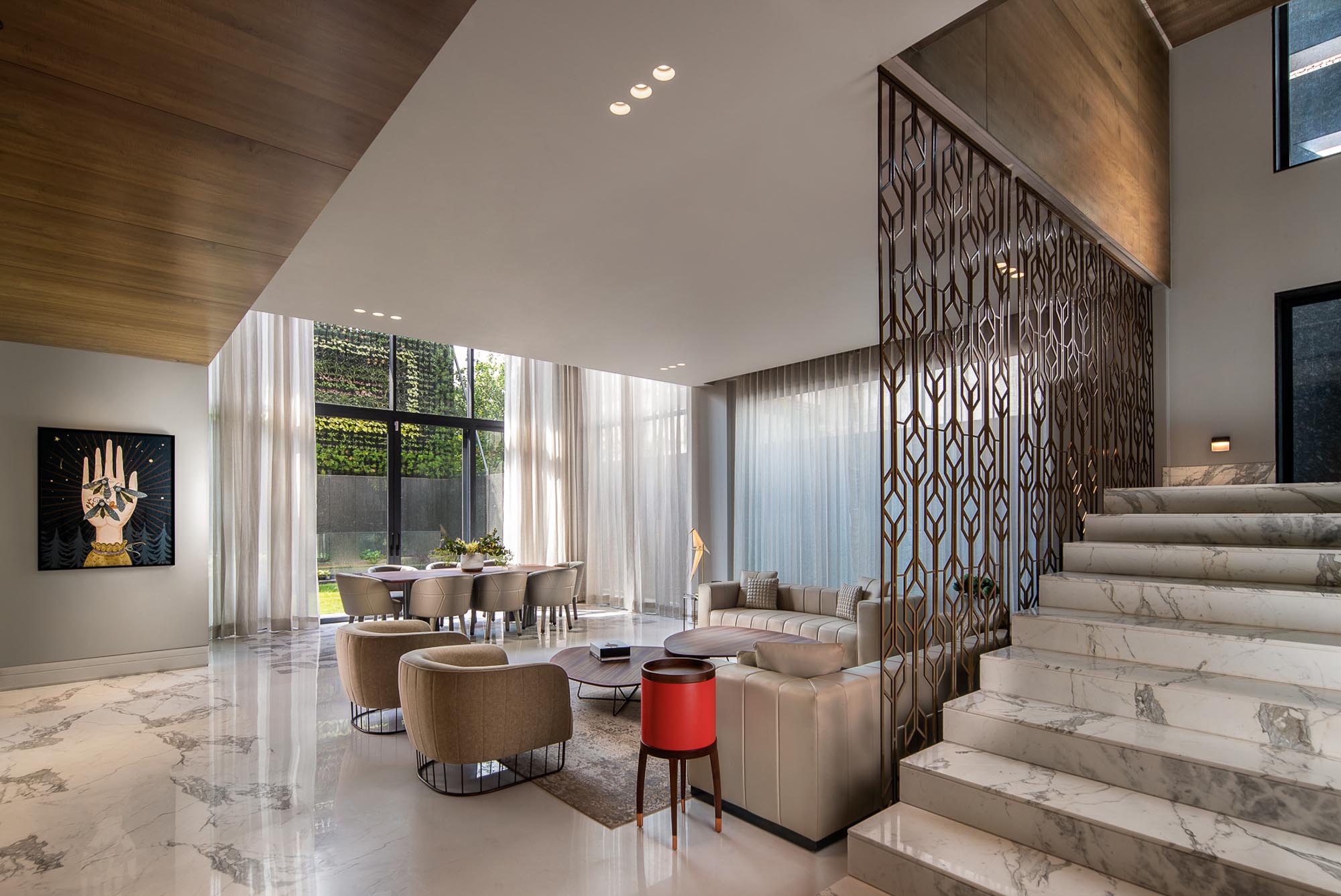 AD : What inspired you to pursue a career in Design?
Hardesh : For me it was purely a business decision. We had set up a business in Russia, mainly focusing on commercial buildings, we decided to move to India and pursue the same line. We built our firm here, growing it incrementally and gradually, starting with commercial projects, then moving on to office and residential projects, which expanded overseas. We also started designing and manufacturing furniture, doors, kitchens, and all the paraphernalia needed for our projects, which has also flourished. Our diverse range of products is now available for customisation by architects and interior designers.
Monica : For me it was more a creative call. I have enjoyed beautifying and decorating spaces from an early age. Having worked in creative areas like graphic designing and advertising, interior decoration and styling seemed like a natural progression.
AD : What is your definition of a perfect "home", not as a designer but as a client?
Hardesh : Whether as a designer or a client, the definition of home would be the same. A perfect home is where your loved ones live. But most importantly, it should be functional, and suit your lifestyle perfectly. However beautiful it looks, if it doesn't manage your daily requirements, it doesn't fulfil the definition of a home. At the same time, in order to fulfil all attributes, it should not put you in financial stress. Then it is not perfect. A perfect home should be within your budget, offering maximum comfort, functionality and aesthetics.
Monica : A perfect home should be a place you long to return to at the end of the day, and it should offer you the calm and peace you crave. It should also evoke a sense of novelty and beauty, so that you feel house proud, and want to invite friends over to flaunt it.
AD : This pandemic made us connect with our homes more than ever. How would you define your process to design a home that transforms the living of the resident?
Hardesh : Since everyone needed to stay home for an extended period of time, it was imperative that the home needed to be self-sufficient, with everyone having his/her own private space. People are exploring whatever amenities they feel are needed –swimming pool, gym, a painting studio to indulge in their hobby, etc. Home offices have become common. Also, people want to prepare themselves better for future eventualities by fitting their homes with better ventilation and filtration of air. Earlier clients were not so involved in these kinds of matters, but they are now particular about air circulation within the homes. Also, since you can't go out for entertainment, today everyone wants a home theatre. Our efforts are tuned towards offering everything the clients want.
Monica : At Essentia Environments, our endeavour has always been to create homes that fulfill all the aspirations of our clients, even those unexpressed by them. With lots of greenery, open spaces, good views, etc, we design homes that resemble calming retreats that the owners want to come home to. The serene environments that we create are also very functional to live, work and entertain in. So I believe our homes have served their owners really well during these tough times.
AD : Tell us something about your latest completed residence project. What was the concept that you followed to design this beautiful abode?
Hardesh : Jain Residence; a modern contemporary home for a young family designed to suit their unique needs. We had earlier designed their parents' home in Shantiniketan, Delhi. We designed and built the bungalow, and did the interior design. The layout is planned around open-to-sky gardens, landscaped courtyards and ingressed green bodies. So you have great green views out of each window.
Monica : It's a very functional home with minimal aesthetics that leaves a timeless impression. It has an abundance of greenery all around that connects the owners with the natural world and creates discreet privacy from the busy neighbourhood.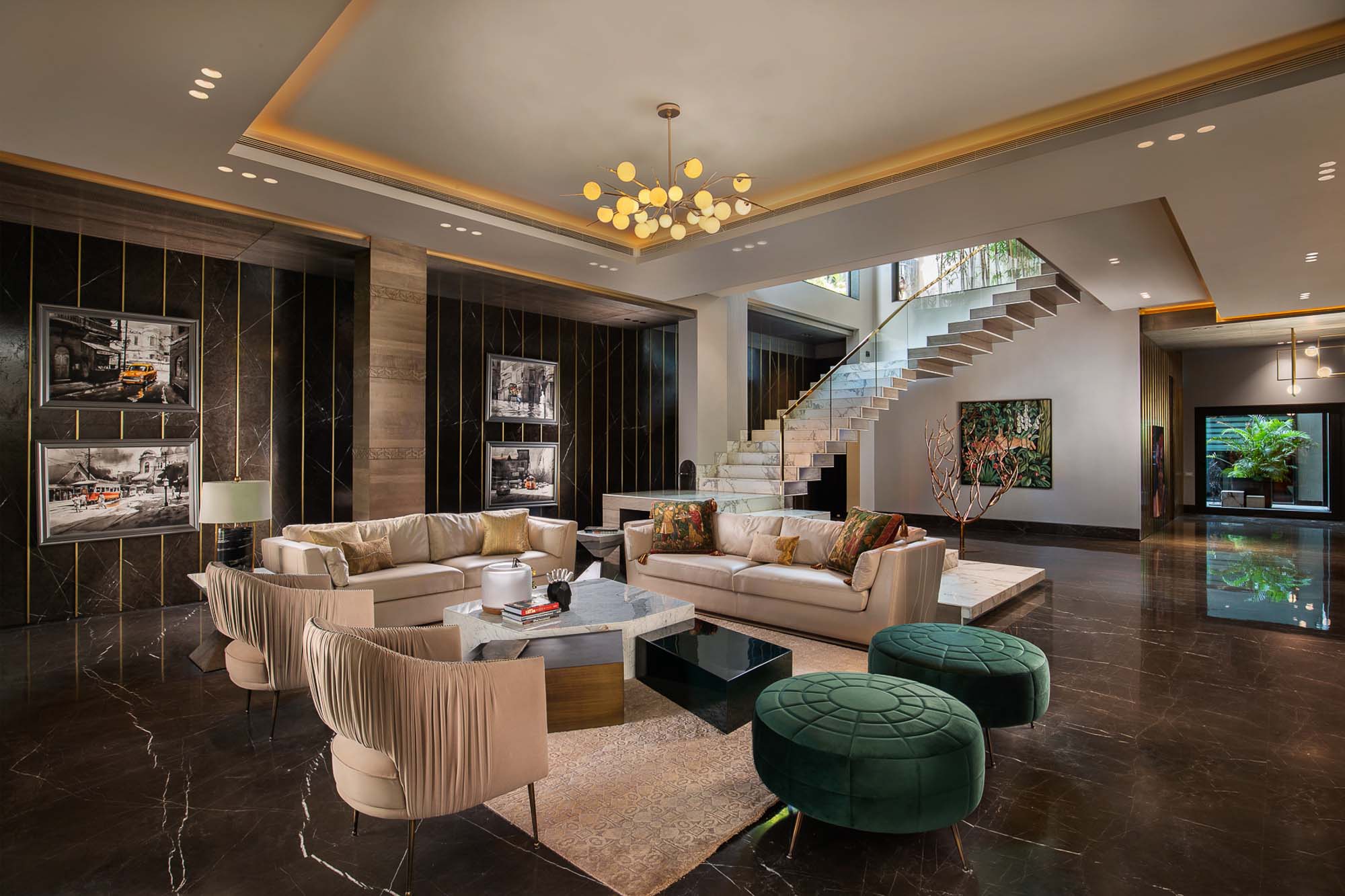 AD : What were your favourite elements that you adore the most from this beautiful residence in Gurugram?
Hardesh : For me, it is the overall feel of the home filled with abundant sunlight, with greenery all around creating privacy.
Monica : The skylight in the master bathroom, just above the tub, through which you can gaze out into the sky while enjoying a relaxing bath – that's my favourite element.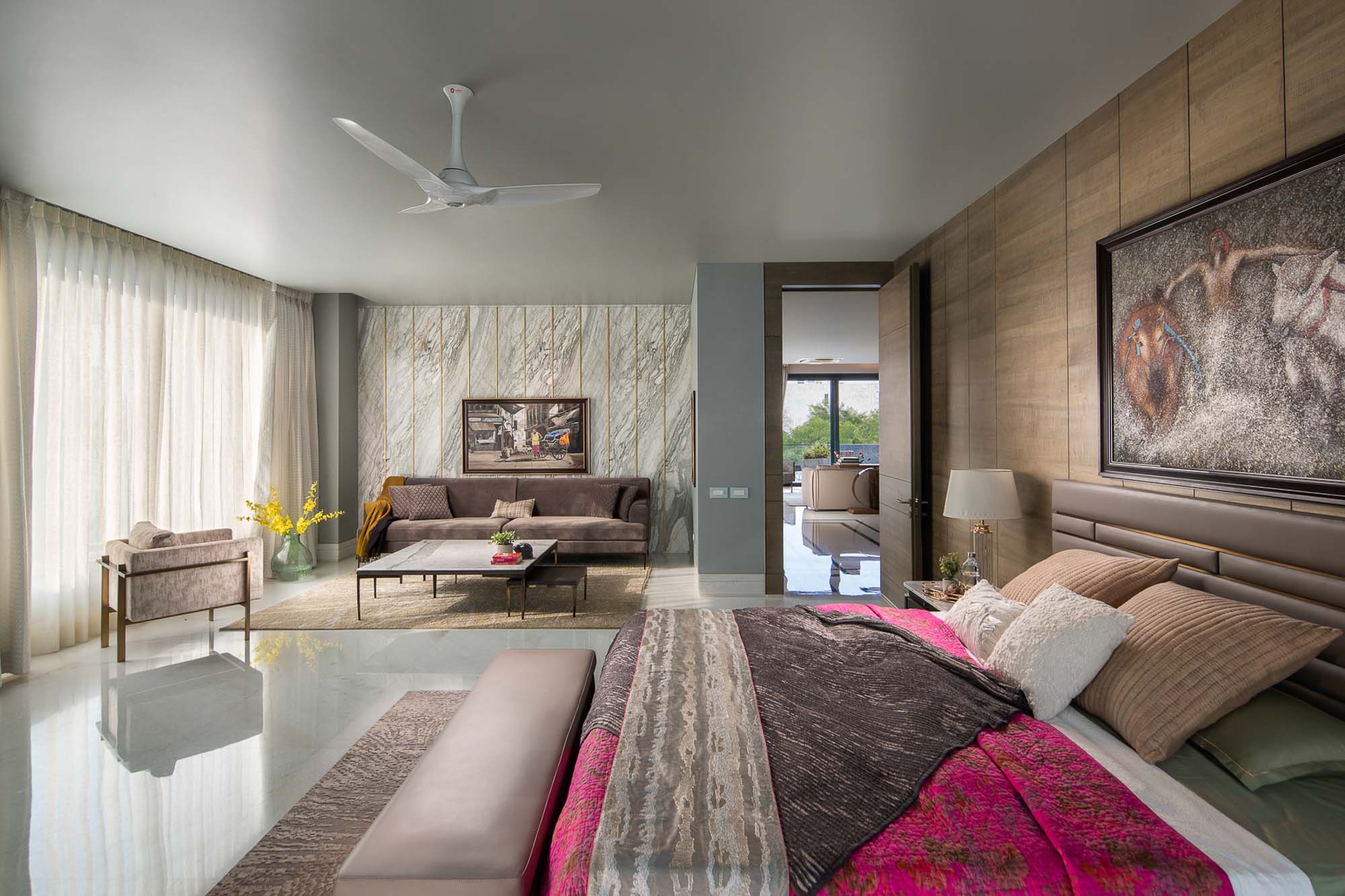 AD : The world is now slowly realising the seriousness about climate change. What is your take on sustainable practice in interior design today? How can one achieve and contribute to it with respect to interior design as designers?
Hardesh : Today there are many materials and technologies available that allow one to achieve sustainability, but government policies must encourage the extensive use of them. Only then can it become commercially viable and make a big impact. Without which, large-scale implementation of sustainable practices becomes impractical. At Essentia Environments, we continue to educate ourselves about the sustainable practices, materials and technologies, and implement them in the best way we can. We believe in using locally available materials, and follow global best practices at every level. However, it is not possible to use solar panels everywhere yet. We are still a few years away from that.
Monica : Our capability to manufacture in-house all furniture, doors, kitchens, etc, required for a project, allows us to ensure that all resources and materials are used to the optimum without leading to any wastage.
Read the full interview below in our DE magazine Edition.