DE SPOTLIGHT INTERVIEW with designer & artist Camille Walala, founder and creative director at Walala Studio, London.
CAMILLE WALALA is a London based artist and designer.
DE Editor in chief Anirudh Datta had a detailed interaction with the acclaimed international designer for the DE Spotlight interview series where Camille talks about her design journey and shares her most interactive work till date – House of Dots at the Coal Drops Yard in London's Kings Cross.
Known for her ambitious, large-scale and explosively colourful interventions in public spaces, Camille Walala uses the man-made landscape as a platform for disseminating positivity. Her work encompasses full-facade murals, immersive 3D installations, street art, interiors and set design – characterised by a fusion of bold colours and playful geometric patterns. Since her 'Dream Come True Building' burst onto the Shoreditch streetscape in 2015 and thrust her into the spotlight, Camille and her creative producer, Julia Jomaa, have been engaged in an increasingly bold roster of international projects.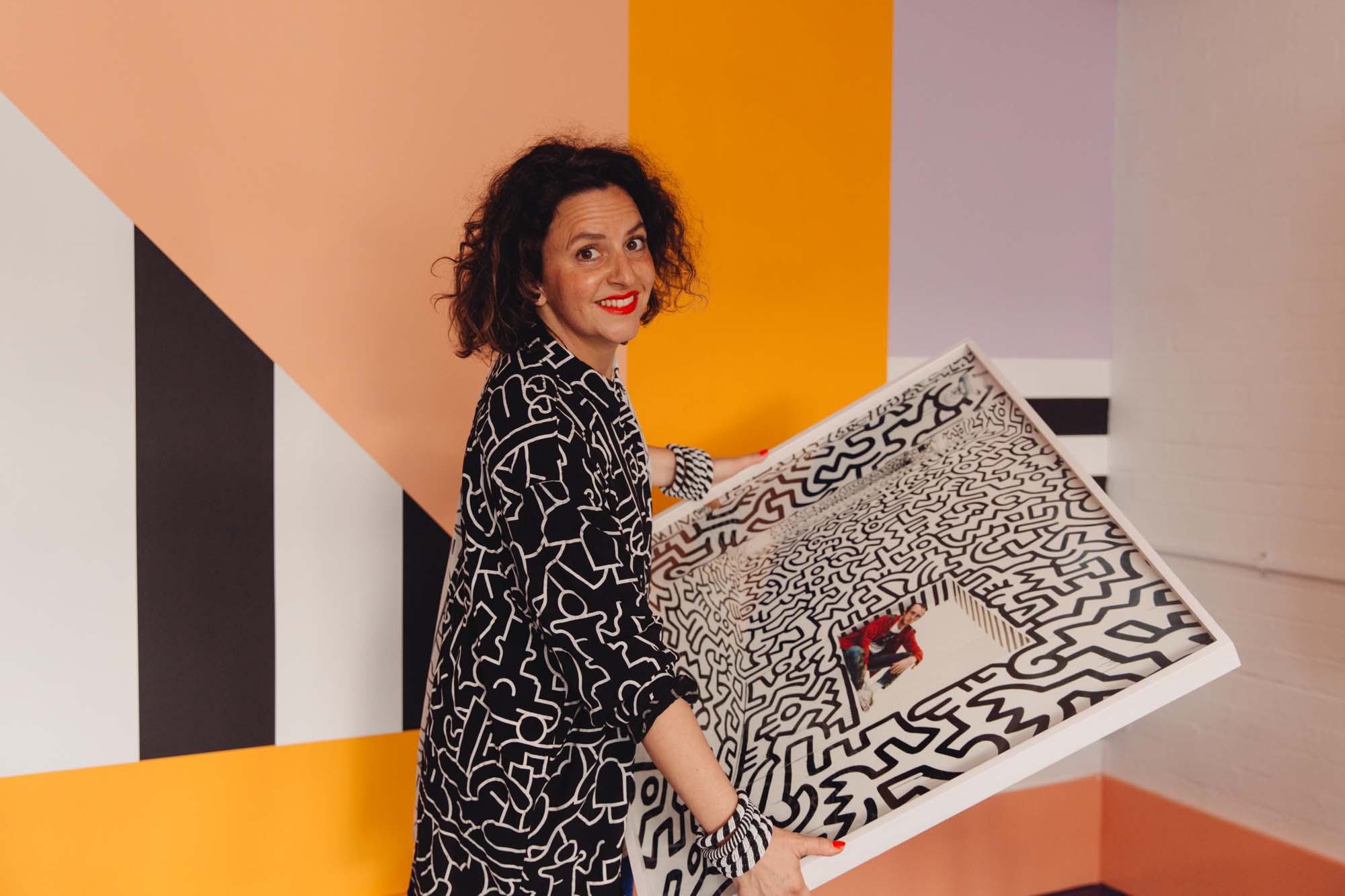 These have included collaborations with leading global brands – such as LEGO, for whom she created the HOUSE OF DOTS; the creative direction of the groundbreaking Mauritian hotel SALT of Palmar; and a slew of major installations for events like NYC's Wanted Design and London Design Festival – including Walala Lounge, as complete suite of semi-permanent street furniture that transformed South Molton Street, Mayfair, into a corridor of colour. Camille finds inspiration in community and collaboration, and the power or colour and pattern to transform atmospheres, elevate moods and spark positivity.
AD : What inspired you to pursue a career in Art & Design?
CW : I came into the world of design, some would say, a little later than most. I didn't really know what I wanted to do with myself. I tried many different paths and studied many different things. Living in London, I started to exploit the many different workshops and short courses that are available in the arts. Once I started doing these classes I knew that this was the path for me.
AD : Who were your early design heroes and role models?
CW : One of my heroes would be Keith Haring. I love everything he stood for. He was an incredibly successful commercial artist, but he didn't believe his art should be only for the rich. He wanted his art to be accessible to all. He would bring joy with his murals and spread positive messages around the streets of New York.
AD : In few words, how would you define your design philosophy?
CW : I do what makes me feel good! I try not to think too much and just let the workflow out of me. I feel that if I'm having fun and enjoy what I see, then hopefully others will too. Most importantly I want to play!
AD : Your colorful interventions in public spaces have such bold colors and patterns, how did you come up with such colorful concepts in designing such spaces?
CW : It very much depends on the project and what the brief is. I generally like to visit the site where the work will be situated. I think this is an important part of the process. I find that by going to the location it inspires me and how to place colours and patterns. It is also incredibly instinctive. I spend a lot of time in my studio creating patterns and putting colour palettes together. Never knowing exactly where they may be used.
AD : Your most proud project? Any favorite elements you like to share about the project that makes it special for you?
CW : The Dream Come True Building mural in Shoreditch, is my most proud moment in a project. This was my first step into the creating oversized public art murals. It was a massive challenge, as I had never translated my work on to such a large surface before. I had a team of volunteers. It was overwhelming to know that there were other artists out there that wanted to help me realise my dream project! It was two long weeks of hard work and I was so proud of the final result and what we had achieved. This project definitely opened the door to continuing to produce more artworks like this.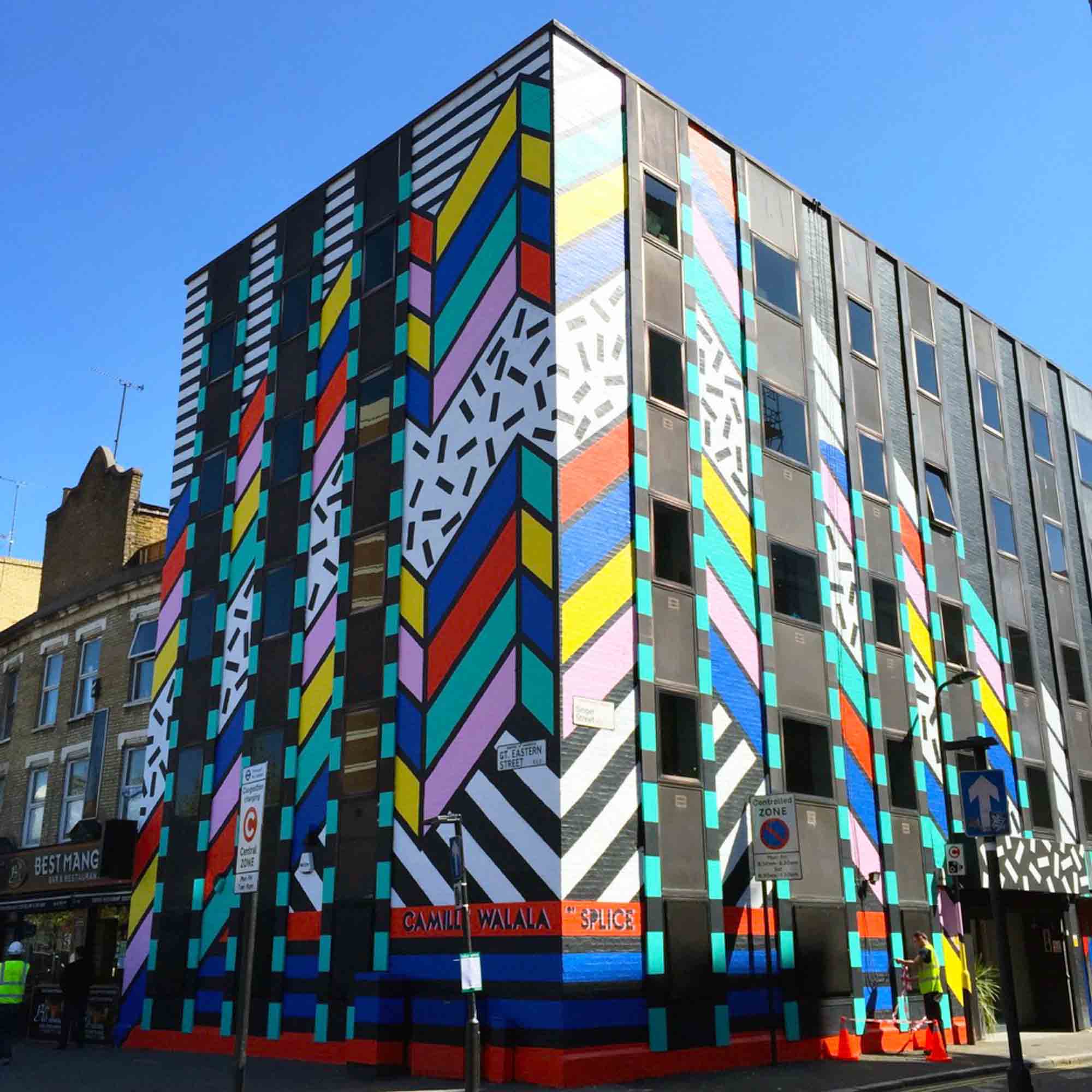 AD : For your latest "House of Dots", what was your concept for designing this space? How would you define this space in two words.
CW : I had to work with the Lego team to understand what the important deliverables were from Lego's side for their launch. However, they pretty much gave me carte blanche to come up with a concept. Many ideas were thrown around, but in the end, we landed on the house. We though that this immersive experience would be so much fun for the kids to visit and would be the best way to apply the new Dots product. How would I define the space in two words? FUN – POP
//House Of Dots – Lego X Walala
Camille Walala unveiled her most interactive work to date at Coal Drops Yard in London's Kings Cross to introduce the entirely new 2D tile play concept from the Lego Group. To tease the new product, Walala was invited to bring Lego Dots to life in a free public art installation that celebrates their shared values of creativity, self-expression and accessibility, expressed through the vibrant colours and bold geometric patterns of both the new product and her own signature work.
The result is House Of Dots: a fantastical house comprising five rooms spread over eight shipping containers, in which everything from the walls and floors to the rugs, frames and furniture has been customised in a mashup of Lego Dots and Walala's distinctive patterns and colours. Playful and immersive, House Of Dots invites people to journey through a living room, kitchen, bedroom, bathroom and finally a unique disco room designed to celebrate self-expression and let the body flow freely. While they explore the space, guests were encouraged to get involved by designing their own patterns and bracelets – and even take elements away with them ahead of the release of LEGO® DOTS in March 2020. If that weren't enough, guests can exit via an 8ft slide down the side of the installation.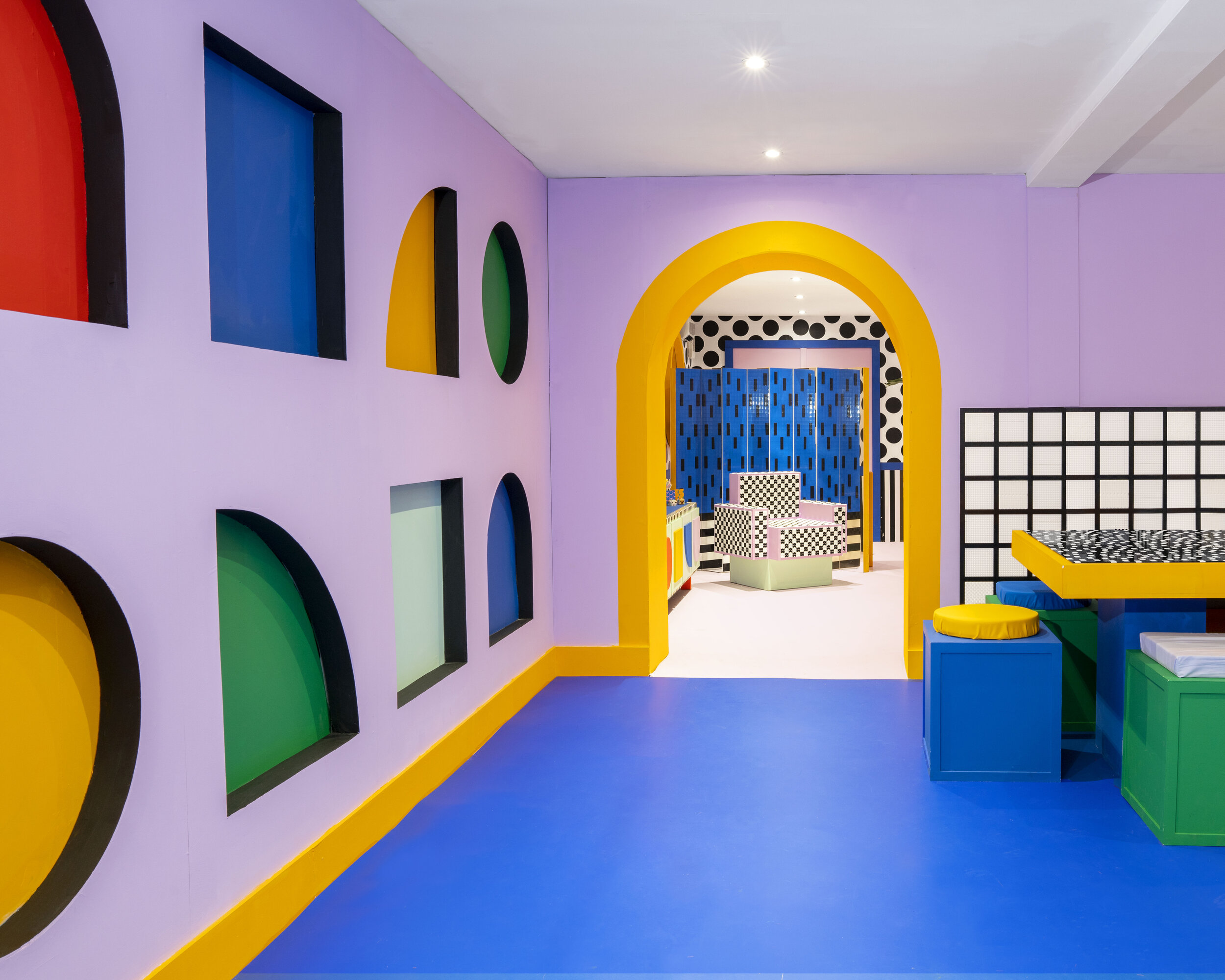 Read the full interview below in our DE magazine Edition.