DE SPOTLIGHT INTERVIEW with architects Massimiliano and Doriana Fuksas, the principal architects at Studio Fuksas, Rome, Italy.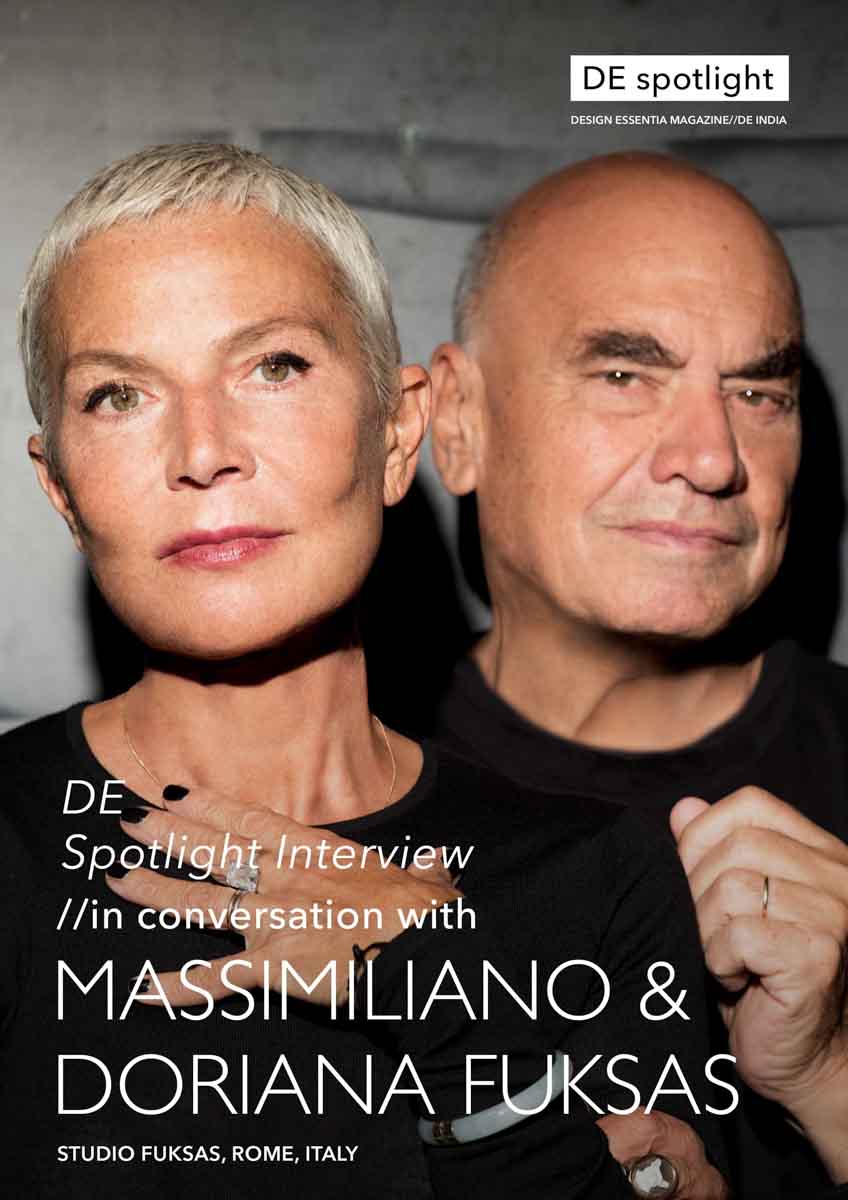 Massimiliano and Doriana Fuksas – principal architects at Studio FUKSAS, Rome, Italy; one of the most recognised international architectural firm in the world.
Design Essentia Editor Anirudh Datta had a detailed interaction with the power couple for the DE Spotlight interview series about the work at Fuksas and the post COVID scenario in architecture.
"Our cities must respond with new architecture to the messages of help that the planet keeps sending us."
Over the past 50 years the company has developed an innovative approach through a strikingly wide variety of projects, ranging from urban interventions to airports, from museums to cultural centers and spaces for music, from convention centers to offices, from interiors to design collections. With headquarters in Rome, Paris, Shenzhen and Dubai, the practice has completed more than 600 projects and has worked in Europe, Africa, America, Asia and Australia, receiving numerous international awards.
Studio Fuksas is known for their renowned architecture works around the globe; one of my personal favourites would be the New Milan Trade Fair at Rho-Pero, Milan which you must know by the Salone Del Mobile venue during the Milan Design Week. With its façades made of glass and mirror stainless steel and its highlight structure, the "Veil" (the big fluid cover over the space) it is one piece of art.
It was inspiring talking with the Fuksas couple – architects Massimiliano and Doriana Fuksas as they share their insights on post covid situations in architecture. Massimiliano and Doriana strongly believe in creating innovative solutions to minimize the environmental impact for a sustainable future.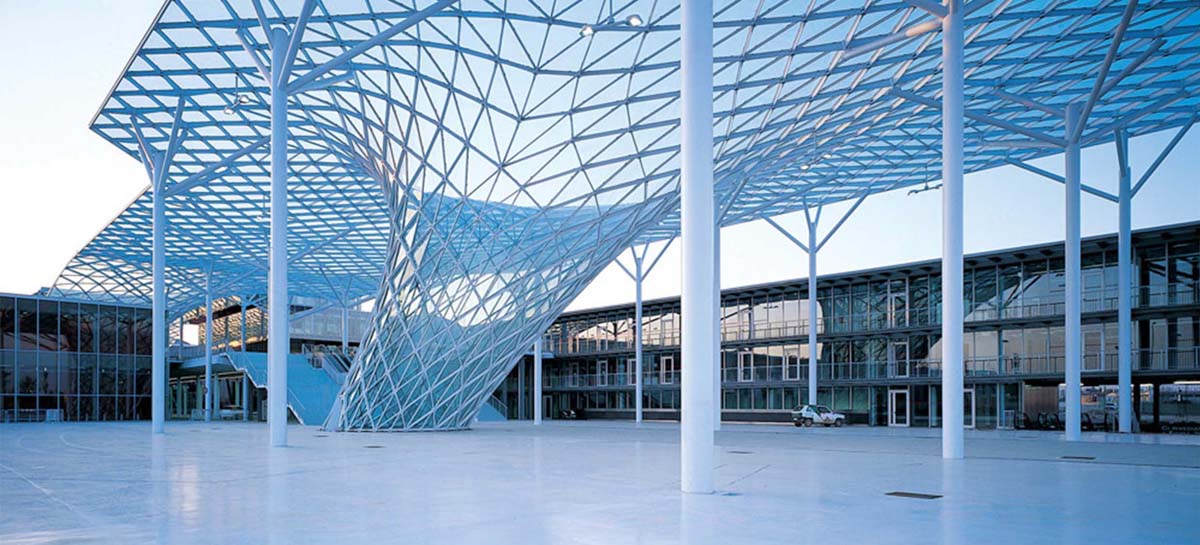 AD : What inspired you to pursue a career in Architecture?
MF : Since I was young I had a great passion for art and painting, a passion that Doriana and I have always shared. It is through art that I began to approach architecture, studying the example of the great masters of the Modern Movement.
AD : Who were your early heroes and role models?
DF : Lina Bobardi, Ray Eames, Charlotte Perriand, Marion Mahony Griffin, Lilly Reich. Great female architects and designers who have unfortunately lived in the shadow of more renowned male architects.
AD : In few words, how would you define your design process – philosophy?
MF+DF : Innovation, Research and sustainability for people.
AD : What would you say is FUKSAS's strongest asset, and how have the firm developed that skill over time?
MF : Our work has always been committed to designing places and buildings for people contributing to increasing their life quality. "An architecture that considers the continuous climate and environmental changes, in constant innovation, including modern technologies from the design phase." At Studio Fuksas there is constant experimentation and continuous research to build a simpler and smarter architecture.
AD : You're most proud – favorite project?
DF : The next project, the future one I still don't know is my favorite every time.
AD : What other projects are you currently working on?
DF : Our firm has ongoing projects all over the world, particularly in UAE and China. Right now in Shenzhen, China, we are completing the construction of a large skyscraper, the Guosen Securities Tower, the construction site is still in progress supervised by our team of architects based in Shenzhen. Despite the health emergency, we have therefore continued to work a lot, even if at a distance. However, the lockdown has been an opportunity to start thinking and reflecting: seeing what was happening in Italy and around the world at the beginning of the emergency, we started to think about the house and its need to be equipped as the first presidium for the protection of our health. We built up a multidisciplinary group with doctors, computer scientists, architects with whom we have proposed possible guidelines to be applied in the construction of the house of the future, also for a more sustainable lifestyle. We sent this complex program, in the form of an open letter, to the President of the Italian Republic Sergio Mattarella who welcomed our proposal very positively.
AD : The world is now slowly realising the seriousness about climate change. What is your take on sustainable practice in architecture today?
MF : It is fundamental to integrate into new buildings technologically innovative solutions to minimize the environmental impact; our work is focused on this perspective from the earliest design stage. Through the in-depth study of the intervention site we design buildings that maximize their efficiency, integrated into the built context. Orientation, highly sustainable energy production systems, public greenery integrated into the built space, new technology plant systems and enhanced pedestrian and bicycle mobility are the objectives of our urban projects. Our cities must respond with new architecture to the messages of help that the planet keeps sending us.
AD : The future of architecture post COVID ? How would you think this would affect the design industry?
DF : The world of architecture will surely have to keep up with the enormous change, primarily social, that this emergency has led to. We have all discovered ourselves fragile and unprepared to face this pandemic, we must learn from our mistakes and as architects we must design places suitable for the new needs, making the most of modern technology. The role of the designer-architect can only adapt to the new challenges, using technological innovation to design objects and buildings that adapt to the new way of living, probably different from what we were used to.
AD : Outside of architecture, what are you currently interested in and how is it influencing your design thinking?
MF : Innovation in all fields: digital, infrastructural, technical and artistic. Continuous research and investigation have always accompanied us in the design and creative process, and, in this historical moment, it becomes more fundamental than ever to transform the results of that research into effective responses to the emergency, especially from a digital and technological point of view. It is the moment of reaction, not that of reflection.
AD : DE's this month theme is Rebooting at Home. How have you been coping with the pandemic at home? Your work from home design experience?
DF : At first, we found ourselves unprepared since we got stuck in our house in the country. We had to react quickly by setting up a comfortable workstation and planning the remote work with our team. After a few days of break-in, we are now 100% operational, we continue our regular activities and can easily communicate with collaborators and partners.
AD : What is your "message of HOPE" in this crisis?
Massimiliano & Doriana Fuksas :
"Love will save the world."
Read the full interview below in our DE magazine Edition.