DE SPOTLIGHT INTERVIEW with architect Palinda Kannangara, the principal architect at Palinda Kannangara Architects, Columbo, Sri Lanka.
PALINDA KANNANGARA is one of the top Sri Lankan architect based in Columbo. He is principal architect at Palinda Kannangara Architects, Columbo, Sri Lanka.
DE Editor in chief Anirudh Datta had a detailed interaction with the acclaimed architect for the DE Spotlight interview series where the architect talks about his design journey and shares his latest residential projects in Columbo – House by the Parliament and Urban Nucleus.
architecture is about the process of reduction, of using available resources wisely and consciously.
– Palinda Kannangara
Palinda Kannangara Architects is an award winning Sri Lankan Architectural firm known for an experiential architecture that hinges on simplicity and connection with the natural environment. The firm work has been recognised for contextual sensitivity, experimental material use and a minimalism reflective of the Sri Lankan ethos. The decade old practice remains intentionally small and personalised. The design and working process is always deeply connected to site. The firm has worked on a varied range of projects across the island of Sri Lanka, projects which are often small in scale, the firm with its personalised approach, imbues each project with a sense of connectedness to the context, region, climate and landscape using locally available materials and technology to provide a rich spatial experience.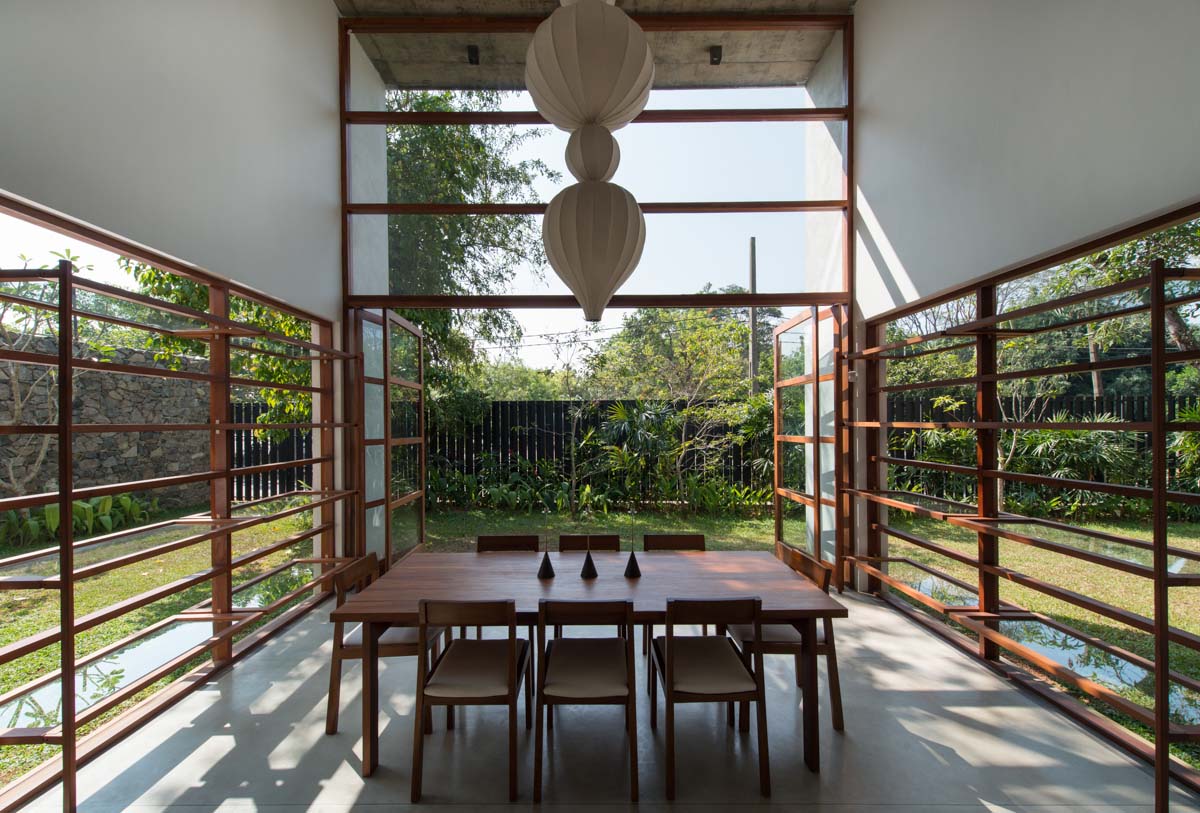 AD : What inspired you to pursue a career in Design?
PK : I studied mathematics at University, and have pursued art since childhood. Architecture melded both these interests and seemed like a right career path, hence I pursued a degree in Architecture simultaneously during my mathematical studies.
AD : Who were your early design heroes and role models?
PK : Geoffrey Bawa was one of the pioneer architects in Sri Lanka and we always look towards him to understand his way of thinking and his way of design. During my studies his work greatly inspired me to think differently and even to this day his architecture is still relevant. I have also taken inspiration from my mentor modernist Sri Lankan Architect Anura Ratnavibushana who has worked with Geoffrey Bawa for 16 years.
AD : Tell us something about your journey in the inception of Palinda Kannangara Architects.
PK : Living in a tropical country and the lifestyle in Sri Lanka. We must also appreciate the masters who have been doing this long before us. My background in mathematics enabled me to think more logically and to think differently and inspired me to choose architecture as a profession. I established my own practice in 2005. The personal experience that I have gained over the past fifteen years has enabled me to improve my designs and to find different solutions because each project is unique.
AD : Being from Colombo, is there any specific style of architecture you love to follow that represents your city and country?
PK : Colombo is where I grew up and I believe that when designing the architecture should belong to the place and time and should be inspired by the surrounding and reflect the feeling of the city. We should pay special attention to the scale and the way of living.
AD : In few words, how would you define your design process – philosophy?
PK : We believe in an architecture that is about the process of reduction, of using available resources wisely and consciously especially in our tiny island country, of 'de-cluttering' both visually and physically and of course respecting the environment. The ethics of minimalism and environmentalism which are part of the Lankan ethos are also vital to our works.
AD : You're most proud – favorite project till now? Anything specific you like to share about this project that makes it special for you?
PK : There is no one specific project that is a favorite, every project is a challenge and therefore special to us. Our own studio and office is a project that I really enjoyed as it was something that I could design and build with a lot of freedom and a good understanding of the requirements.
AD : Tell us something about your latest completed projects.
PK : Vantage Villas at a historic rubber estate Glenross , the design highlight the location within a panoramic views . It's all about creating a belvedere or vantage point to absorb the view. To retreat in to nature, with comforts and luxury . The whole villa is about leisurely living. The upper, the lower level of the villa comprises of a pool that merges with the view and a deck. Its all about undisturbed views.
AD : House by the Parliamnet one of your latest residential project. Tell us something about this residence.
PK : Located in a cultural significant yet sensitive location (close to the Parliament, Memorial, greens and park) in Sri Jayawardhanepura ,this family home (on 14 perches) for a Doctor's family of three, is linear building bounded peripherally by gardens. The entire building is permeable to this garden experience, with extends the feeling of the park into the home.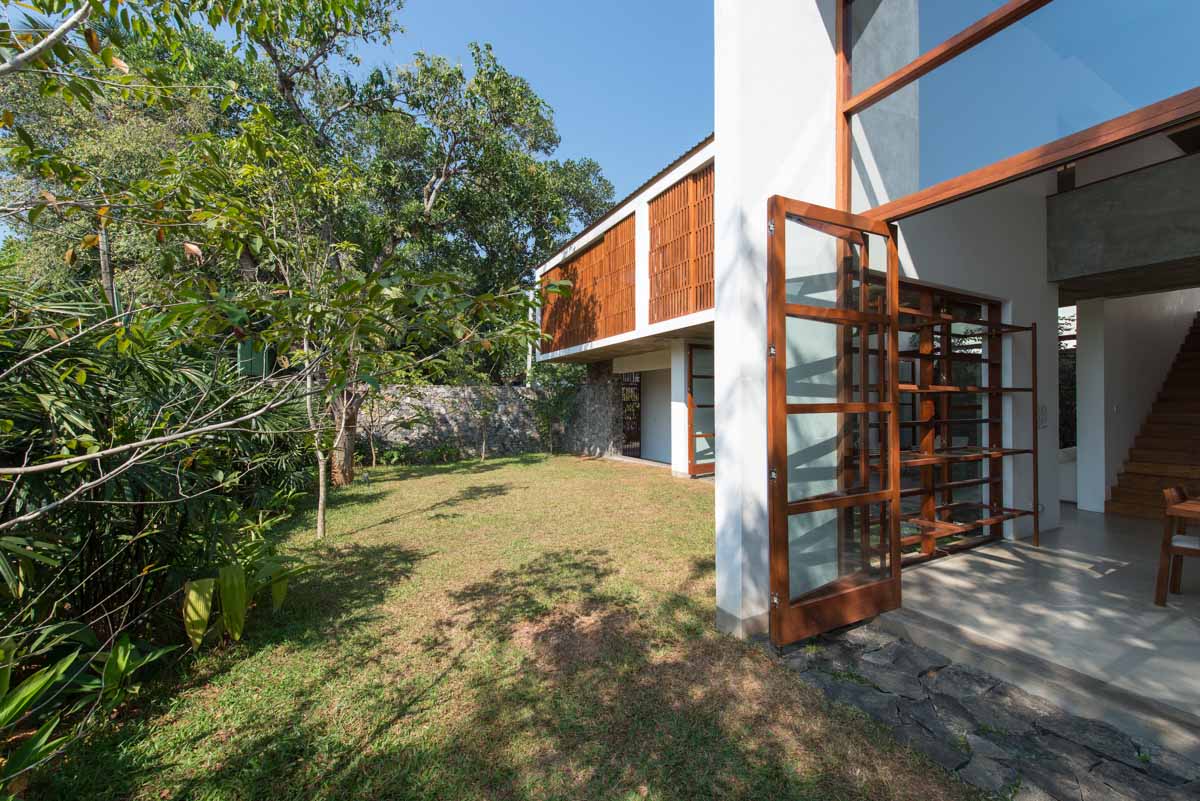 AD :"Urban Nucleus", PKA's another beautiful residential project in the suburbs of Columbo with a sculptural staircase. Tell us something about this residence?
PK : A home located on a relatively modest plot of land 10 perches (approx. 2700sq.ft.) designed for an pilot, his wife and teenage daughter, this home in a typical plotted suburb of Malabe in Colombo, Sri Lanka, with wall to wall construction. There were no distinguishing features, except for a neighbouring paddy field, towards the southern edge. The house has been kept inward looking, with the exterior being except to open it up completely to the neighbouring paddy scape.
A sculptural staircase, a key feature of the home (built in masonry and plastered in cement tones) sinuously descends into the core of this lush green space. The core of the house is comprised of an internal garden that has a tropical jungle in effect! Specially designed strips of skylight brings in filtered day light into the house eliminating the need for artificial light during daytime. Also the microclimate within the house is much cooler due to the internal gardens and pond. Yet the space is usable even during the monsoons.
The house is distinguished by a brick red colour that that makes it stand out from a distance and also acts as a folly in the paddyscape.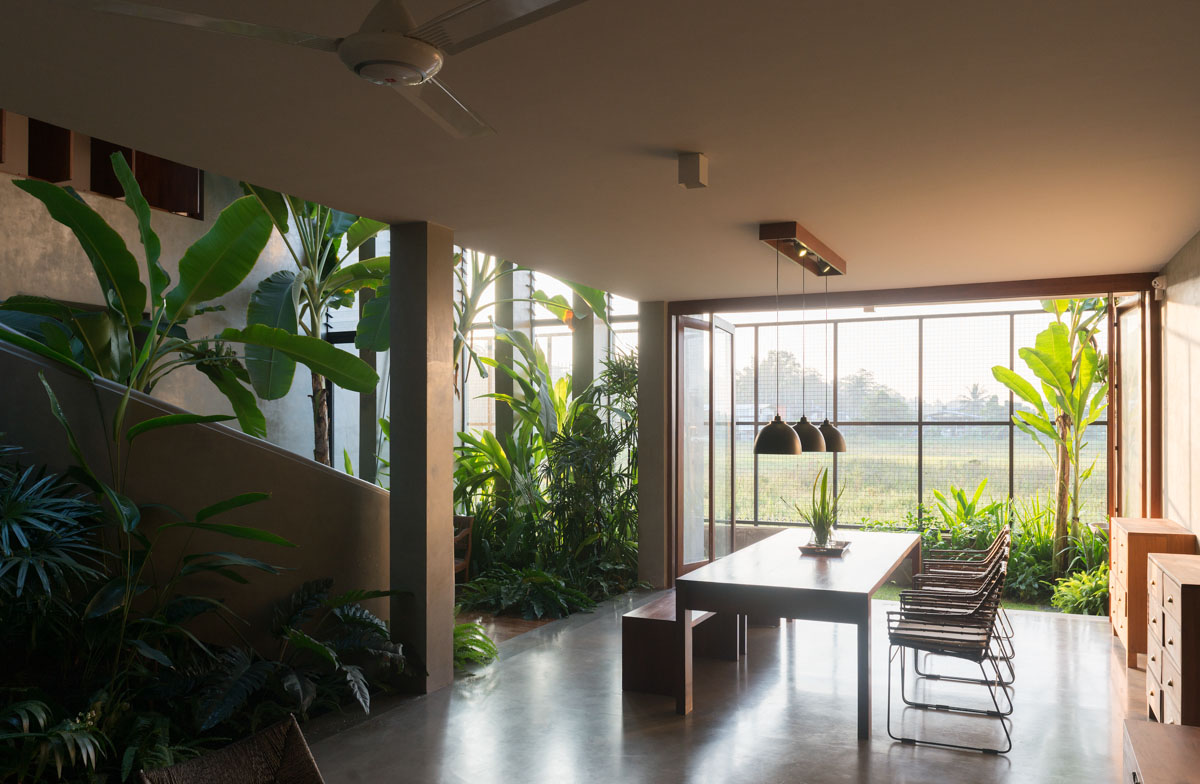 AD : The world is now slowly realising the seriousness about climate change. What is your take on sustainable practice in architecture today?
PK : In a bio diverse Island like Sri Lanka, architectural responses need to move beyond built response to create a dialogue with the larger landscape. As a practice we aim to be mindful of this, we seek to build sensitively, respecting the environment while accommodating client's requirements and aspirations in creating aesthetic & functional spaces. We look at sustainability in a holistic manner and seek to use materials resourcefully, we promote the use of local materials, encourage local craftsmanship.
Read the full interview below in our DE magazine Edition.