DE SPOTLIGHT INTERVIEW with spanish architect Ricardo E.Bofill, the chief architect at Ricardo Bofill Taller de arquitectura (RBTA) Barcelona, Spain.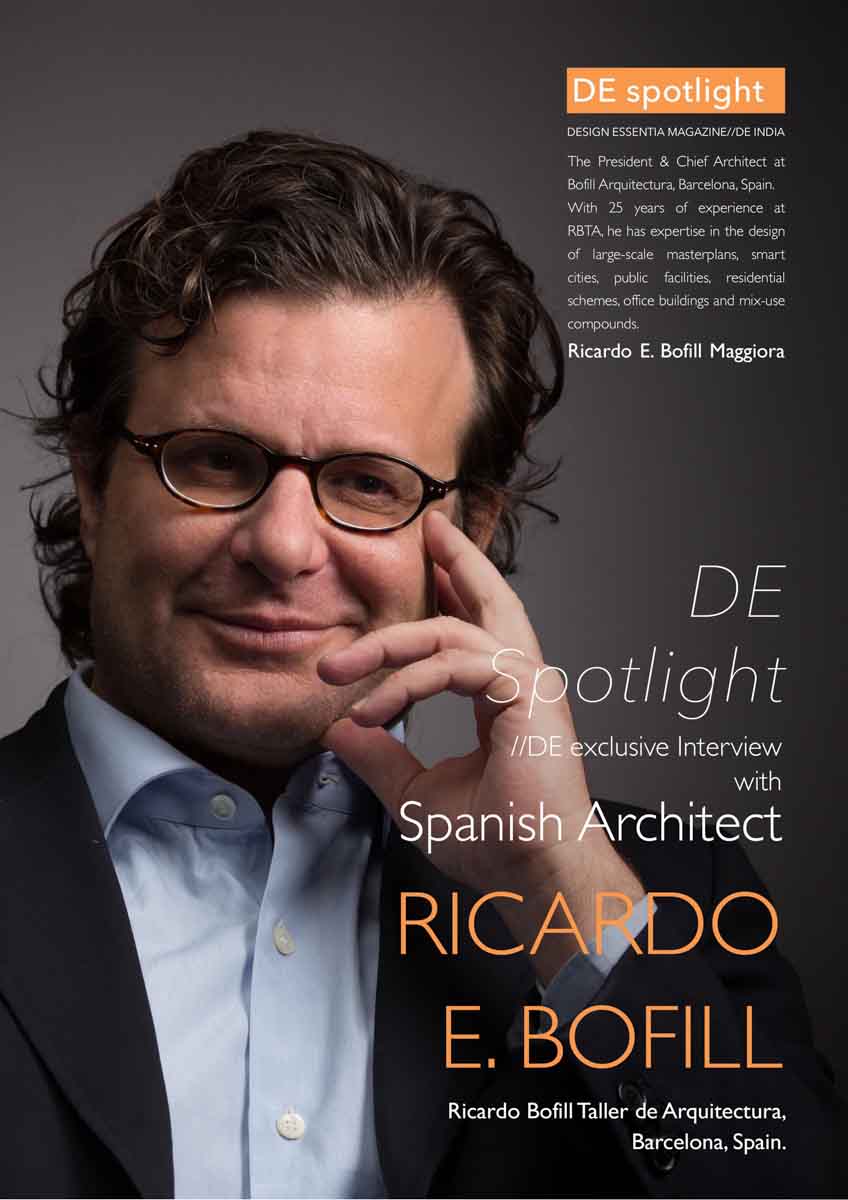 During his last visit to India for the Festival of Architecture and Interior Design (FOAID), Ricardo E Bofill the president & chief architect of Ricardo Bofill Taller de Arquitectura (RBTA) from Barcelona, Spain had a detailed interaction with Design Essentia Magazine Editor Anirudh Datta.
Ricardo E. Bofill joined RBTA in 1991 after graduating from Harvard University (Degree in Architecture) and worked along side his father Ricardo Bofill Levi who headed RBTA back then.
The President & Chief Architect at Bofill Arquitectura, Barcelona, Spain. With 25 years of experience at RBTA, he has expertise in the design of large-scale masterplans, smart cities, public facilities, residential schemes, office buildings and mix-use compounds.
Ricardo E. Bofill Maggiora Vergano
"the Architect
with a sustainable vision
for future."
RBTA best known for expansive neoclassic housing estate, Les Espaces d'Abraxas, at the new town of Marne-la-Vallée, east of Paris, and La Fábrica, the monumental former concrete factory in Barcelona that is home to the Bofill family and the Ricardo Bofill Taller de Arquitectura.
RBTA's another one is of-course the La Muralla Roja; one of my personal favourites, you cannot miss that beauty. It was interesting talking to Ricardo E. Bofill as he shared his insights on his architectural career and also how important it is to create future cities sustainable .
What inspired you to become an Architect?
I am a third generation architect, my grandfather was a local architect from Barcelona and my father Ricardo Bofill Levi joined him when he was young.
I was named after my father because of a tradition in our country, it is to continue the the legacy and principles of the name and the studio. My family was my main inspiration. My grandfather and my father use to take me to the architectural sites and explain me about the space and materiality. Also the city of Barcelona inspired me the most to become an architect.
The city of Barcelona is a laboratory of urban design as it has a massive plan that has been followed for more than 150 years. It has a very strong urban character, a strong natural presence of water below – the mediterranean and also the mountains behind. Then of-course the strong history of architecture that goes back to the Roman Empire. Anyone will be inspired, you walk around the city and all of a sudden there is a famous Gaudi building, there is a Lluís Domènech, all that Catalan art, so many architecture schools around.
Everything inspires you!!
Who did you look up to as a student? Any favorite Architects or Designers? Any specific reasons?
I consider myself lucky to have met many inspiring architects with my father who were alive back then. Like Phillip Johnson, Ceaser Pelli, Micheal Graves, Louis Kahn, Mies Van der Rohe and yes definitely Le Corbusier – he had a great influence over the 20th century. Their personality, the way they talk to you, all the advices they give you with that enormous experience of theirs was enough to inspire you.
What is the story behind RBTA?
RBTA stands for Ricardo Bofill Taller de Arquitectura.
The word "Taller" means workshop. Back in 1963 this workshop of architecture was established by my father Ricardo Bofill Levi. I joined him later officially in 1991 after graduation. From our headquarters in Barcelona, at the repurposed 150 year old cement factory "La Fábrica" – we have formulated a language to interpret identity and innovation, needs and change.
The core strength of RBTA lies in the plurality of skills of its team. Talented professionals in architecture, urban design, master planning, and interiors, combine top-level knowledge and diversity of qualifications in a unique blend of competence and cultural sensitivity. Each member of our team is a nomad, following the traces of the lifelong journey of my father Ricardo Bofill Levi.
Read the full interview below in our DE magazine Edition.