DE SPOTLIGHT INTERVIEW with architects Sandeep Khosla and Amaresh Anand, the principal architects at Khosla Associates, Bangalore.
Sandeep Khosla and Amaresh Anand, India's top leading architects are the Principal Architects at Khosla Associates, Bangalore. Design Essentia Editor in chief Anirudh Datta had a detailed interaction with the architects for the DE Spotlight interview series about the work at Khosla Associates and the post COVID scenario in architecture, along with the topic of Make in India to promote & go "local". The Studio has a versatile body of work ranging from architecture and interiors of residences and corporate offices to retail and hospitality spaces. They have in the past 25 years of practice won over 30 National and International Awards.
Khosla Associates have been the 'Education' Category winner at the WAF/INSIDE Festival 2013 in Singapore and winner of the WAN 'House of the Year 2017 in London. Their distinct style of tropical residential architecture uses local materials and concepts, but reinterprets them with a unique and contemporary design sensibility. The firm's interest in global/local trends in fashion, lifestyle and design is reflected in their varied palette of bar, restaurant, office and hotel projects across India.
Few of my personal favourite works of the studio would be the raw rustic concrete charmed Race Course House in Coimbatore and an interior design project 1Q1 Kitchen & Bar in Bangalore that defines the 1930's exquisite Art Deco style.
It was interesting talking to the duo as they shared their insights on the going local with Make in India concept as well as on the post covid situations in architecture with a need for a sustainable future.
AD : What inspired you to pursue a career in Architecture?
SK : I was in a small Liberal Arts College called Bard in upstate New York where I was studying Fine Arts and economics, but was also exposed to classes in Philosophy, music and literature. In my second year I was introduced to architectural history classes which really spurred my interest in Architecture. That prompted me to transfer out into an Architecture school. I was always inclined towards the Arts from the very beginning. Architecture was a great opportunity to express this inclination further.
AA : As a kid I used to spend a lot of time sketching and doodling. Eventually, my mother recognised my love and affiliation for art and introduced me to the world of architecture. I soon realised that architecture combines all forms of art; engaging the mind, body and soul. Good architecture can have a positive impact on human life.
AD : In few words, how would you define your design process – philosophy?
SK : If I had to sum up questions that drive my design thinking it would be these : Is there an honesty of material and expression in our architecture, are the basic values of light, air and ventilation fulfilled, is the design climatically sensitive, contextually rooted and conceptually relevant? Is the design aligned with the narrative of its program and its end users? And most importantly what is the happiness quotient of our spaces, do the spaces we design have the capability of being loved?
AA : Architecture has many layers. Simply put, design should not only please one's eyes, but actually strive to move ones soul and create a deeper connect between the built form and the user.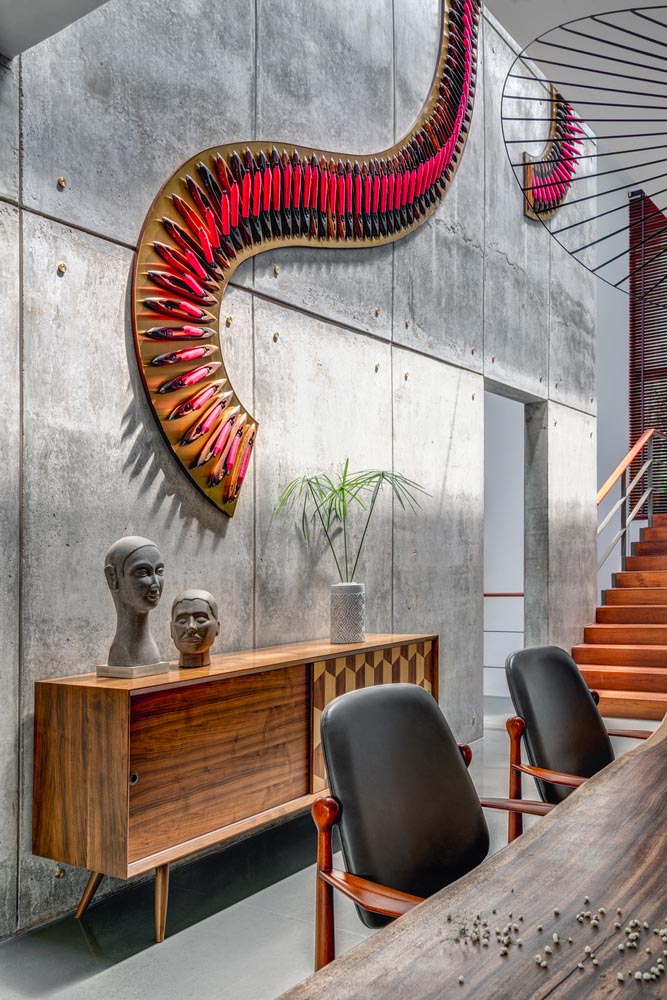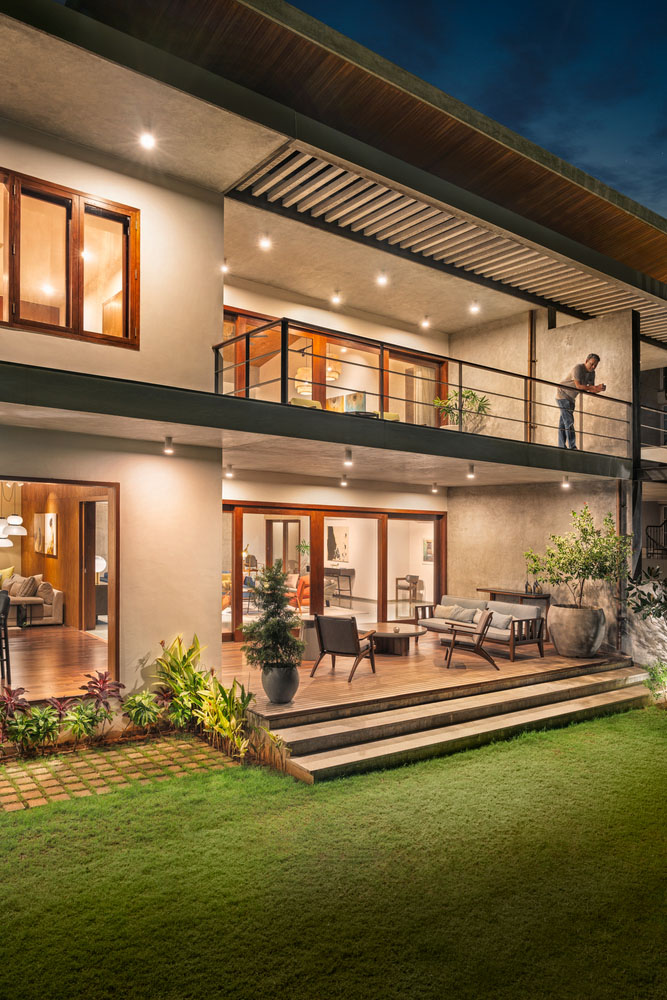 AD : The world is now slowly realising the seriousness about climate change. What is your take on sustainable practice in architecture today?
SK : Sustainable practices in my opinion are the only way forward for architects and designers as we encounter increased global warming and a depletion of our earths resources. We have always considered designing buildings from the inside out, relying on natural light, ventilation and protection from the elements so that energy loads are minimised. We now have to start making responsible choices in the materials that we use and be frugal in what we consume. We must quickly adapt and move to renewable resources. Reducing ones carbon footprint is possible by thinking local with our choice of methods and materials.
AA : We have always been advocates of sustainable practice, which is an integral part of the philosophy of our design. We believe it's our moral responsibility more so now than ever. We have made it a practise to conduct workshops with all our clients, where we introduce them to the various methods we can adopt to make the building more sustainable. This has been well appreciated by the clients and many of them have incorporated these ideas into their home design and lifestyle. I see sustainability as a personal and moral issue as well as a professional one and I have experimented with and implemented this concept in my own home as well. It is completely self-sustainable; from producing our own electricity via solar panels, to water management and sewage treatment systems, and even the choice of material.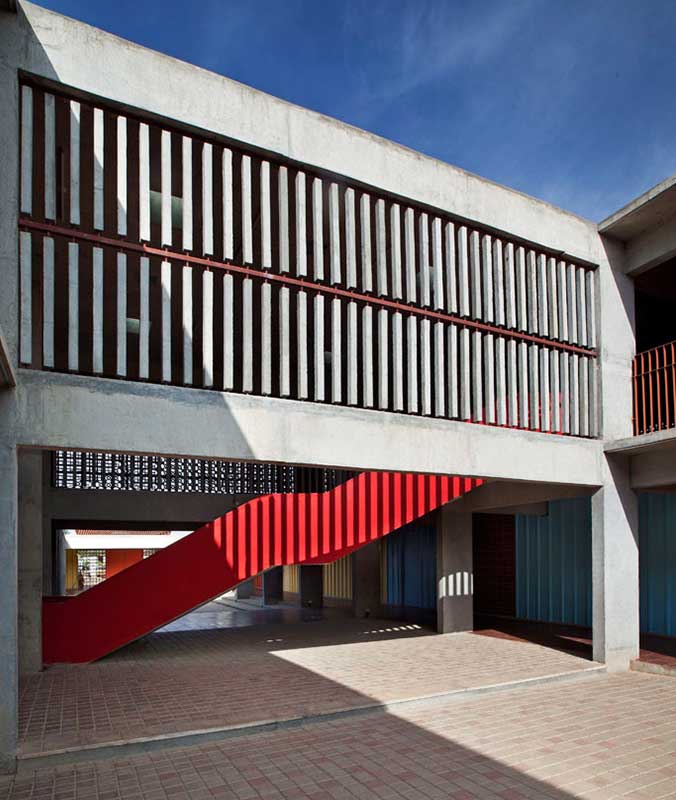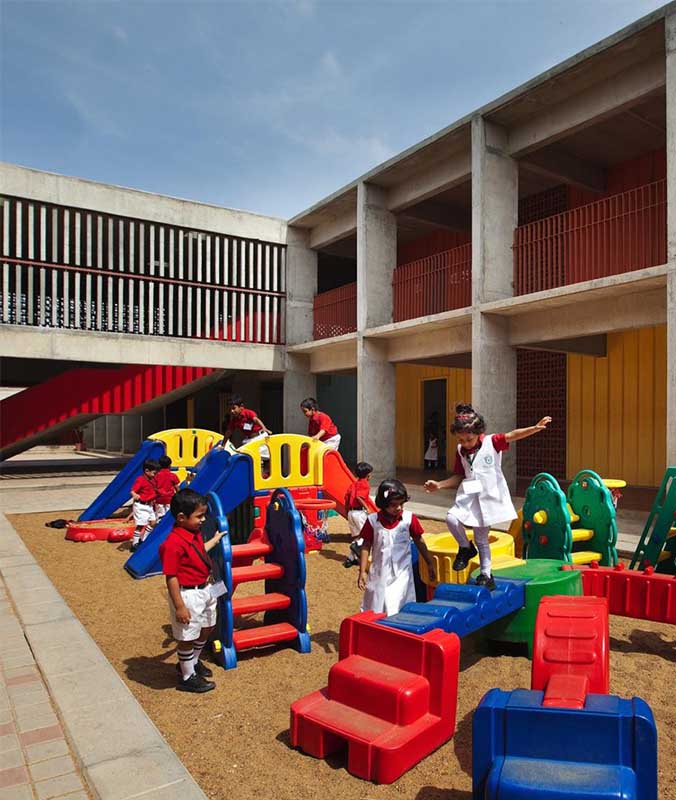 AD : Your most proud – favourite project at Khosla Associates?
SK & AA : There are many favourites but we might single out two projects in particular that stand out. The 'DPS Kindergarten School' in Bangalore. This won us our first major international award at the Inside/World Architecture Festival in Singapore in 2013. Our 'Retreat in the Sahyadris' on the Pawna lake in Maharashtra was modest in its footprint, redefined for us what a holiday home could be, and was built out of the local basalt stone found on the site. This project won us the WAN House of the Year in London in 2017. Both these projects were conceptually strong, contextually rooted, and sustainable in their thinking.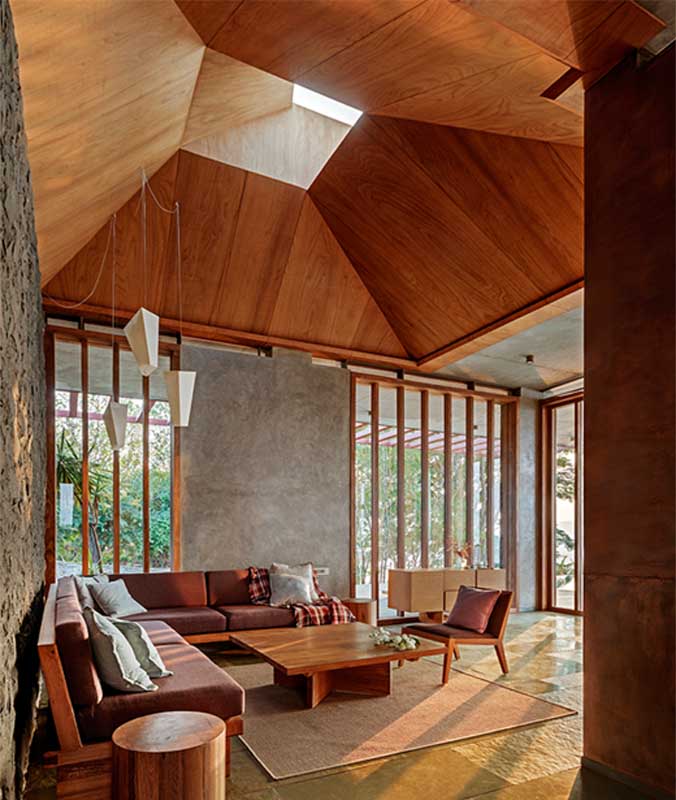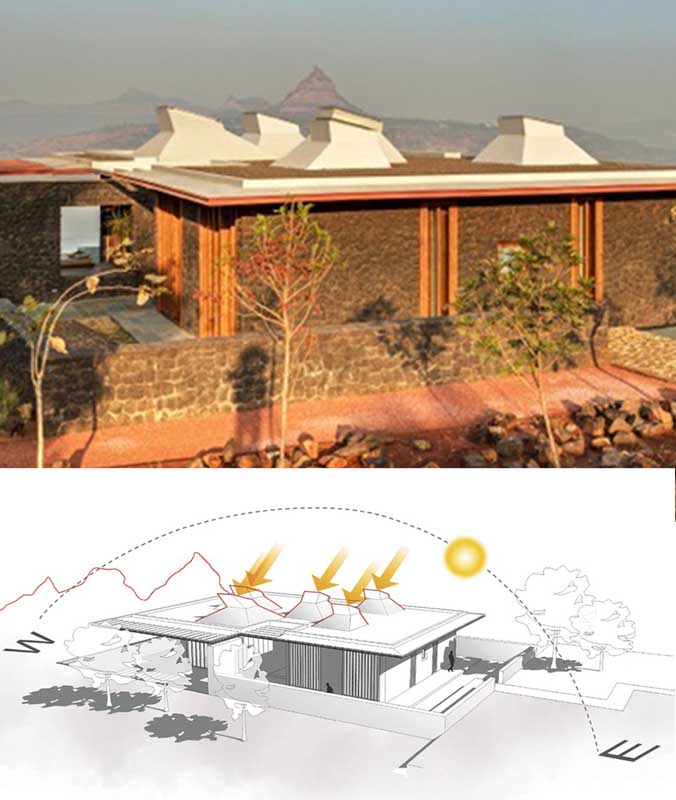 AD : What other projects are you currently working on?
SK & AA : We are currently working across typologies and scale. There are a number of very interesting residences across India. There are 3 hotels in design development; A 120 room high rise tower for the Park Hotel Visakhapatnam, a 32 villa wildlife boutique resort in Kabini, Karnataka, and a 200 rooms business hotel In Bengaluru for the Green Park Hotels. Other interesting projects on our drawing board are the Shikshalaya school in Coimbatore and a 40 acre villa development called Rama Greens in Raipur which is currently under construction.
AD : DE's this month theme is Make In India. How important today do you think is "going local in design and construction".
SK : In the current pandemic and with the huge disruption in the lives of migrant workers, as architects and designers we do have the responsibility to first support our local ecosystem. At Khosla Associates over the past 2 decades, we have been supporting local materials and methods of construction. But if we look around us, there is a wealth of high quality sustainable design happening in the country and we should support that too in the interior products that we choose.
AA : Our country has abundant skill and is traditionally rich in craft. We have always been advocates of using local materials and explore the crafts available in India. Today it is pertinent not only to promote the use of Indian made materials and products, but also to empower local communities and make them more financially independent. I do, however, believe that the world is becoming smaller and more connected. There is a lot one can learn from other cultures around the world and design ideas can have global influence and yet use local methods, materials and crafts.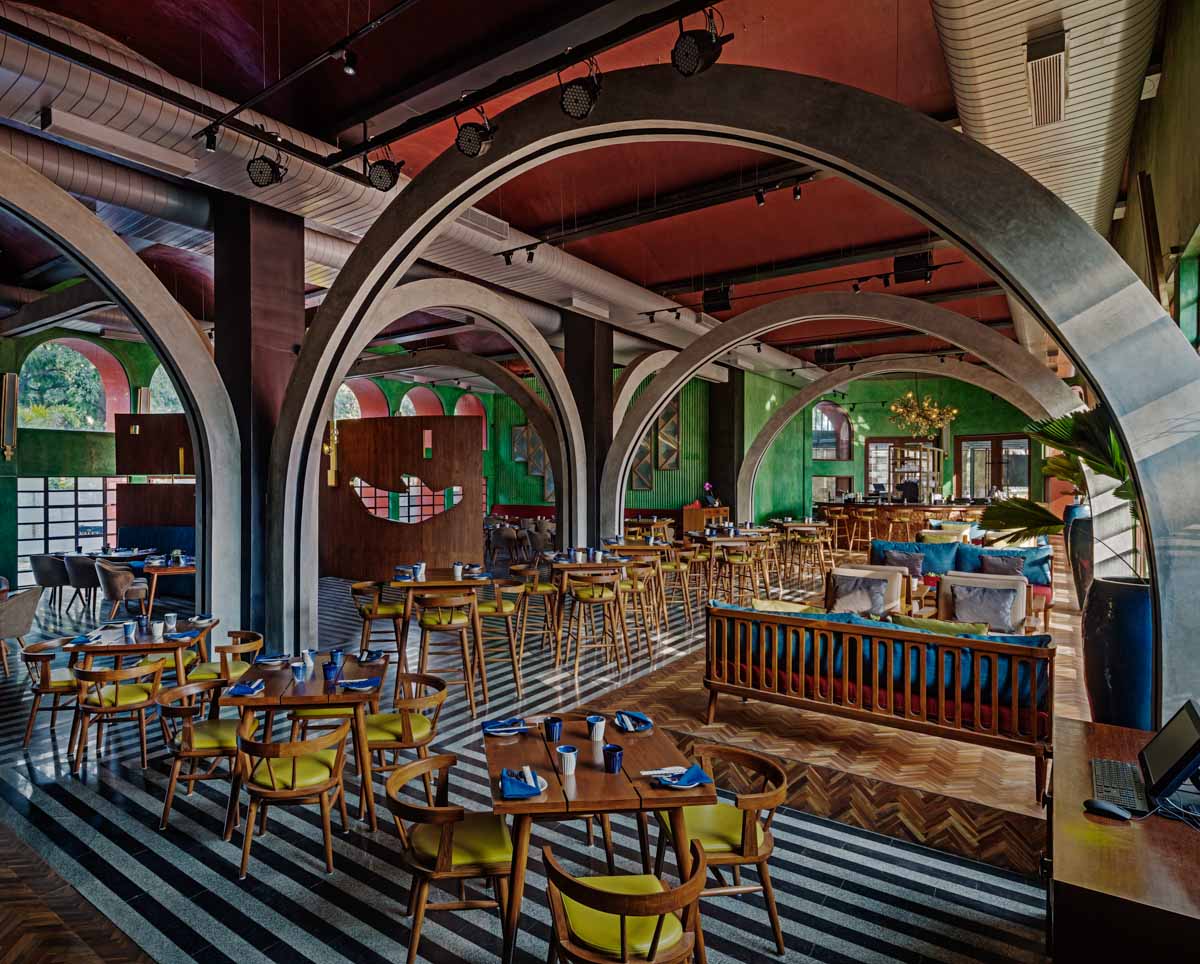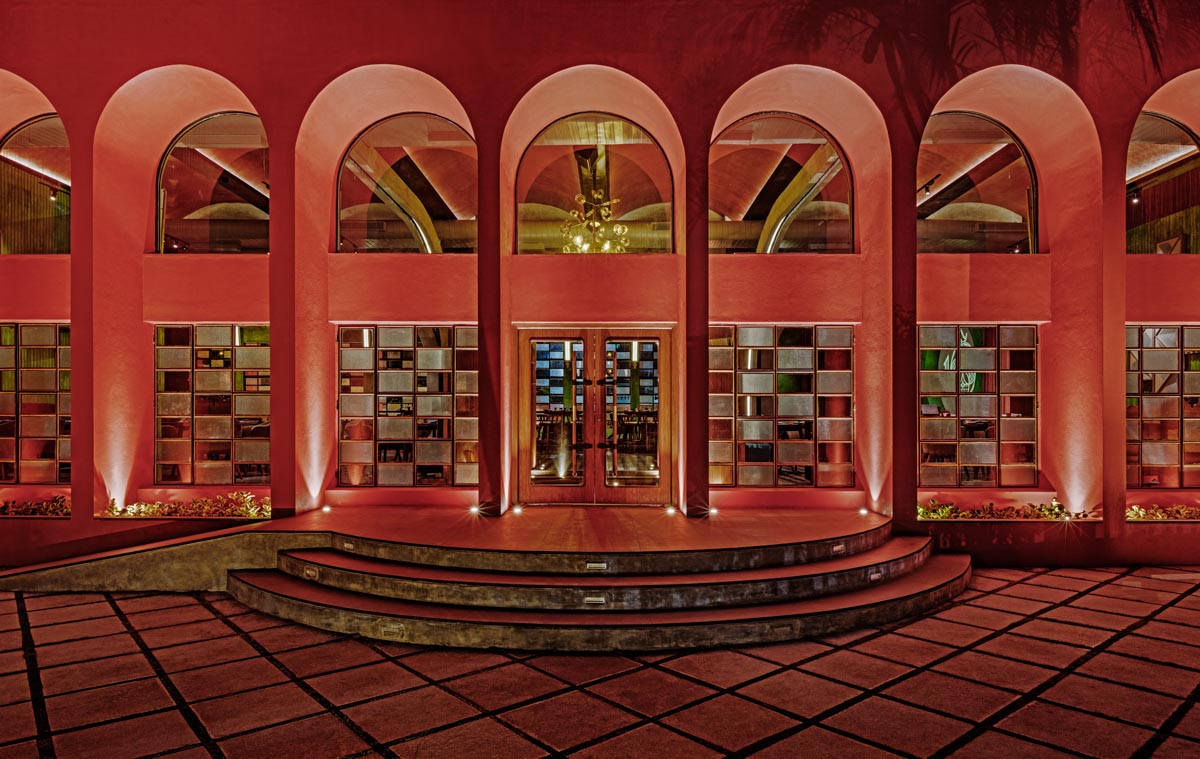 AD : How has Khosla Associates indulging themselves today and in the past towards the Make in India Idea?
SK & AA : We will take the example of a recent hospitality project in Bangalore called the "1Q1 Kitchen and Bar". All the elements were sourced locally from Bangalore. The red oxide ceilings are a lost craft and we were keen to revive them, the flooring is made of the local grey granite upon which the city is built, and all the furniture and decorative lighting within the space was designed by us in collaboration with local Bangalore based furniture and lighting studios. We are currently working on a 200 room business hotel in Bangalore where all the interior elements and developed and sourced within India. The architecture and interior industries in our country have become more and more sophisticated in the past decade, and we continue to forge alliances with top notch manufacturers across the country, so we do not feel that we are compromising in quality or design by working with local suppliers.
AD : In the current covid situation what you think will be the future of Architecture after COVID? How would you think this would affect the design industry?
SK : I think we would all have to find ways to work more efficiently virtually and travel less. But the positive is that as designers we might be more mindful about what we are creating. The design industry might also have to make some hard choices about the relevance of what they are producing.
AA : As an architect and a human being, I have come to perceive many realities of life during this COVID time. First and foremost, the time has come to distinguish between needs and wants. We can make our lives simpler, consume less and co-exist with nature. This will surely have a positive impact on our environment. In the last few months since the lockdowns and curbs on travel, we have all experienced the impact on nature. It feels like the nature is healing in just a few months. This goes to show that we as global citizens have a collective responsibility towards Mother Nature and if we all work together, we can correct the course for a better tomorrow. Hence the design industry has to be more responsible and the design solutions have to be as sustainable possible. This is a time to think out of the box and be innovative and original.
AD : What is your "message of HOPE" in this COVID crisis?
SANDEEP KHOSLA : I hope that the world will emerge a better place after this crisis, that humanity will want to leave a better planet for our children, that we will make responsible choices in the way that we live our lives.
AMARESH ANAND : I believe in the power of the human spirit to overcome challenges and emerge with new and better systems. This is a trying time for the whole planet, but is through our trials that we experience the greatest growth.
Read the full interview below in our DE magazine Edition.