Residence around a courtyard in the suburbs of Ahmedabad is a safe green haven connecting to the outdoors.
Project Name : House around a courtyard
Project Location : Ahmedabad, Gujarat, India
Project size : 47,700 sq. ft
Architects/Designer : Aakruti Architects
Project Status : Built
Website : www.aakrutiarchitects.com/
Instagram : @aakruti_arhitects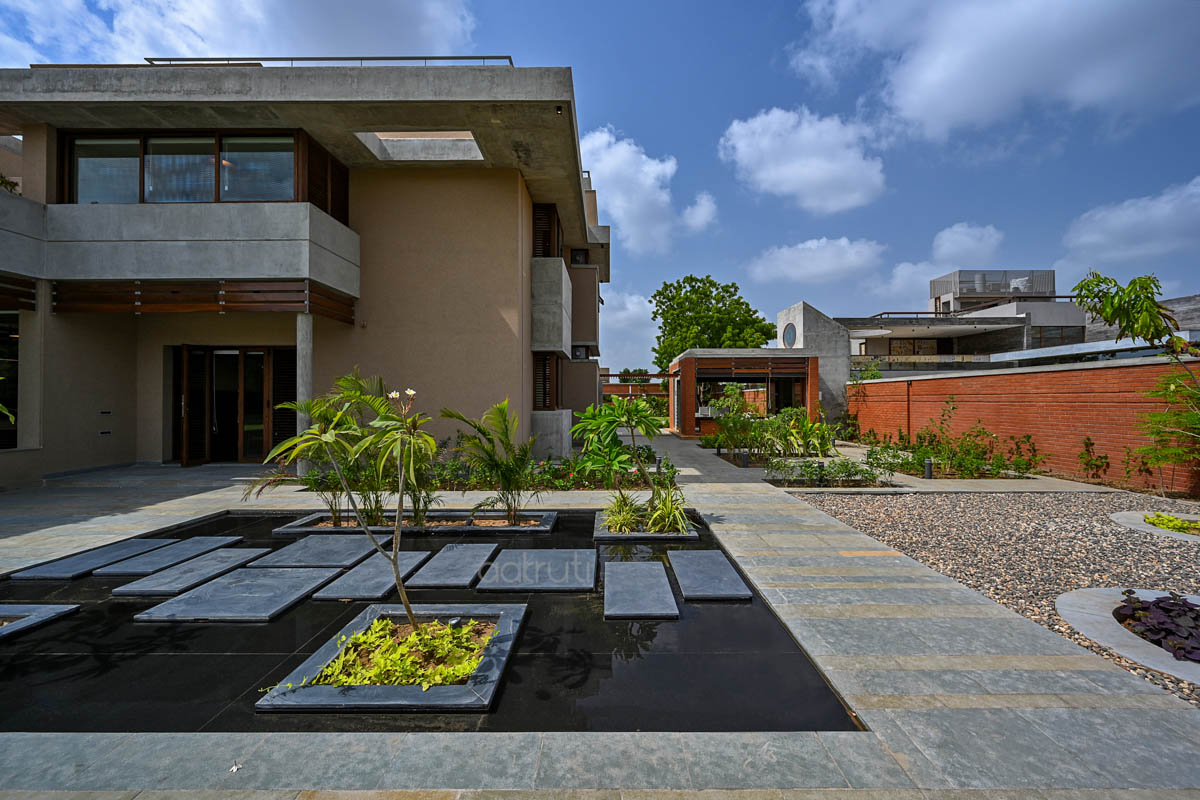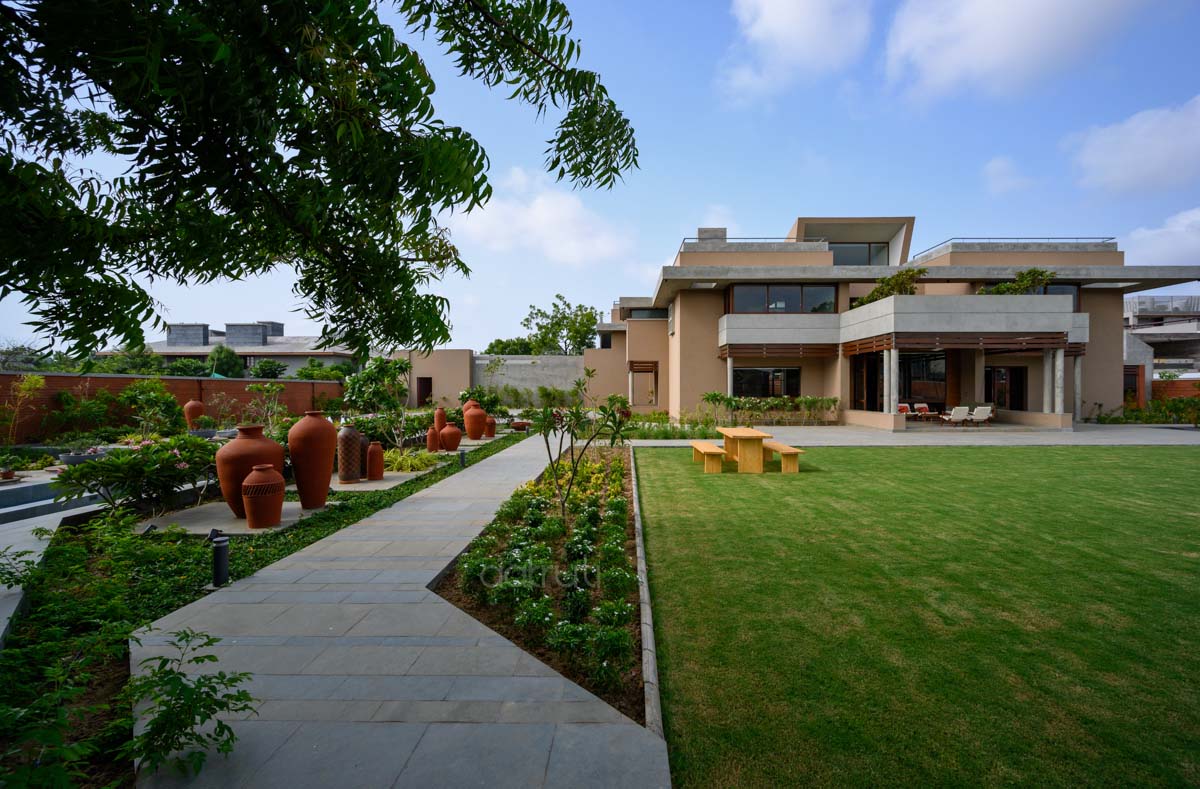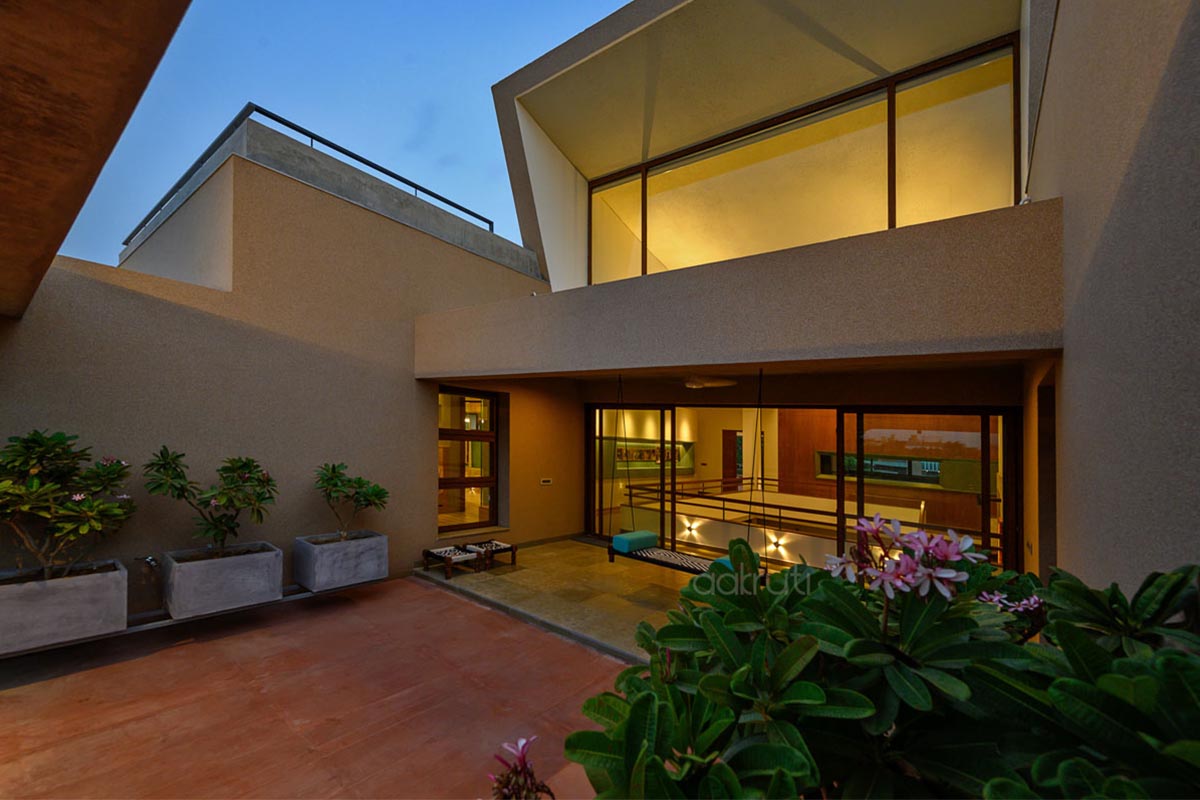 text description by the architects.
The design by Aakruti Architects for a home to a family of four in an upcoming suburb of Ahmedabad, involved a simple brief of making a spacious and comfortable home on an expansive land, with an area of 47,700 sq ft. This brief slowly transformed into a complex design challenge of creating a sequence of private and social spaces that addressed their individual aspirations. With a construction area of 18,500 sq ft, it comprises of five bedrooms, formal living room, TV room, courtyard, dining room, verandah sit-outs, kitchen, recreation room, lounge, barbecue area, temple, gymnasium, terrace sit-outs, and other service spaces.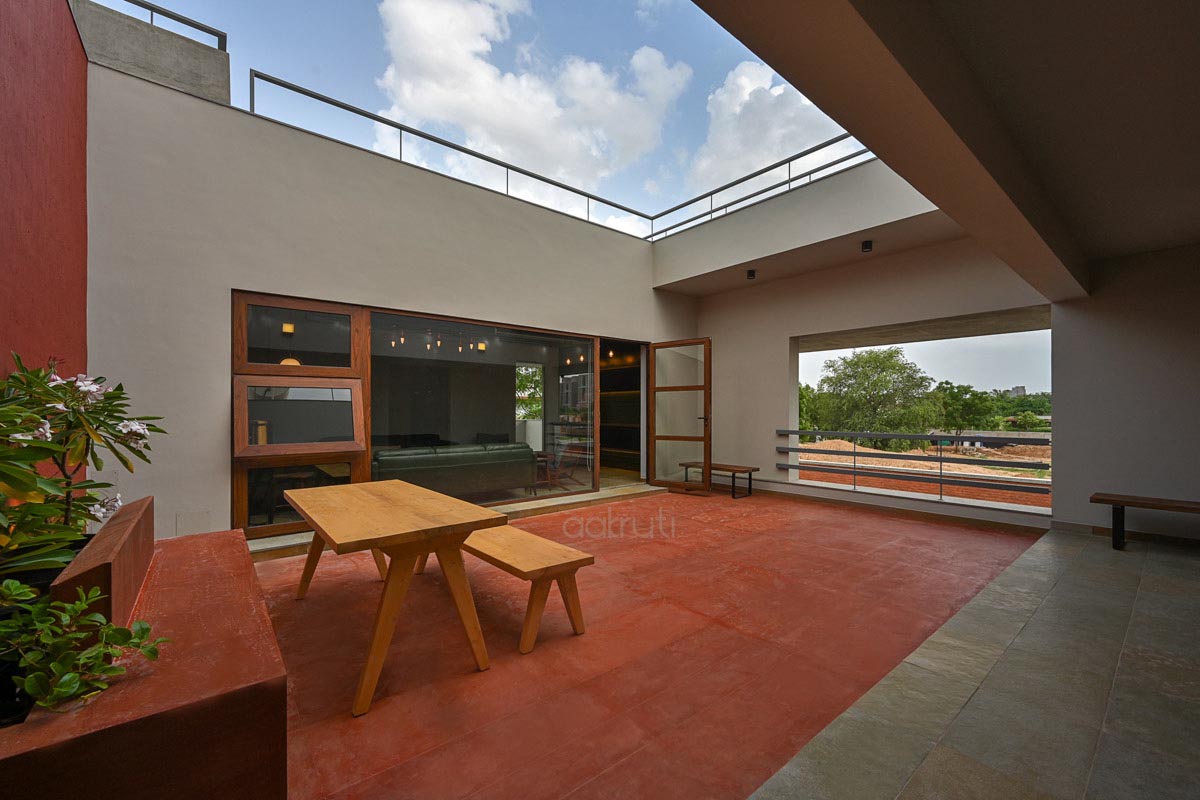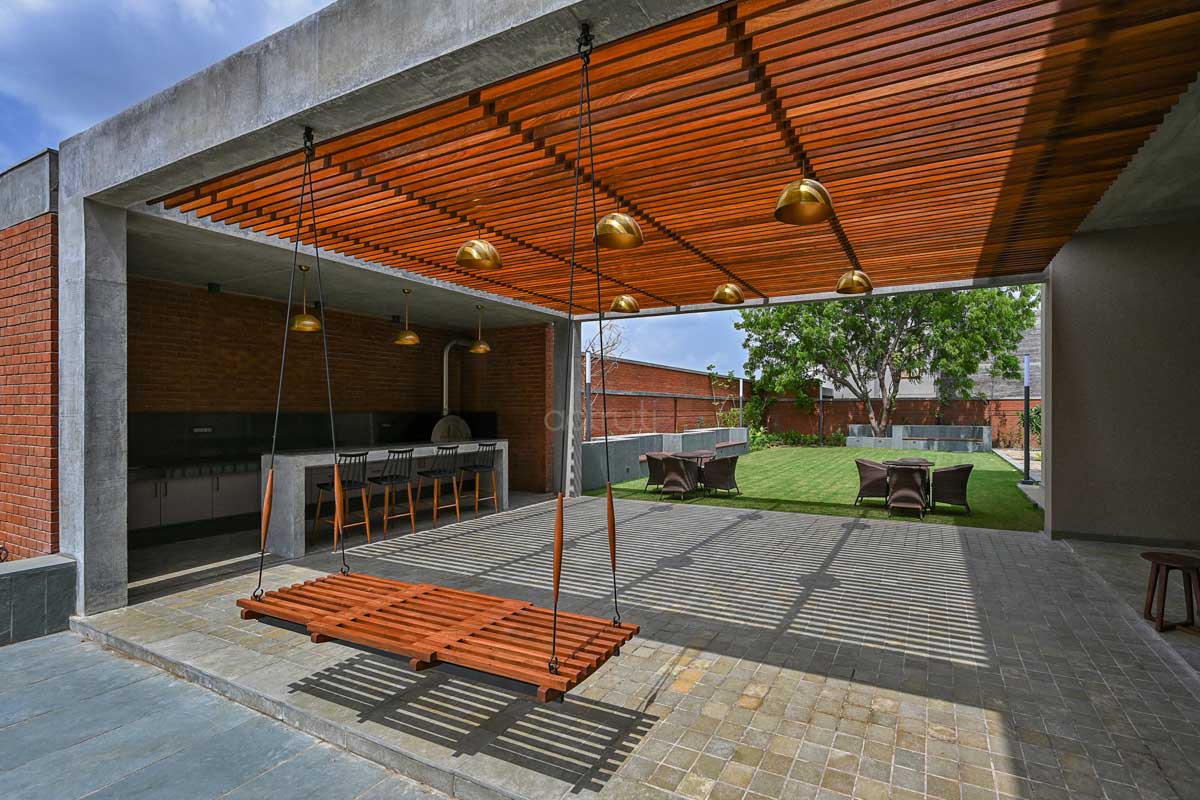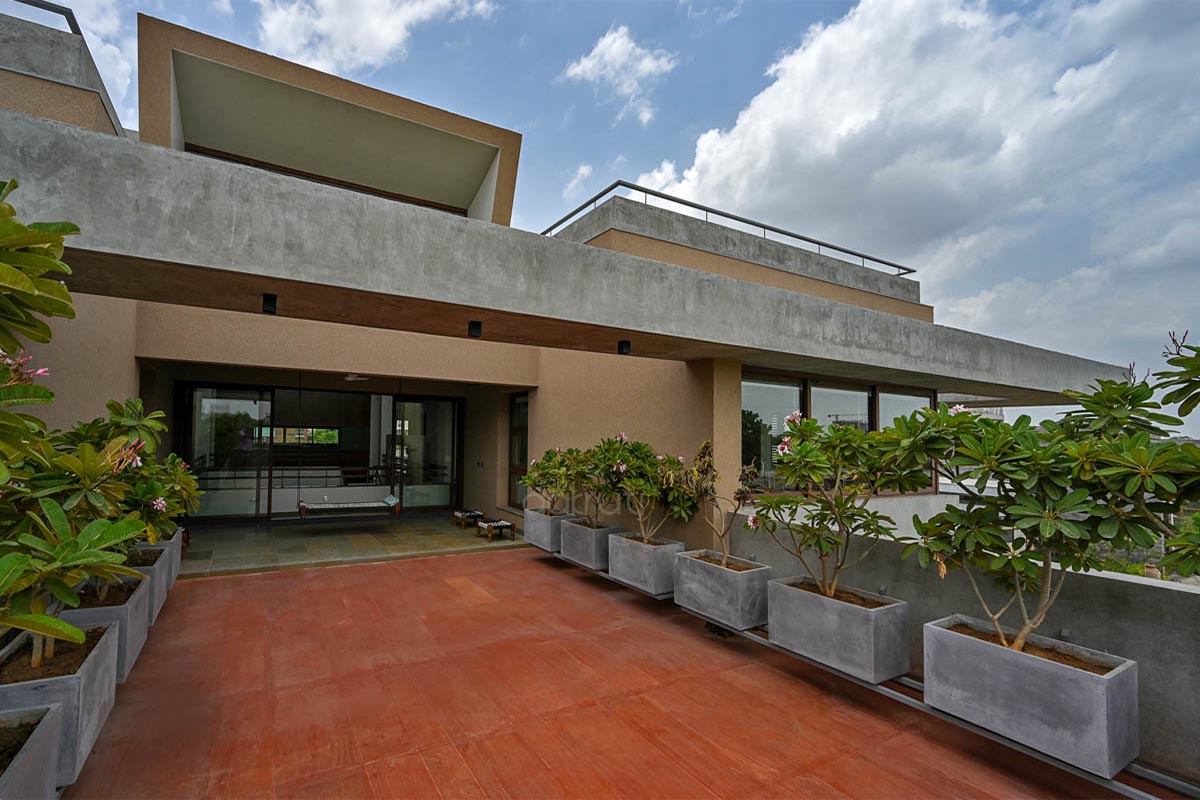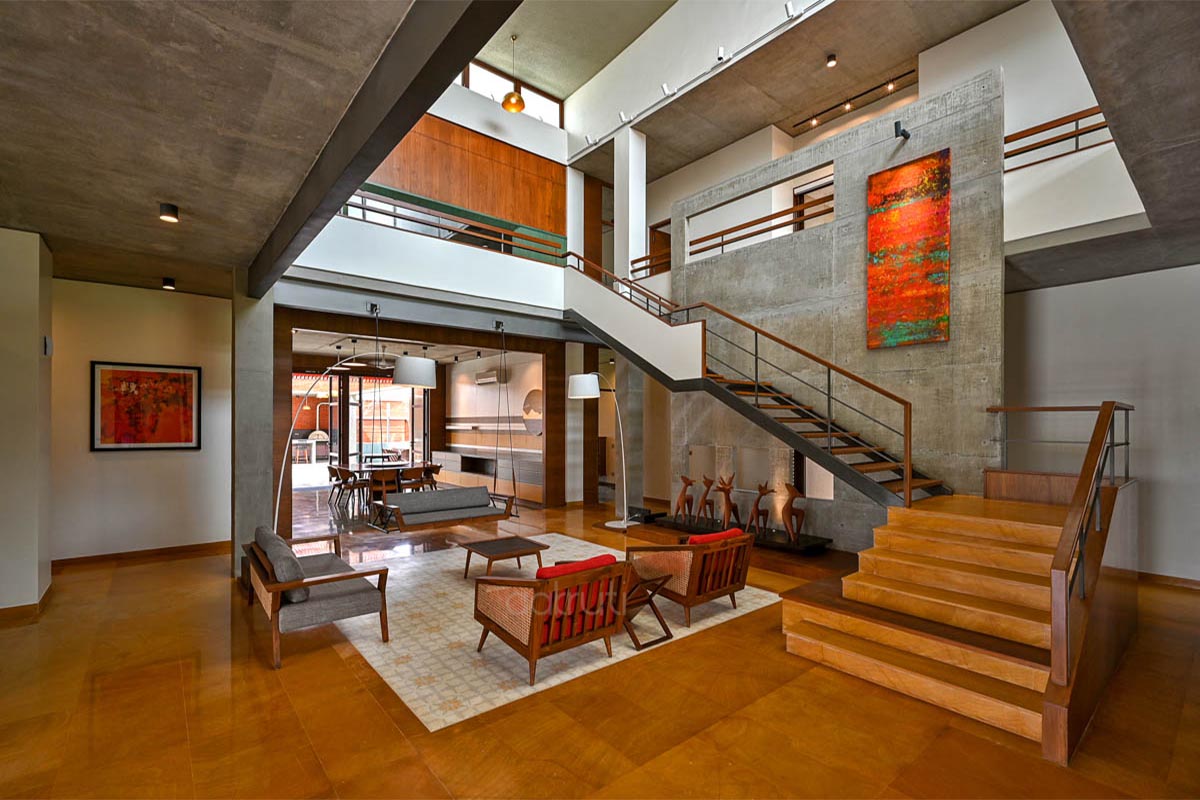 Having lived in a strictly urban environment all their lives, the family wished for a haven that connects them to the outdoors, thus making the landscape and the green pockets equally important. The built form is articulated to open out to the expanse of a large garden on the north, and other pockets of greens around. The outdoor spaces are imagined as a series of open or intimate pockets that house different possibilities of interaction for the family- sometimes a dinner with friends, or a barbecue with cousins, or simply an evening chai on the swing. North-south spine of the house through the courtyard space connects the internal and outside, thus blurring the barrier between the two. The first floor also has its share of terraces as outdoor pockets on the north overlooking the lawn, and on the southwest. The recreation room and the lounge open out to this terrace, which becomes a venue for a lively evening of entertainment, and to enjoy the evening breeze.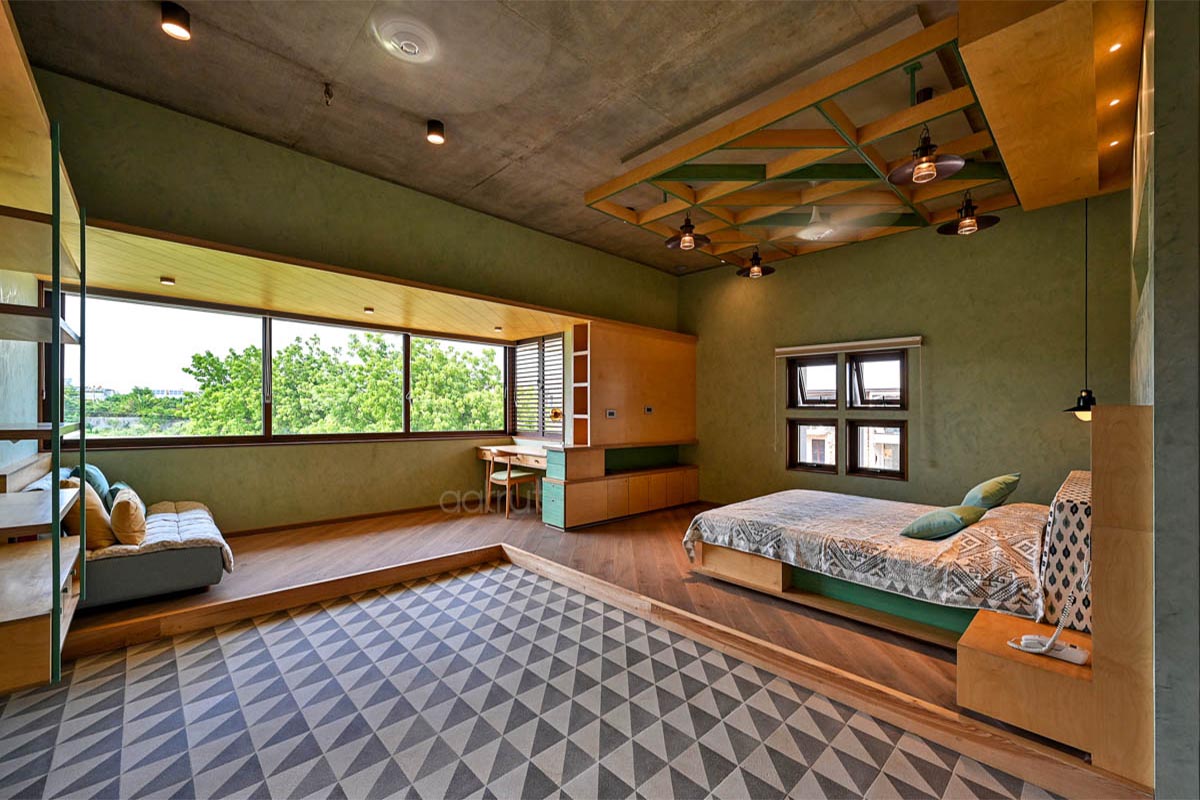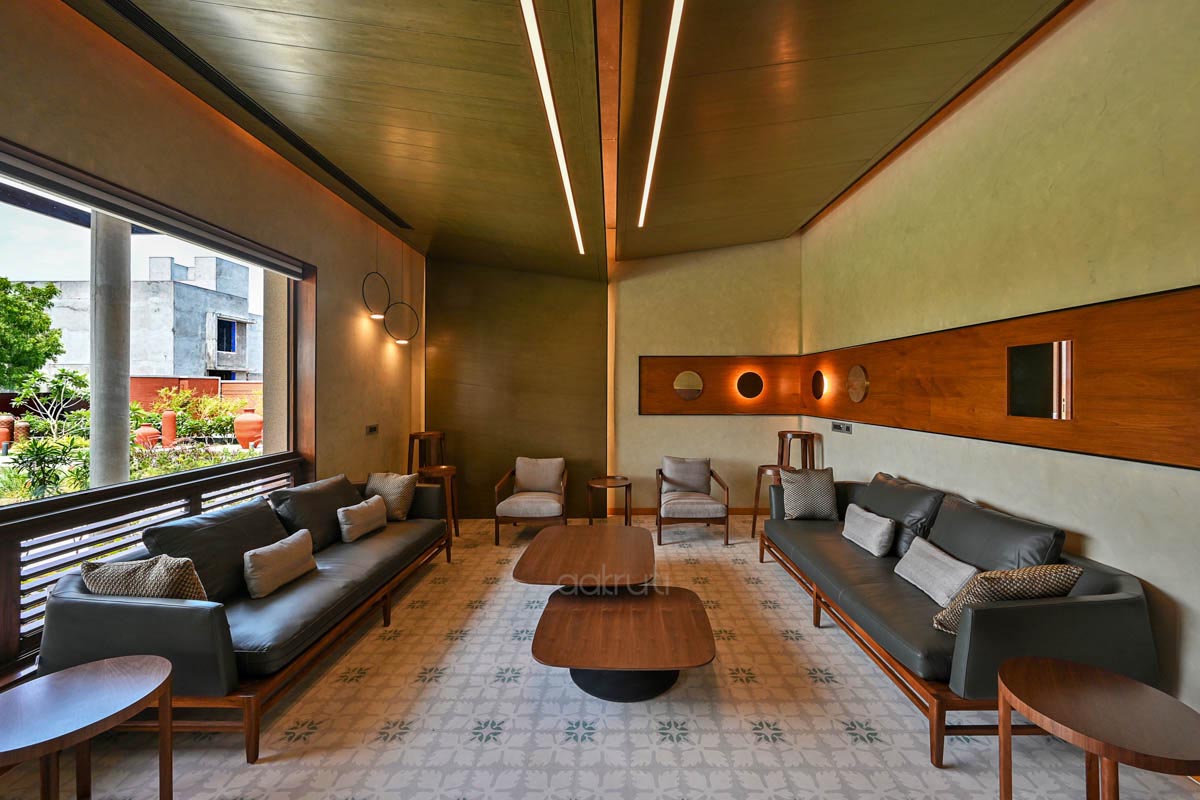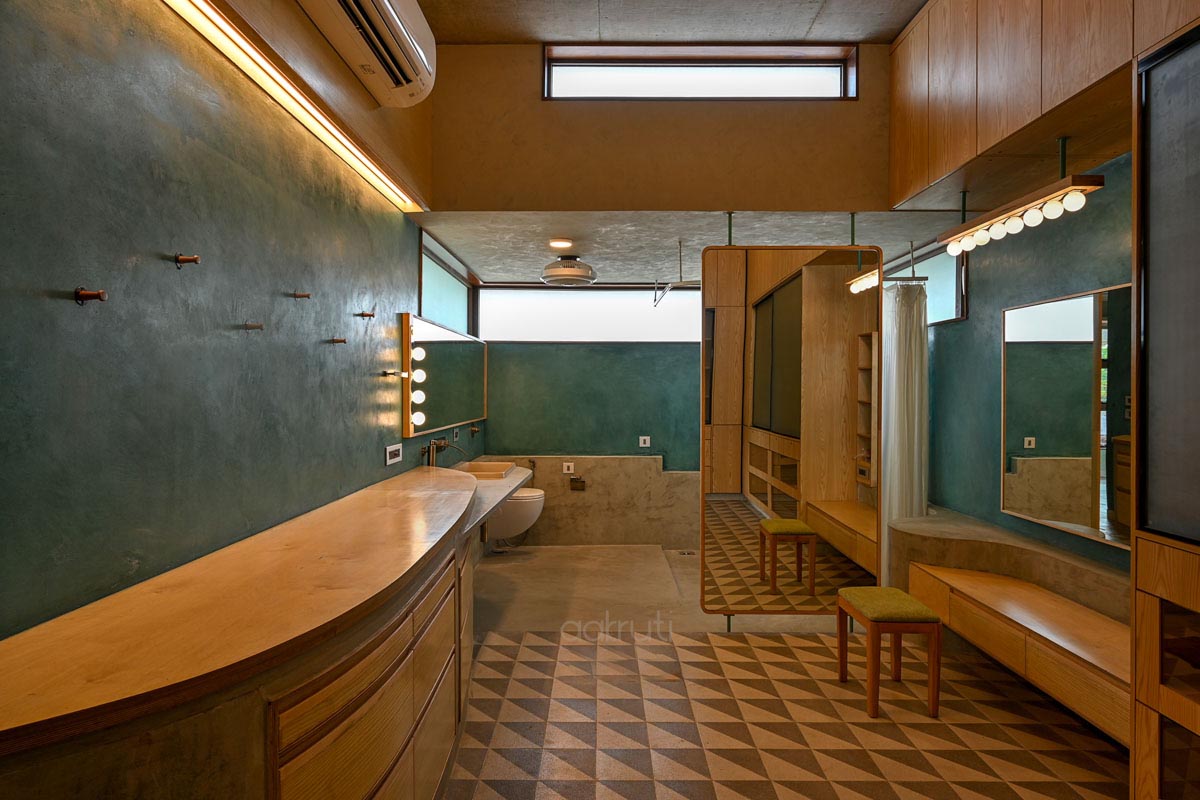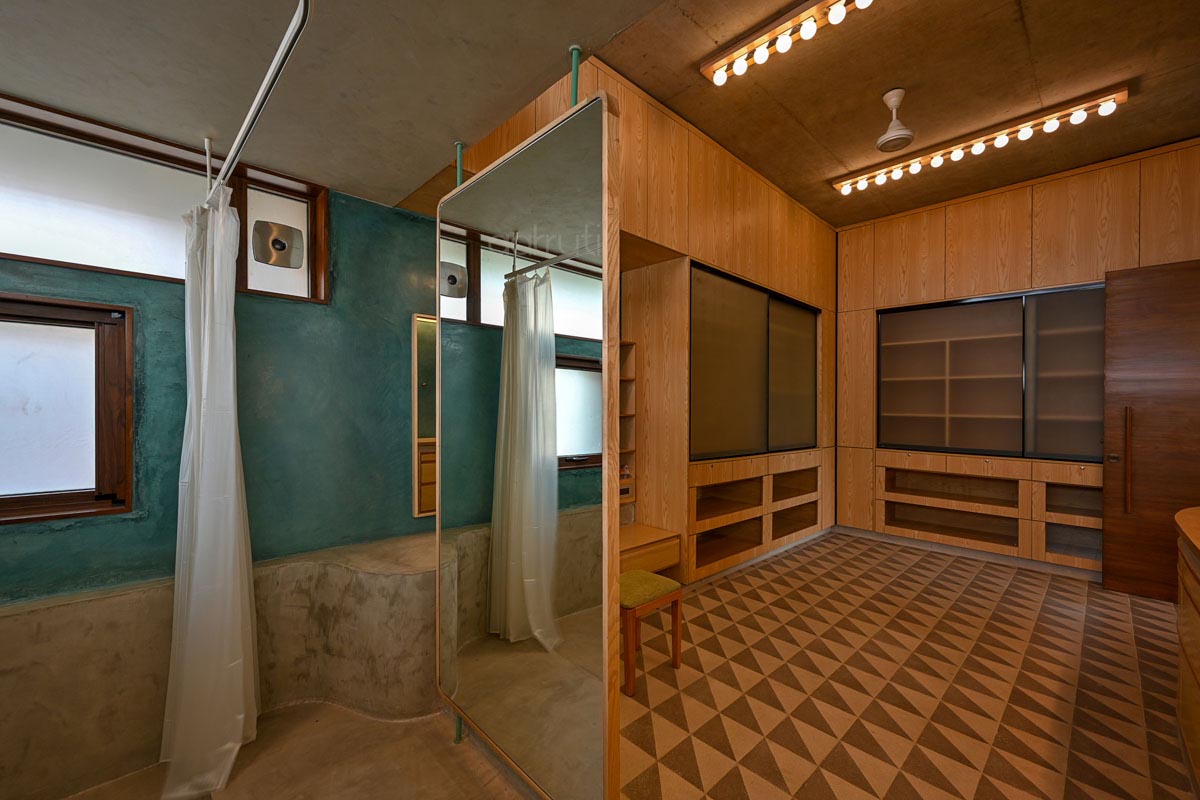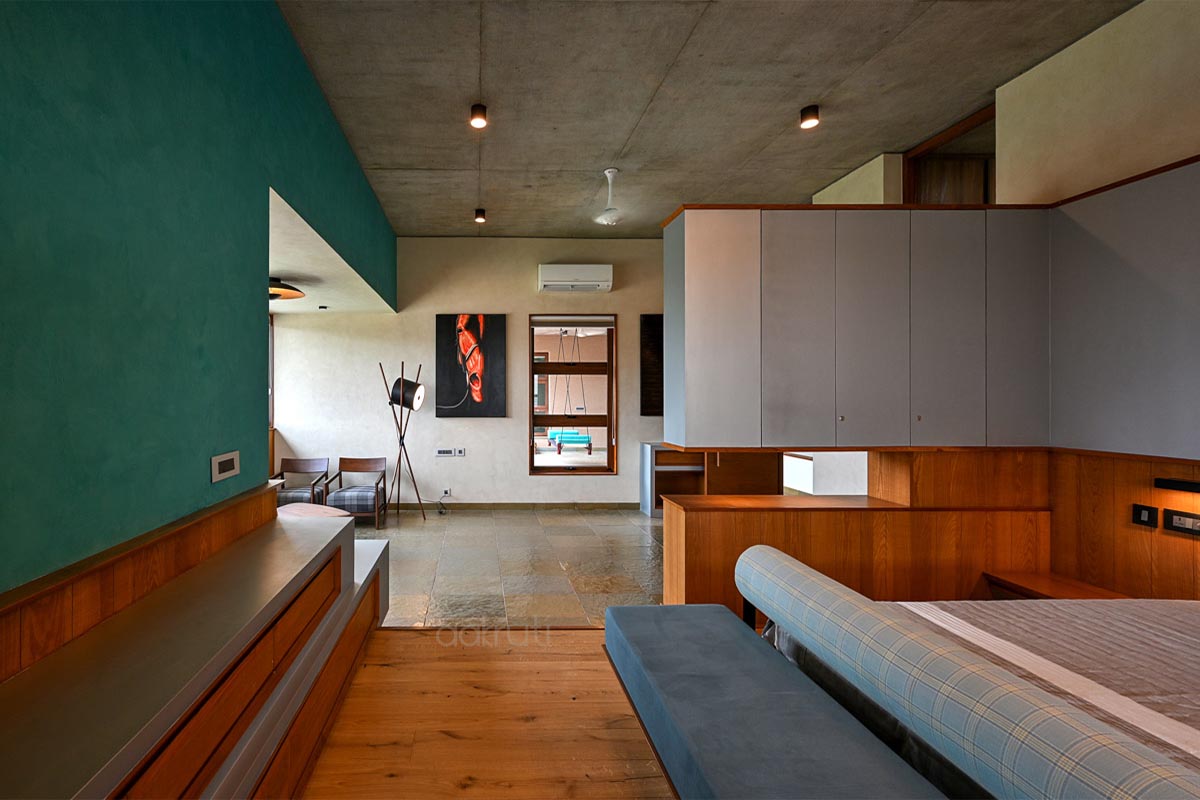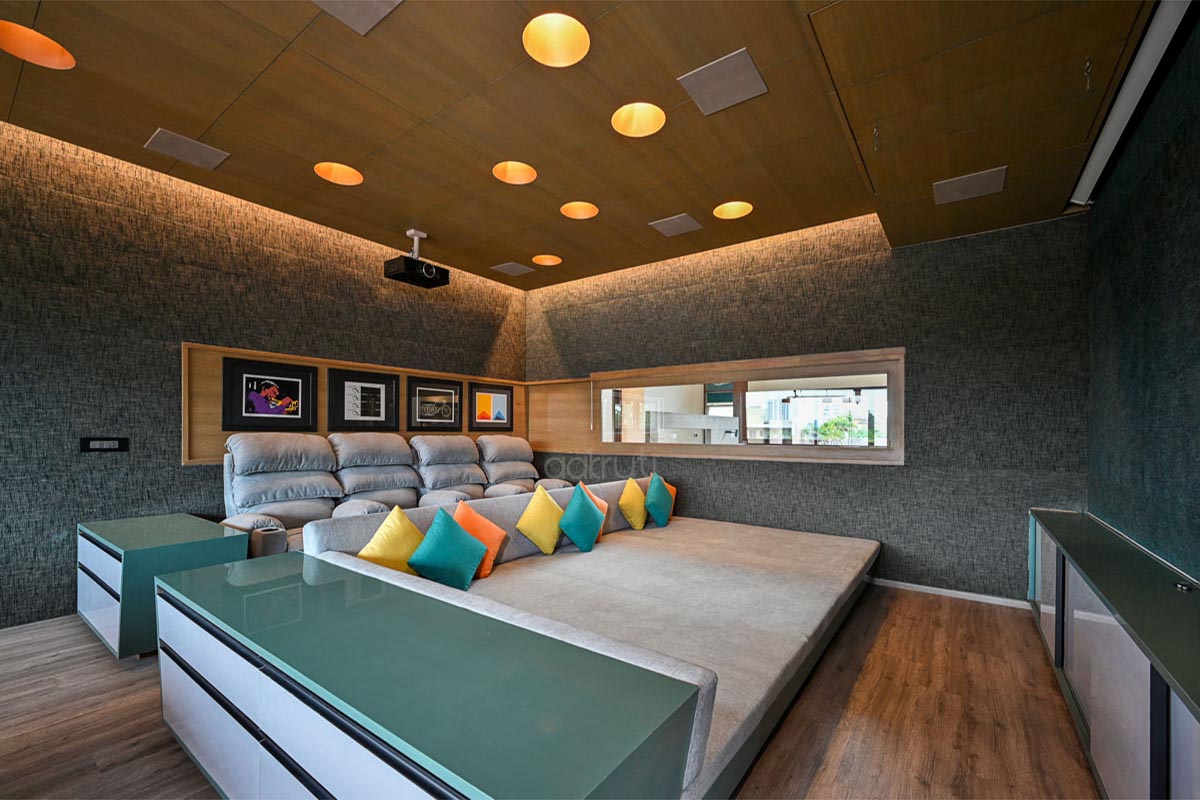 The concrete elements are left exposed– in slab bottoms, lintel bands and external elevation of the house. The flooring is a mix of polished kota stone or rough brown kota, with an occasional splash of Jaisalmer stone & patterned terrazzo tiles in the courtyard. All openings are designed to respond to the harsh weather with a combination of louvers for ventilation, and glass sliding for view and light. They are deep set under a continuous lintel band that acts as a shading device.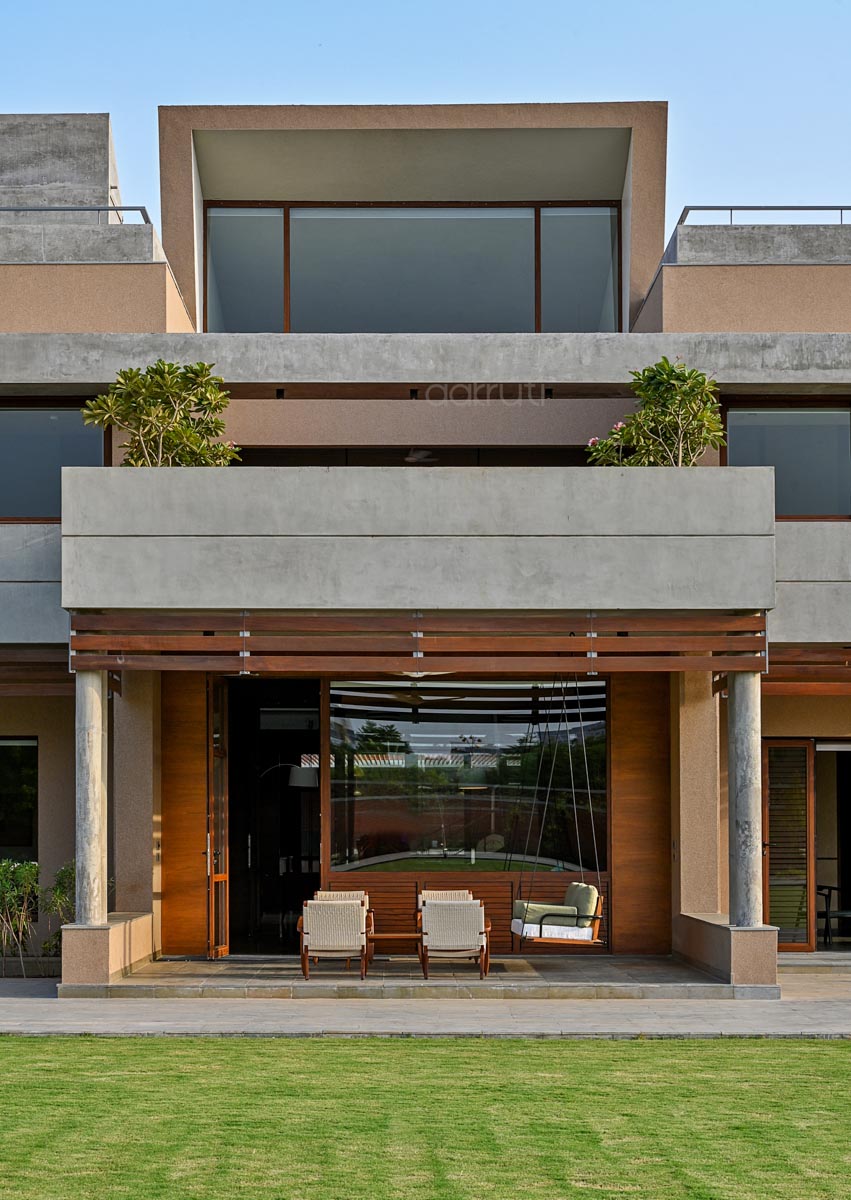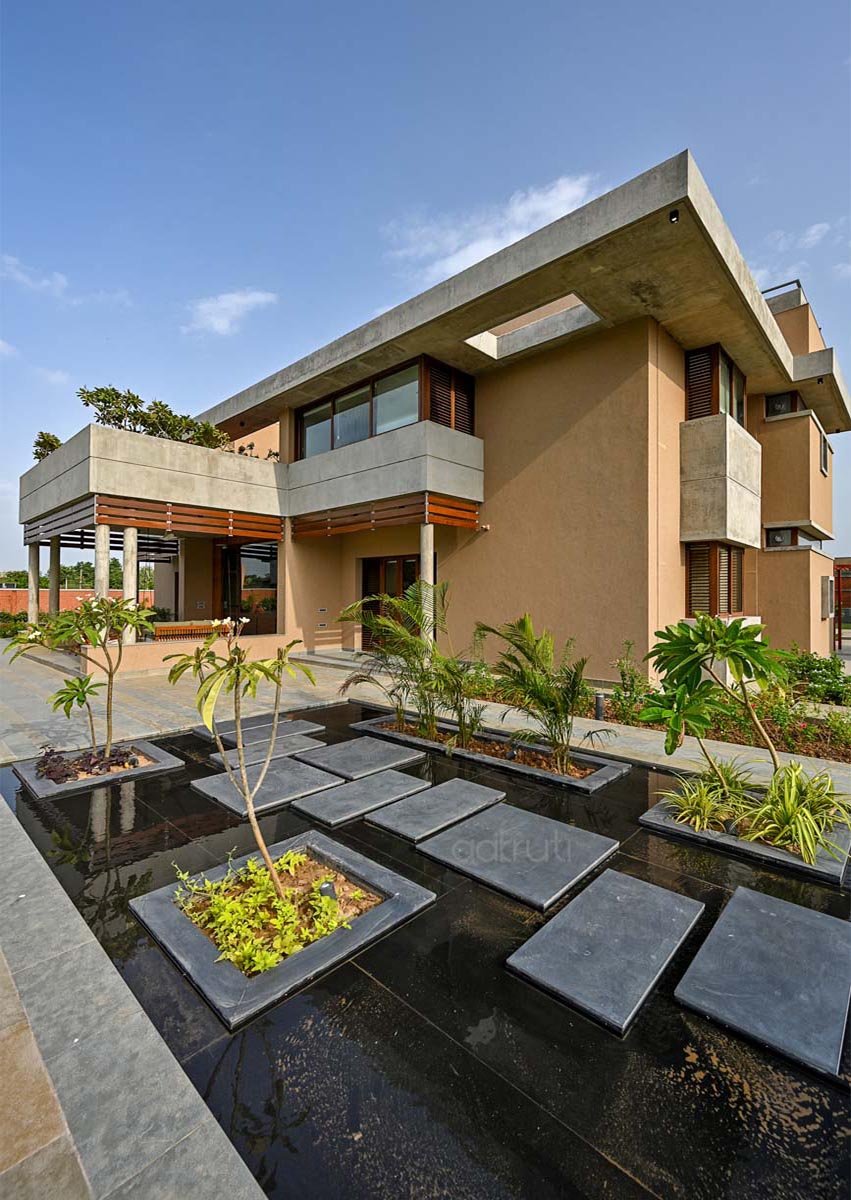 Photographer: Dinesh Mehta.
PROJECT CREDITS
Architecture / Interior Design: Aakruti Architects
Design Team: Dilip Patel, Toyam Patel, Tulna Patel