A residence in Ahmedabad that creates a contemporary ambiance with modern yet simple and elegant interiors, infused with an Indian soul.
Project Name : Stacked House
Project Location : Ahmedabad, Gujarat, India
Project Area : 5800 sq.ft. plot
Architects/Designer : Altitude Designs
Project Status : Built
Photographer : Ridhham Gajjar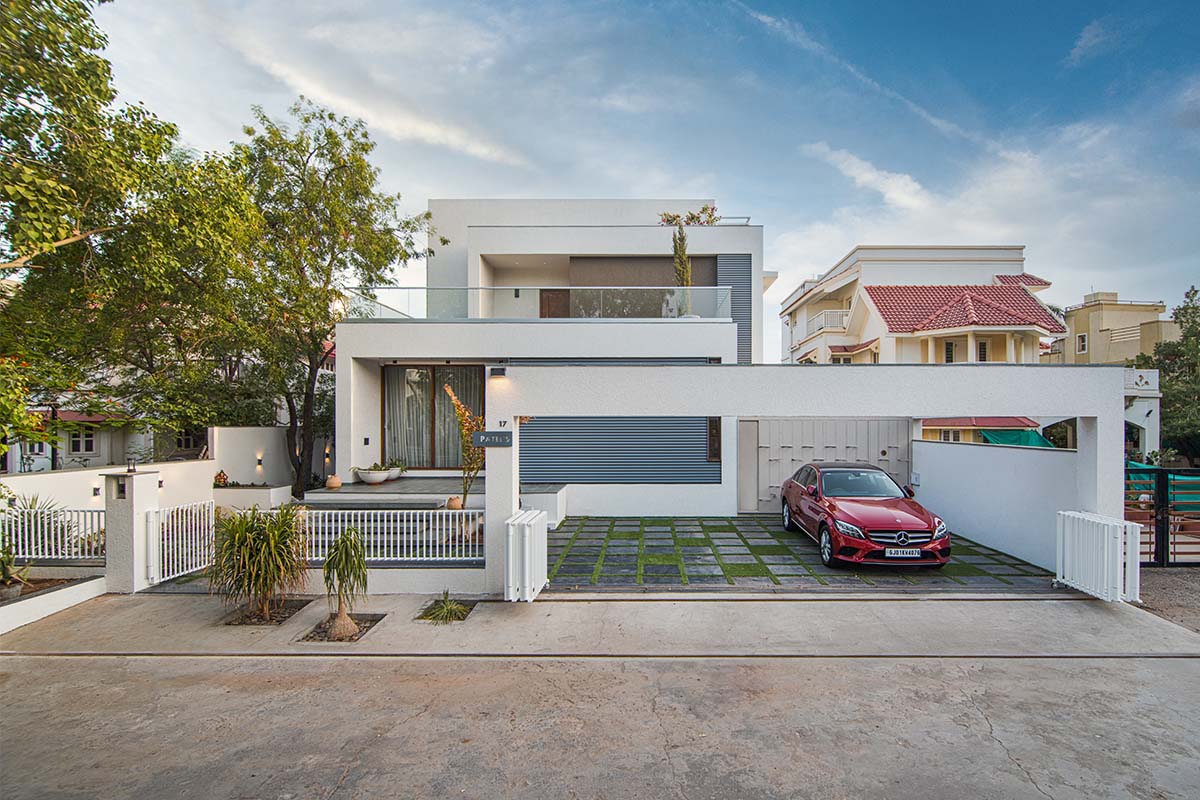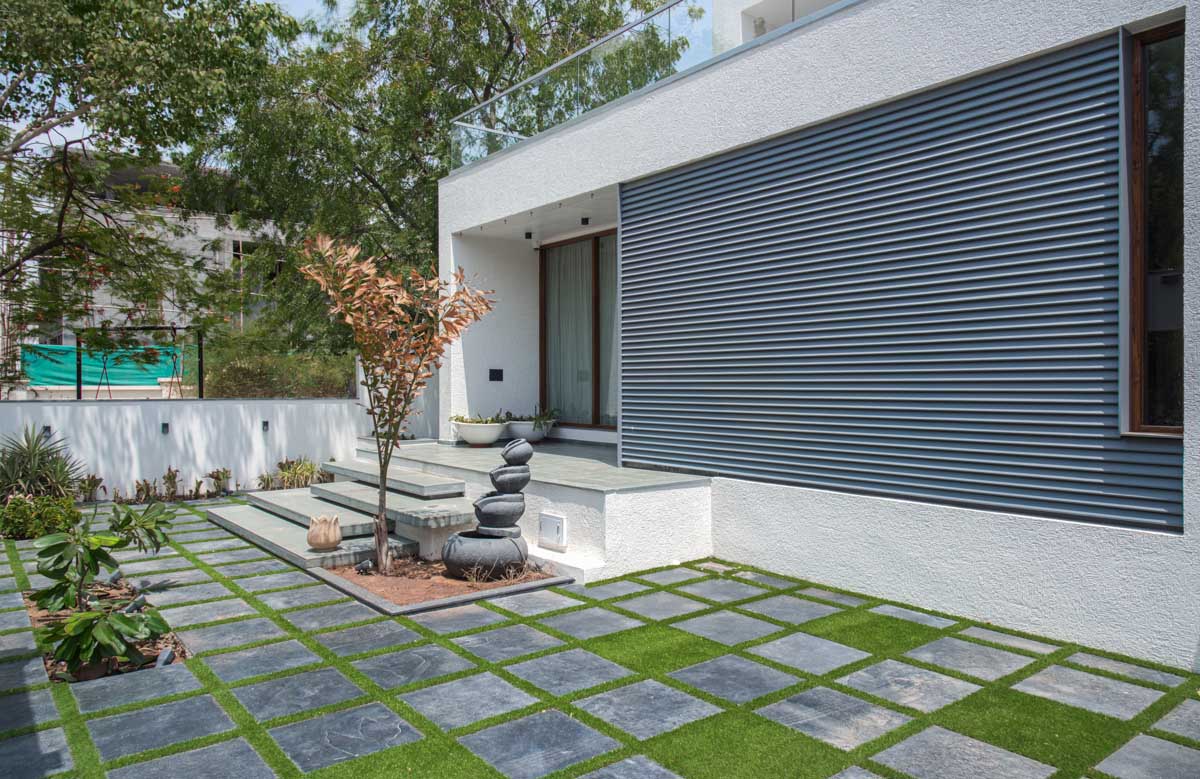 Text description by the architects.
The project "Stacked House" is a residence for a small business family of four, husband wife and two sons. They desired a contemporary architecture with modern yet simple and elegant interiors, infused with an Indian soul.
The house built on three levels, basement for servant, ground and first floor for family living. As it is a south facing plot, we decided to have a garden at the back which is north and it will be self -shadowed by the residence itself.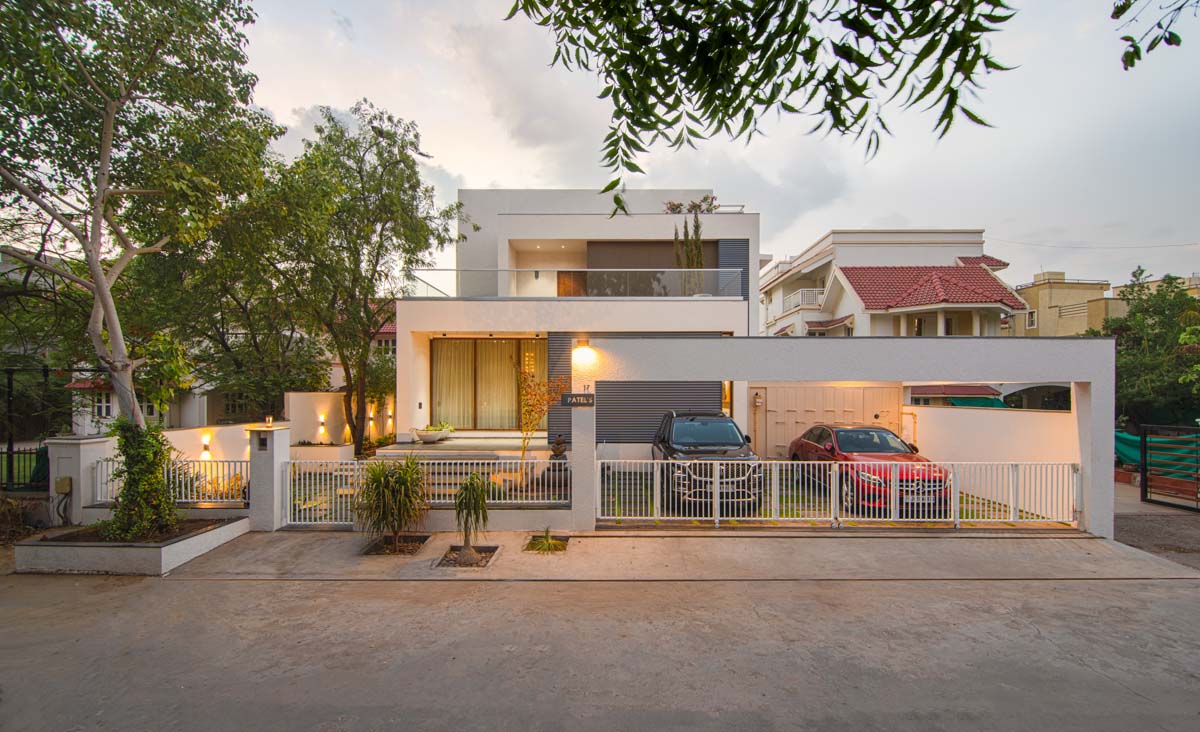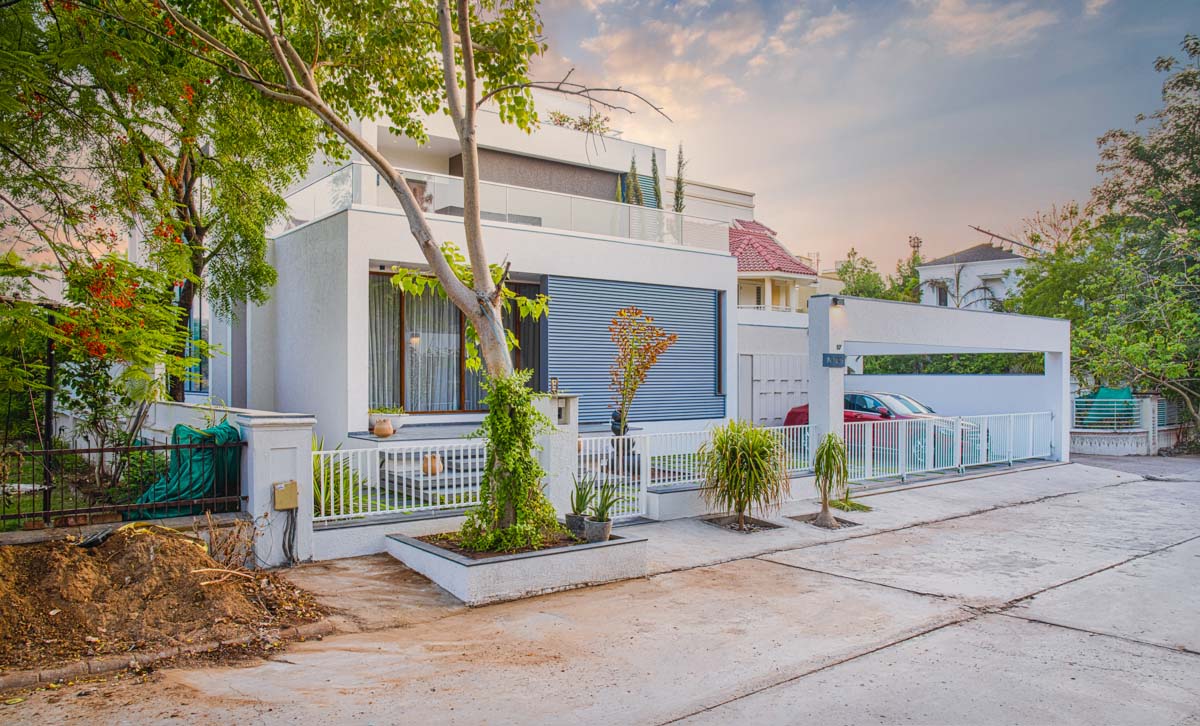 While studying surroundings, we realised that the neighbours at north and east sides had closed service areas. So east side was strategically planned for services, utility, basement entry and power backup. So that one can approach and work without disturbing private spaces.
Fortunately there was a private lawn at the west, maintained by neighbour. So a double height courtyard was planned to take advantage of open green view and natural light.
The entrance is occupied by Verandah, vestibule, powder room, passage and drawing room, had a touch of Indian tradition.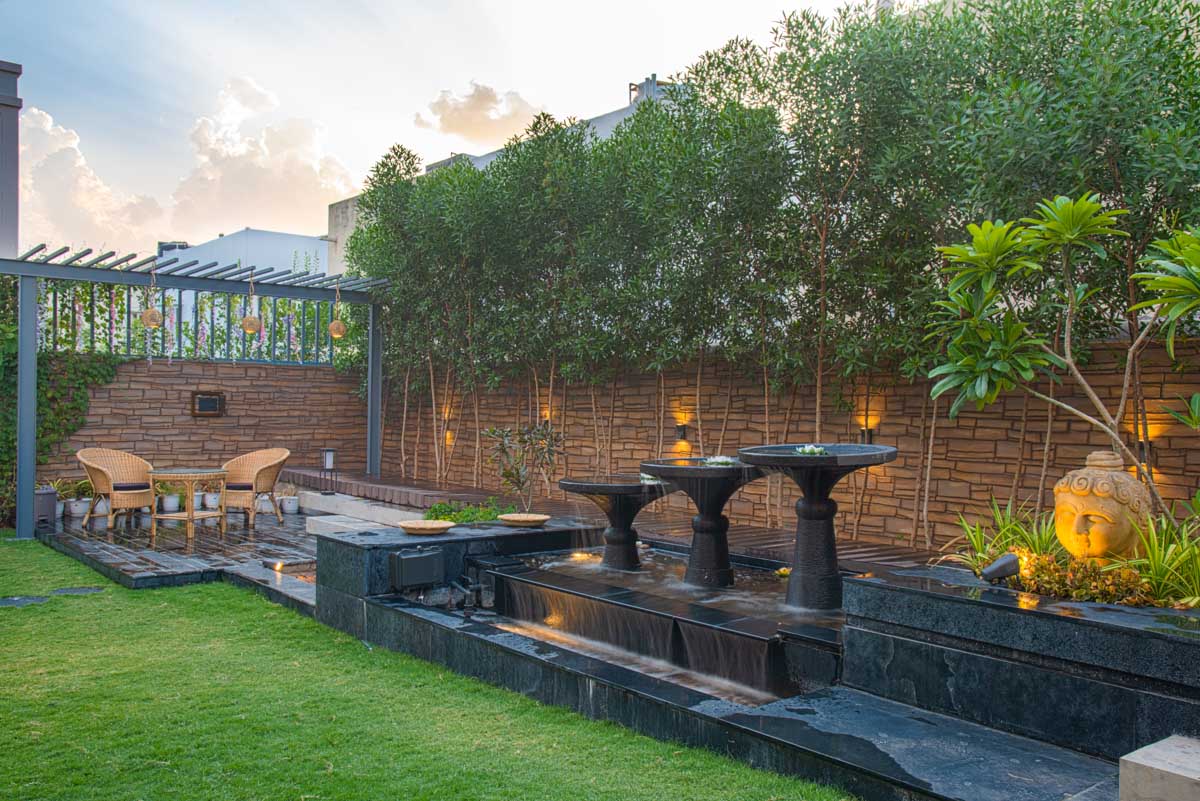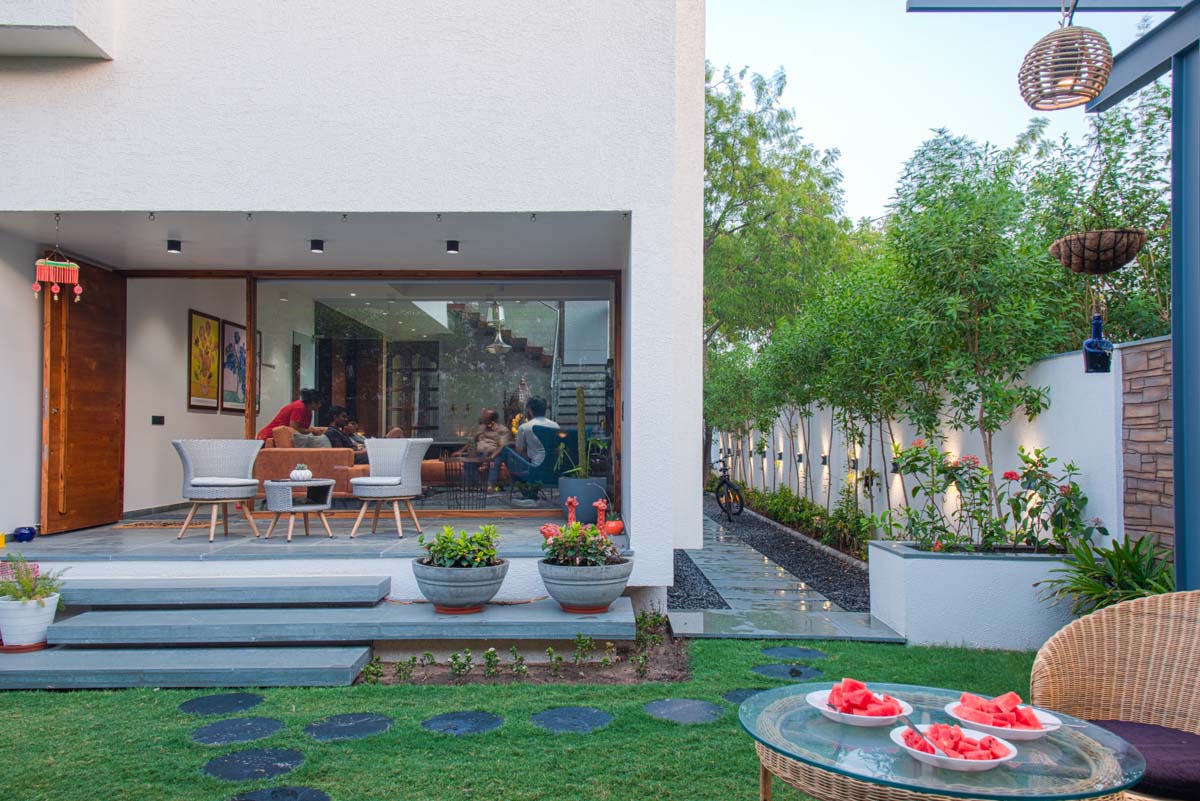 We recessed the drawing room which provides a sense of entrance with indirect entry also protects window against the weather by structure itself. And for the rest of the wall we introduced a metal louver for thermal insulation against harsh sunlight, which bestows a very Morden contemporary character to the façade.
We recessed first floor, as a result, first floor seems stacked on the ground floor and another stack at parking which forms series of three stacks.This is how the house named the stacked house.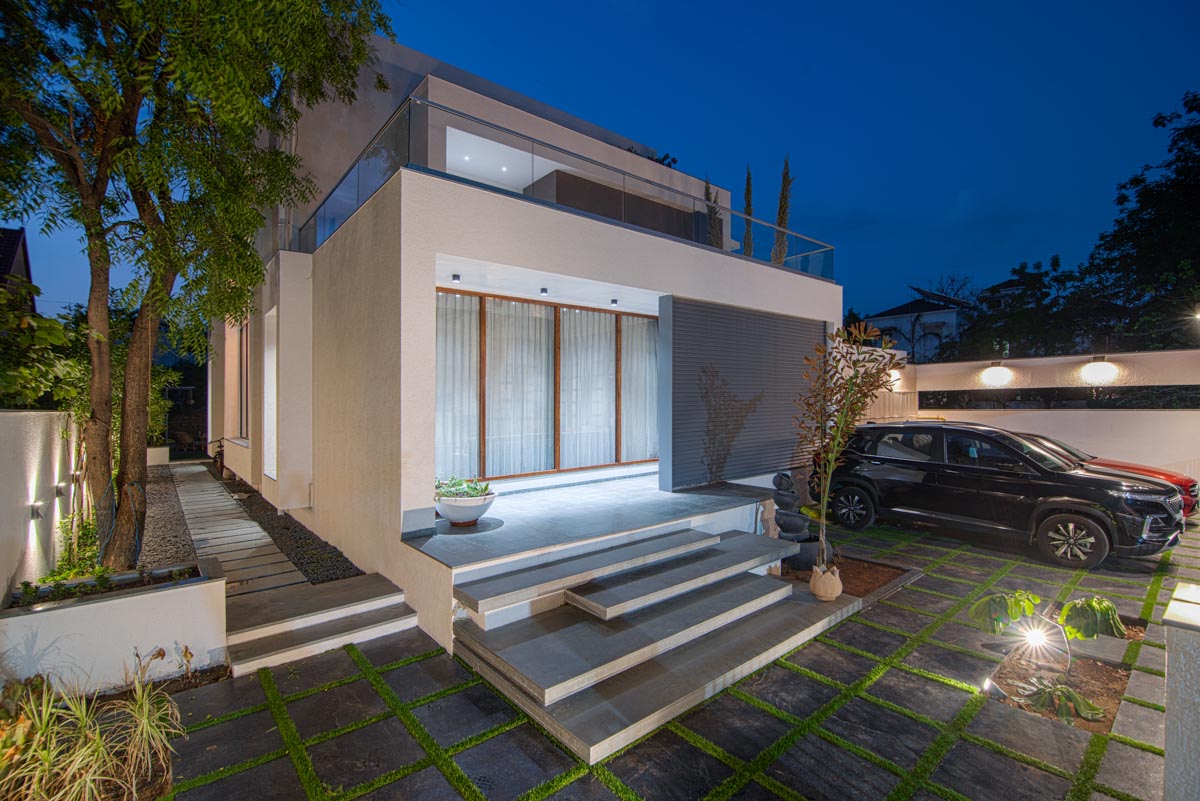 Kitchen is located at centre of the house ,connected with dinning and utility.
Client is fond of reading, and also owns a great collection of books. We needed to address a book storage and a reading space.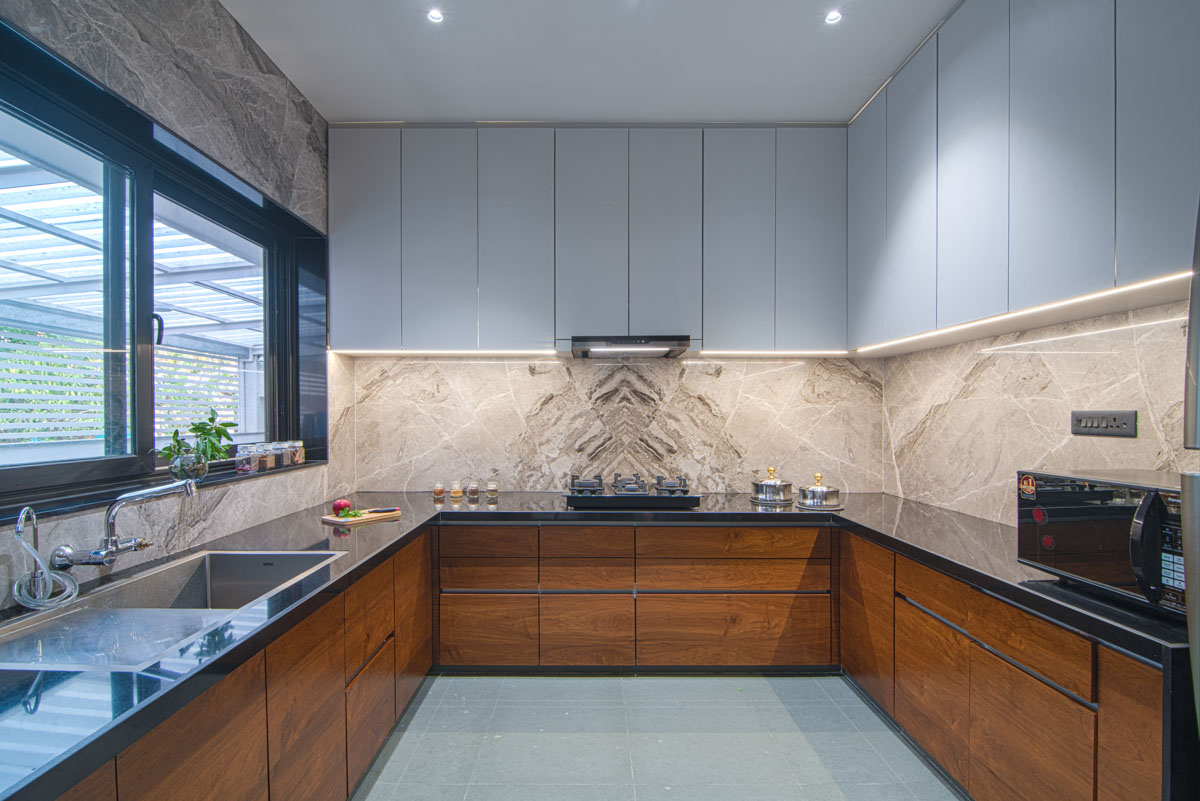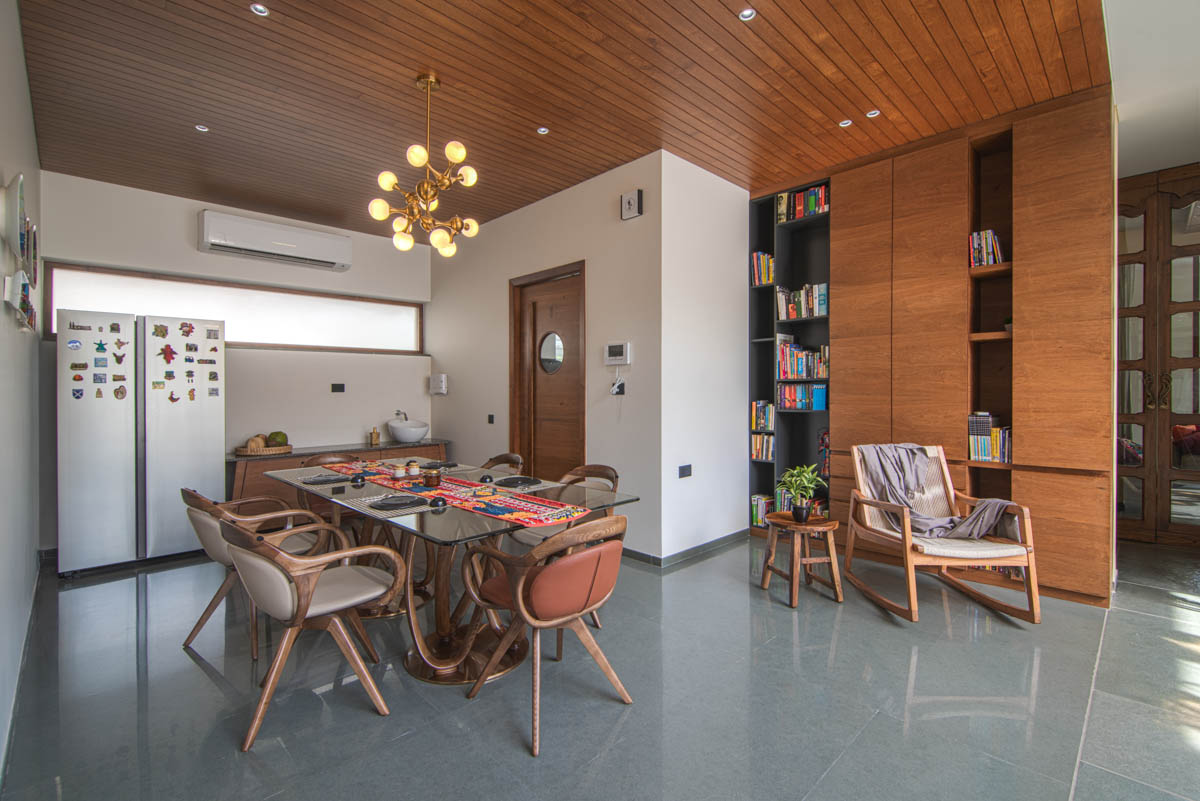 The double height courtyard and extended open space dedicated to staircase, puja and dining, is a great light source throughout the day. Centrally located puja at the courtyard creates a divine experience.
Staircase is designed in double height courtyard which is connected to all the spaces and becomes a focal point of the house. As we climb the stairs the entire veneer wall is visible with the impression of palm trees that gives an elegant look. As it completely blends within the panelling, nothing stand-out loudly. Bedroom doors hides in panelling and forms a monolithic view.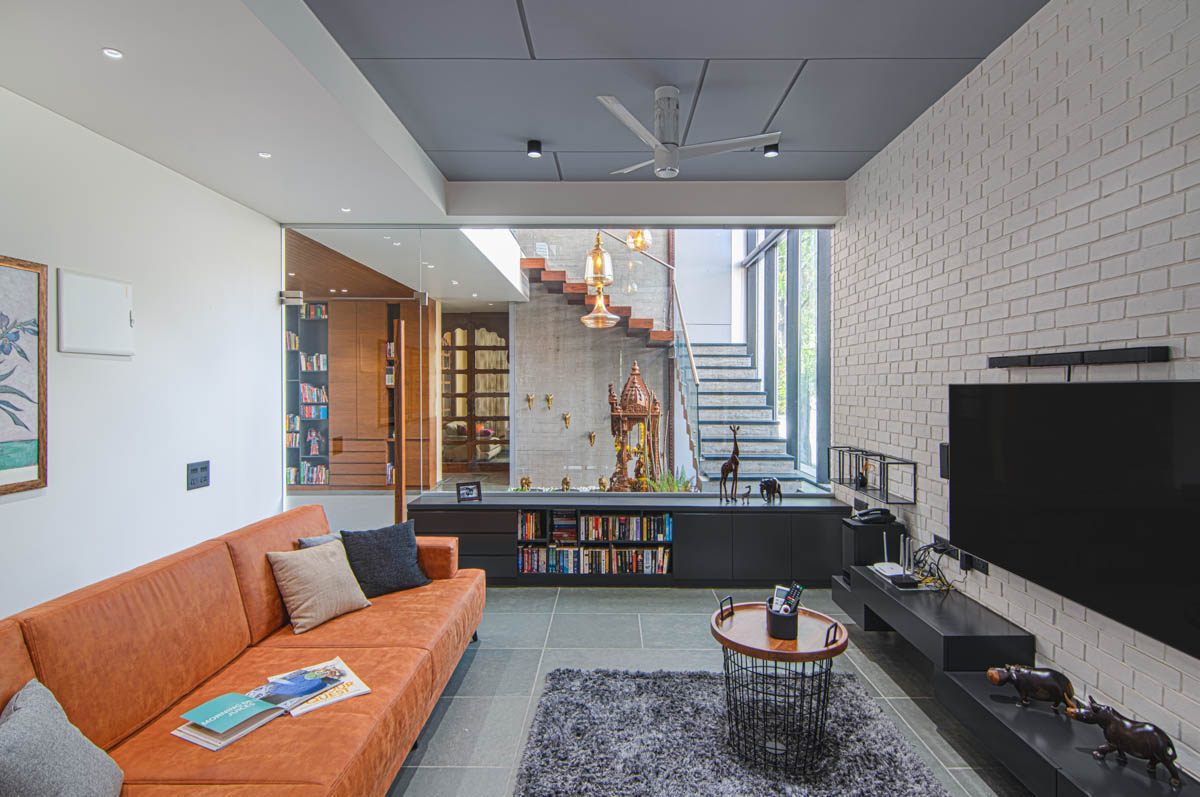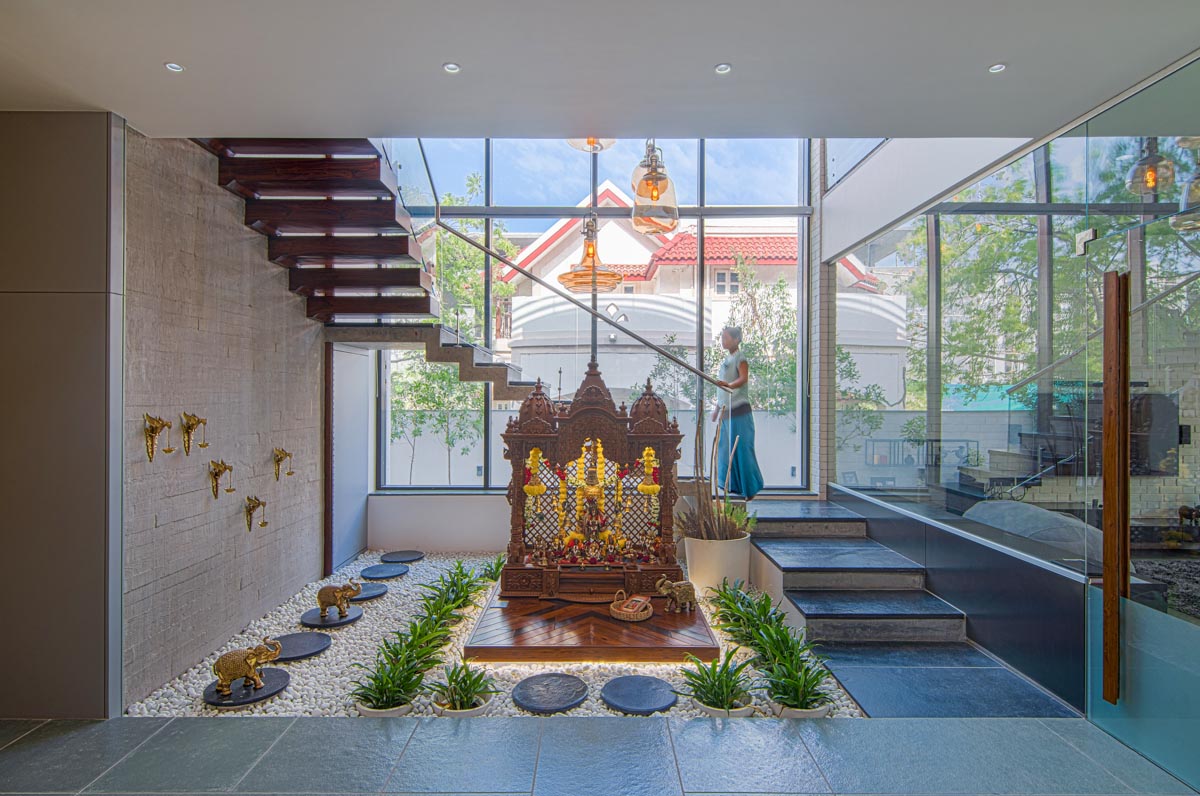 Living room is based on contemporary interior, has view of garden through full glass window to allow green inside; which makes both spaces inseparable.
Master room is modern by design and Indian roots by materials. have also a beautiful view of garden.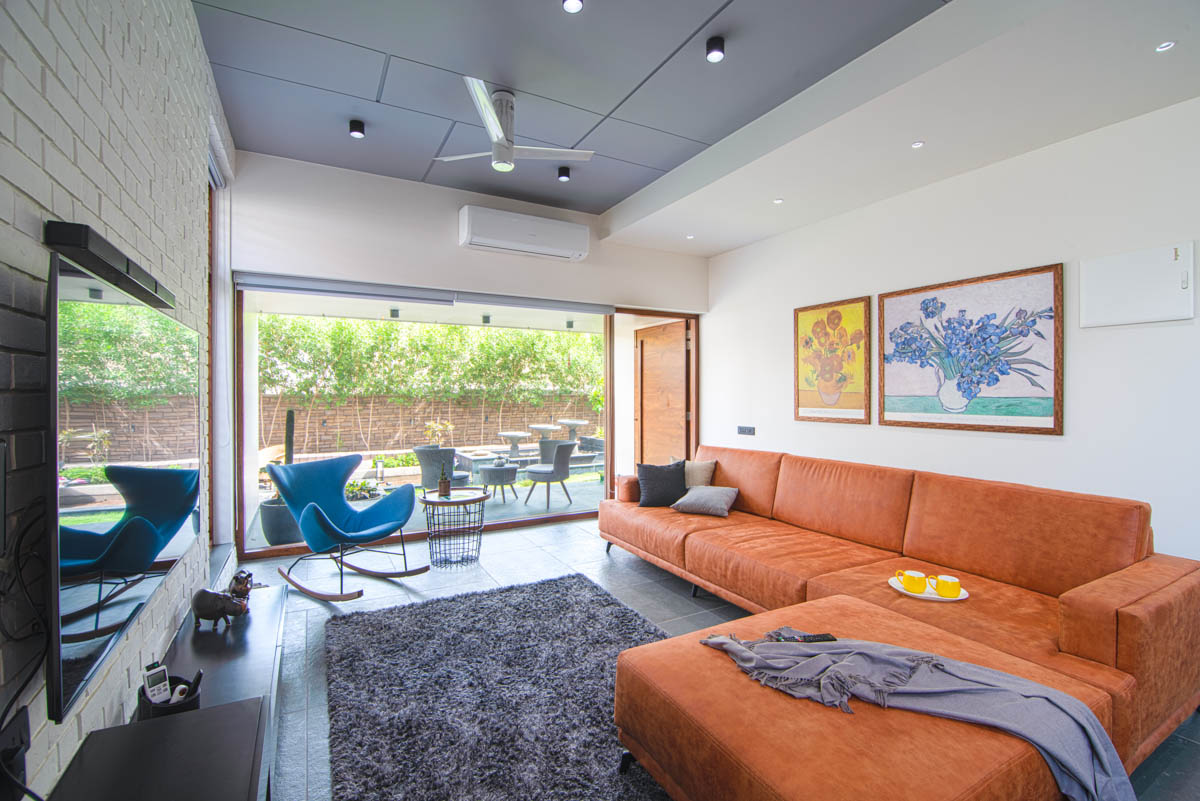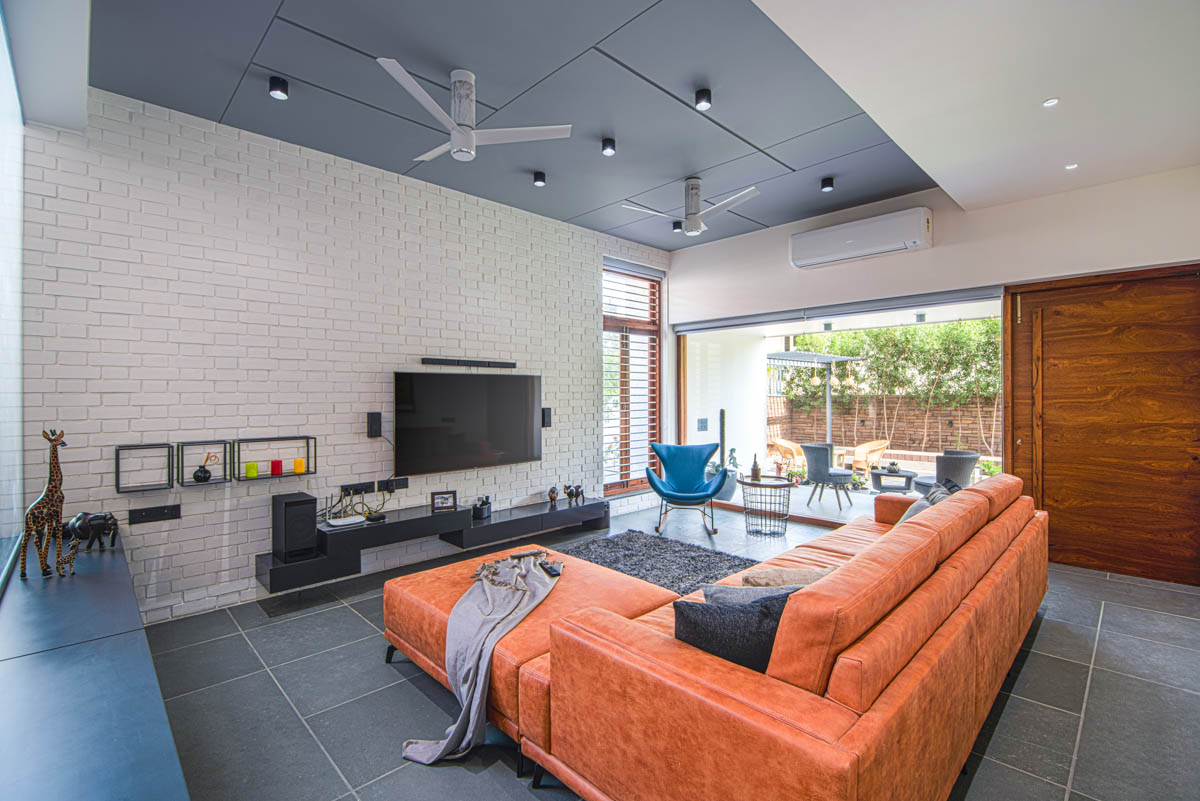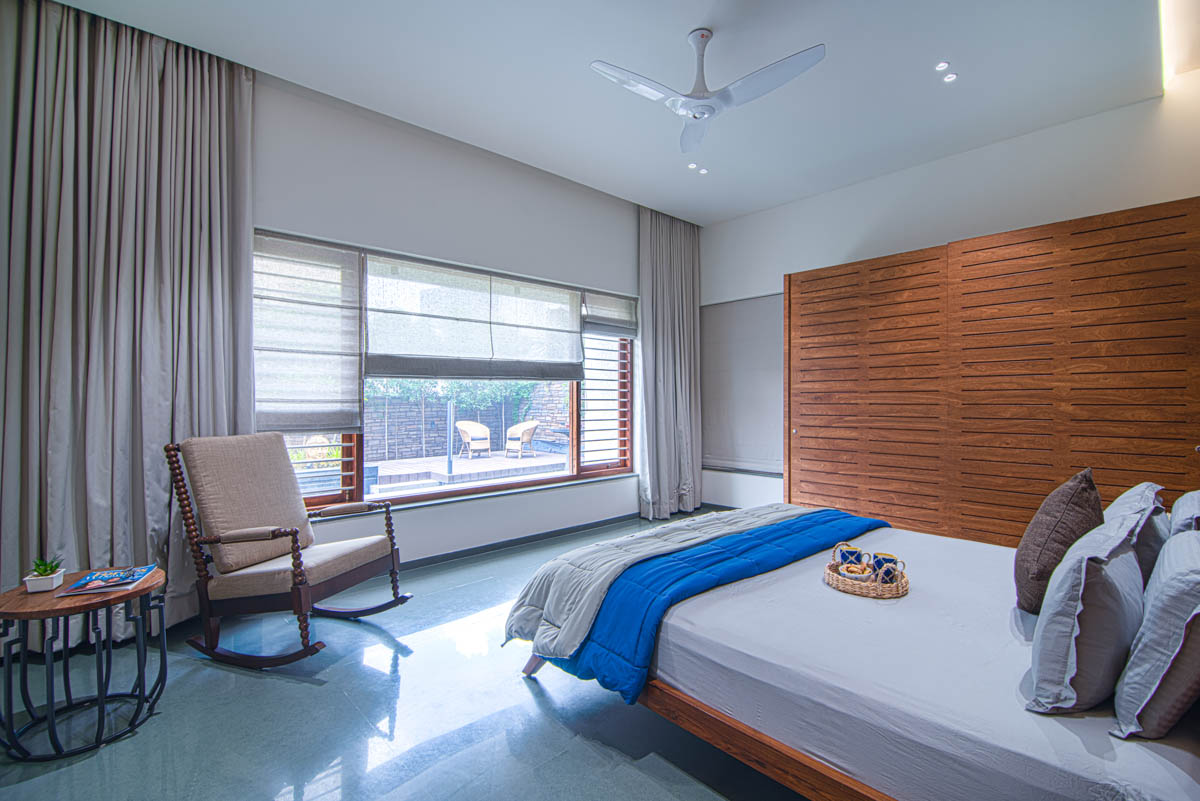 First floor living room which has a connection with the ground floor through the courtyard. The bedroom for the younger son, who loves to create art work. Hence the deck bed designed which can be put to multiple uses and storage.
The bedroom for the elder son, who loves music and nature so the material palette, design and details follows accordingly.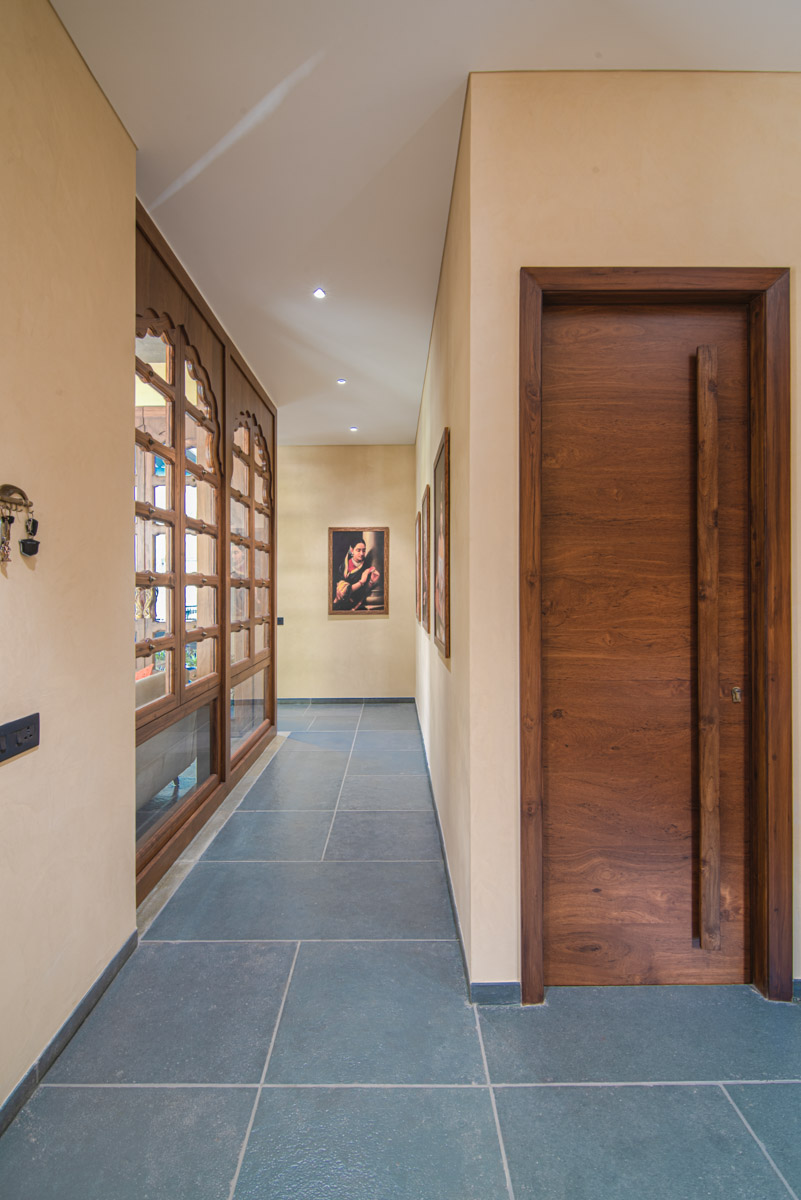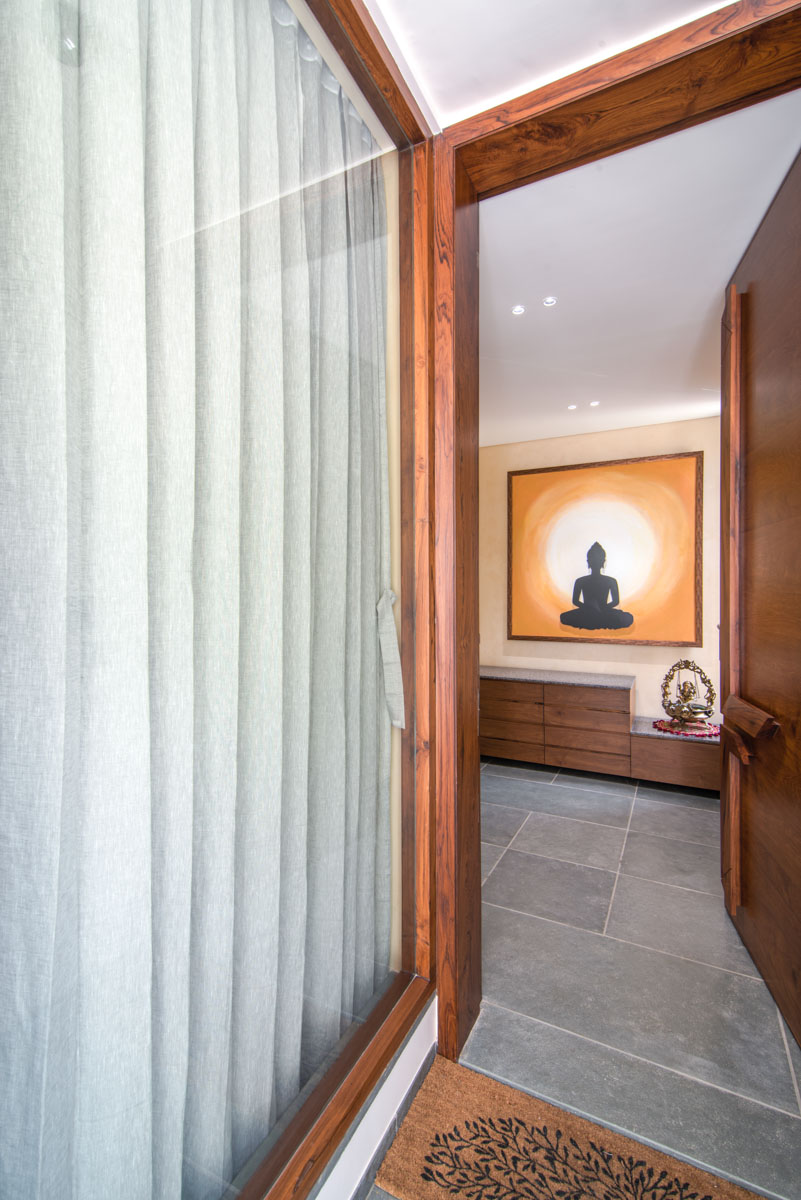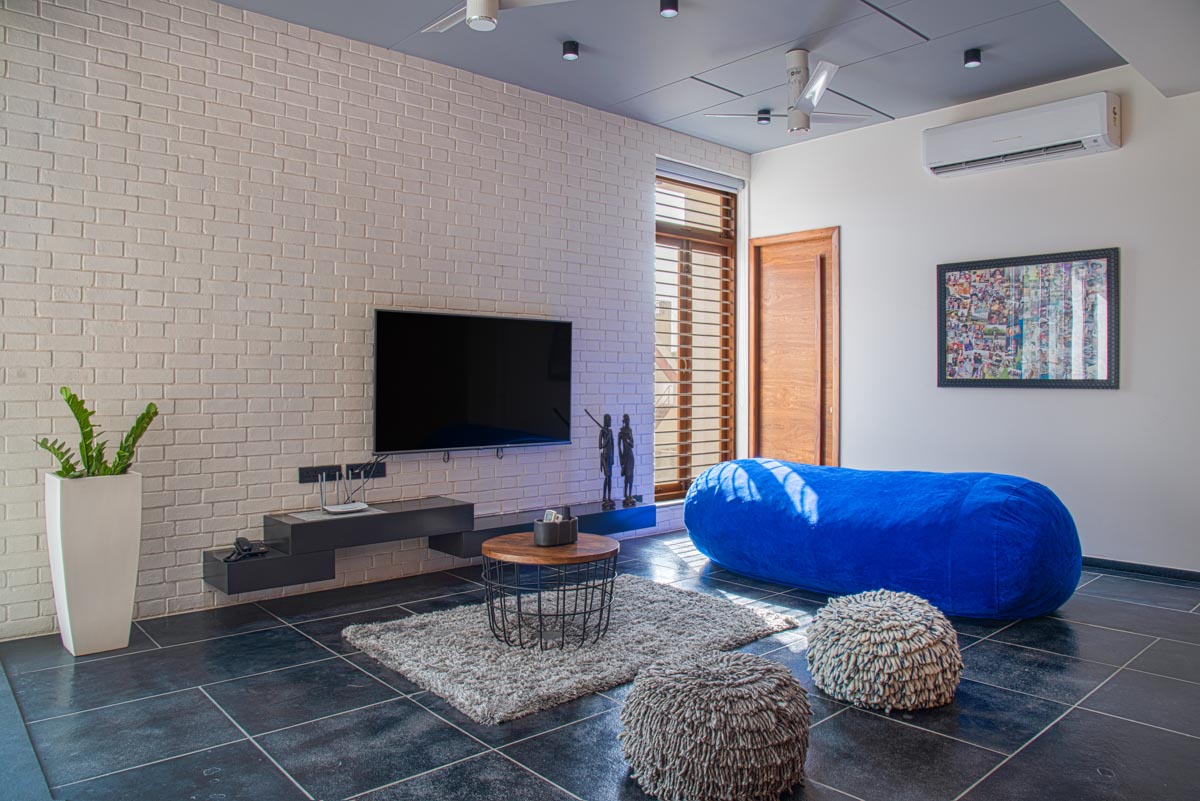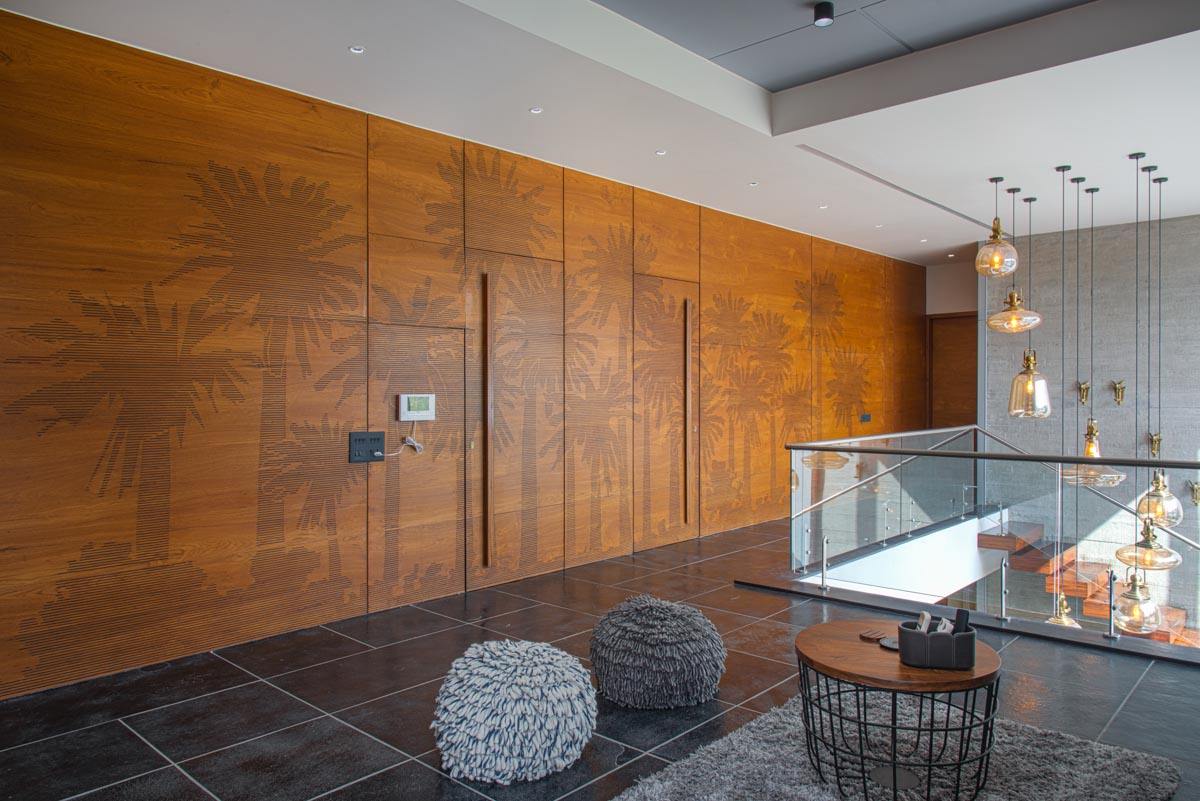 We wanted to have some informal living space at this floor; so open terrace had planned on the top of the drawing room.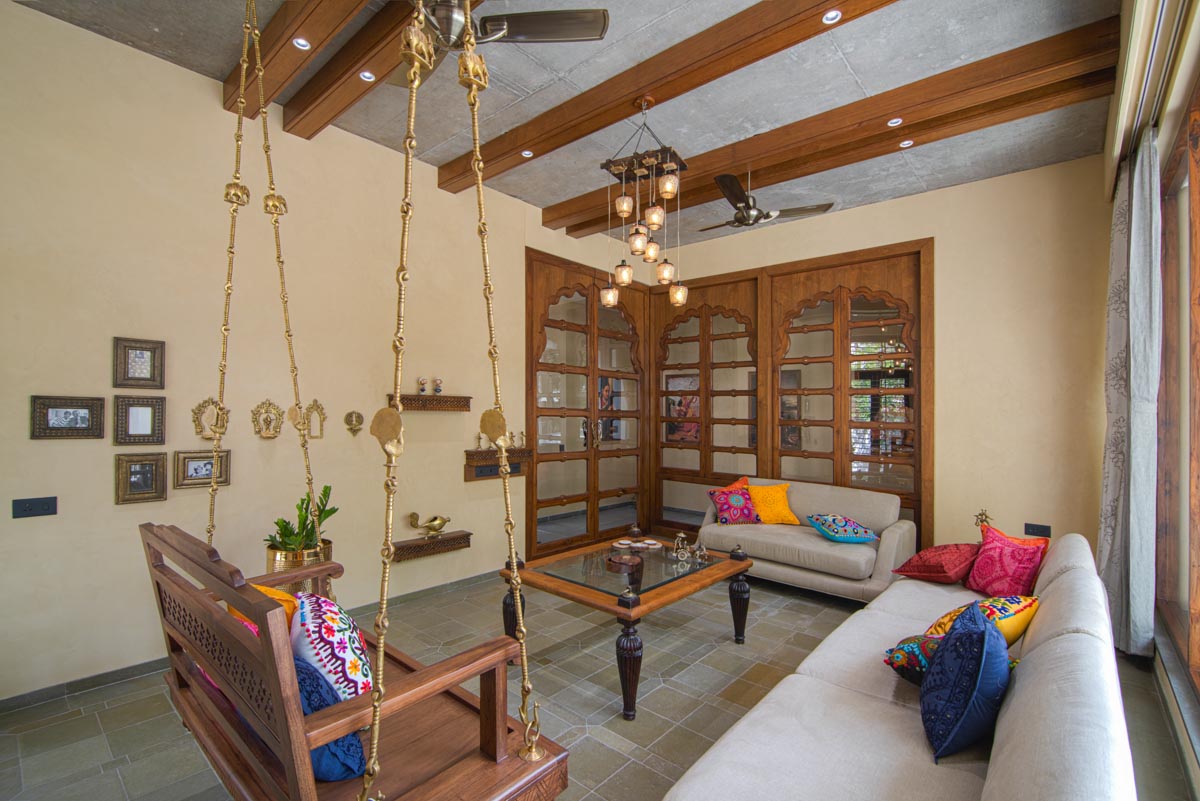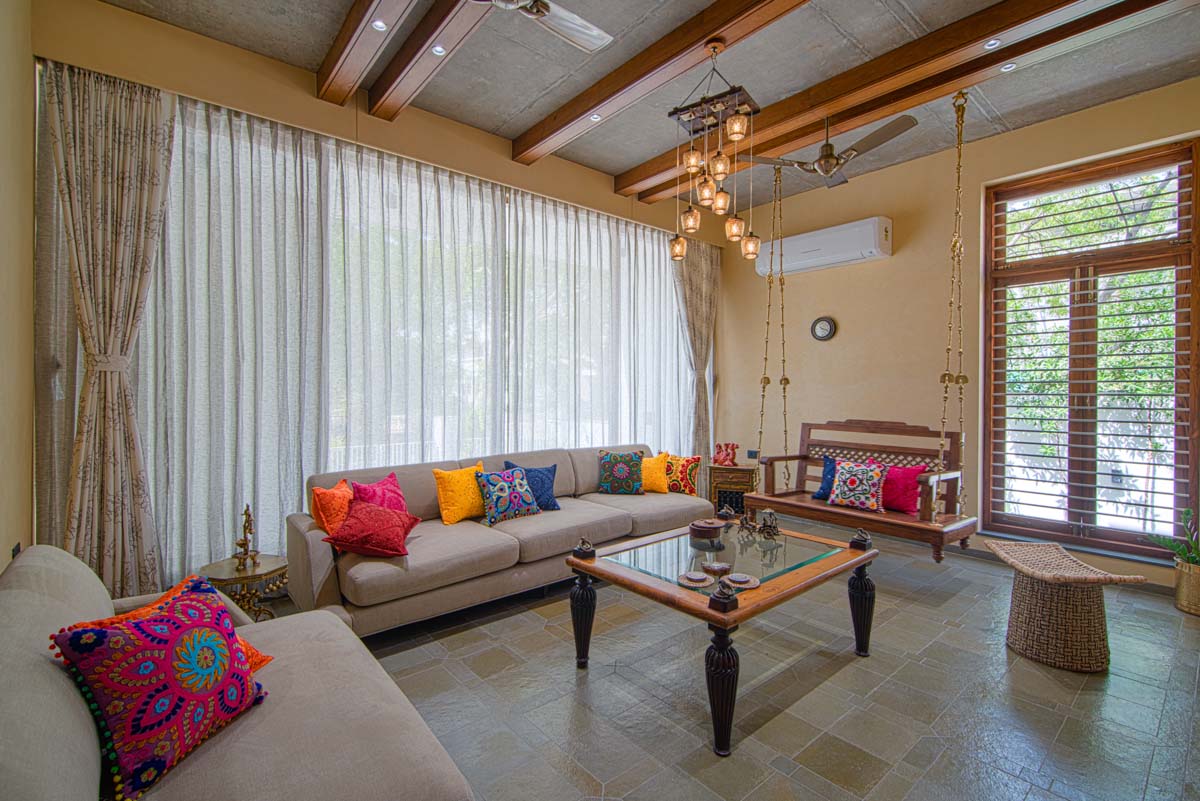 The material palette which we selected includes Kota and Kadappa for flooring with different finishes, natural veneer and wood for furniture. Exposed RCC at some places for specific requirements. bricks at living area worked as thermal insulator as well creates contemporary ambiance.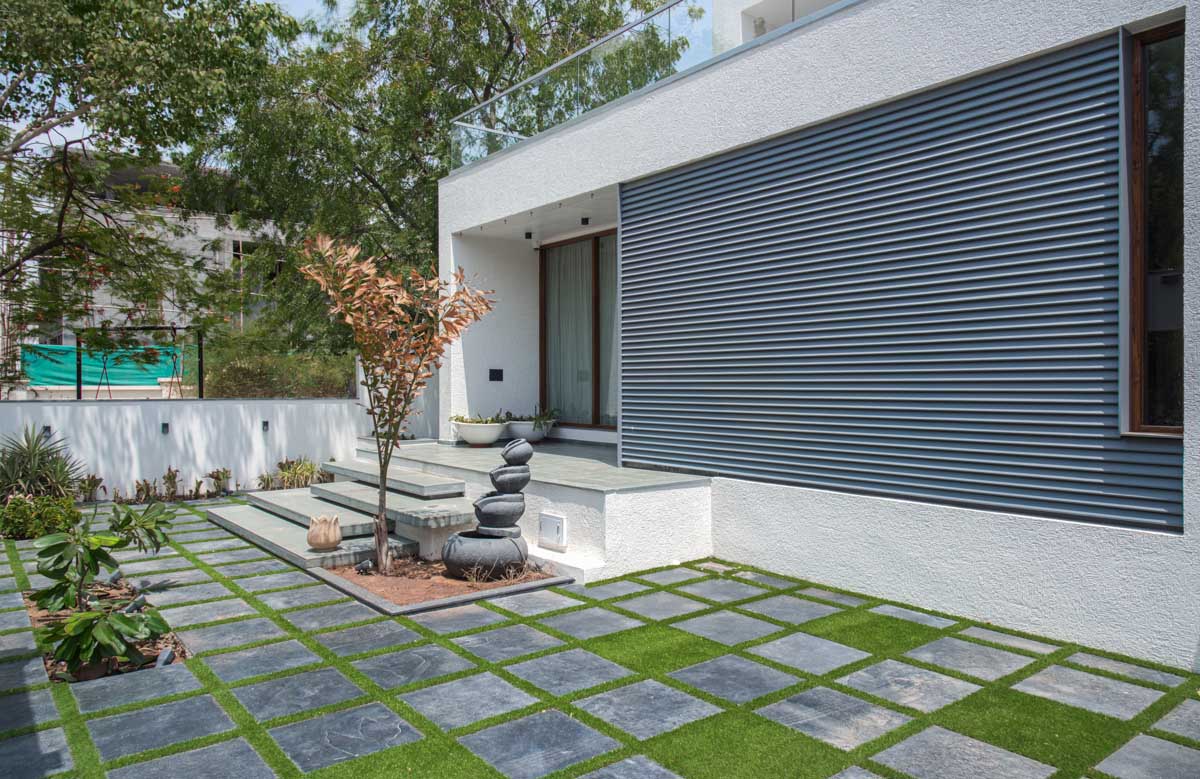 Photographer: Ridhham Gajjar.
PROJECT CREDITS
Architecture / Interior Design : Altitude Designs Pvt. Ltd. , Ahmedabad
Principal Architect / Designer: Rajan Gajjar and Nilam Gajjar
Air conditioning: Mitsubishi
Glass: Saint Gobain
Cladding: Bricks from the Brick Store
Lighting: Range Lights from Glomore Electric
Color: Asian Paints
Sanitaryware & Fittings: Jaquar
Furniture: Customized / Sourced
Furnishing: Neptune House
Carpets & Rugs: Customized
Hardware: Hettich, Hafele
Tiles: Simpolo
Stone: Kota, Kaddapa from Suraj Marble
Structural: Achal Parikh
Civil: Shree Hari Construction
MEP: Altitude Designs Pvt. Ltd.
Check out the project feature below in our DE magazine Edition.