Everything you need to know about a Minimalist Design
Minimalism has become quite popular over the years as a design philosophy and a new way of life.
The design movement actually began in Switzerland and was applied to variety of media including art, architecture, graphic design, web design, literature as well as music.
So, what is a minimalist design?
It has been described as a design, which is most basic & simple, something stripped away of superfluous elements, colors, textures and shapes.
Less of clutter and more of simplicity and serenity with the elements in design so as to stand out are some points focused to achieve minimalism. Keeping it clean and minimal is actually the hardest challenges in design. The least visual efforts but of a great importance is where the phrase "less is more" fits in appropriately.

Minimalist architecture is about achieving a better design through simplicity – simplicity of form, space, color, material and detail.
What comes to my mind when thinking about a minimalist design?
"An open floor plan, loads of daylight and simple uncluttered furnishings. A design that is clean and elegant. A design that can breathe"
"I love clear spaces. I love the absolute minimum. I find that pleasurable. I also get pleasure from things done nicely… I have to go the whole way"
– John Pawson (British Architect – RIBA National Award winner)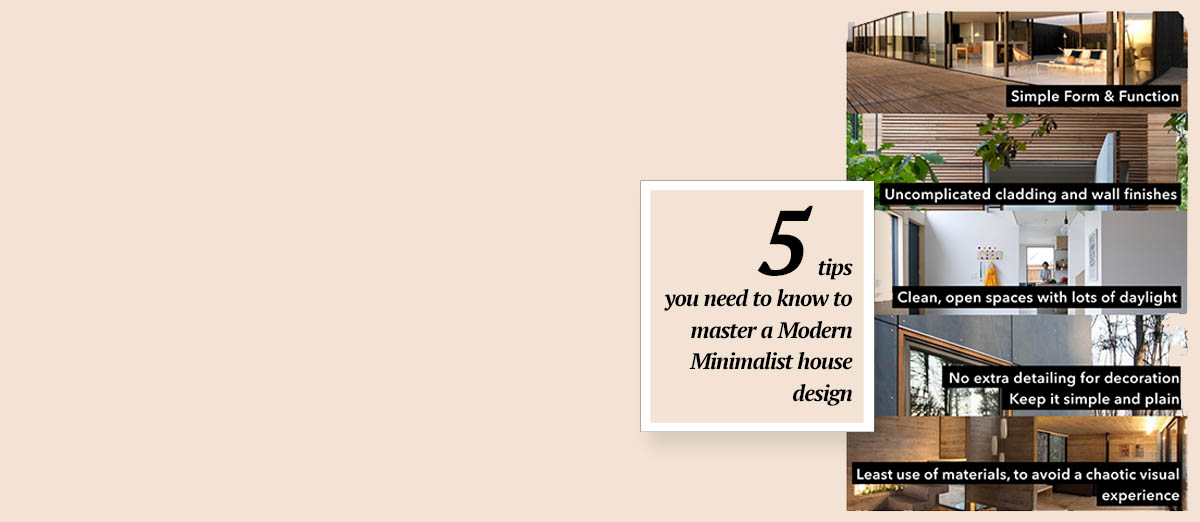 5 tips you need to know for a Modern Minimalist house design
Simple Form & Function

Uncomplicated cladding and wall finishes

Clean, open spaces with lots of daylight

No extra detailing for decoration. Keep it simple and plain

Less use of materials, no material clutter. Keep it minimal to avoid a chaotic visual experience.