A modern classical apartment highlighting its luxury design palette.
Project Name : The Midas Touch
Project Location : Faridabad, Haryana, India
Project Area : 4100 Sq.ft.
Architects/Designer : Interstice Studio
Project Status : Built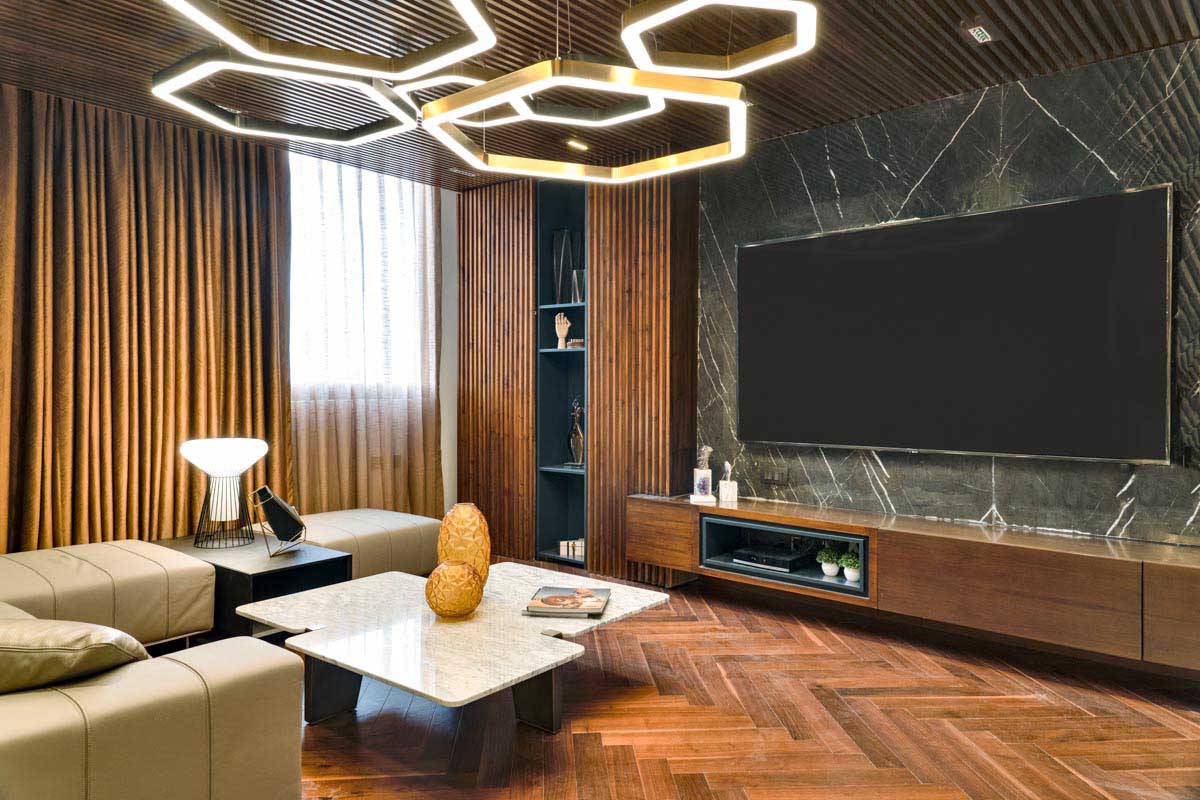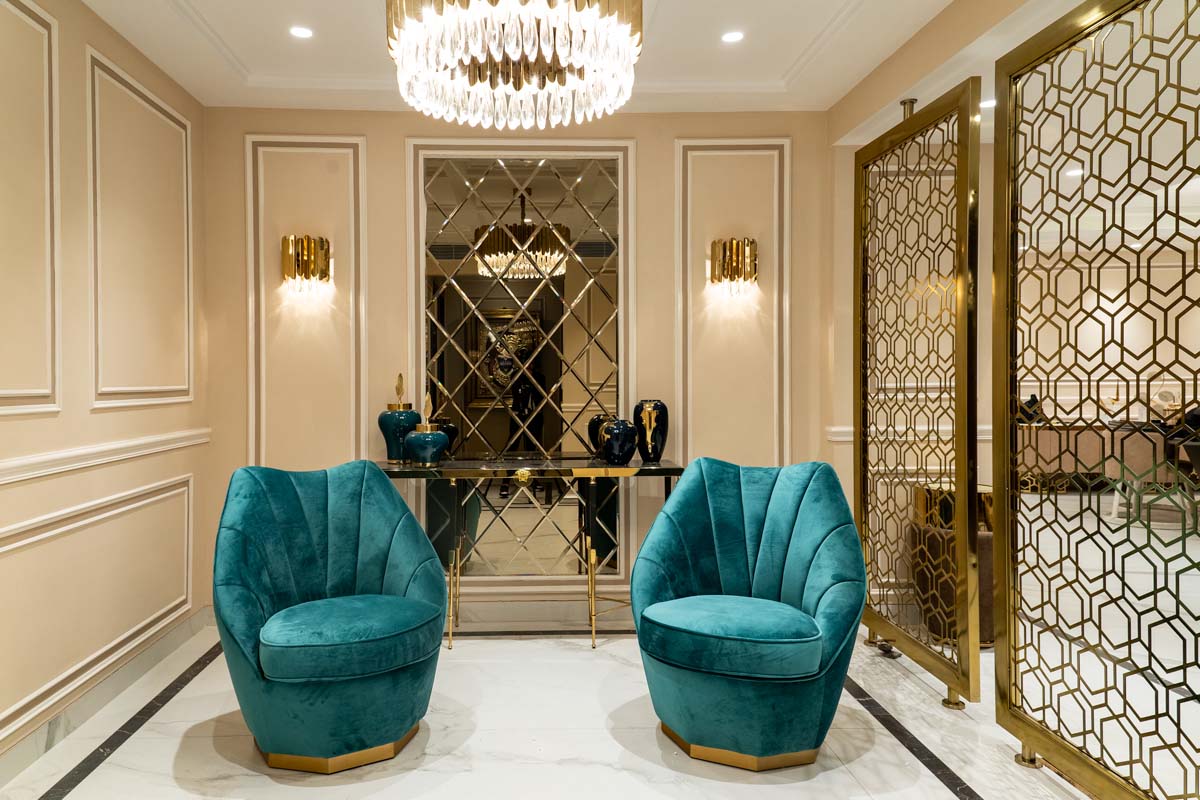 The apartment is designed in a modern classical style to reflect the values, needs and comforts of the family inhabiting it. Originally a 5 bhk apartment, the internal area now has been designed to create designated common areas for family, entertainment and guests separately. The planning is conceptualised in a way where maximum emphasis is on quality, status and Indian values.
Gold is a synonym to luxury and grandeur, which is highlighted in the aesthetic throughout the apartment. As one enters the waiting lounge, an intricately designed gold partition in geometric pattern and a set of velvet teal chairs add a striking and royal color palette to the setup. Being a traditional Hindu family, the brief called for a designated space for prayer. A majestically designed temple sits to the left of formal drawing room, acting more like a scrutiny committee for all the energies entering the house. Inspired from sacred geometry and its relevance, a mélange of patterns and finishes complimenting gold can be seen in the prayer area.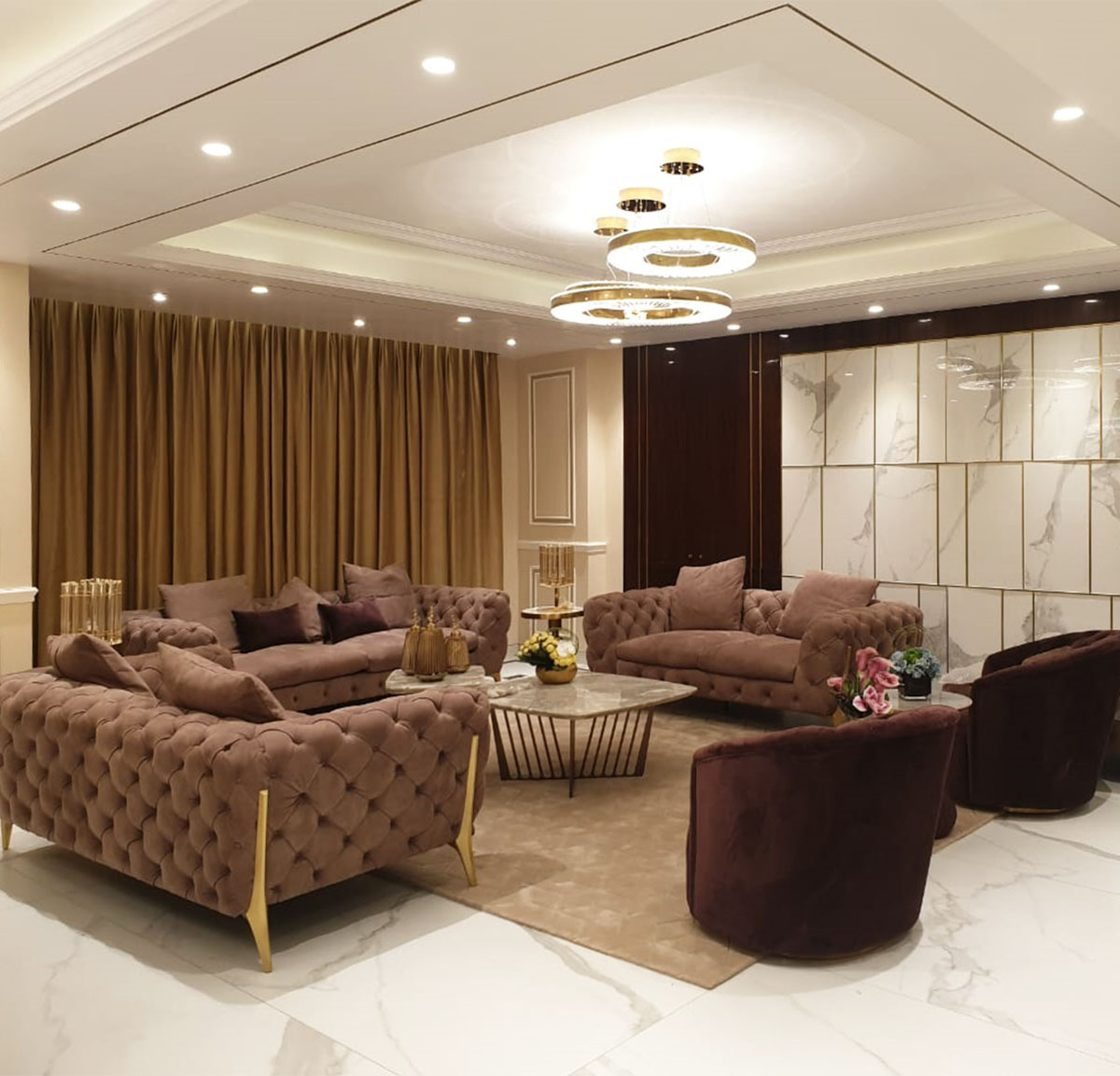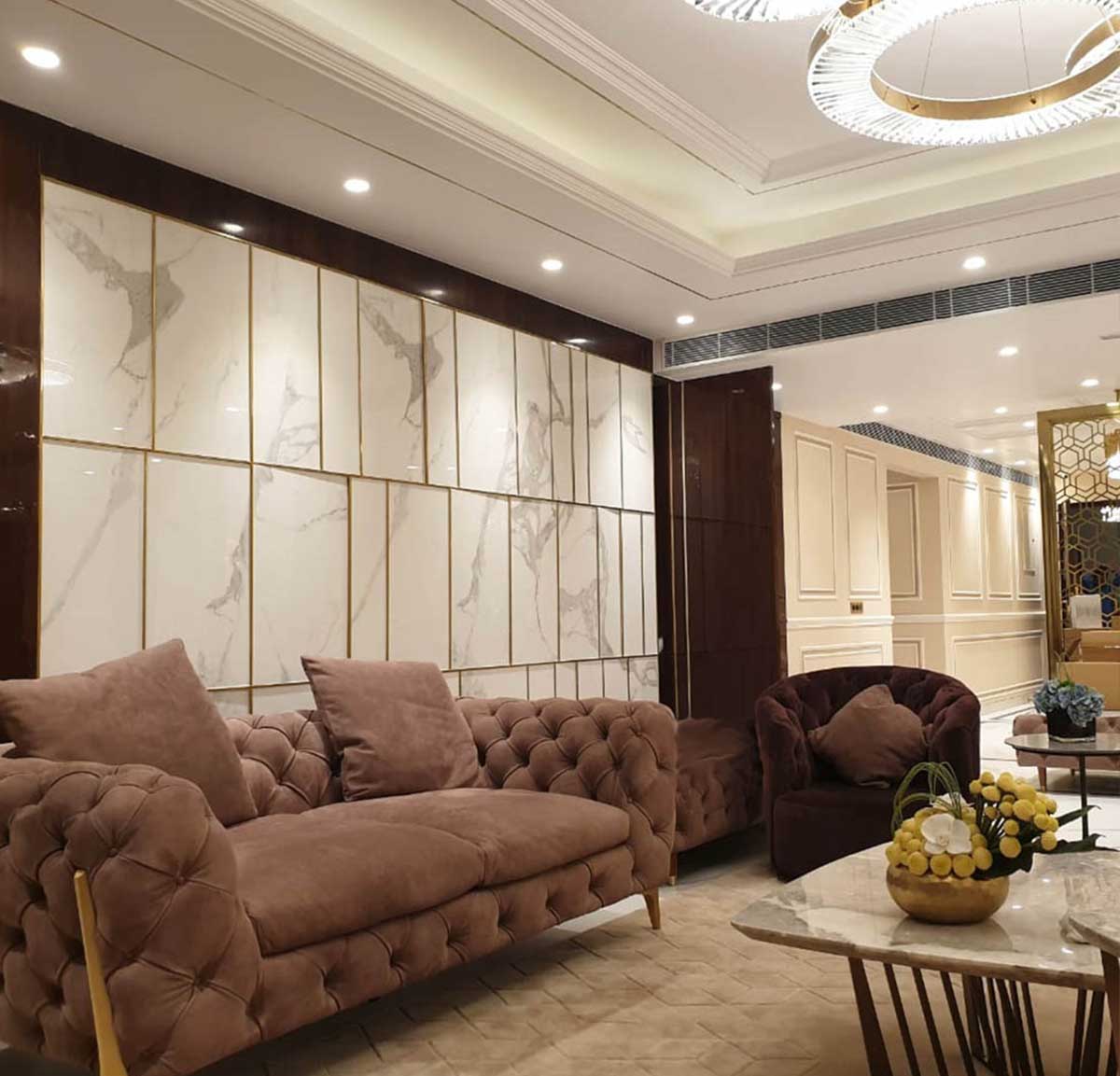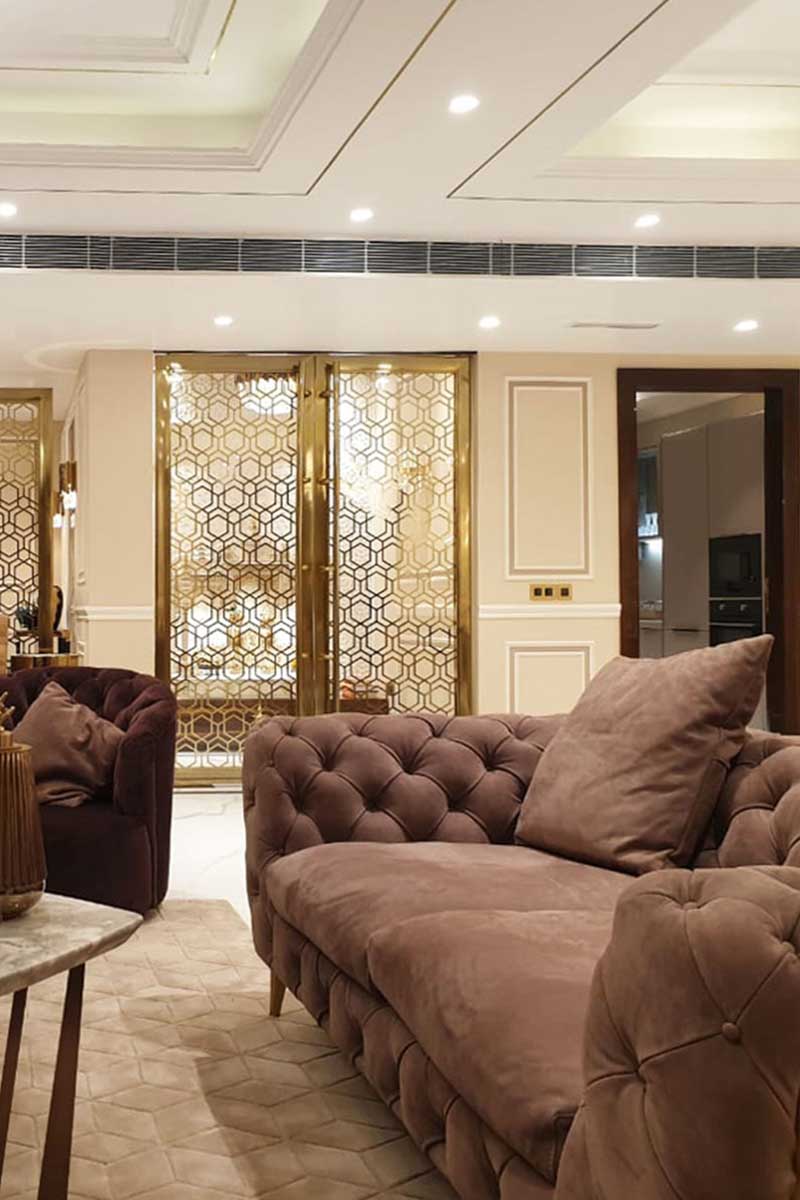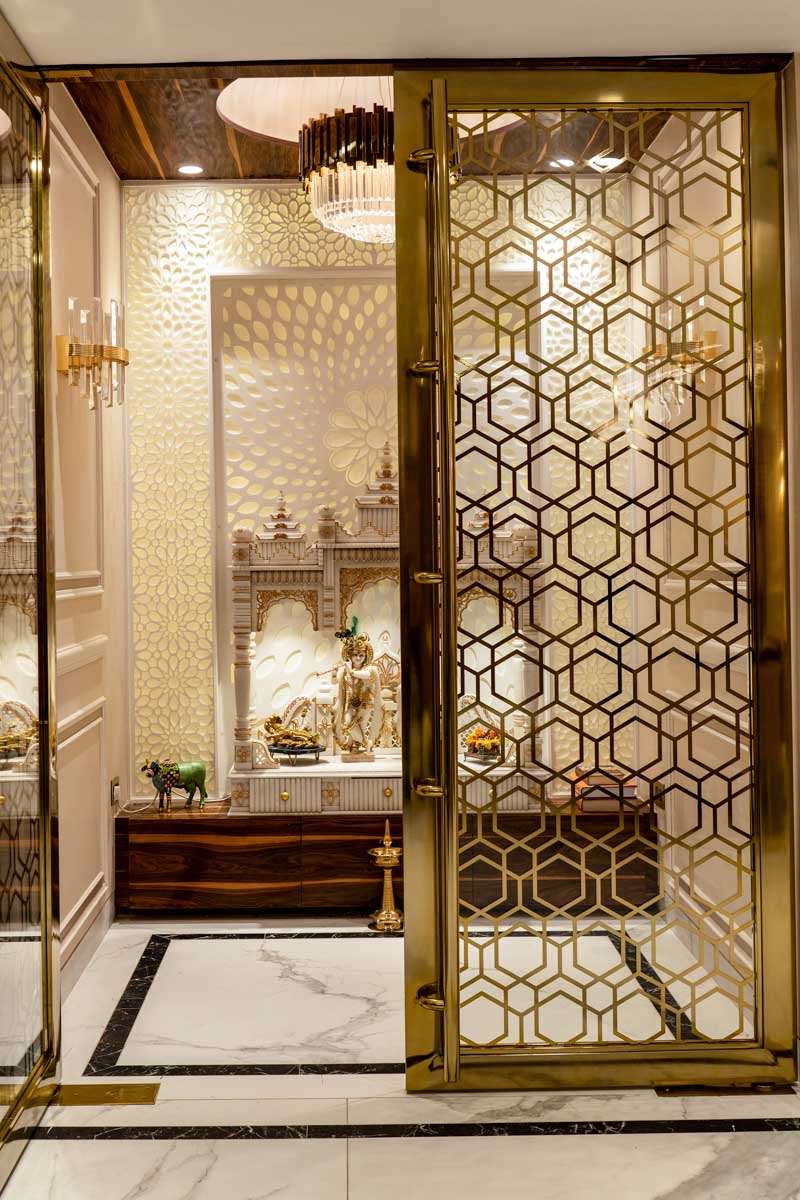 The drawing room essentially acts as a main formal space with Statuario marble highlight wall and bespoke furniture and lighting fixtures. To promote local artisans and brands, white Statuario marble tiles were brought in from Gujarat which were placed to appear as a seamless marble piece. Typical of modern classical style, the walls are treated with minimal mouldings and pastel shades.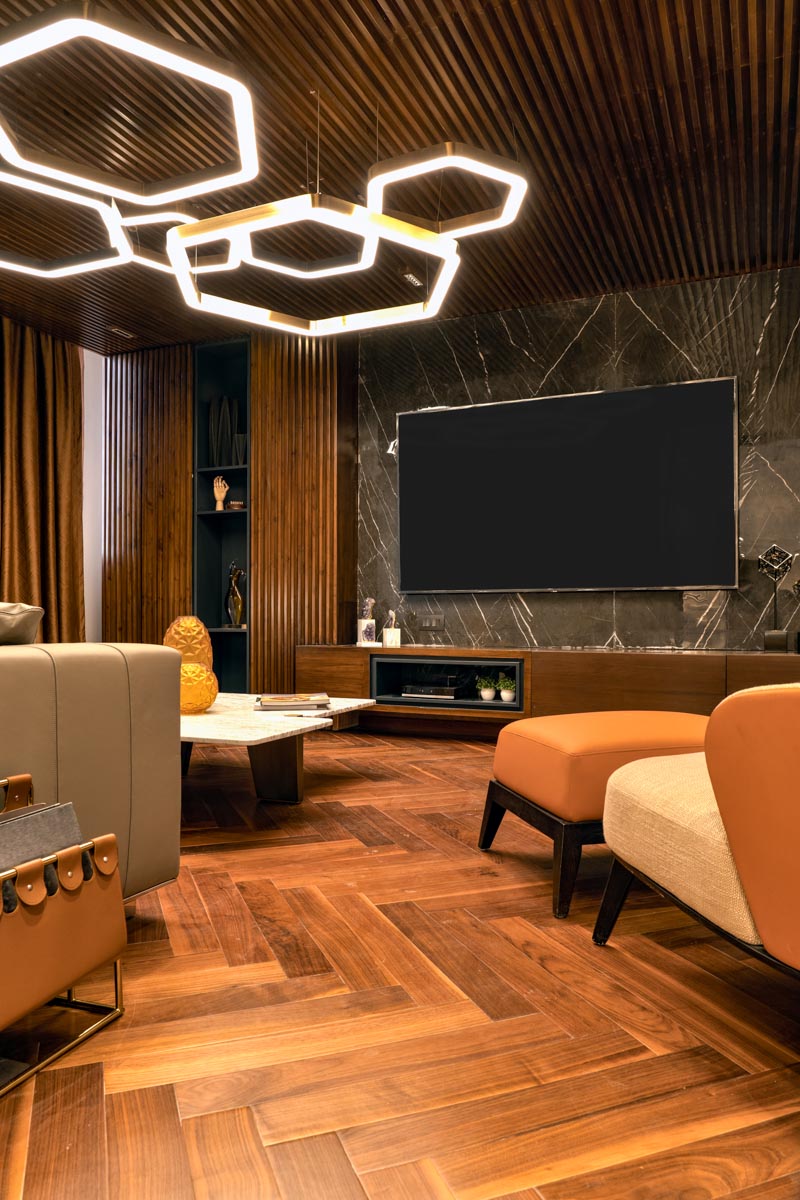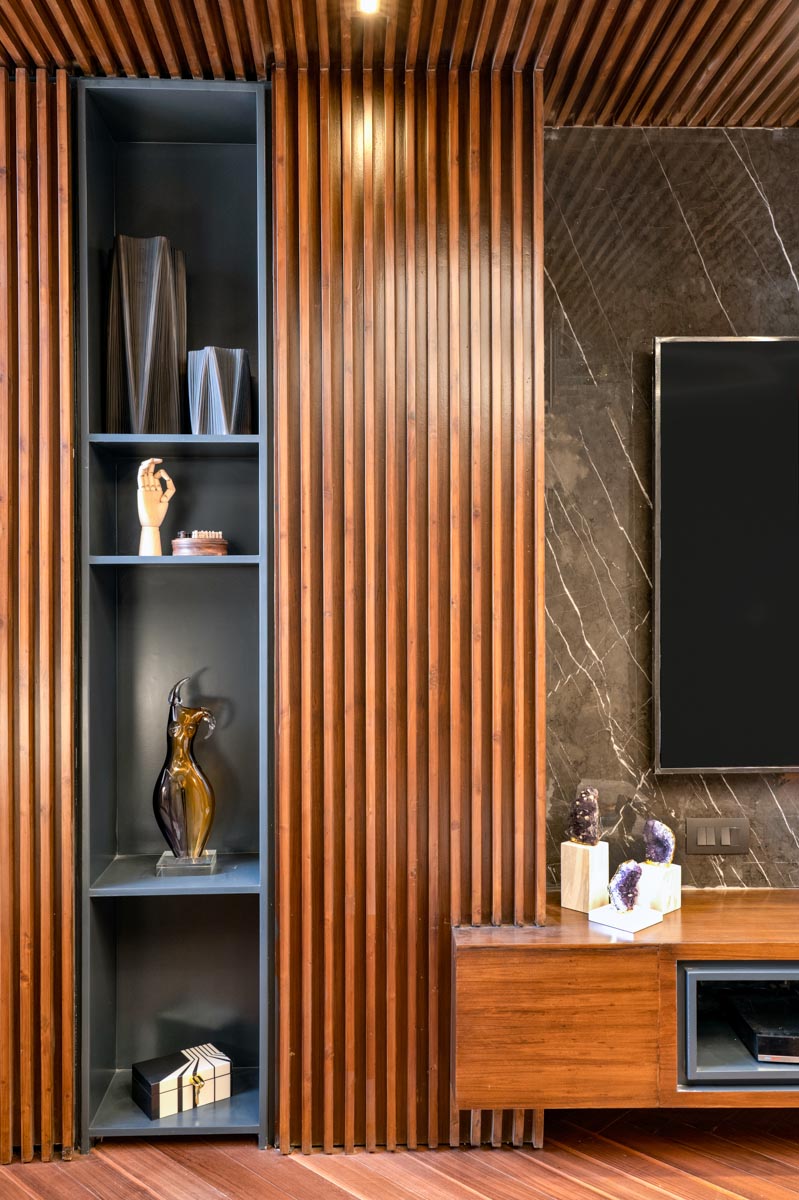 Walking in towards a more intimate are is the family lounge. Even though the intention behind designing this space is to provide comfort and affinity, the touch of regality is extended here as well. A wooden battened ceiling with a metallic gold hexagonal lighting fixture is use to overplay the lush design. Wood in different shades and forms has been intensively used to add a sense of warmth. One interesting feature about this space was to focus on providing quality through a vernacular approach. The entire wood work uses locally available pine wood which is then treated for desired finish. The grand and prominent Statuario powder room is adorned with a slender stone vanity which is further enhanced with the use of metallic gold fixtures and highlights.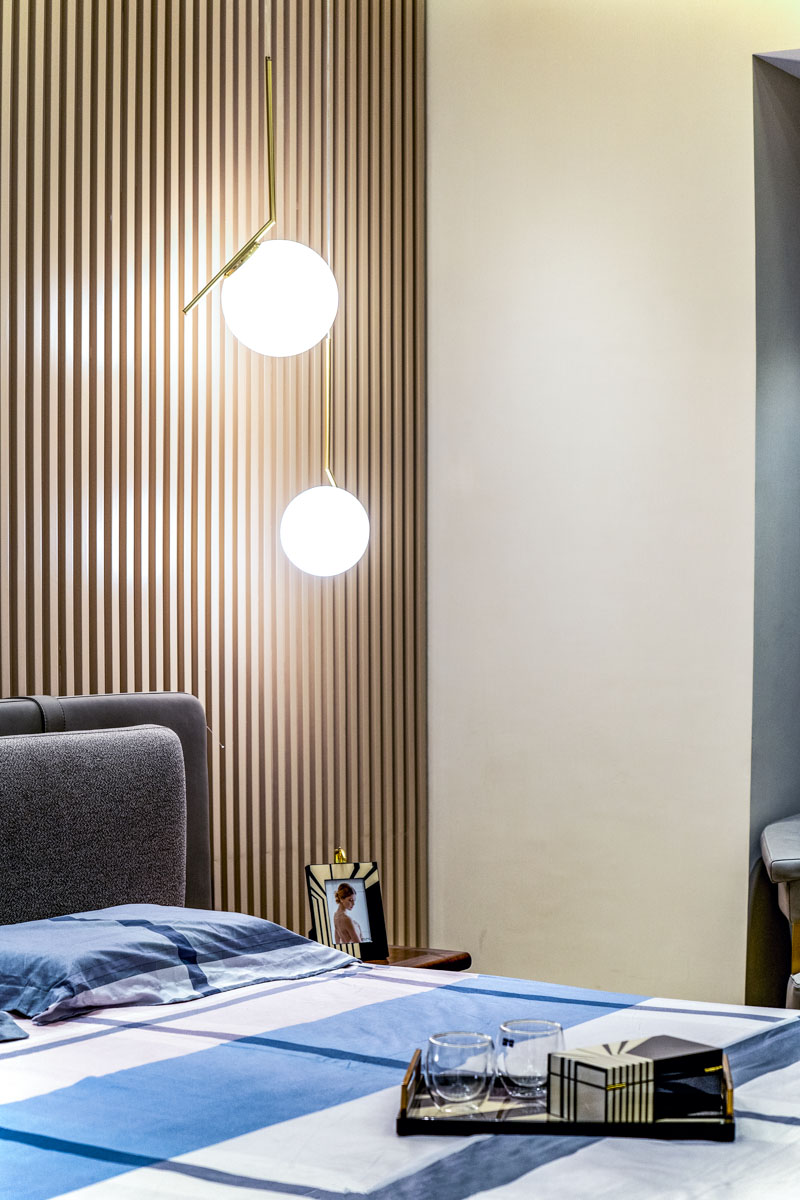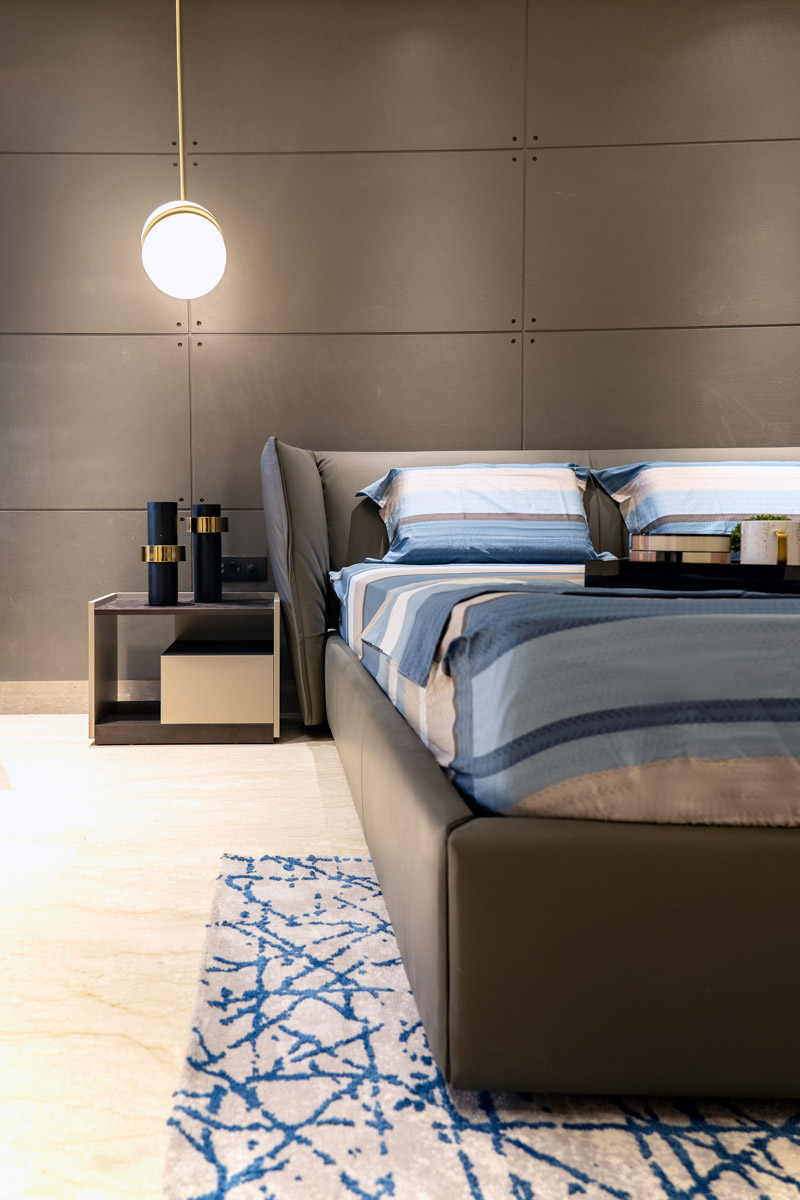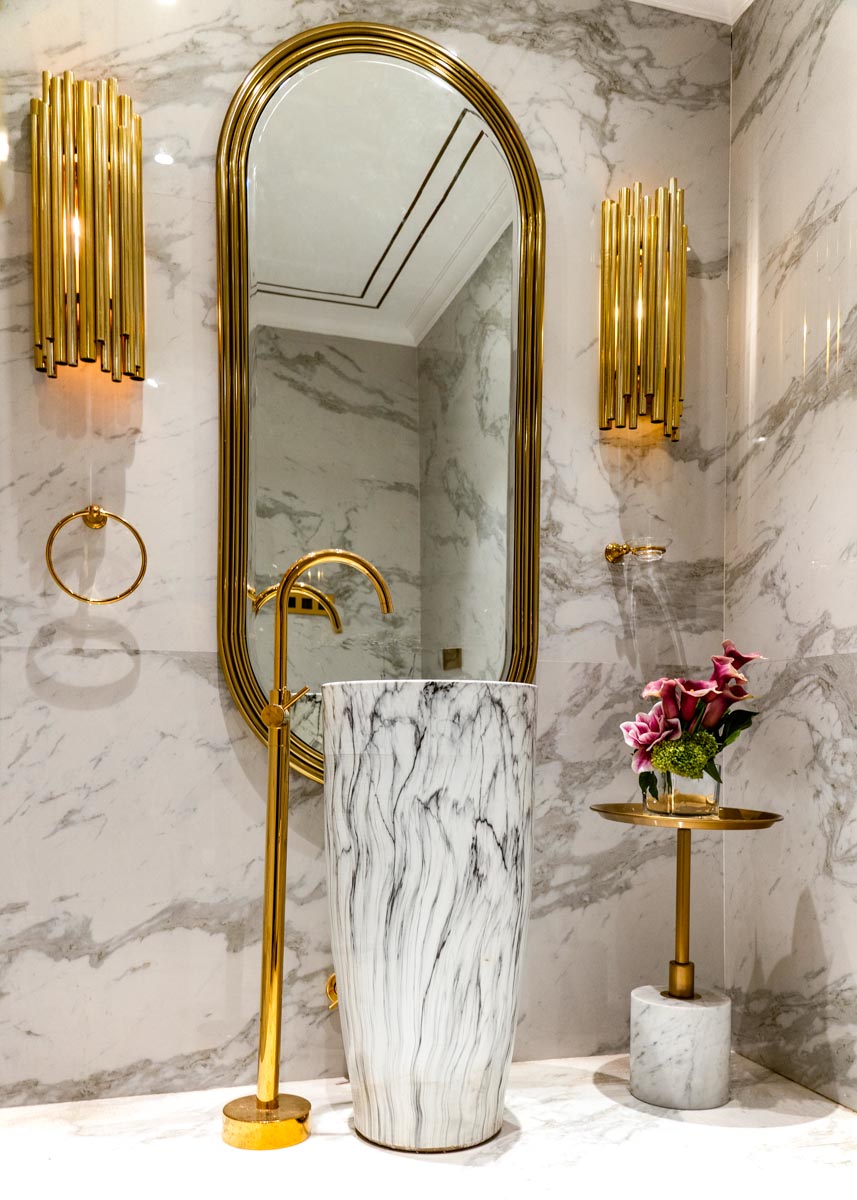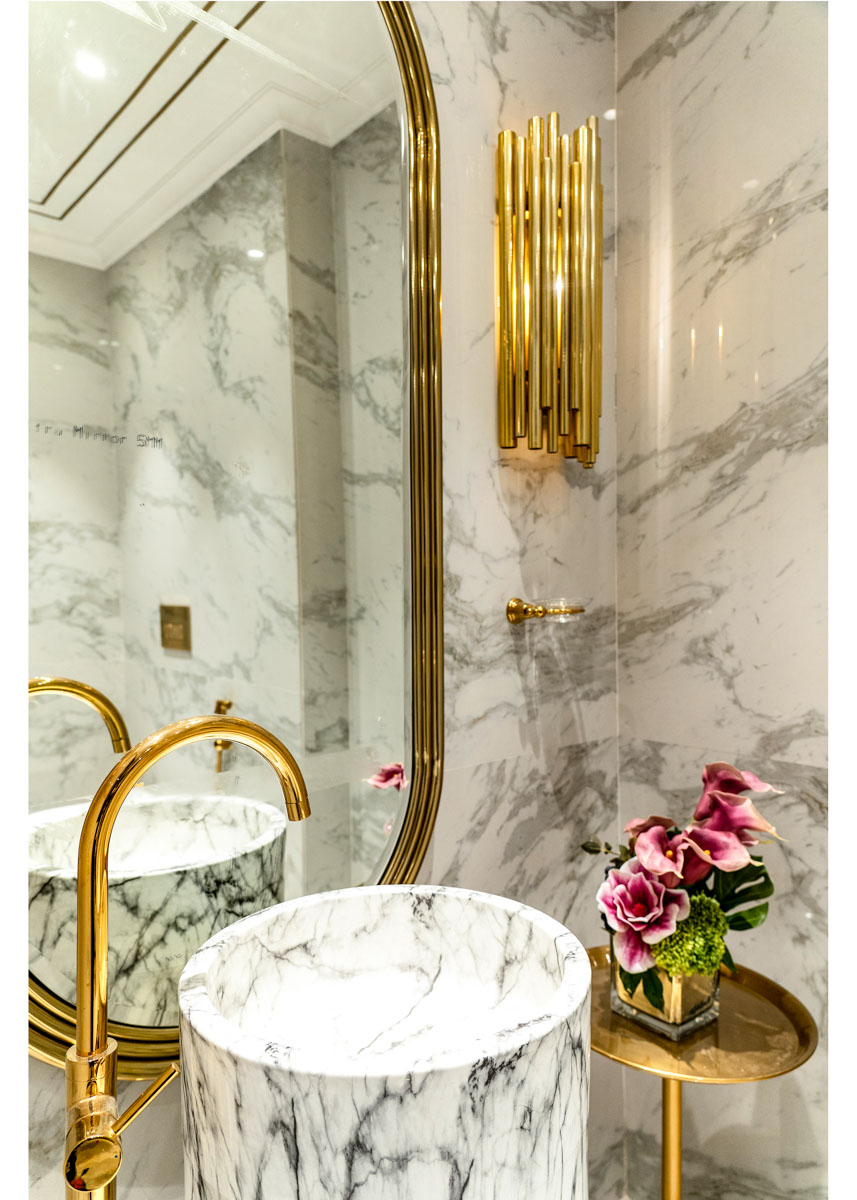 Private areas are planned and designed as per each family member's taste and style. Color palettes, wall finishes and furniture styles have been carefully selected to compliment the personality of the inhabitants. One of the key points kept in mind before designing the apartment was to focus on opulence and sophistication in the public areas, thus making it more vivid and celebrated, and a more personal design style for private areas. 'THE MIDAS TOUCH' is a celebration of luxury and grandeur, a home which is welcoming for outsiders yet so intimate and private.
Photographer: Nikita Chand.
PROJECT CREDITS
Interior Design: Interstice Studio, New Delhi
Principal Architects: Ankur Khullar and Shailesh Garg.