Bollywood's favourite interior designer Ashiesh Shah sets some design goals with this Marine Drive apartment.
Project Name : Marine Drive Penthouse
Project Location : Mumbai, Maharashtra, India
Architects/Designer : Ashiesh Shah
Project Status : Built
Website : www.ashieshshah.com/
Instagram : @ashieshshah
Architect Ashiesh Shah designs this Marine Drive penthouse for the art patron Shreyasi Goenka located in Mumbai. The design gives a gallery-like vibe high above the Mumbai skyline.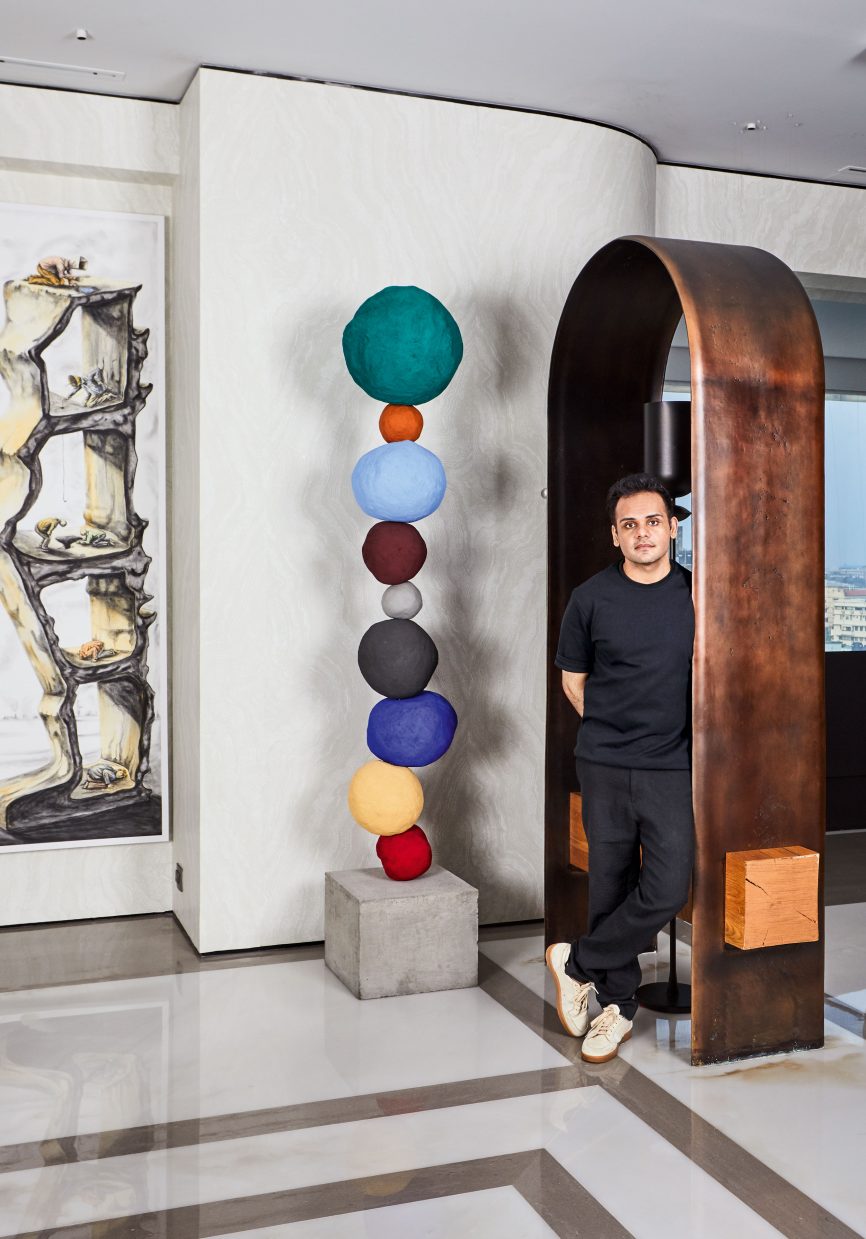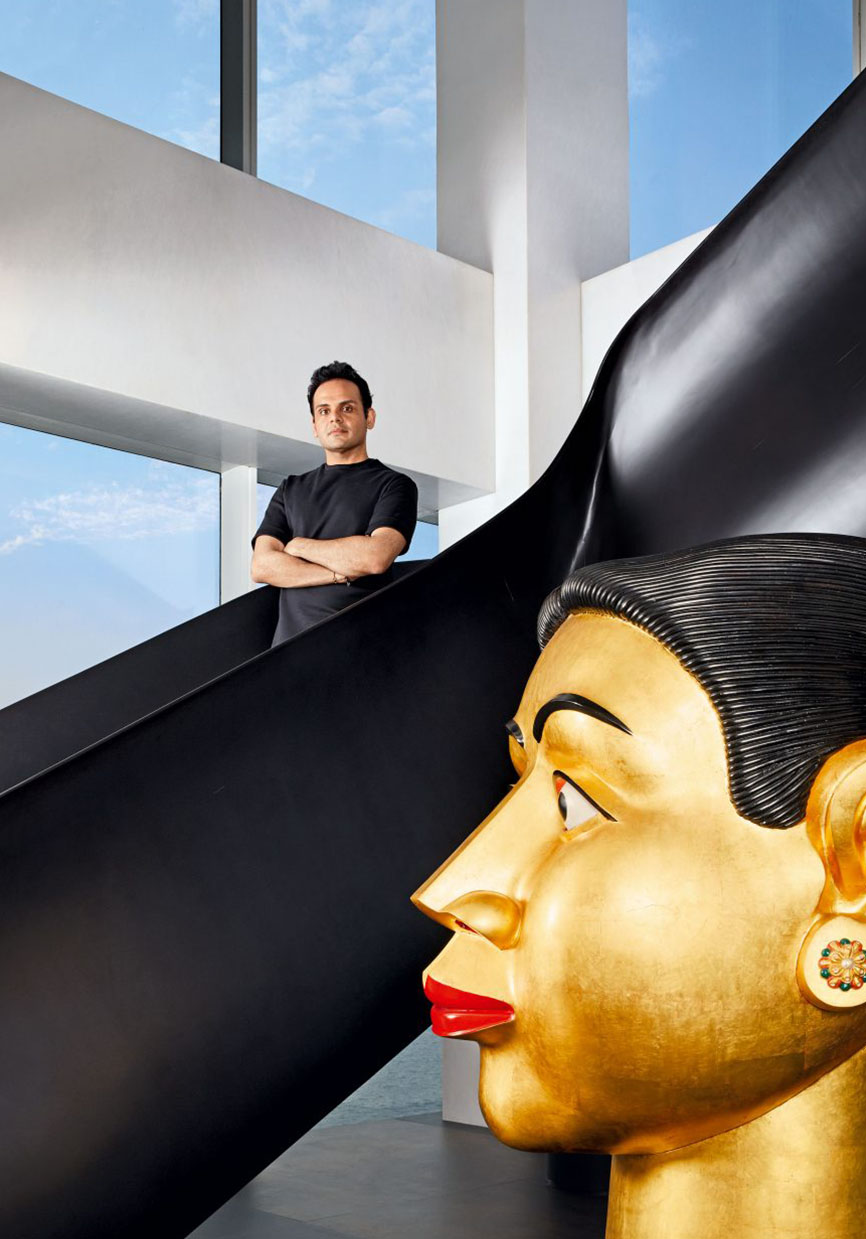 Ashiesh Shah in the upper-floor living room, next to the sculpture by Anne Morris (above left);  Ashiesh Shah on the staircase that connects the two floors of penthouse. Next to the staircase is a sculpture by Ravinder Reddy (above right)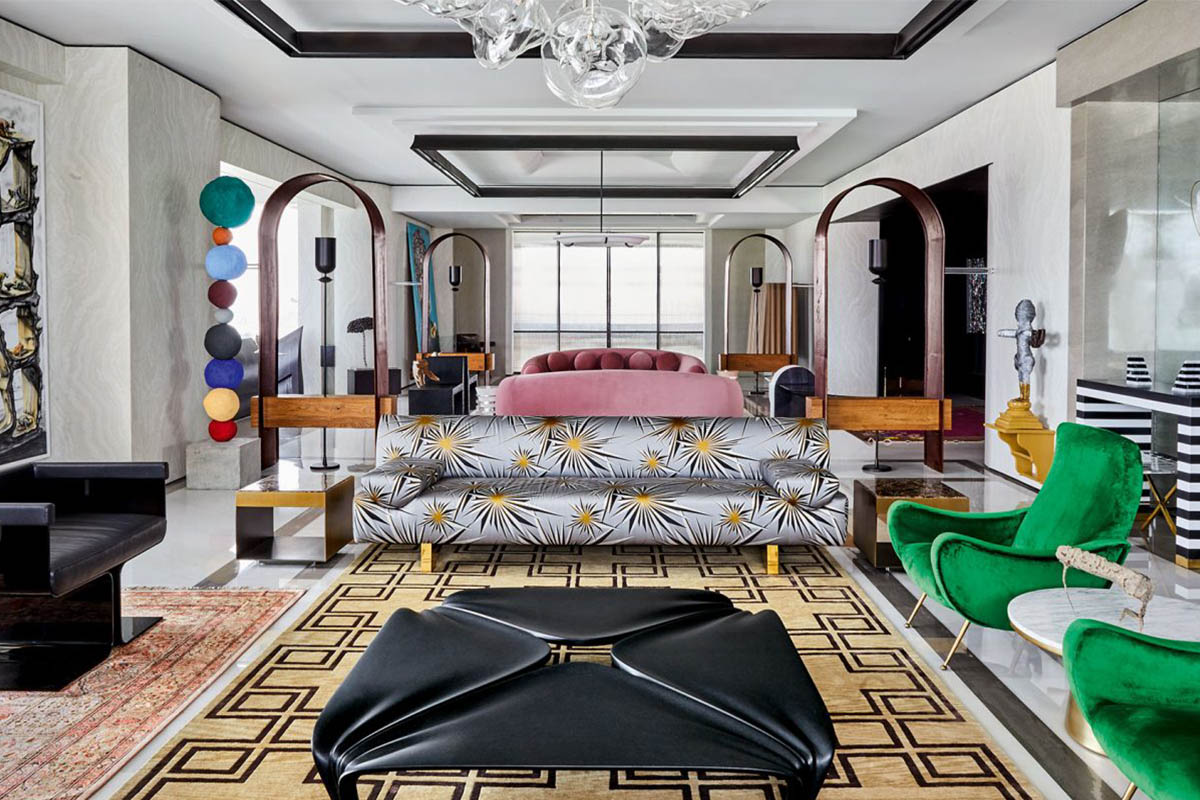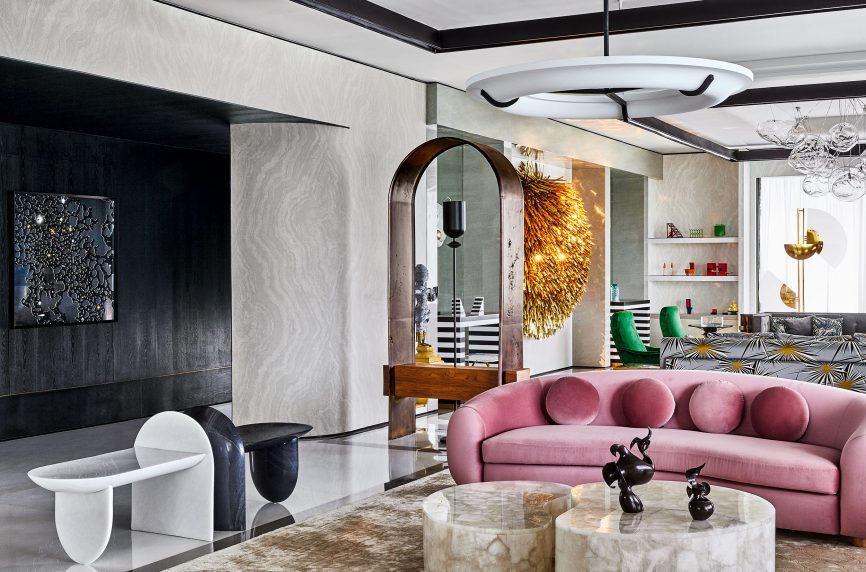 The sitting area includes—the 'Ours Polaire' sofa by Jean Royère, upholstered in pink velvet, while the wallpaper is from Splendour.
On the extreme left is an artwork by Rajorshi Ghosh, sculptures by Alexander Lamont.
Ashiesh Shah himself designed the black and white 'Lingam' benches for the apartment.(above right)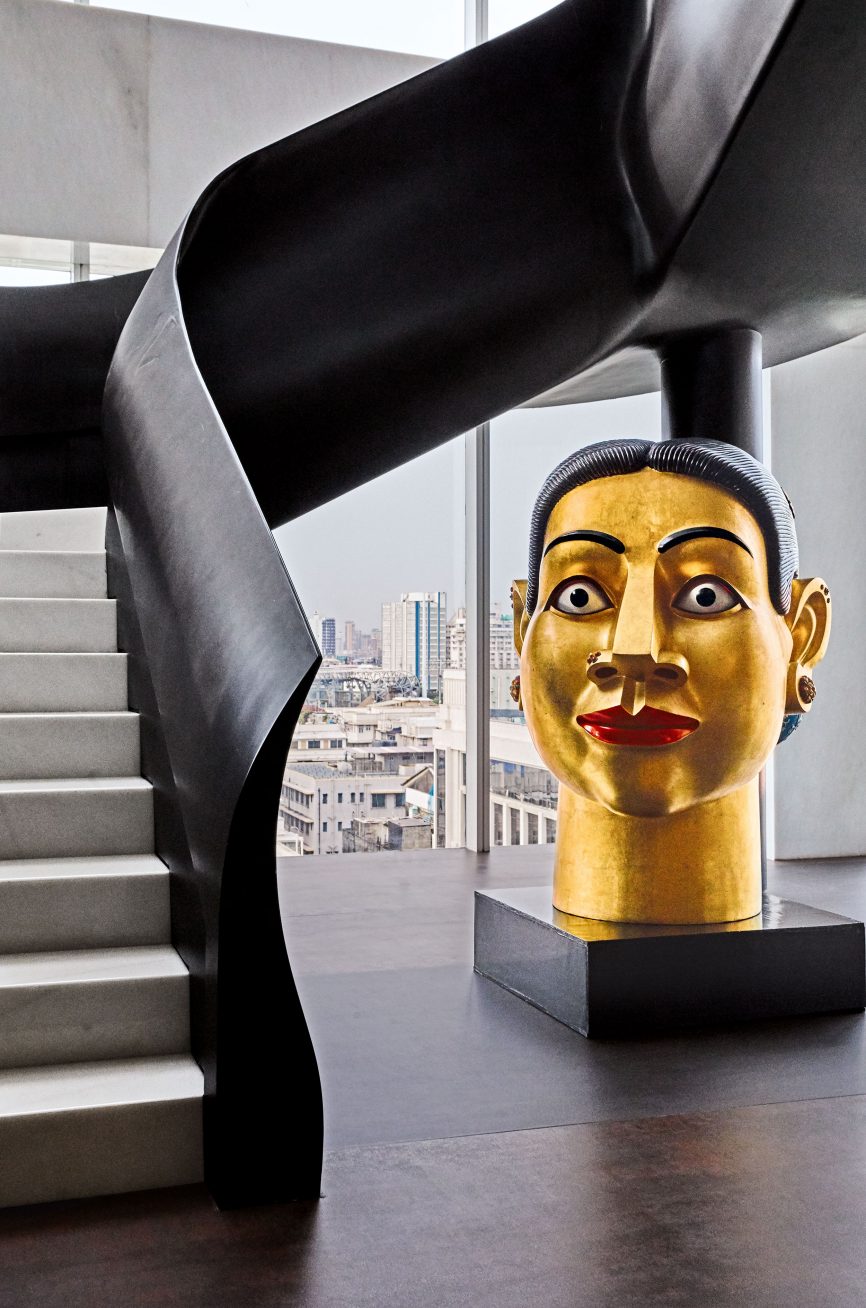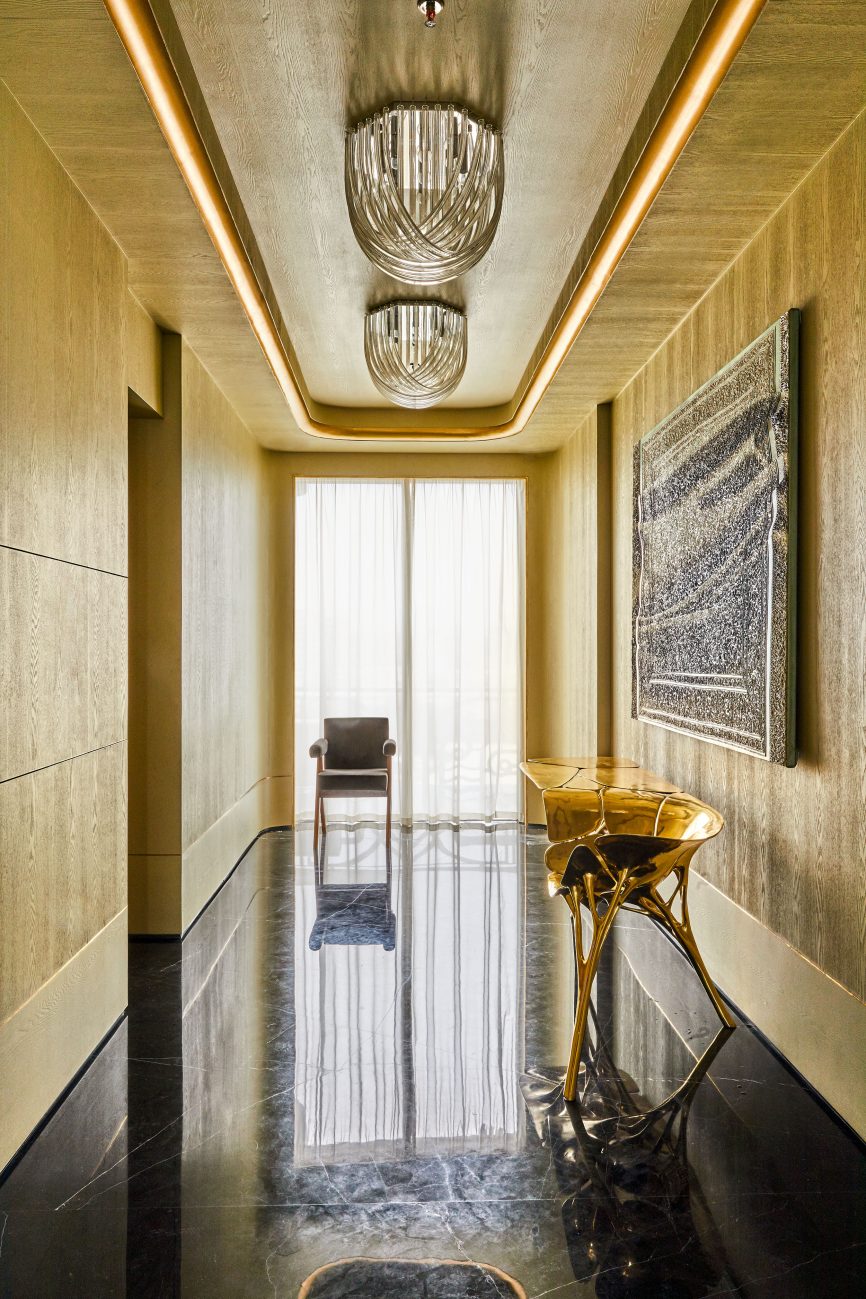 The lift lobby area with Black Marquina floor and lights from Terra Trading. Towards the window, sits a solitary Pierre Jeanneret-designed chair sourced from Taherally's. (above right). With Ravinder Reddys sculpture next to the duplex staircase (above left)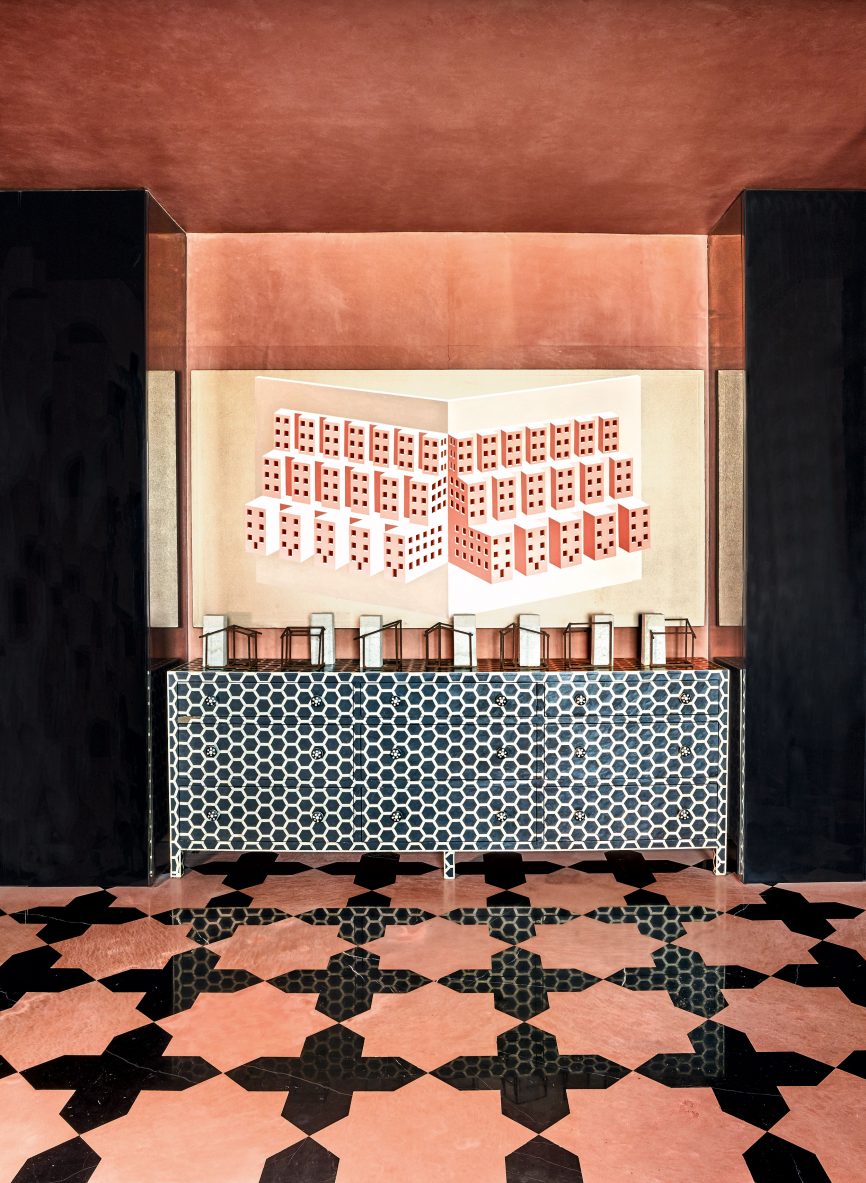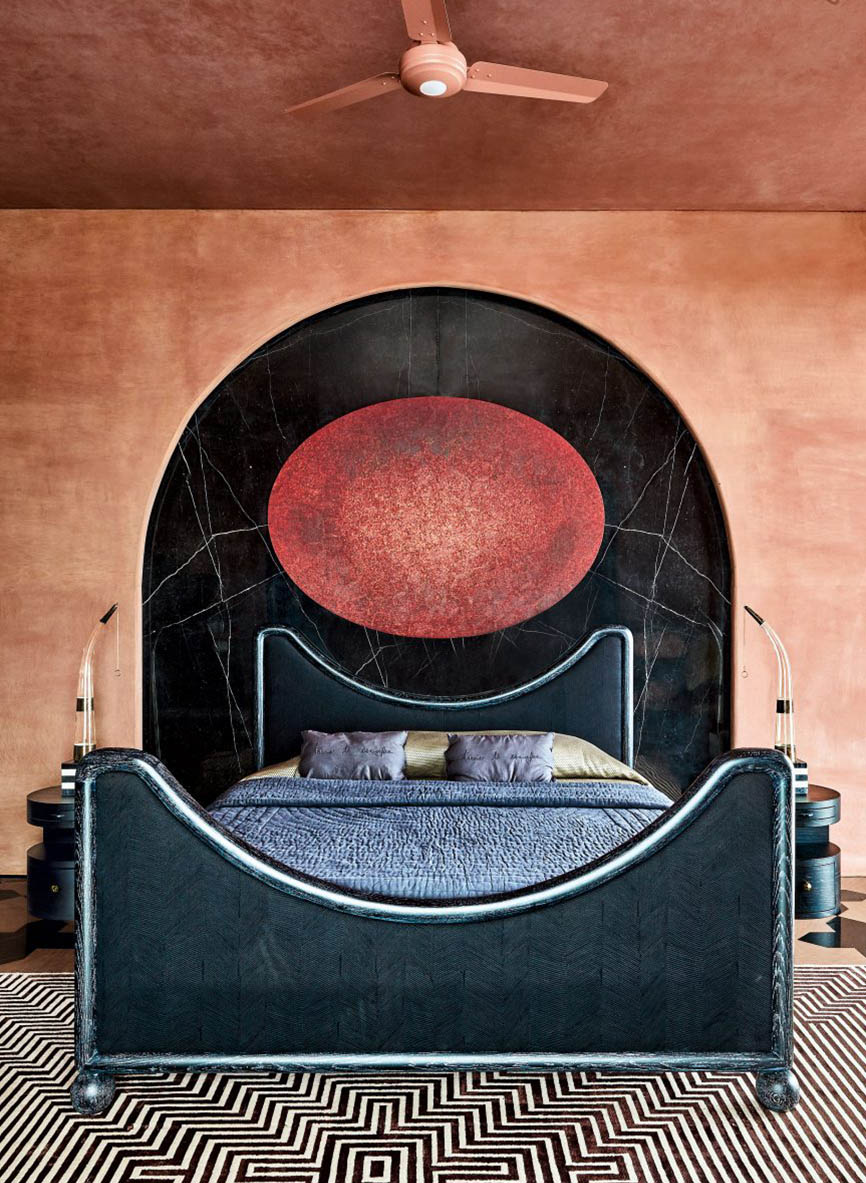 (above right) The bedroom involves a black Marquina backdrop gives a contrast with the red Agra stone on the rest of the walls.
Canvas by Imran Qureshi can be seen on the backwall and the "tusk" lights along the bed are designed by Ashish Shah himself along with Klove Studio.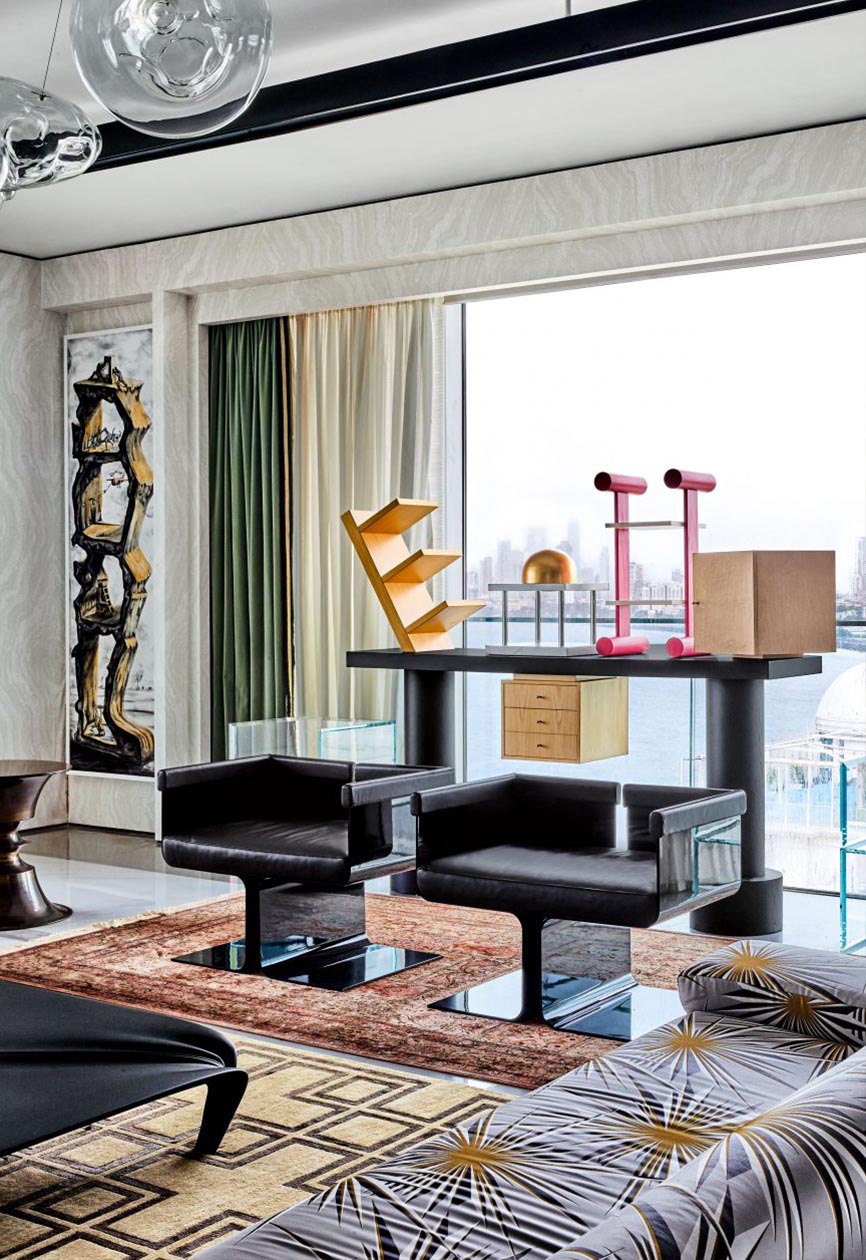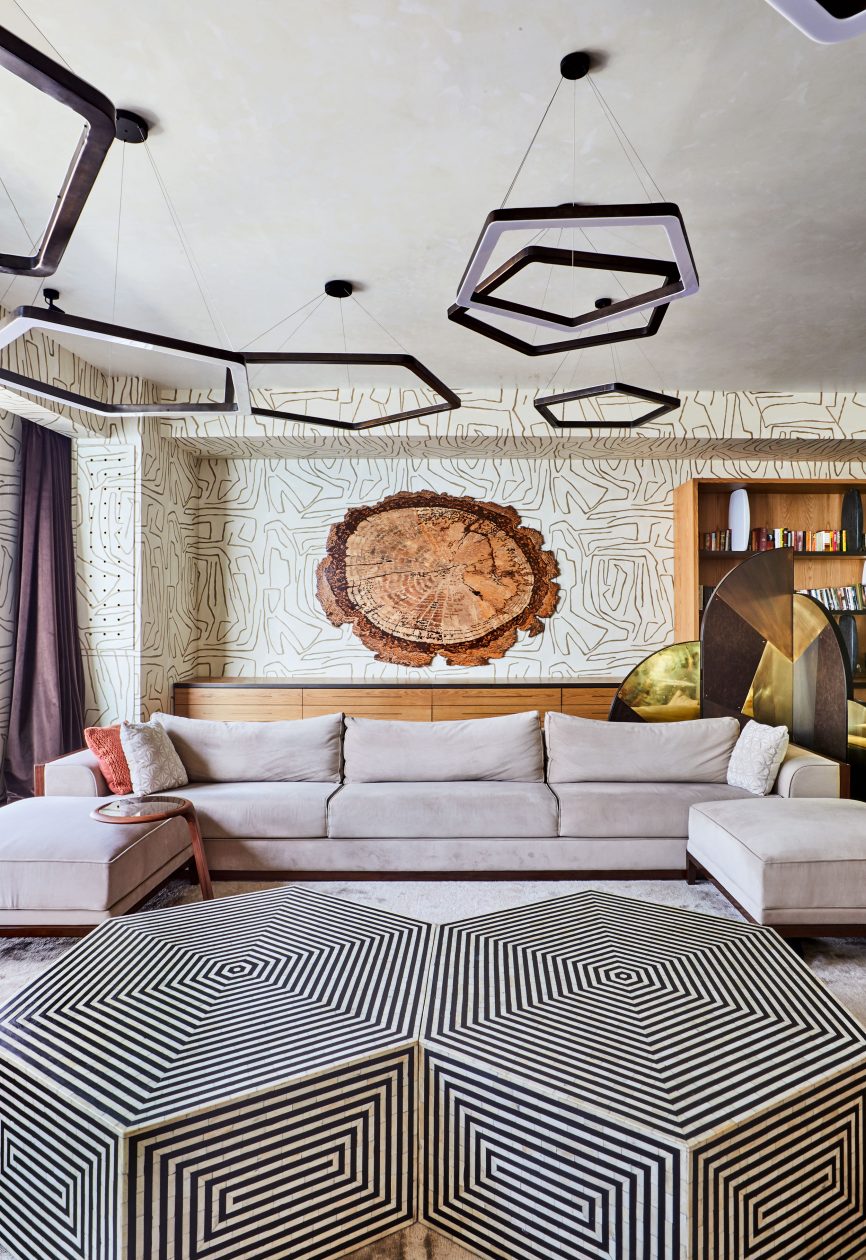 (above left) The passage to the guest bedroom is dominated by an artwork by British artist Idris Khan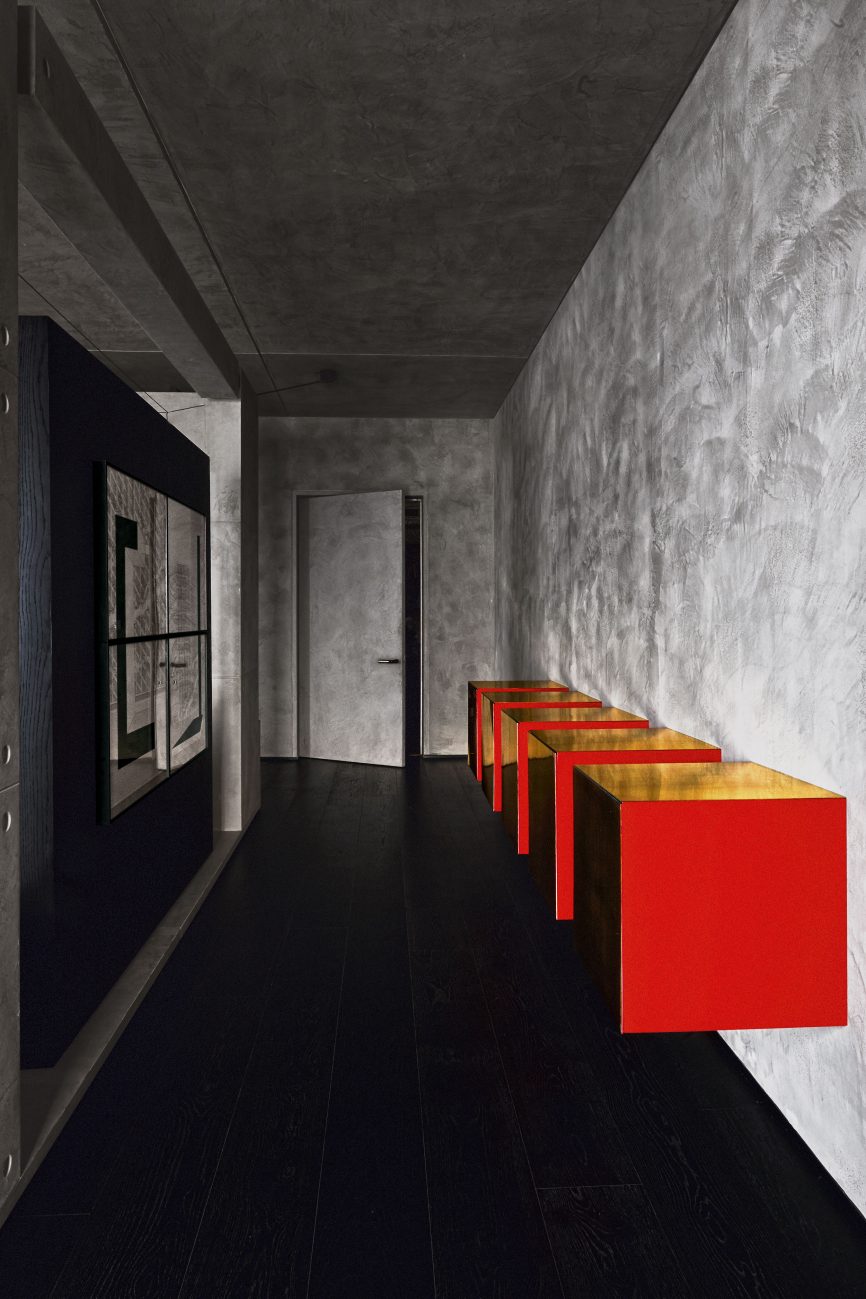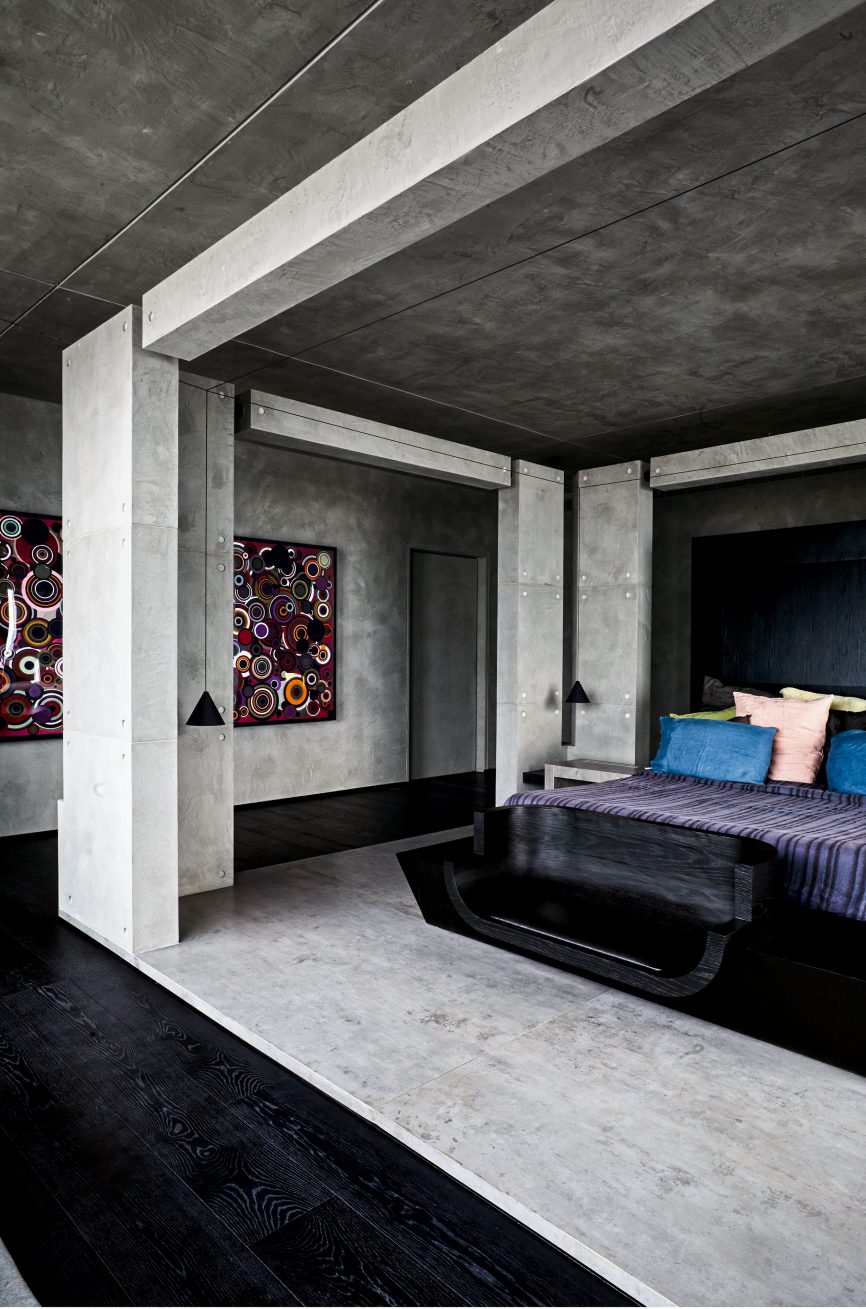 PROJECT CREDITS
Architect: Ashiesh Shah
Client: Shreyasi Goenka
Sculptures by: Subodh Gupta, Ravinder Reddy, Anne Morris, Rathin Barman, Alexander Lemont
Art: Prabhakar Pachpute, Gigi Scalia, Antonio Santin, Idris Khan, Raqs Media Collective, Imran Qureshi
Wallpaper: Splendour
Rugs: Qualeen
Lighting: Flos, Ginger and Jagger, Classic Luminaries, Terra Trading, Klove Studio
Furniture: Zaha Hadid Design, Klove Studio, Jean Royere, LN Tallur, Pierre Jeanneret, Taherallys, Ashiesh Shah
Text via Architectural Digest India.