The Hello Yellow workspace by Humming Tree studio defines a bold "Yellow-full" summer enriched mood.
Project Name : Hello Yellow Work Space
Project Location : Kerala, India
Project size : 1010 sq. ft.
Architects/Designer : Humming Tree
Project Status : Built
Website : www.hummingtree.in/
Instagram : @hummingtreeofficial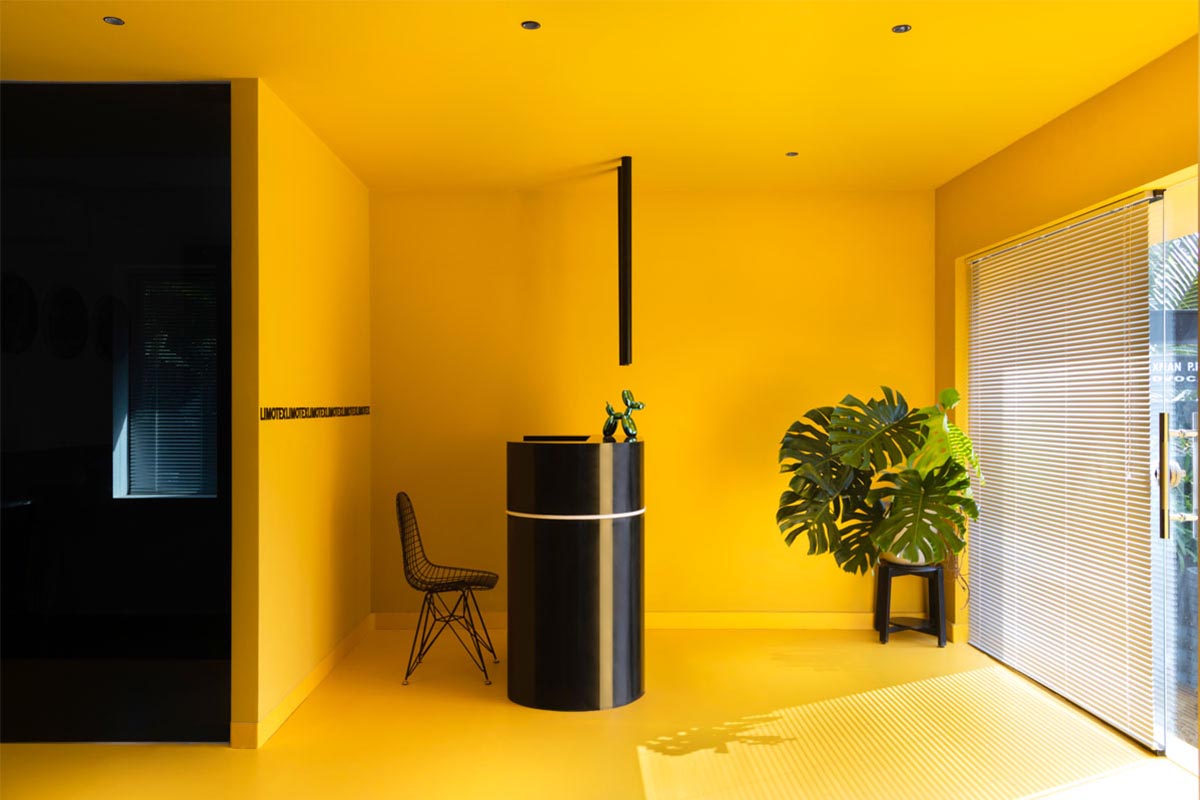 Text description by the Architects/Designers.
The brief was extremely sharp; that the space was to have two lives. The building should adorn an enjoy-work ethos and to have an exceedingly dynamic space, with heaps of daylight.
The client was after a minimal, outlandish look, so 'we took inspirations from commercial and art gallery spaces, as opposed to typical office interiors', says Afnan & Arun founders of Humming Tree.  Limotex is a Construction / Builders company with 4o years of experience in the industry. As we were approached for our quirky taste in design, this workspace has to be distinguished from other builder's office which is typically designed keeping exposed materials in mind.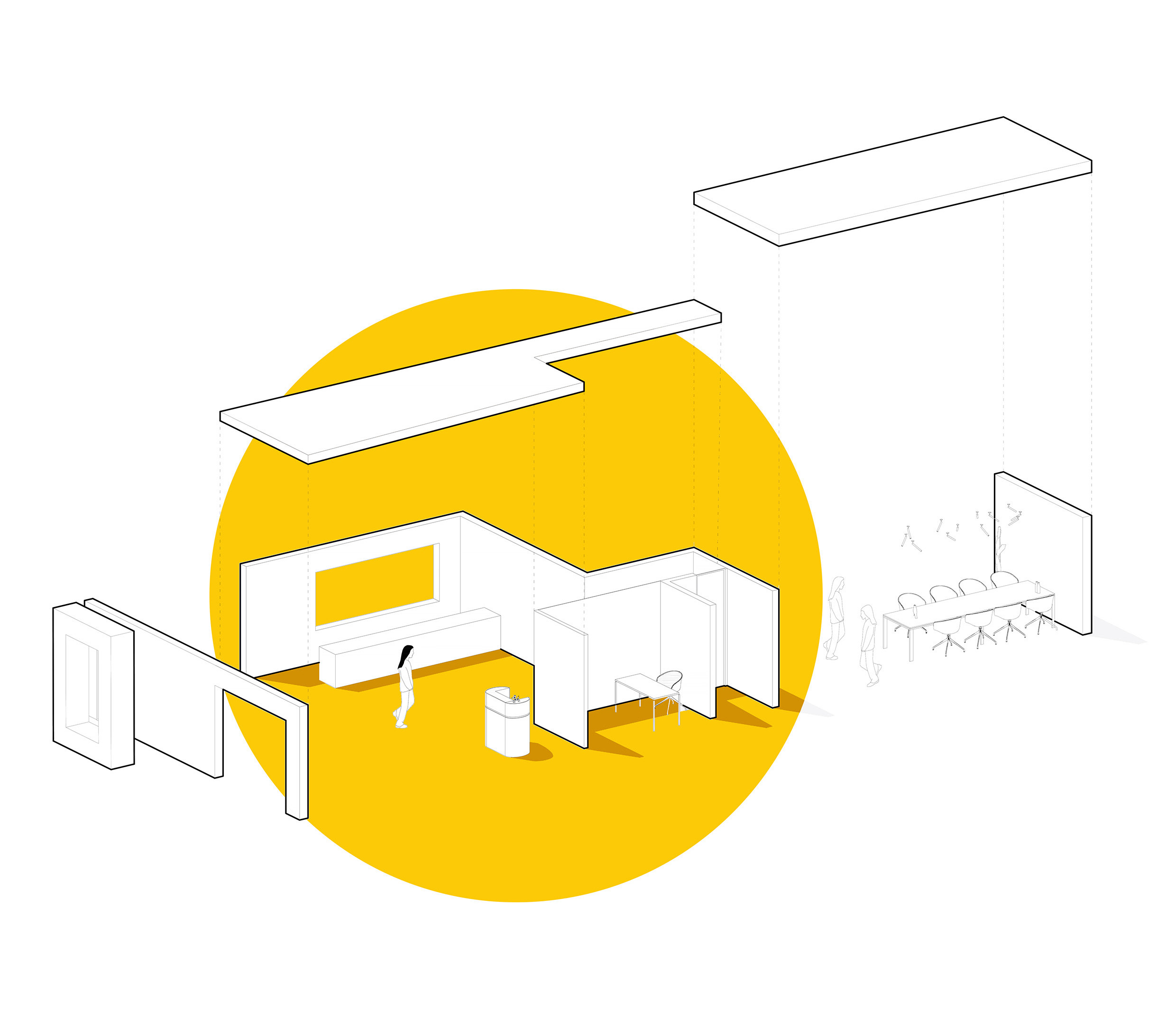 Our concept was to have an office space which has a design language of contemporary art galleries. We did not want to make something having complex aesthetics. The office has a linear planning of about 1010 sq.ft, a small workspace, with an amazing sun kissed reception area facing west. Next to it is the waiting lounge with Prussian blue couch dividing the small workspace consisting of 4 workstation table. Ahead of it is the cabin for manager and a beautiful, mirror reflecting conference room bringing the outdoor greens in making the most of pleasant ambient daylight, which in turn saves a lot of electricity.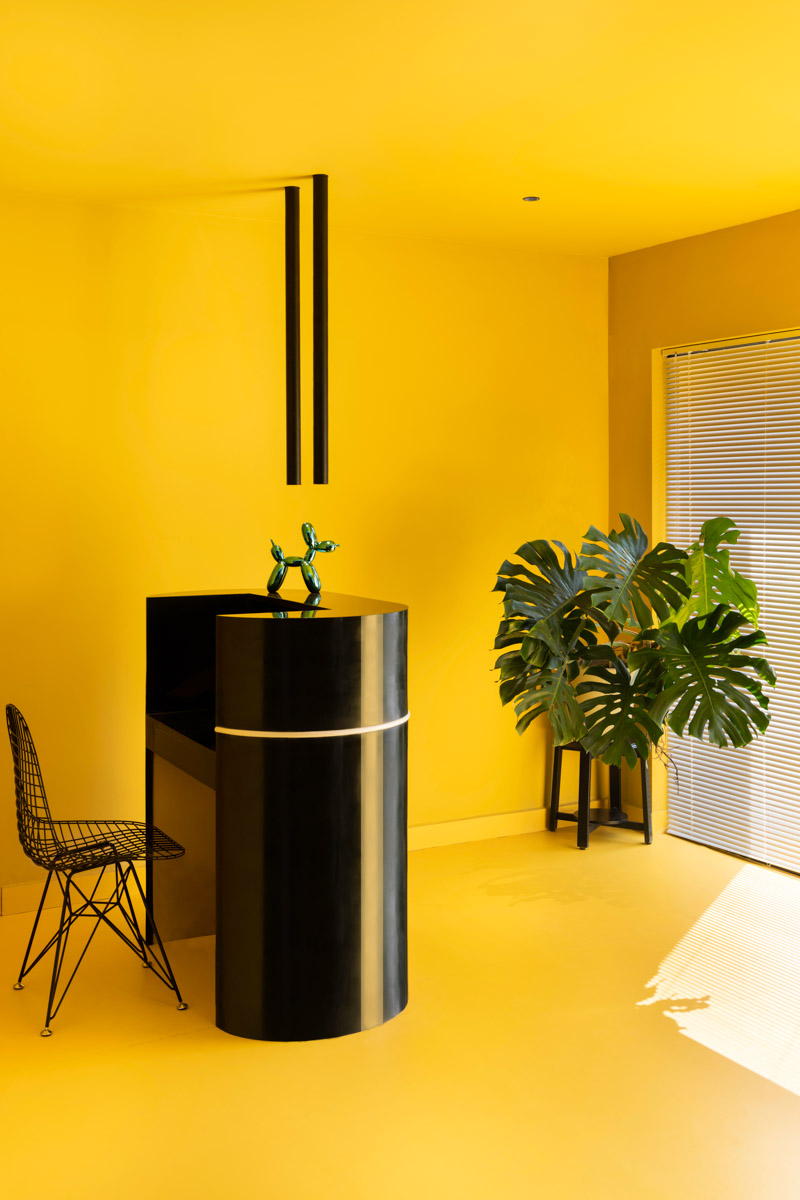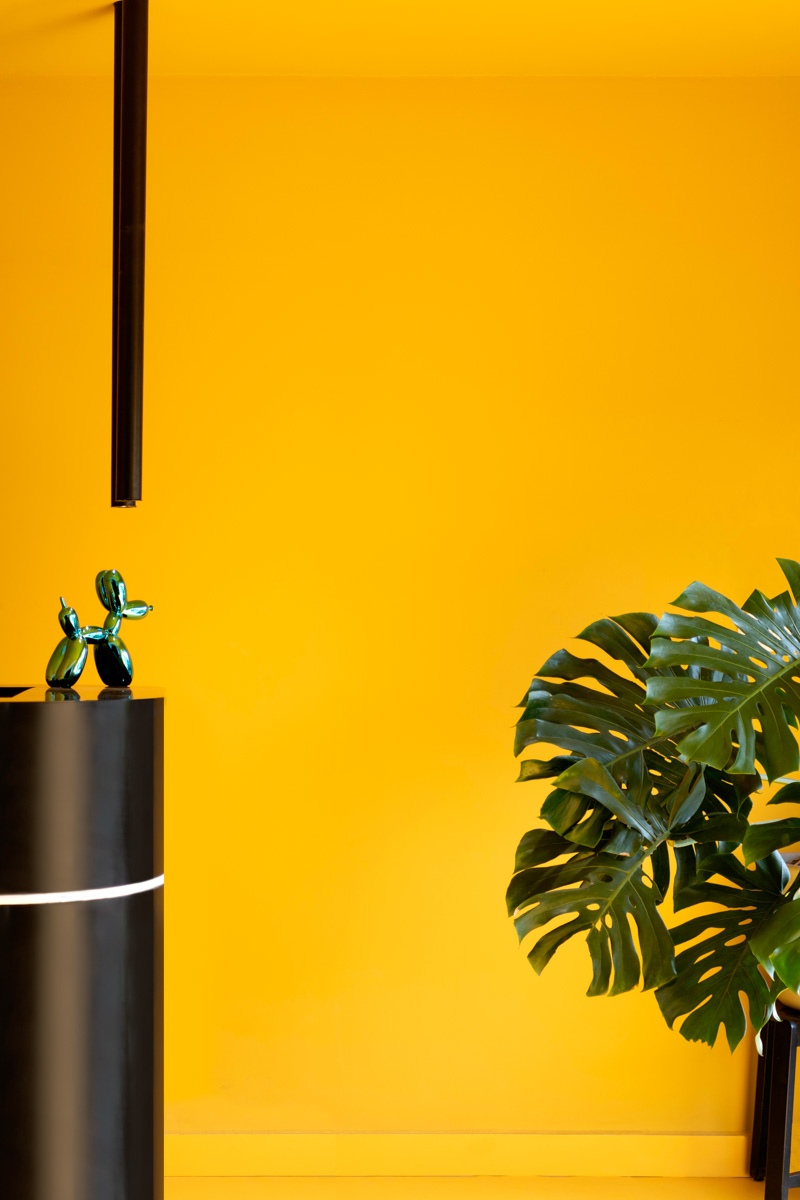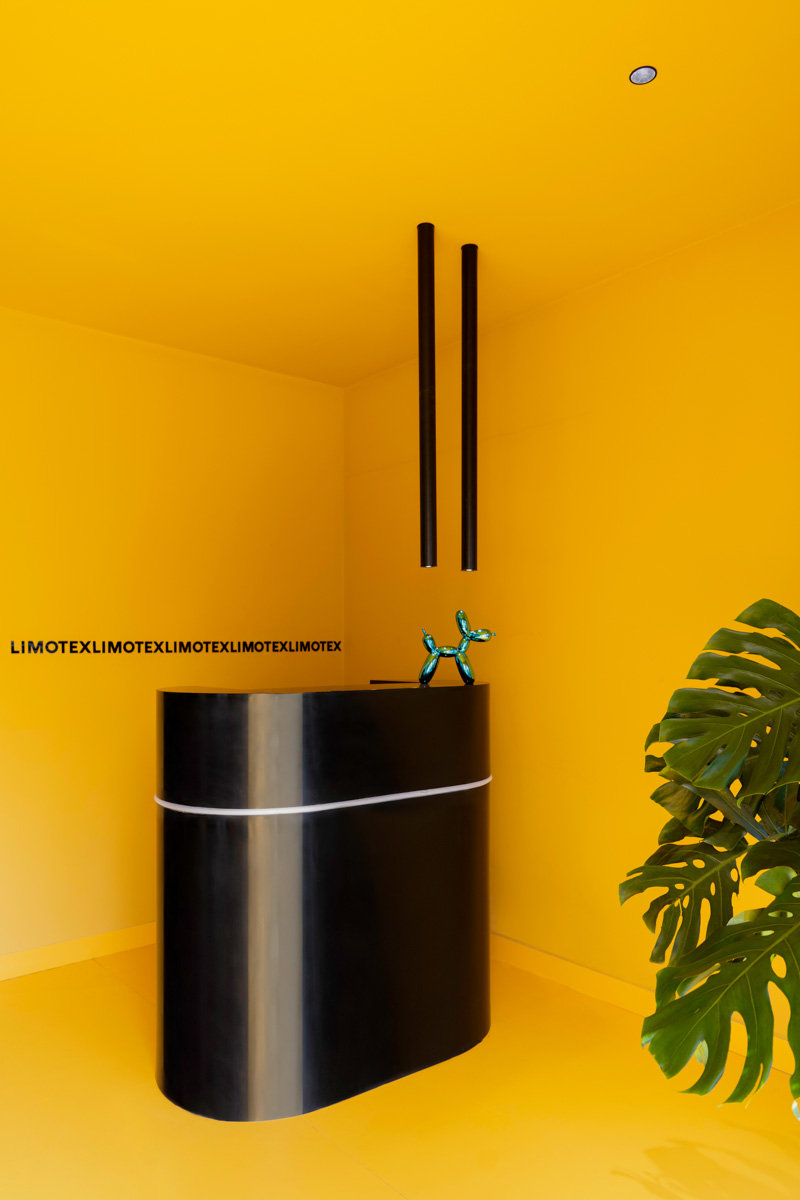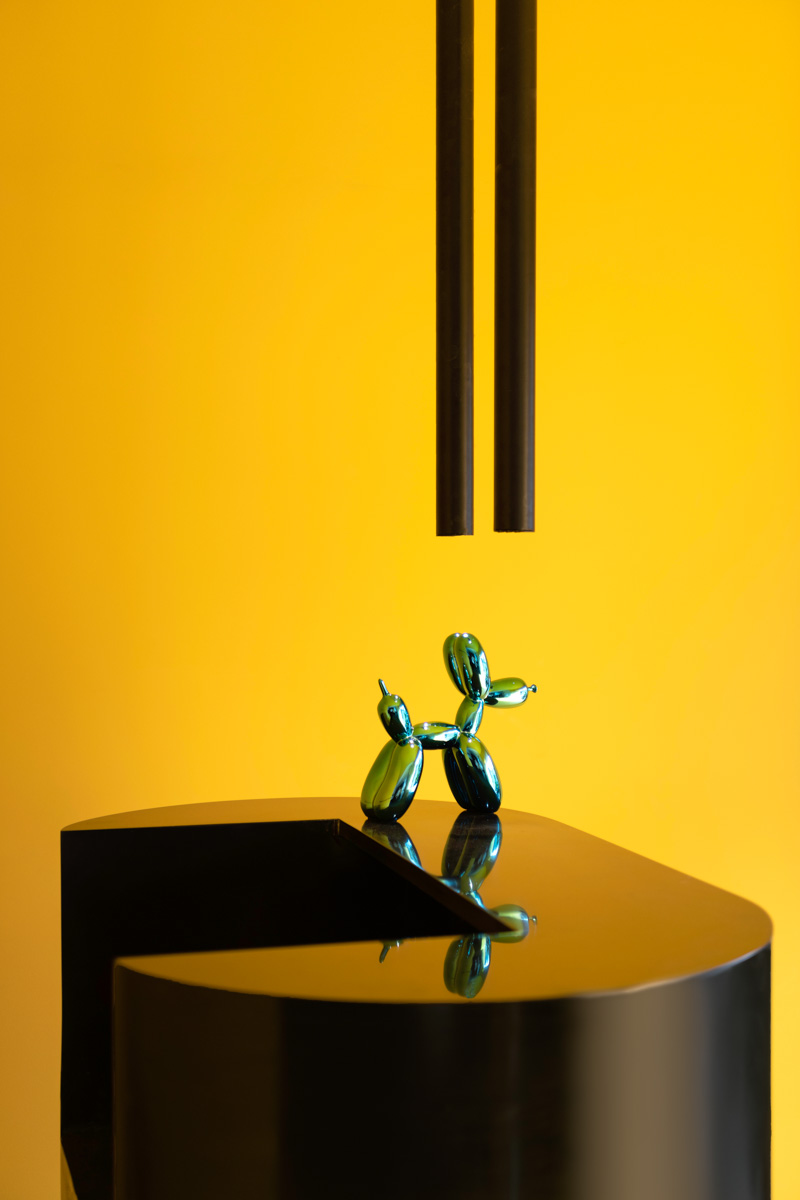 Working with a concept of having this mustard yellow on all 3 dimensions was a huge tough call and one needs to be bold when making decisions. However our fav, blue Jeff Koon's dog, in the reception, balances out the color perfectly, making it look like it's just straight out of a story book.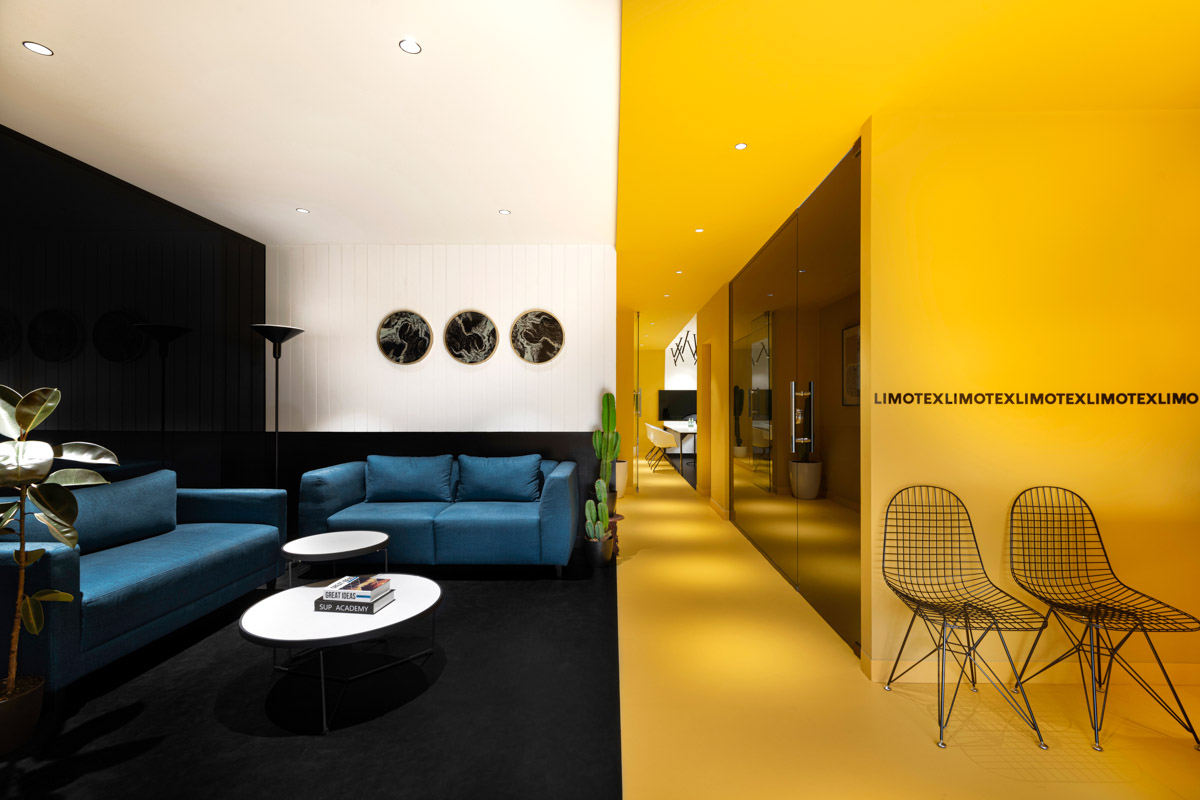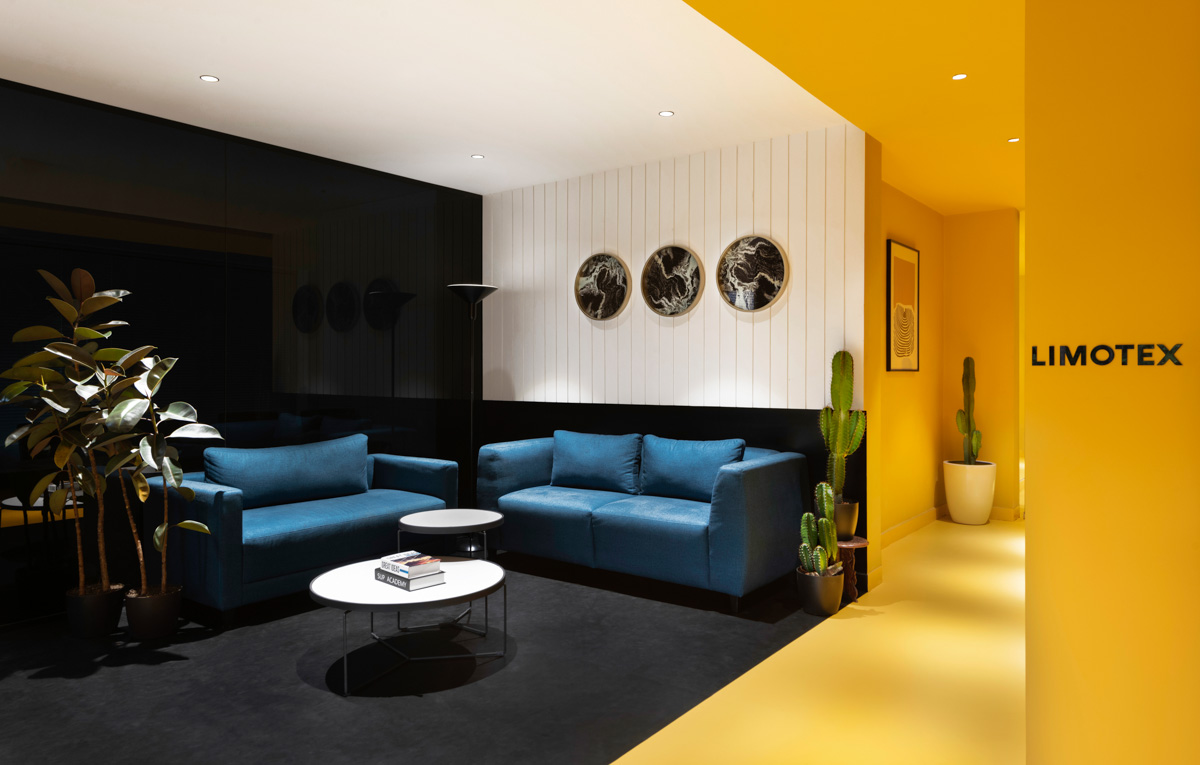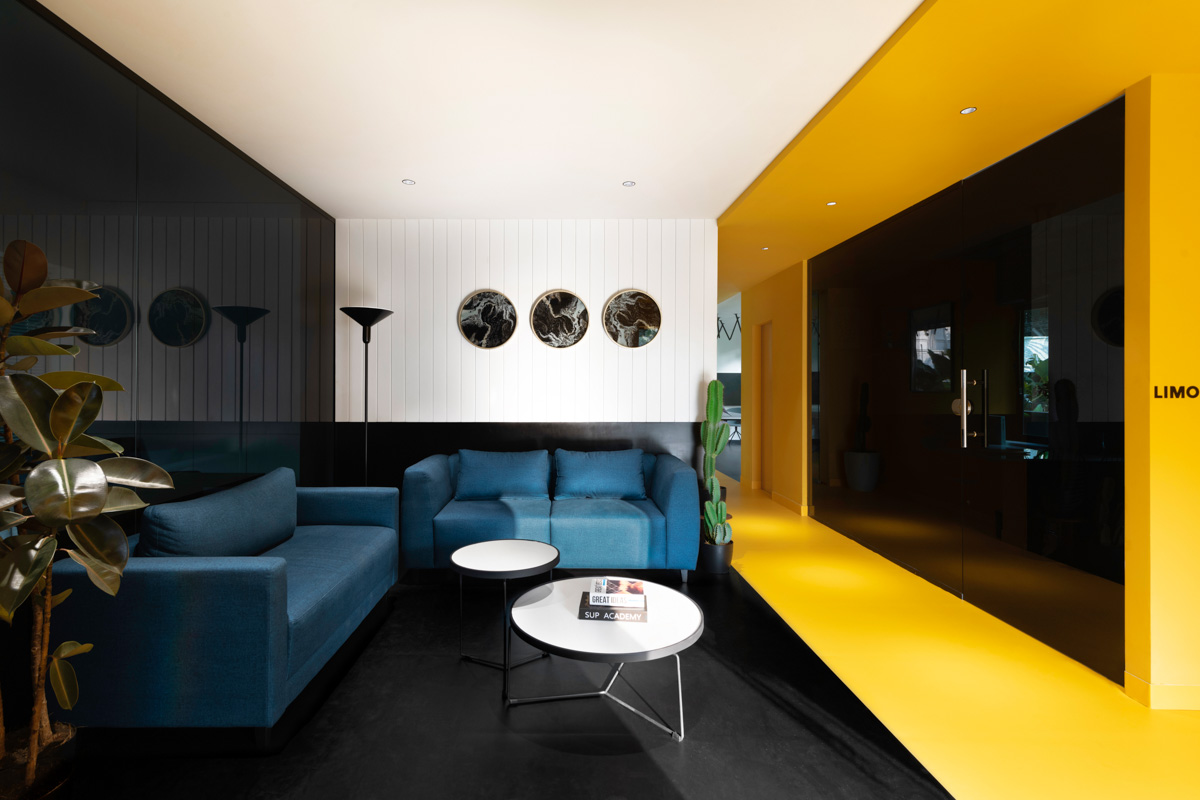 As soon as one enters the office, they recieve a punch of reception area with all it's 3 dimensions dipped in yellow, this gives a visual delight, a sense of happy summerness. Moving in, the palette slowly shifts between blacks, whites and a glimpse of green giving the workspace depth. Over all the space just elevates the mood as we happen to say "Hello Yellow!"
All of the above colors go hand in hand in interior design schemes, we wanted to somehow break the vibe of yellow, which can be overpowering at times and have control in the color palette. Office interior design is not just about furnitures and ambience but it is much more than that. We have to deeply understand how all of these colours could co-exist together creating a uniform balance within the interiors.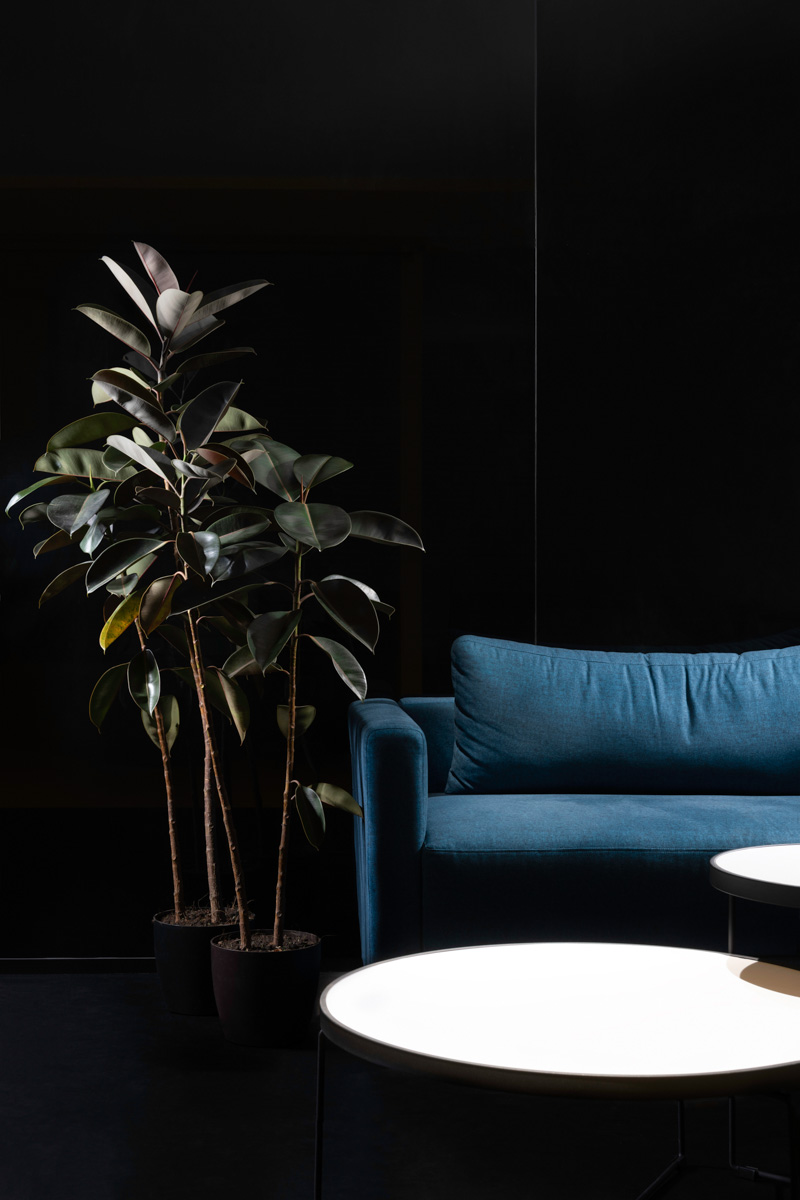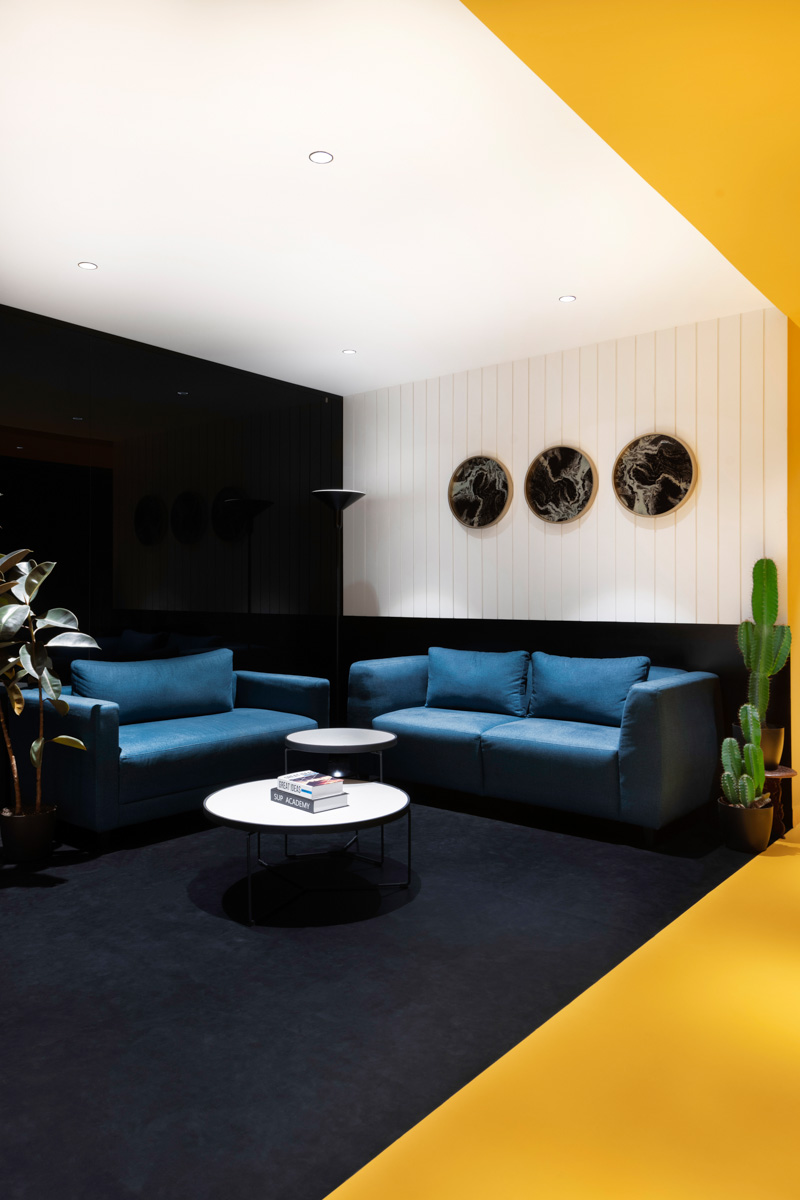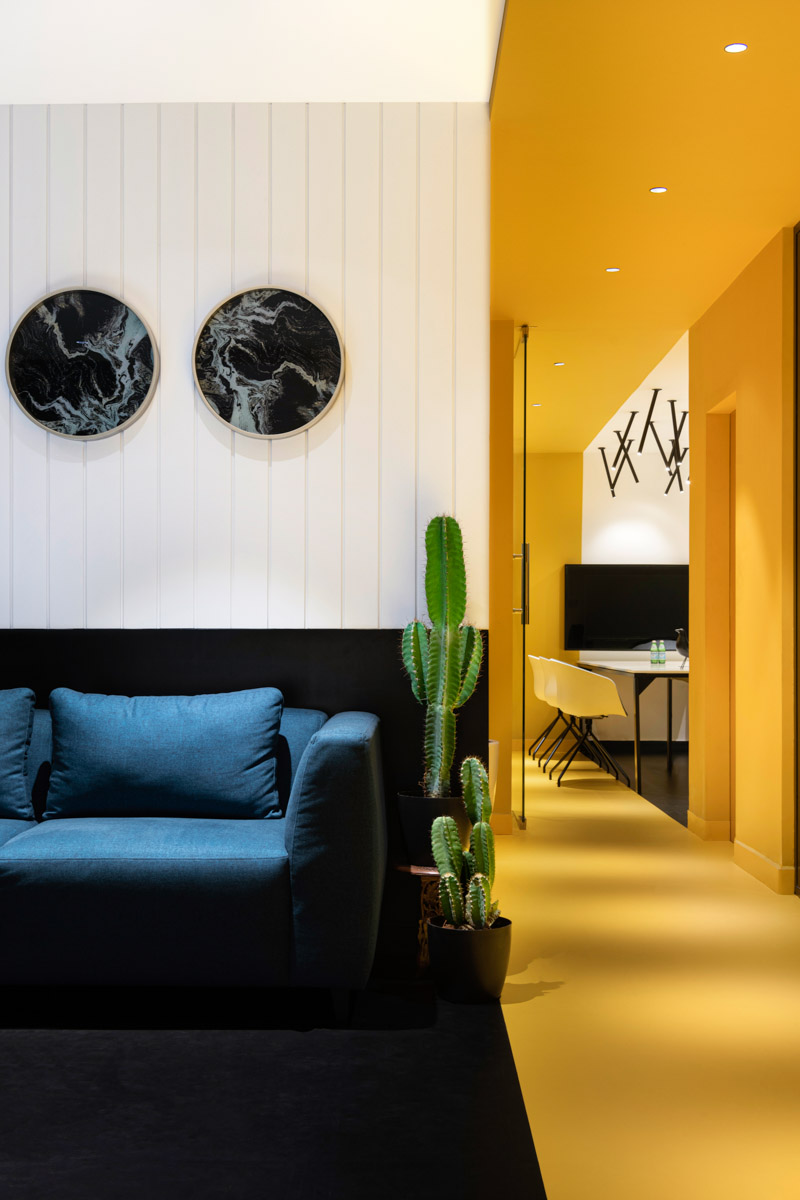 The yellow dipped reception with the sheek, glossy black capsule desk is absolutely the most vibrant nook in this office & simply because this is the spot where my favorite Jeff Koon's art is. Afnan & I got a perfect compliment by the client stating the space is certainly instagramable ! and they now call it the wall of the office ! These small messages from them make us happy.
The idea was to keep it as clutter free and open as possible with the limited space that we had in the layout. We decided on avoiding lot of unnecessary signages and to just keep a strip of office name running on the rear wall of reception creating a backdrop which is sleek and elegant.
The two statement rod lights which focuses light on the art are customized by LIGHT, Calicut.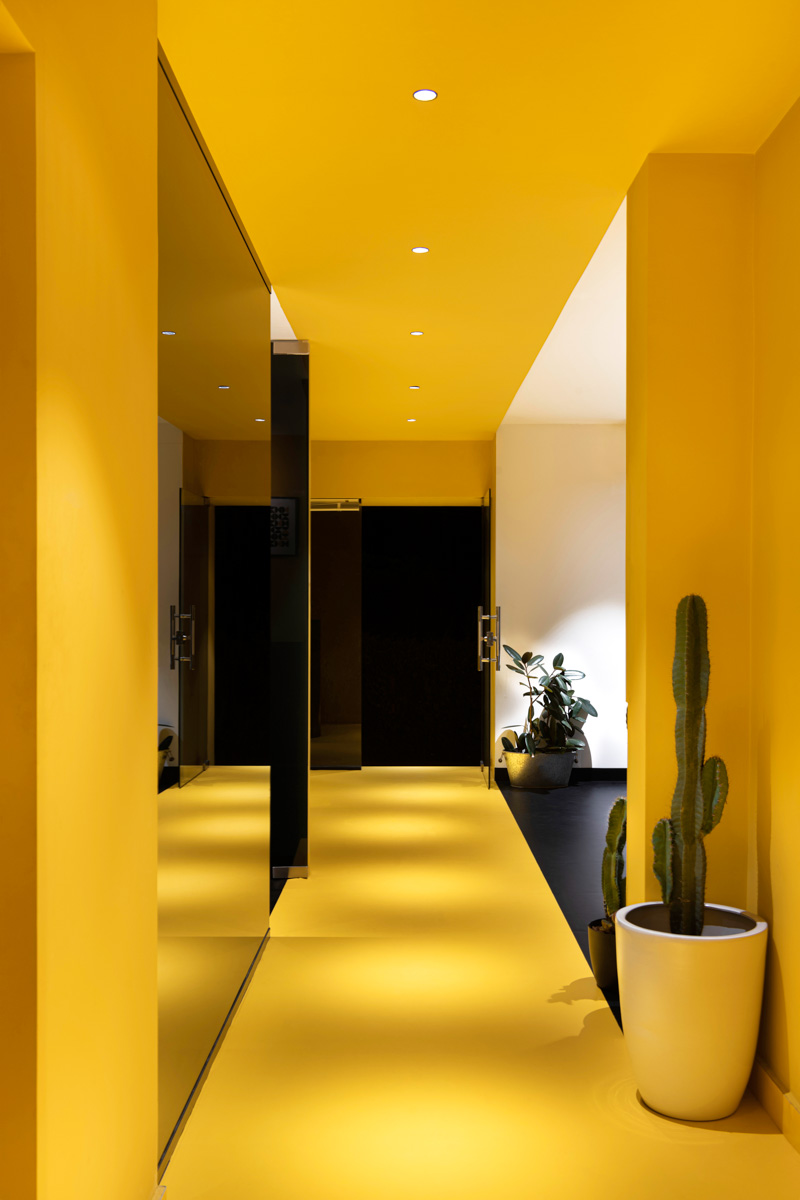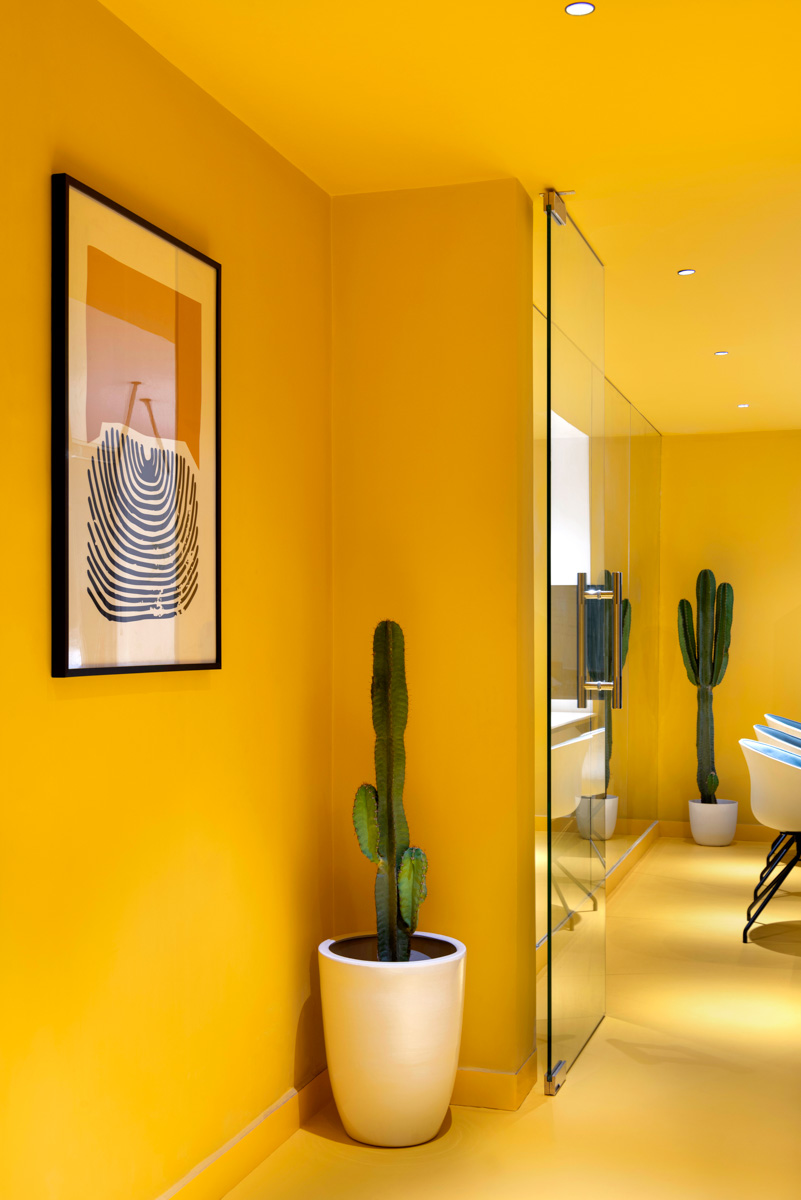 So everything in this office is light, airy, bright and uplifting.  Conference being the favorite one primarily because of the natural daylight streaming in with lush green being reflected on either side. Most of meetings happen here round the clock so the green helps to relax one's mind in being zen. This also motivates for a positive mind set.
The conference table is custom built with pearl white table top. We also have these amazing lights which are dynamic and are called angled lights centered above the conference table. It is our other customised lights, made to that exclusive 40cm length, which can be adjusted according to different angles, in a single click creating interesting patterns in the room. The jet black colour detail is love. The passage leading to the conference room is adorned with some really cool mid century photo frames on the wall and cacti.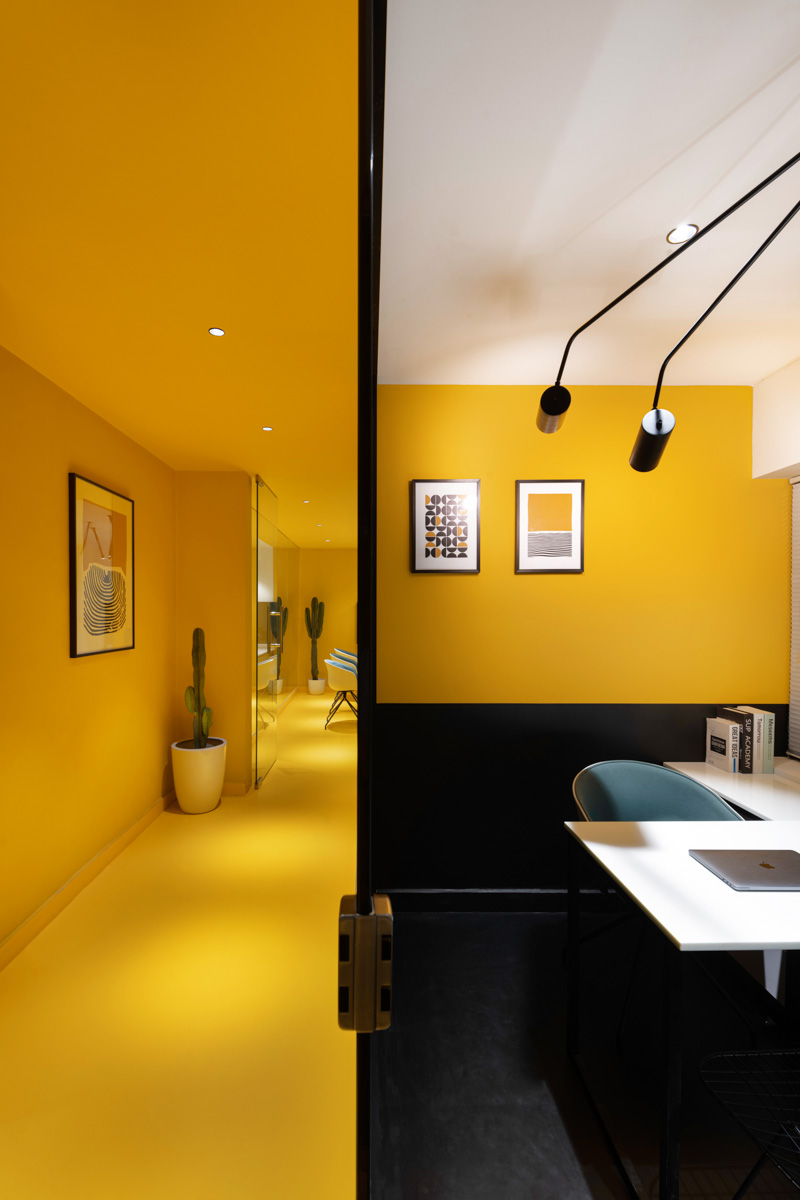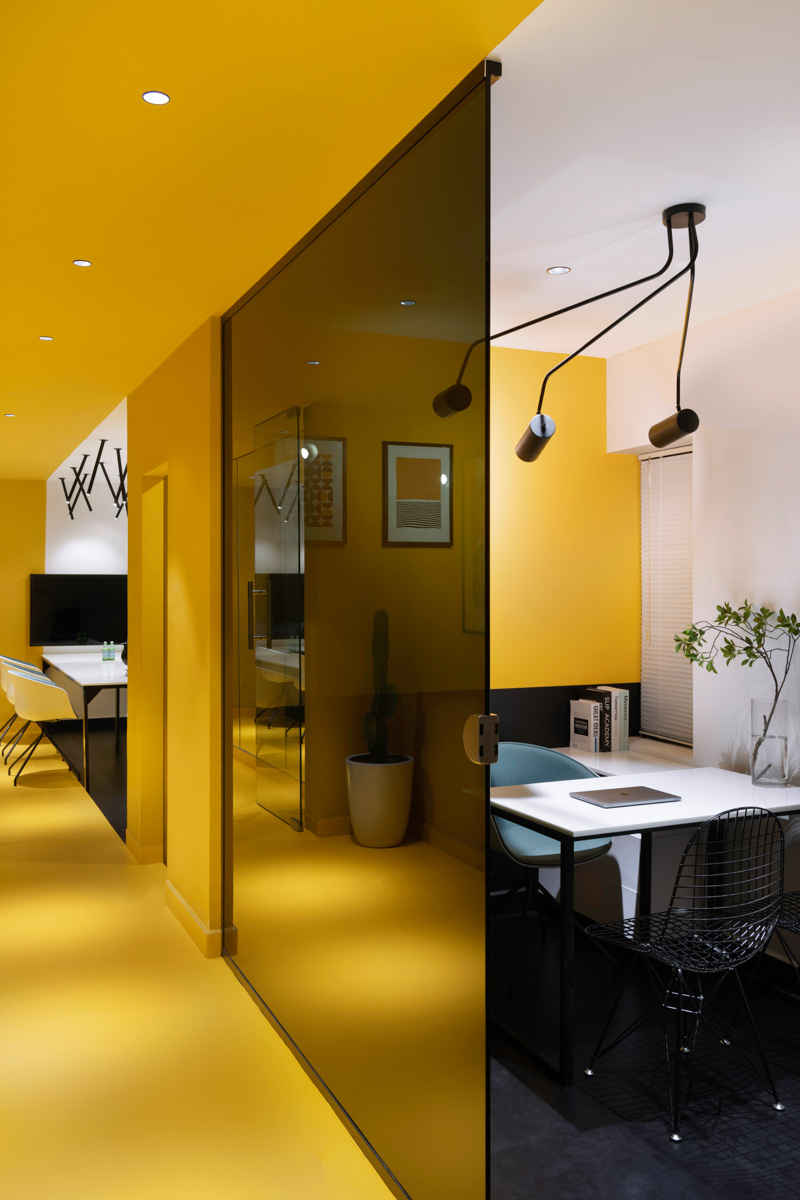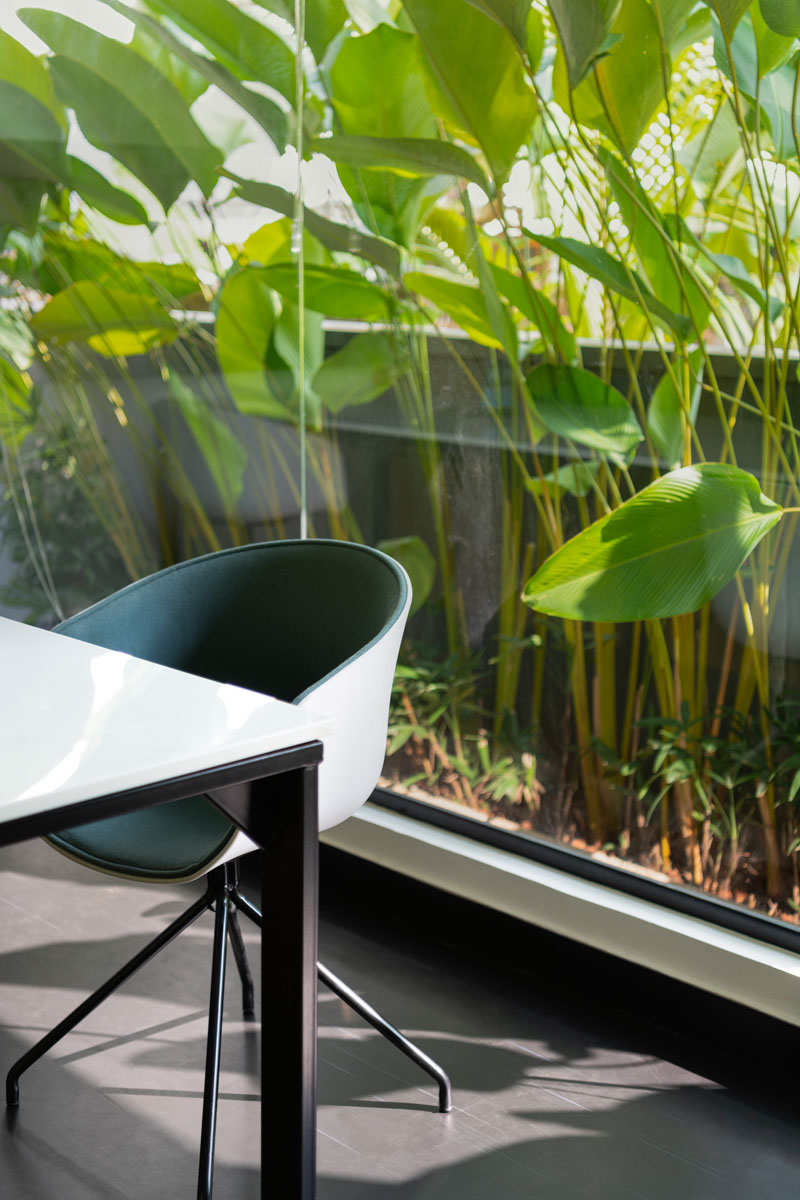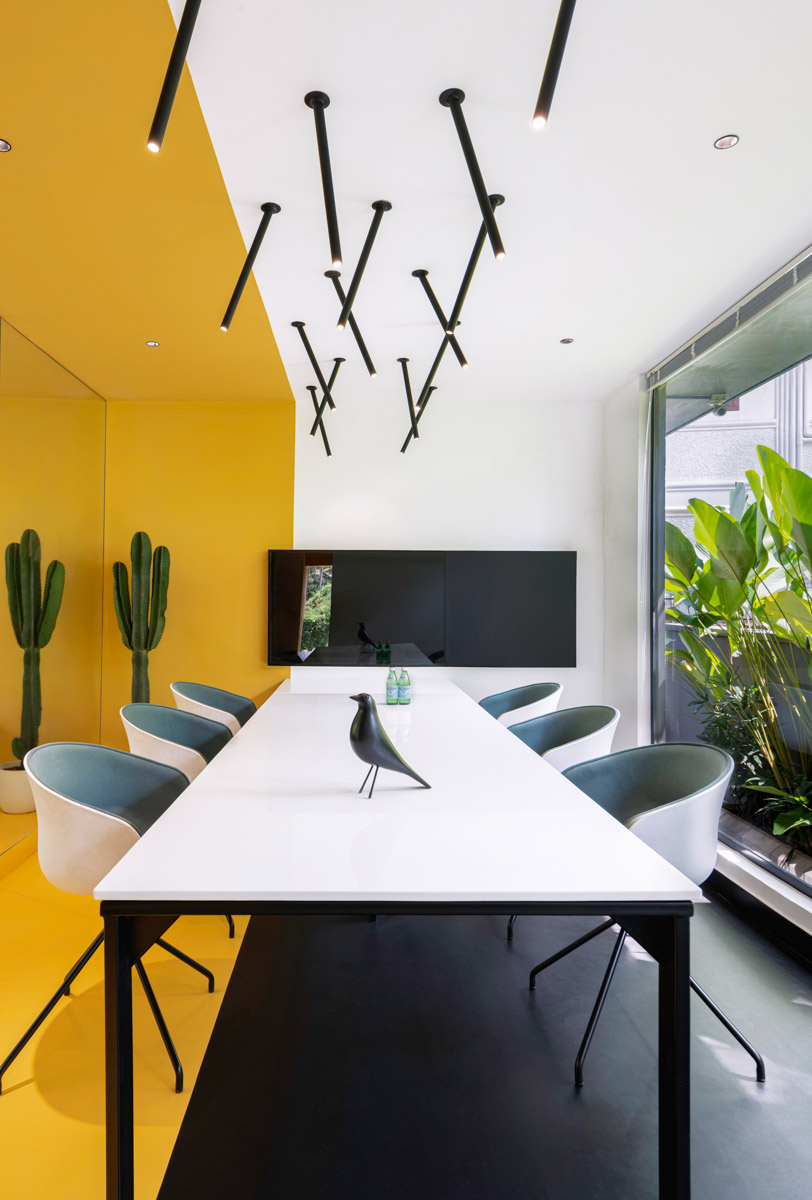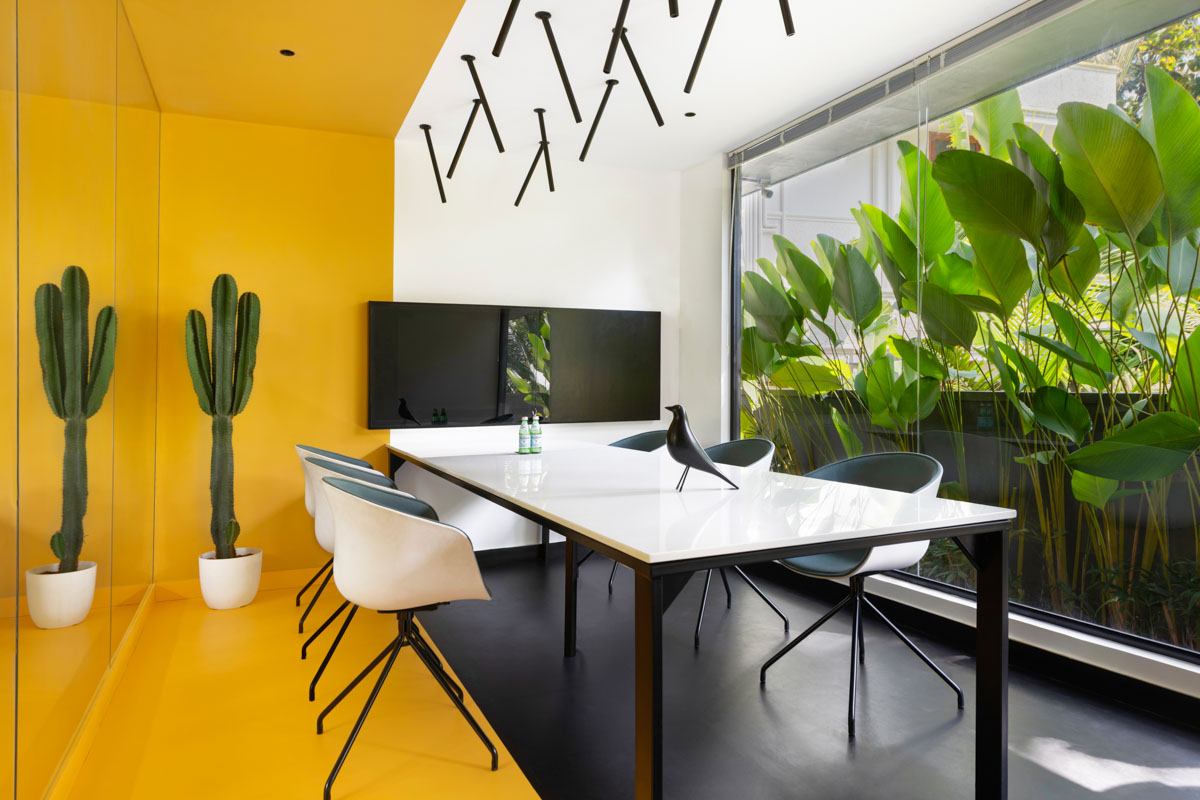 Photography: Justin Sebastian.
PROJECT CREDITS
Interior Design: Humming Tree
Designers: Mohammed Afnan and Arun Shekar