The Janak - food court pop up pavilion designed by Bora Da Design Studio.
Project Name : The Janak – foodcourt pavilion
Project Location : New Delhi, India
Project size : 2100 sq. ft.
Designer : Bora Da Design Studio
Project Status : Built
Website : www.borada.in
Instagram : @boradadesign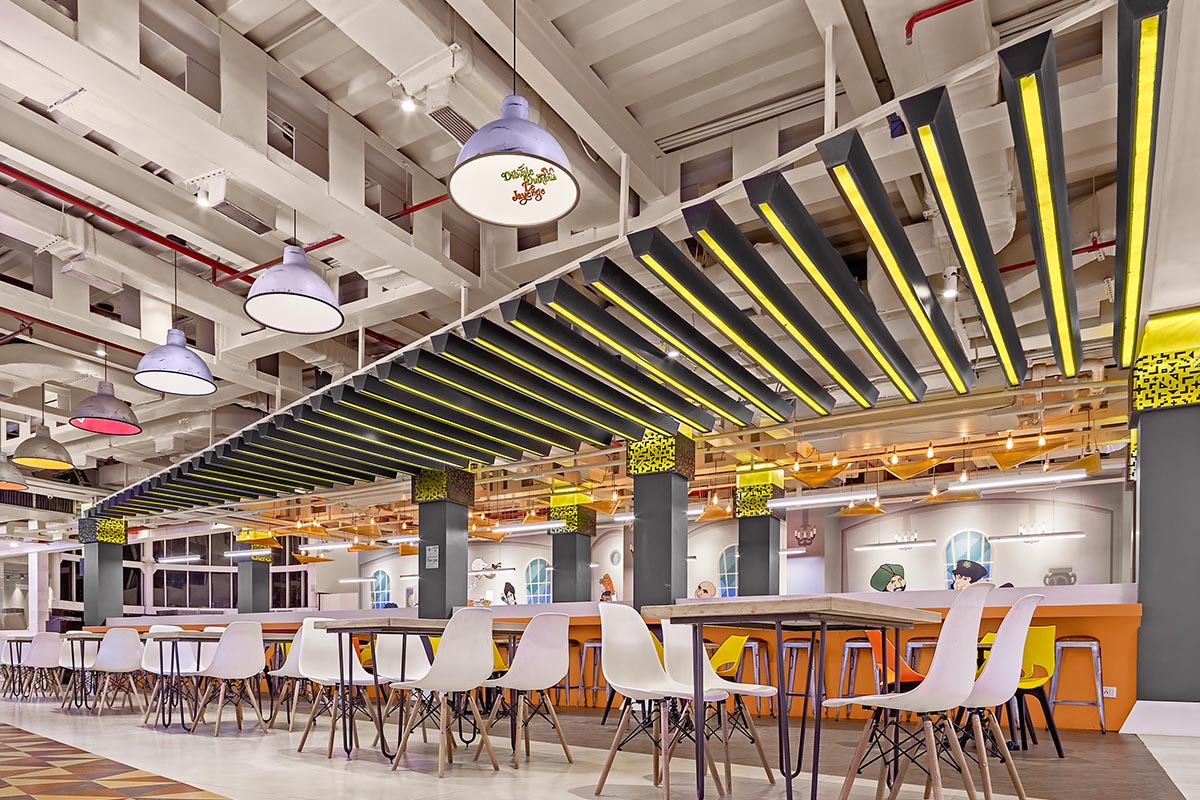 text descriptions by the designers.
The Janak is a mall located in New Delhi which comprises of a multiplex and a food court. The objective was clear to create a fun and light hearted space that balances customer experience and functionality. The food court is the main attraction in the mall as it lies at the main entrance. It comprises of an airy atrium with inflow of day light from above. Life size, patina finished sculptures of men and women adorn this atrium that seem to be climbing upwards symbolising growth. This element was thought of, keeping in mind of the eventual growth of the iconic Janak Cinemas to the newer times with a twist of modernity to The Janak.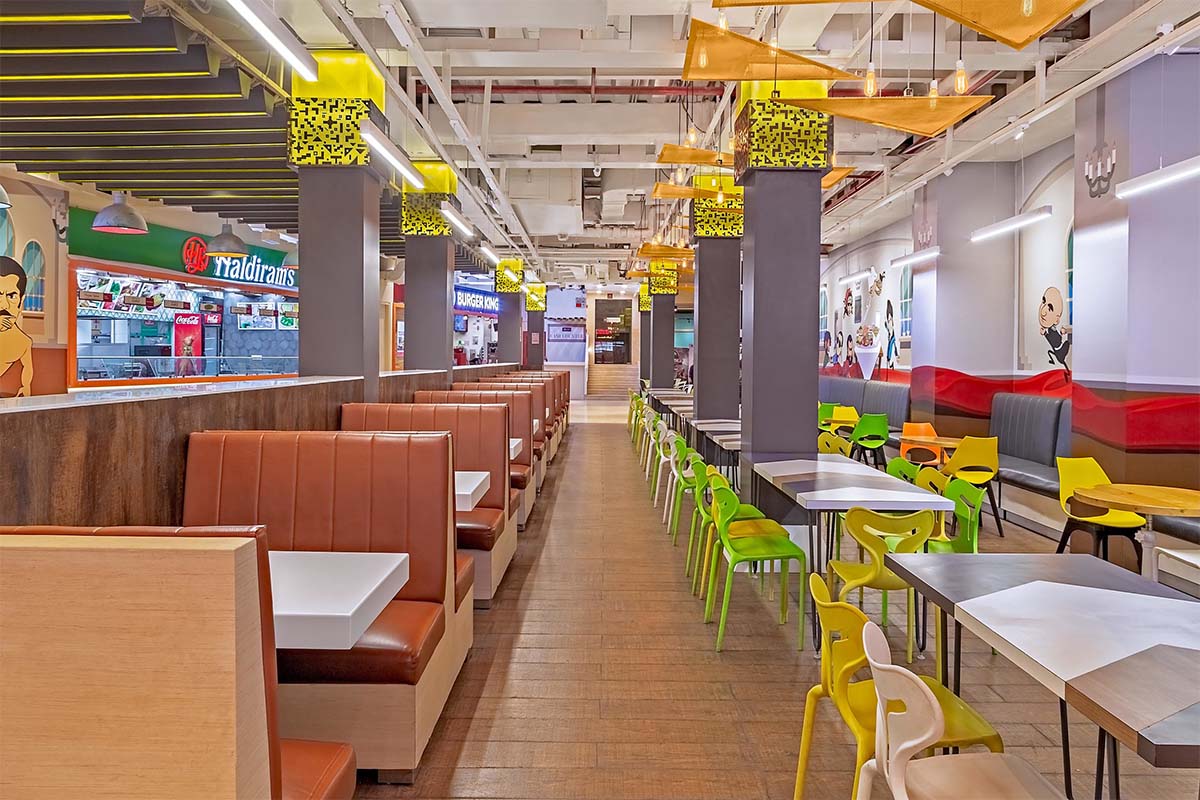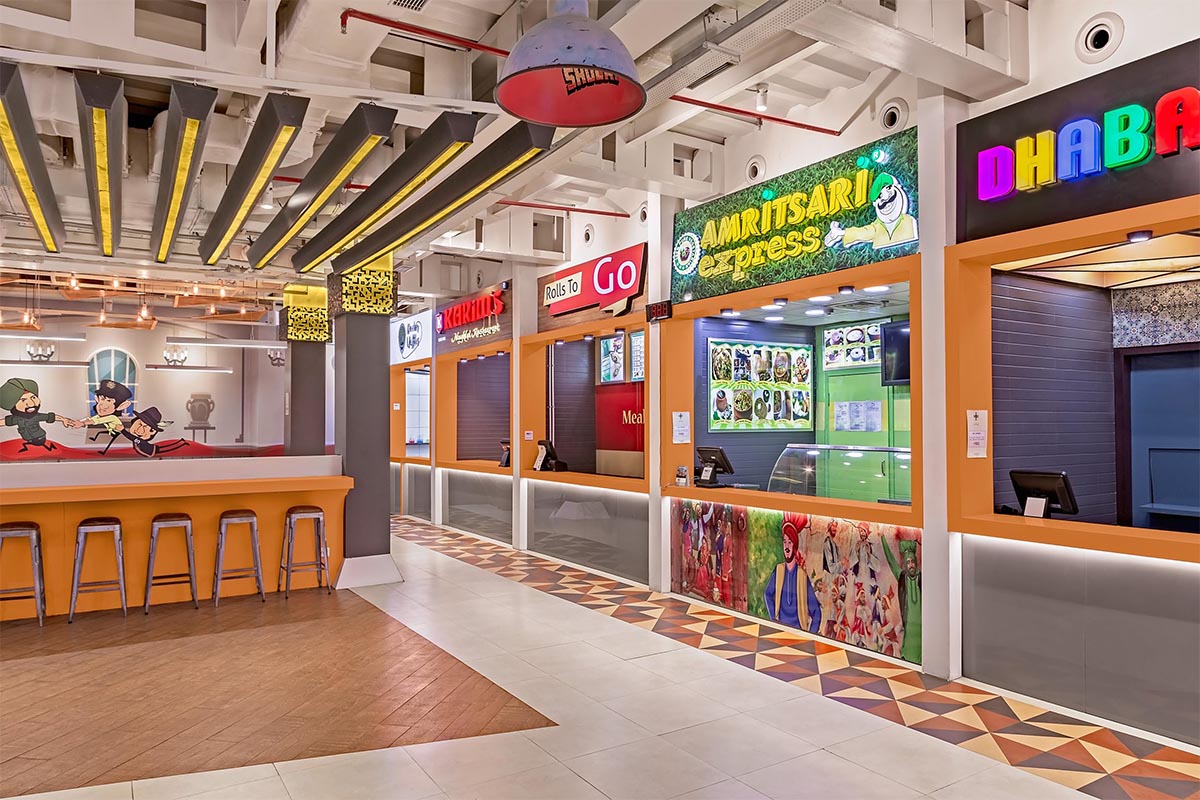 The Food Court branded as The Central Court unfolds the magic and aura of India's widely glorified Bollywood. The design elements draw strong inspiration from Bollywood, the movies, their iconic characters as well from the very art and technique of movie making in all. While most would consider vertical structural support an obstruction, Bora Da` had other plans. They decided to embrace the columns by making them the most prominent feature in the space. The wall art is comical and adequately animated to portray the characters that anyone walking in can relate to. All lights are unconventional and custome made. One segment of pendant lamps have bollywood movie posters painted in them.
2,500 pieces of three different coloured tiles have been set together to create a geometric design around the periphery of the food court counters. They bring in the much needed break from the monotony of the Brescia marble. The colours are peppy and bright along warm mood lighting that give the space an elegant aura and ambience. This model is designed for the masses and materials used are robust and durable for heavy traffic and daily use. In all, the elements, colours, materials and different lighting sources bind the space together and bring in a homogenous spread of Bollywood with elegance.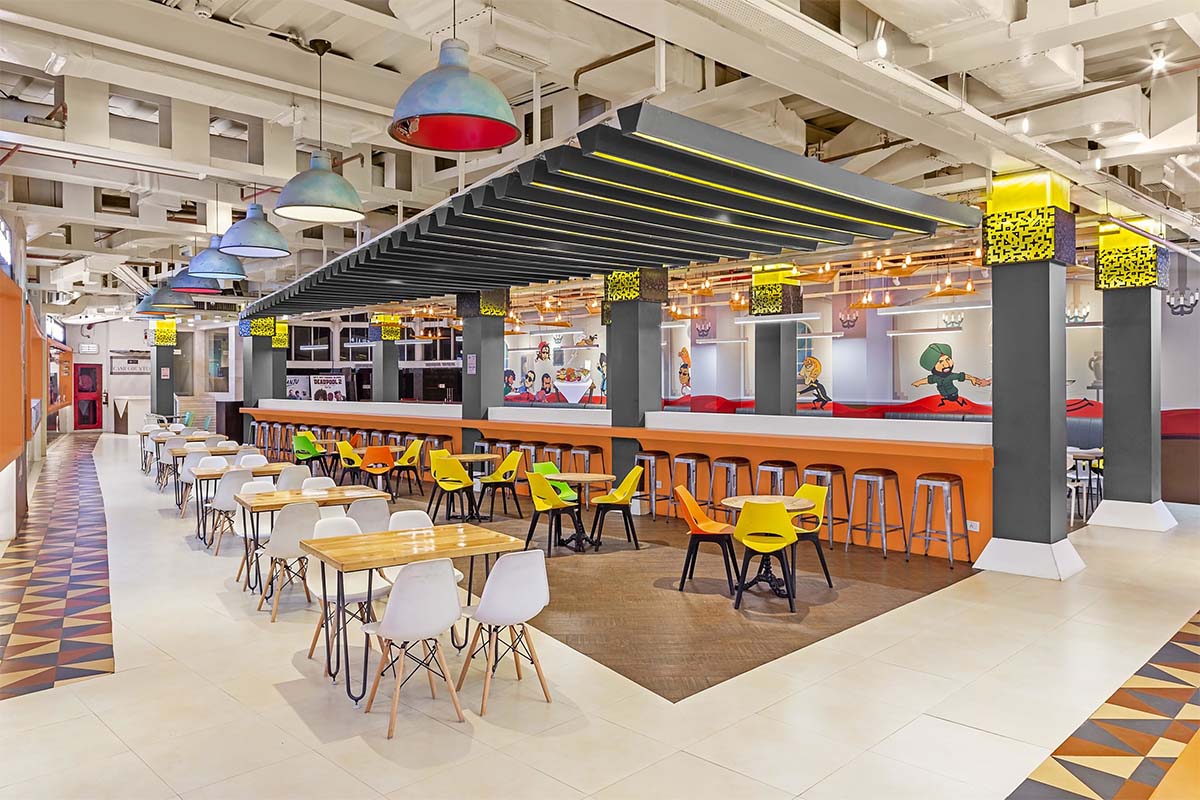 Photographer: Kunal Khurana.
PROJECT CREDITS
Interior Design: Bora Da Design Studio, New Delhi
Principal Designers: Udaai Batra and Navneet Kaur.