Shaped by the Nordic landscape
Project Name : Skýli
Project Location : Trekking trails of Iceland
Architects / Designer : Utopia Arkitekter, Stockholm, Sweden
Project Status : Competition design proposal
Website : www.utopia.se/en
Instagram : @utopiaarkitekter
Skýli is the name of a trekking cabin designed by Swedish architecture firm Utopia Arkitekter. The original concept was developed to be easily transported to remote locations along some of the most famous trekking trails on Iceland. The term Skýli means "shelter" in Icelandic, but this characteristic building is not only able to withstand the most harsh weather conditions, it is a thing of beauty in itself.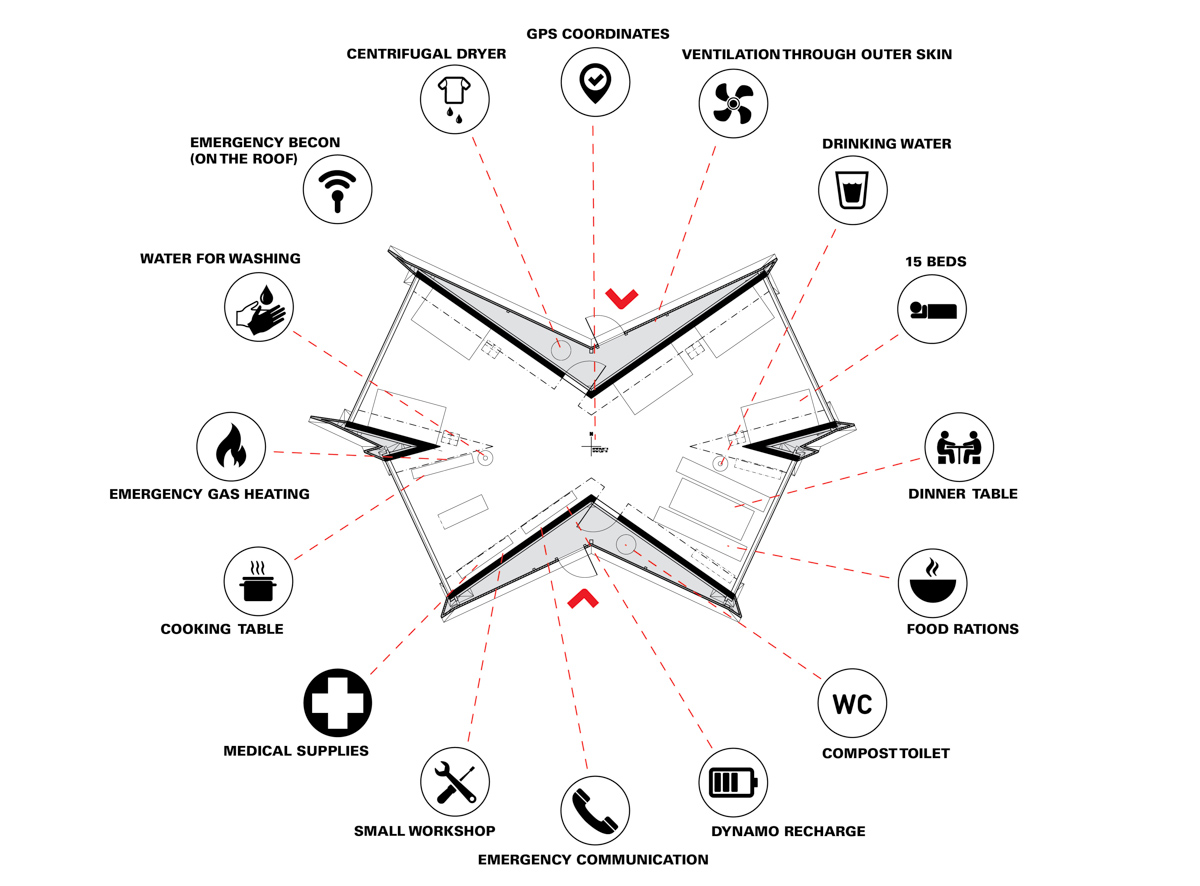 Skýli, combines four sharply pointed pyramidal shapes into a very strong, durable, safe and stable structure that is both characteristic of, and highly visible in the landscape. The triangular gables resemble a classic tent, the most basic shelter used by trekkers worldwide. It is also the same shape frequently used in the roof structures of traditional Icelandic cabins or huts.
The outer shell of Skýli is made from steel, painted in a bright blue colour that gives the cabin a strong personality that is reminiscent of the colourful urban housing architecture of contemporary Reykjavik.
The large windows create transparency which opens the cabin to the spectacular scenery of Icelandic nature, so that when sheltered inside the landscape is always present.
CONSTRUCTION STAGES
KI
All the material will be pre-fabricated and packed for efficient delivery by helicopter.
K2
Skýli is mounted on gabions effectively minimizing the impact on nature.
K3
The inner shell, furniture and fittings are made solely from CLT and designed for easy assembly on site.
K4
A lightweight stud frame is added to the inner shell to support the outer shell.
K5
The cabin is covered with the brightly painted steel.
Skýli will stand-out in the landscape, making it visible and easy to find, while at the same time creating a strong symbol for shelter and safety. The strong character of the architecture can easily be stylized into an icon or a logotype useable for every conceivable purpose.
via © Utopia Arkitekter.