glided details, rich textures and geometric patterns with a successive transition from opulent colours and materials in this apartment in Mumbai.
Project Name : Romancing Art Deco style – apartment interiors
Project Location : Mumbai, India
Project size : 1300 sq. ft.
Architects/Designer : The Design Atelier
Project Status : Built
Photographer: Hitesh Shah.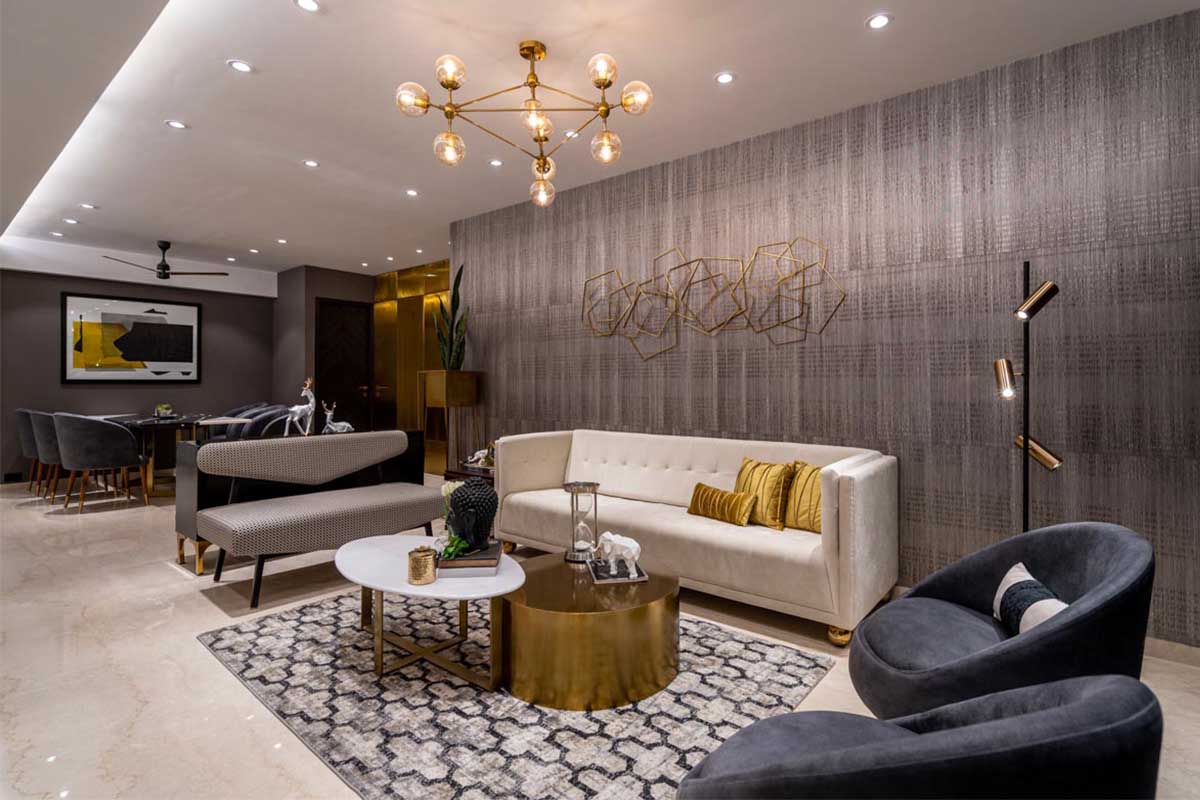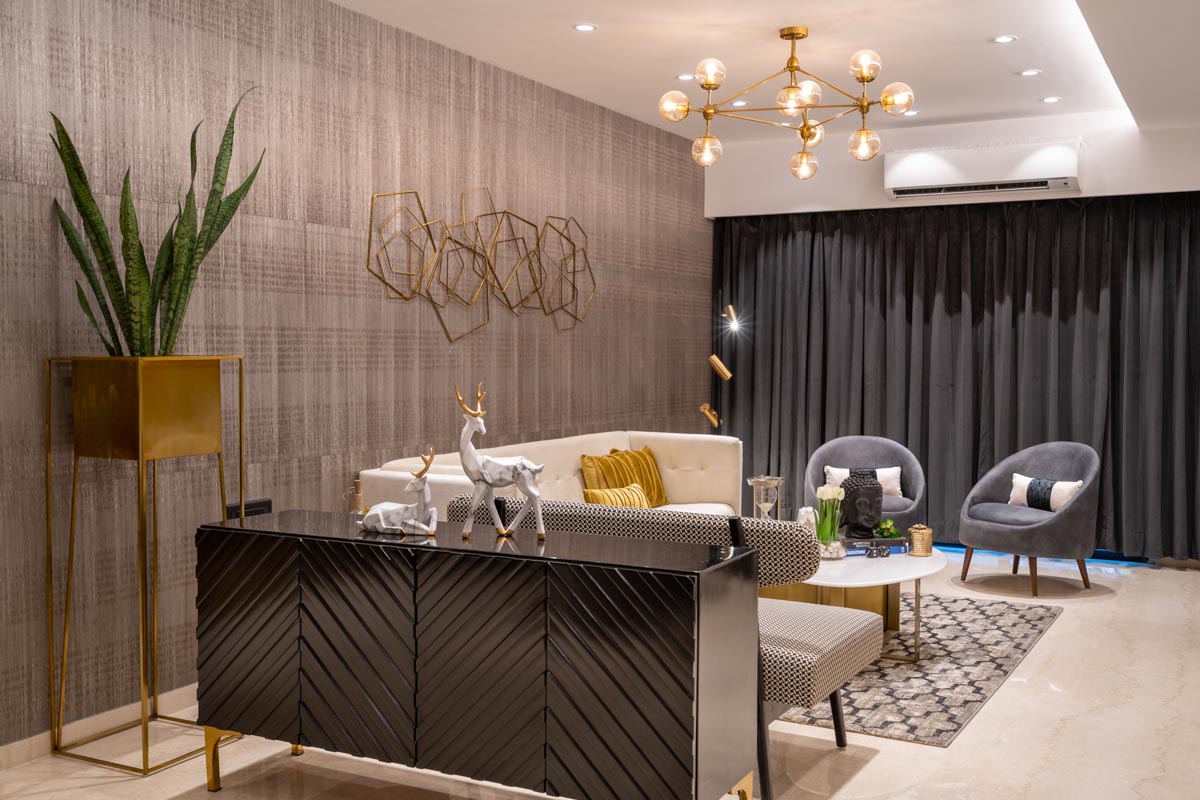 text description by the architects.
Unabashedly bold with ever glamorous decorating style which is easily distinguishable with its glided details, rich textures and geometric patterns. This design style talks brave along with oversized statement layers. Our concept runs around a deep corn yellow colour with generous gold detailing for a look that is chic and opulent. We emphasised the use of colour while taking a subtle approach to the precious metals and luxurious materials suiting our style. This warm shade of yellow perfectly brings out the playful side of opulence. Classical elements such as decorative mouldings running along the entire living room strike its Midcentury European vintage inspiration contrasting the modern geometric furniture thereby making the space feel fresh and relevant to today's taste.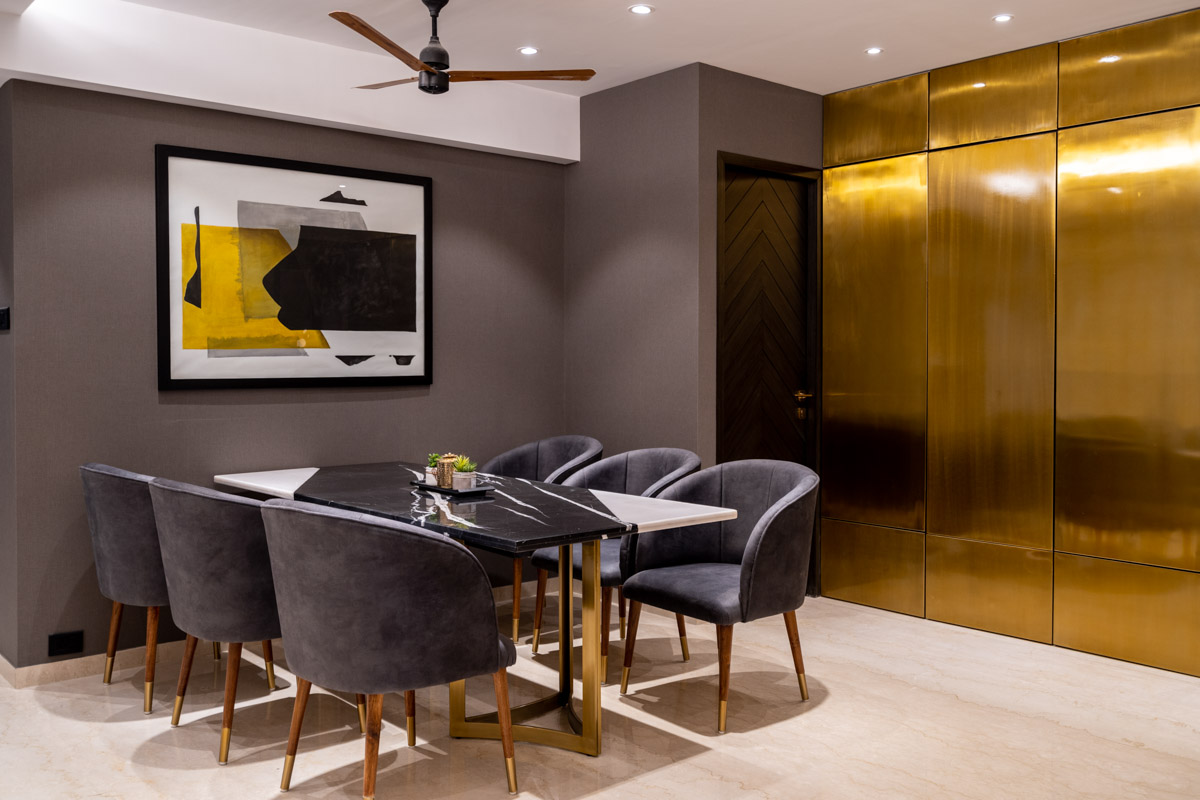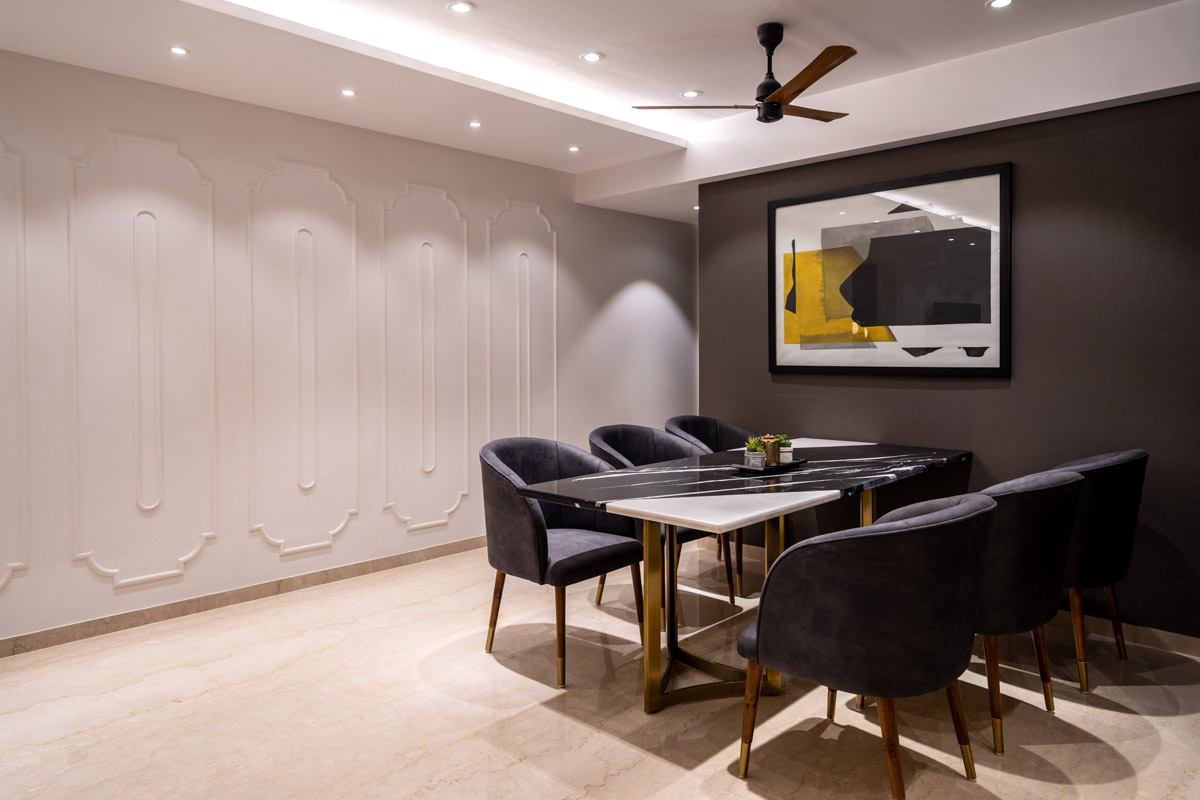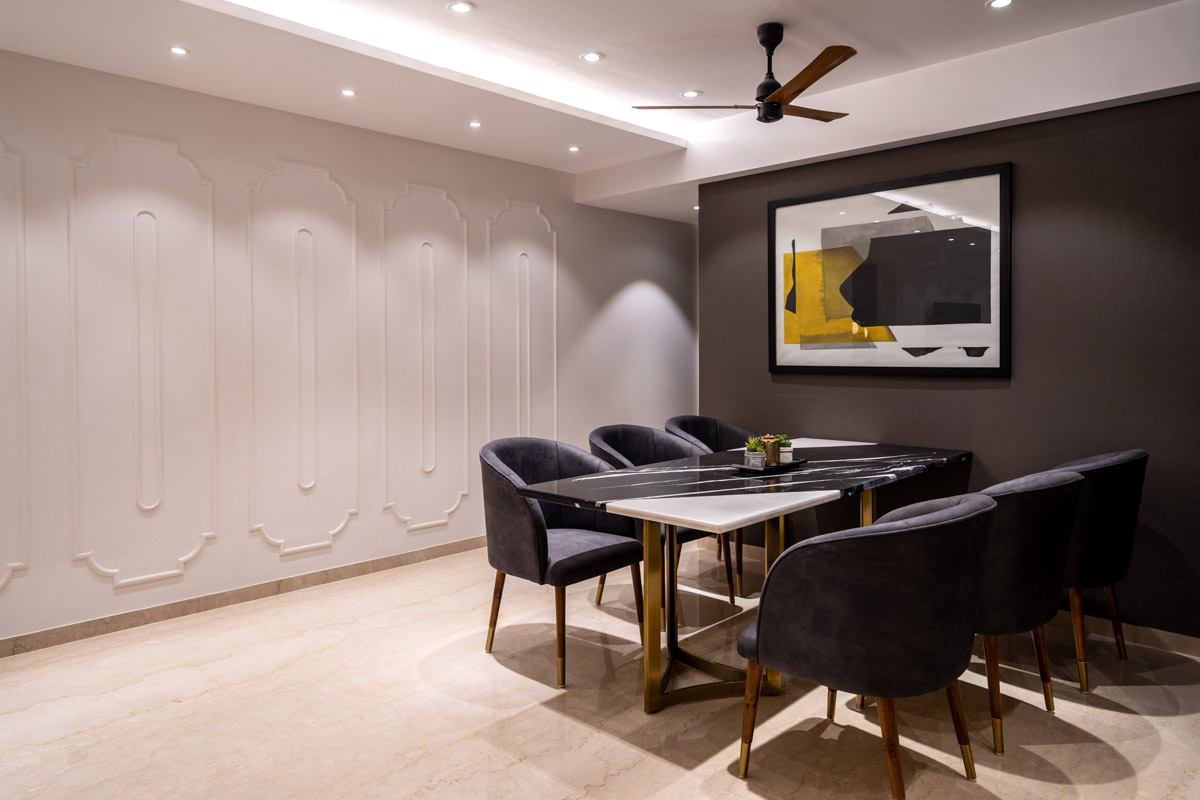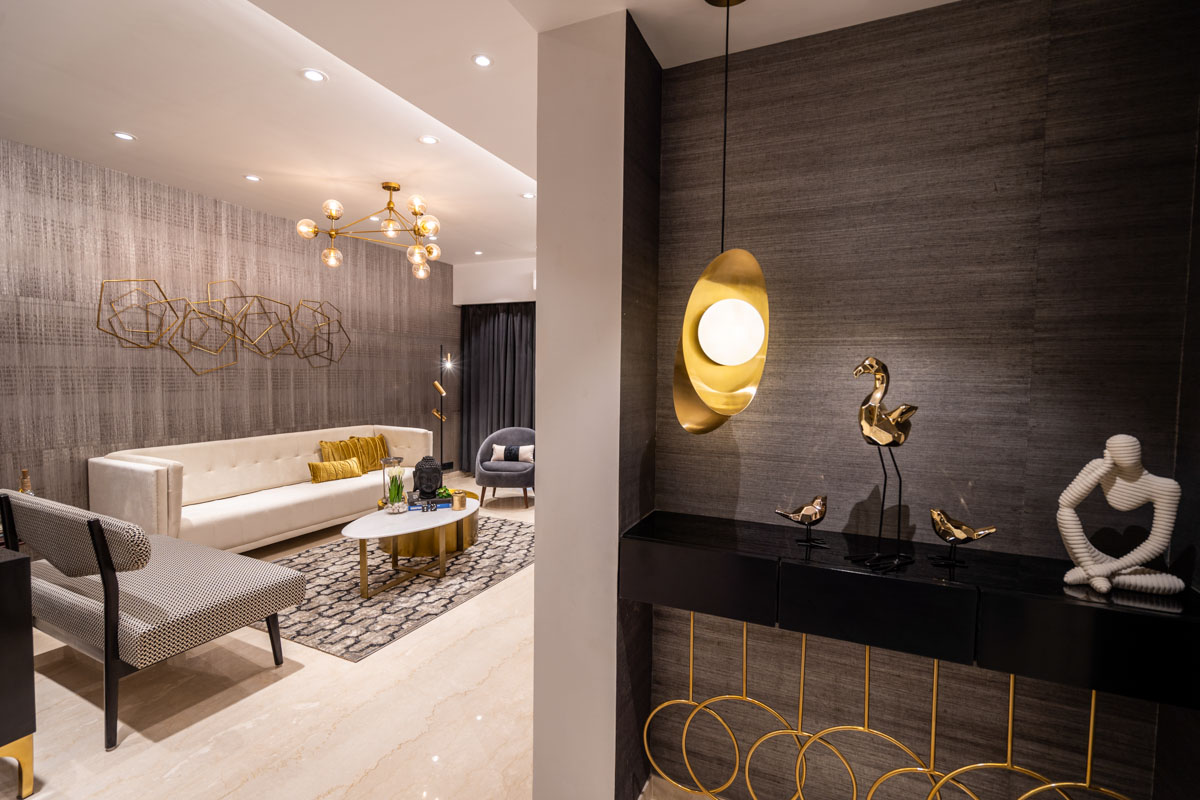 A journey of successive transition from opulent colours and materials starts right from the entry door of the apartment. This progression continues throughout the apartment in forms of wall vinyls, mouldings, and metal cabinets as well as in form of soft fabrics. The most distinctive arrangement in the open layout for living dining area is the zonal transition of colour and materials. Every wall within the place has its individual characteristics which not only stands by itself rather forms a great backdrop for chic bold furniture assembly. A brave decision of white upholstery contrasting the grey jute wallpaper strikes a balance. While a central rug and ample pillow soften the living space with graceful lines and tufted upholstery. Opulence is a hallmark of art deco style and our dining holds nothing back. An abstract undulated handle right on the main door made a declaration by itself. Dramatic black and white marble table top immediately grabs the attention with its alternate inlay pattern. TV. wall greets with a hand crafted white moulding while running along the entire length giving a sense of wider feel to the apartment. A metallic gold finish storage cabinet serves as a hidden abundant storage right next to dining space creating a focal point which cannot be missed when one enters the apartment.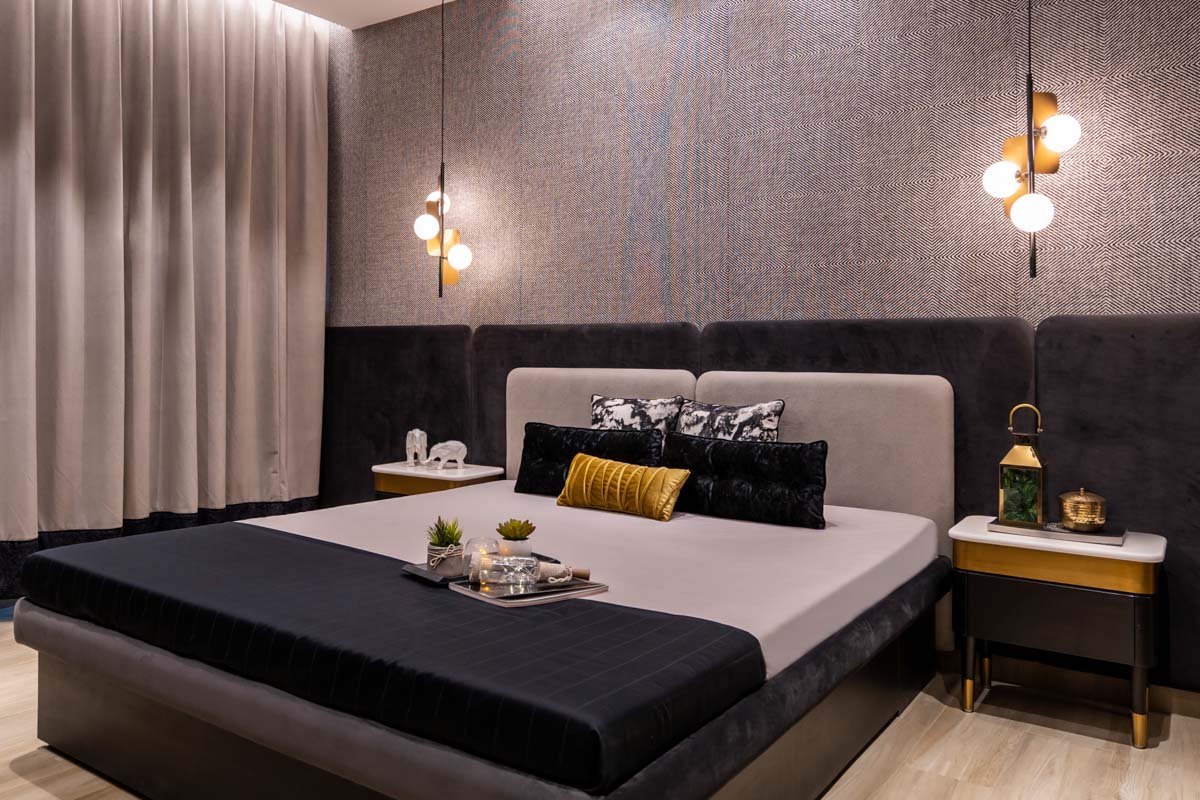 A quality design makes a statement for his owners, it's his shelter between an unknown and chaotic environment and a little piece of heaven. While floating within the concept, the Master bedroom with earthy soft upholstered headboard, mushroom grey wardrobe, veneered console and monochromatic bedside tables give a feel of long term commitment whereas frisky yet bold wooden black panels running above rustic wall vinyl , tucked corn yellow upholstered headboard brings out youth of the room.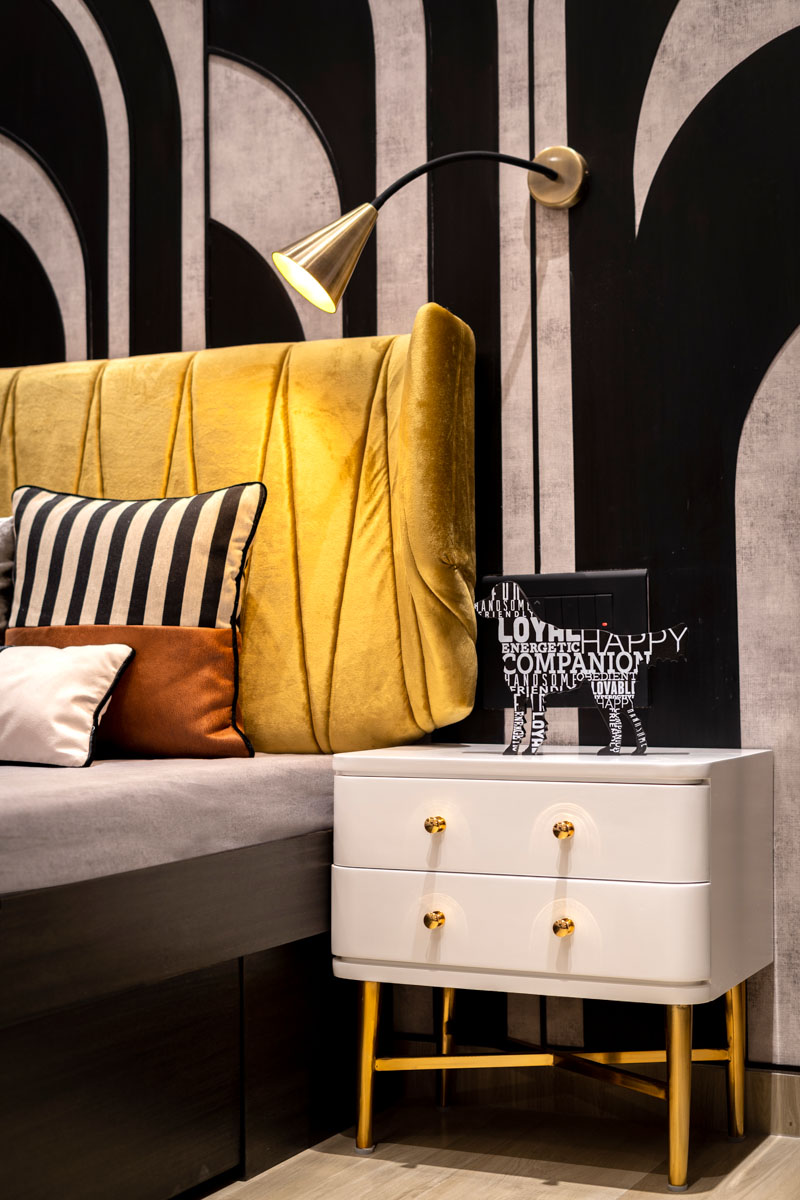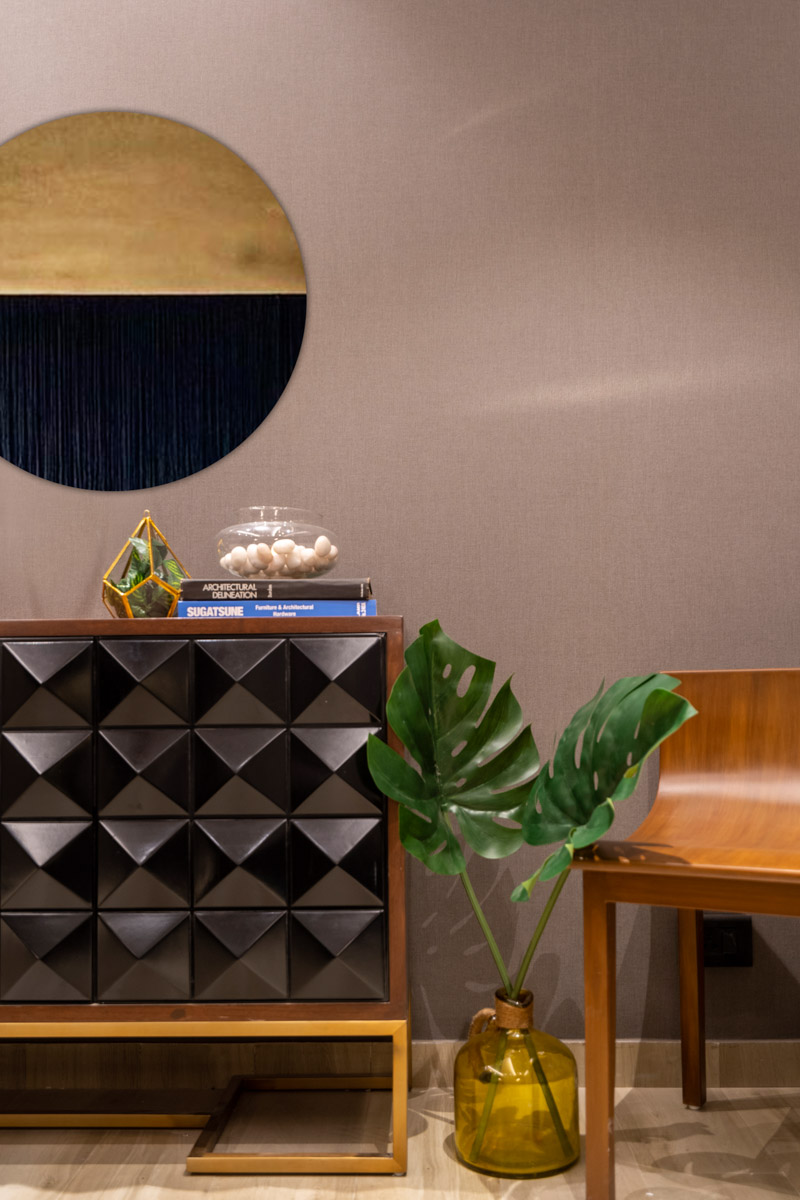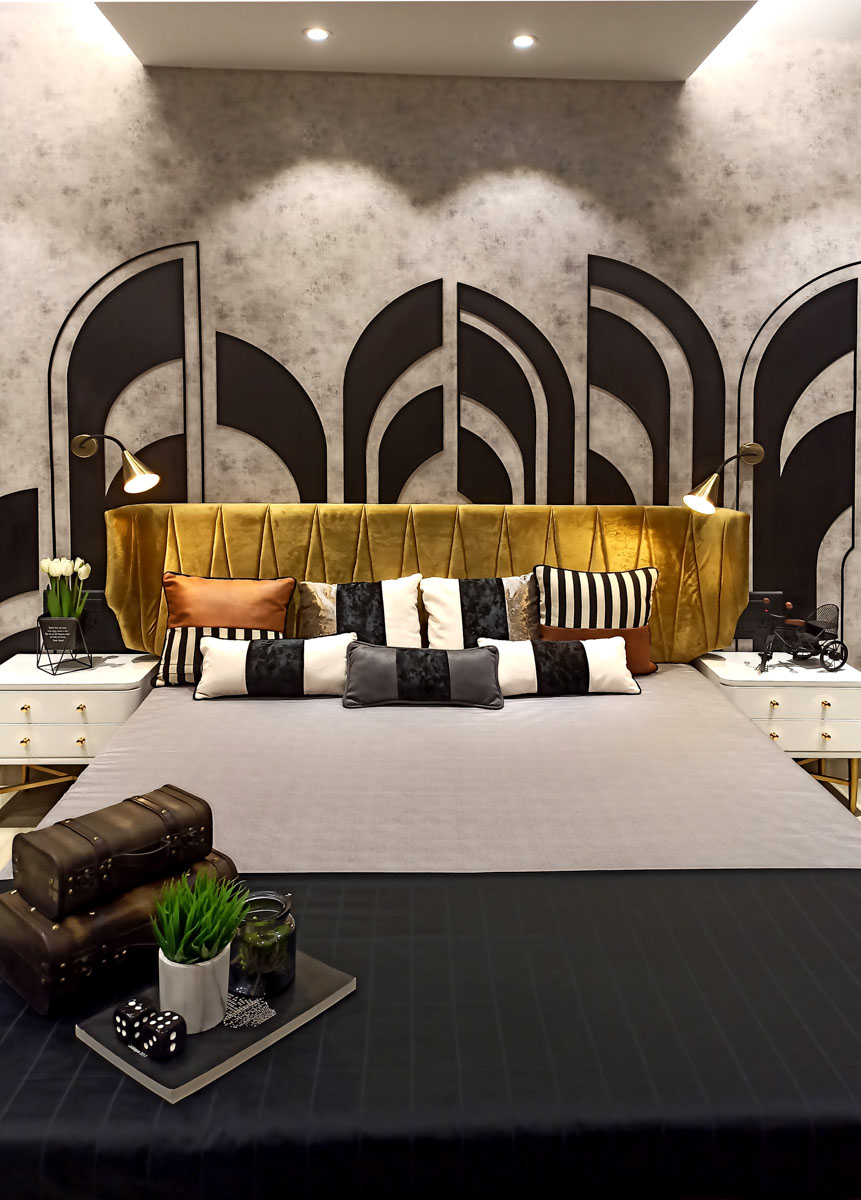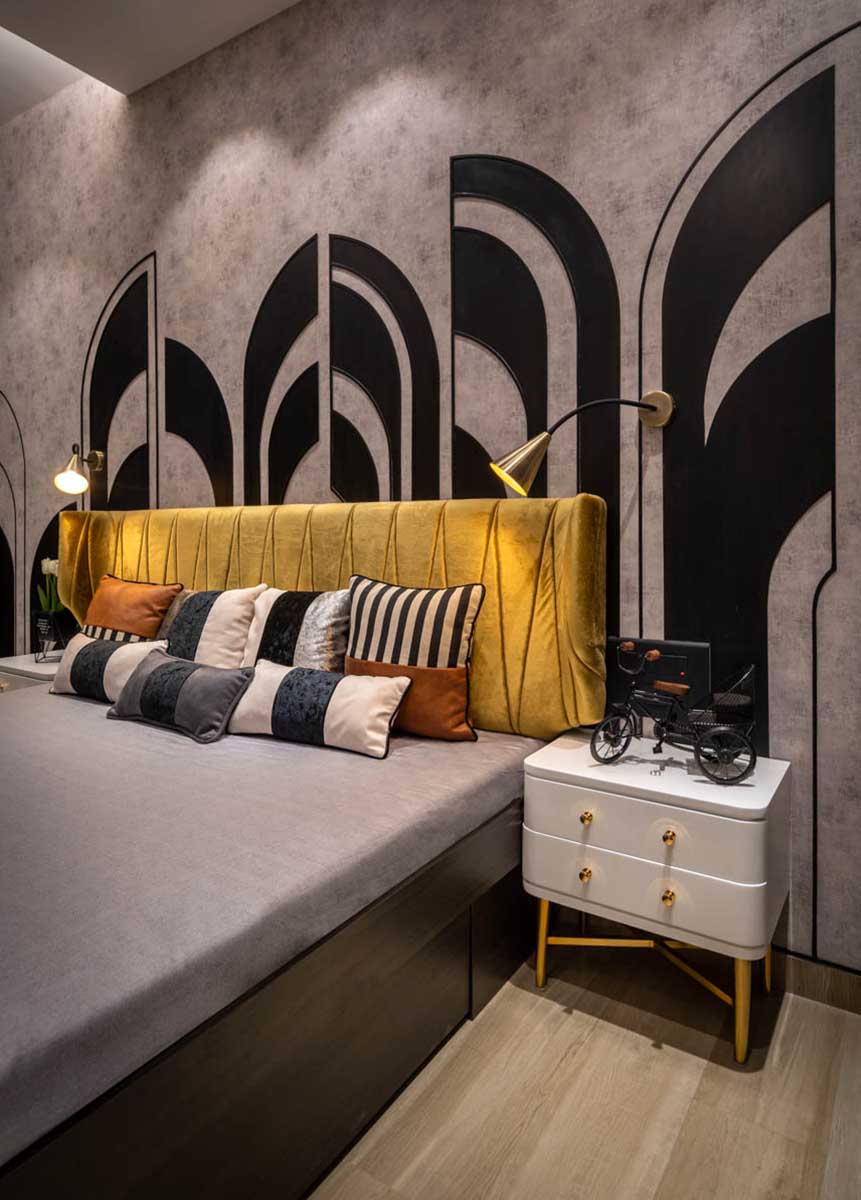 The entire apartment is encapsulated with the central design style yet talks for its individual existence. Outside the living room, a beautiful covered deck acts as a miniature backyard, complete with wooden ceiling and verdant plants. The built-in seating looks like a comfortable place to relax and watch as people go about their days on the streets below. The high standard and attention of details while integrating vast and a diverse range of material ensures and outcome highly appreciated and loved by our clients.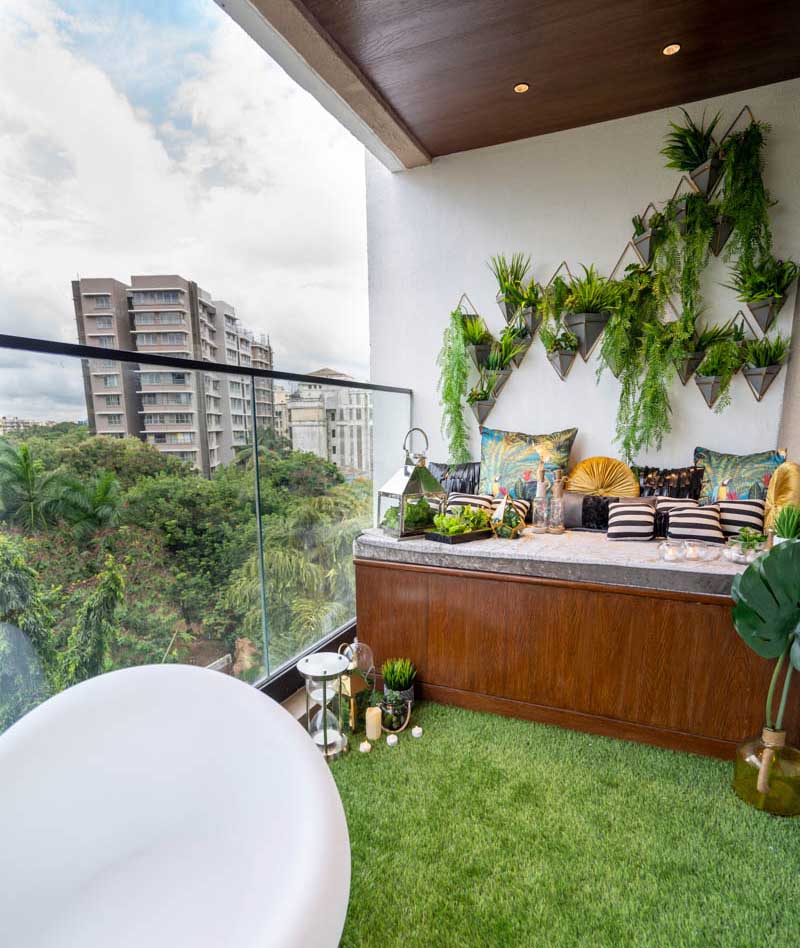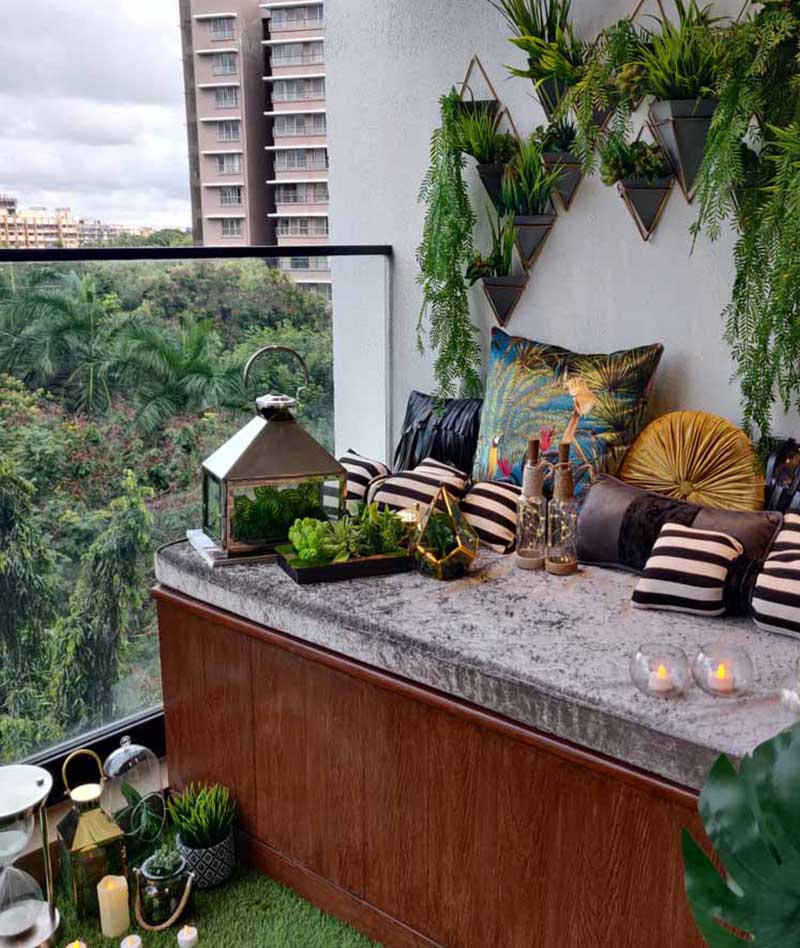 Photographer: Hitesh Shah.
PROJECT CREDITS
Interior Design: The Design Atelier.
Principal Architects: Tapan Shah, Hiral Shah
Check out the project feature below in our DE magazine Edition.