Step inside the posh apartment of a Vanilla Farmer in Bangalore with an expanse of white walls and colourful art.
Project Name : Home of Sudhanva and Kiran at Sobha Morzaria
Project Location : Bangalore, India
Architects/Designer : Stories Design Studio
Project Status : Built
Photographer: Damodharan M | Agency: Crosspollen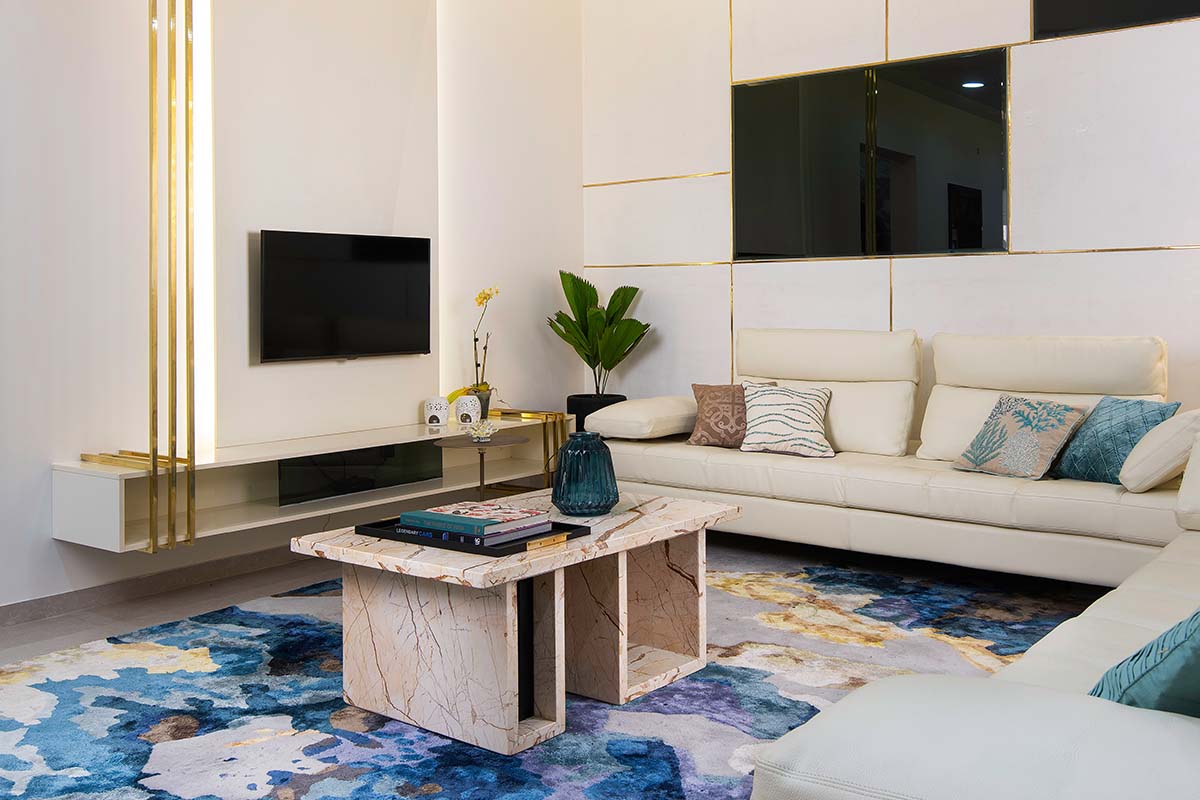 Text description by the designers.
A successful, third generation agriculturist, who proudly farms Vanilla, exotic flowers like anthurium and orchids. The couple wanted a home in the city and the brief was to create a warm, vibrant and luxurious space. We quickly came to the conclusion to apply our core design philosophy, to incorporate art, science and nature into the designing this special dream home.
The project took a good 6 months to complete. The living room colour palette was intentionally designed in shades of white, like a canvas on which dashes of colour were thrown in through various interior elements. The living room features a huge custom-made rug, which has 55 different hues of nature. The brass tv unit is unique, it has brass liners creating asymmetrical symmetry and balancing visual weight. It has leather finish on the panels that add a rich feel. The storage space is seamlessly designed to fit the overall structure of the tv unit.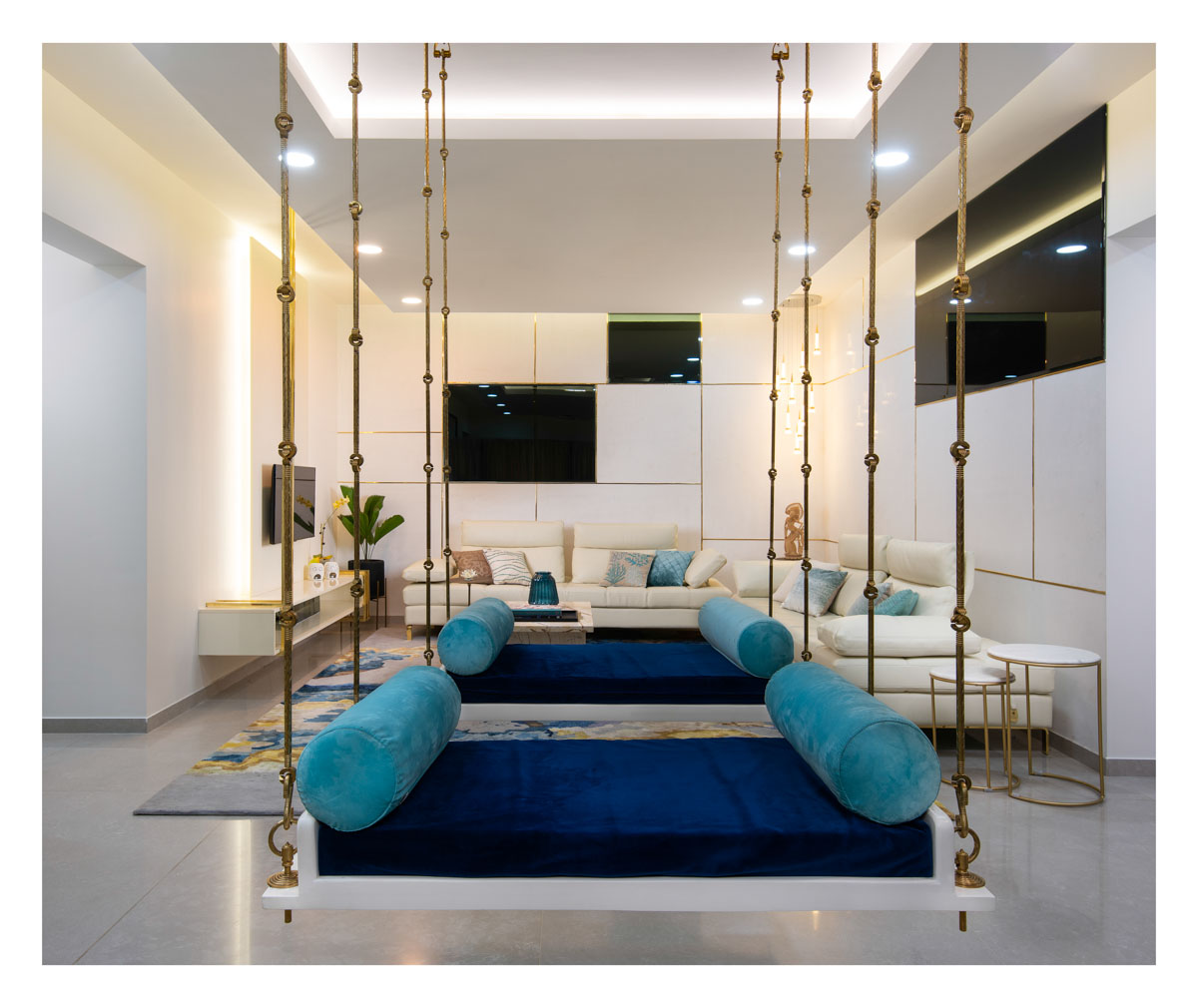 The interiors also highlight the couple's interests in dancing and travelling. We created a dance environment with a large mirror wall and an abstract carpet. A fun showcase of changeable images of their travel is placed in the living room, reminding them of travel memories.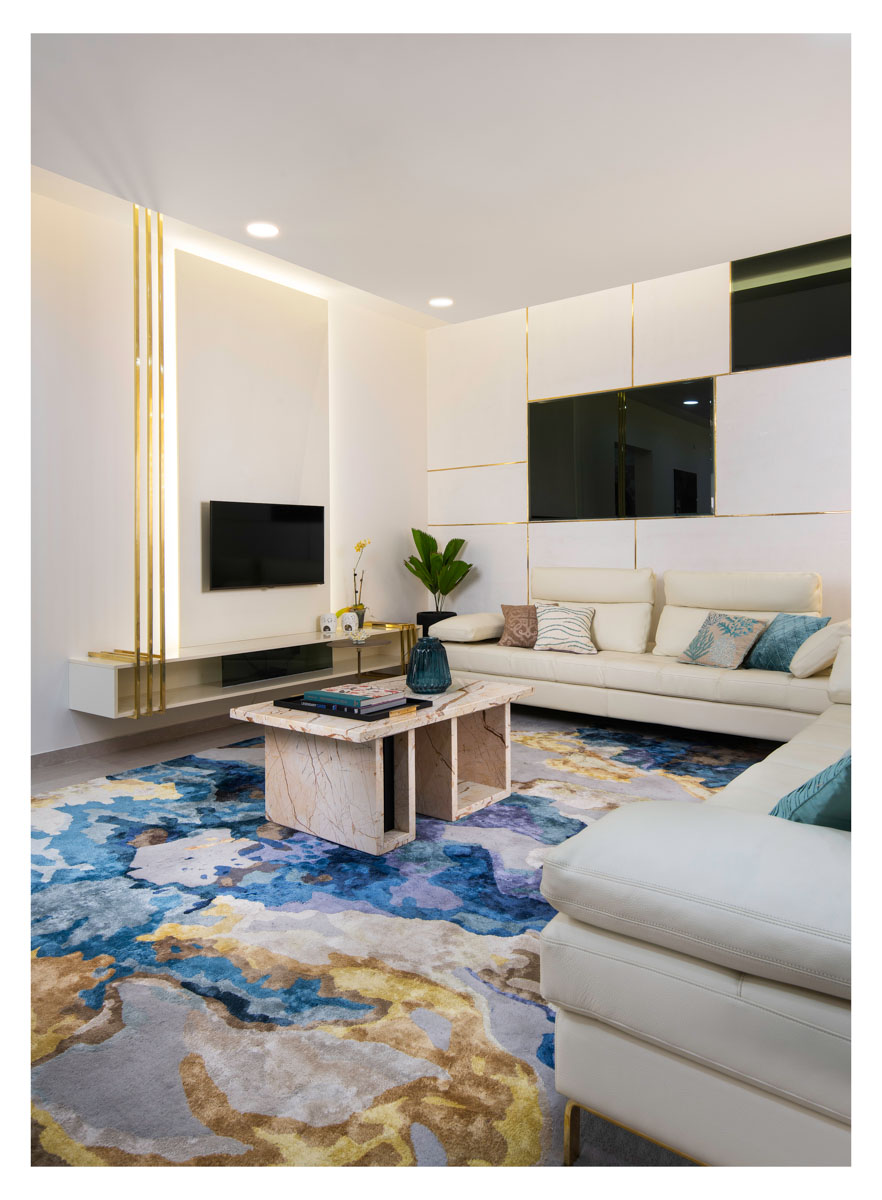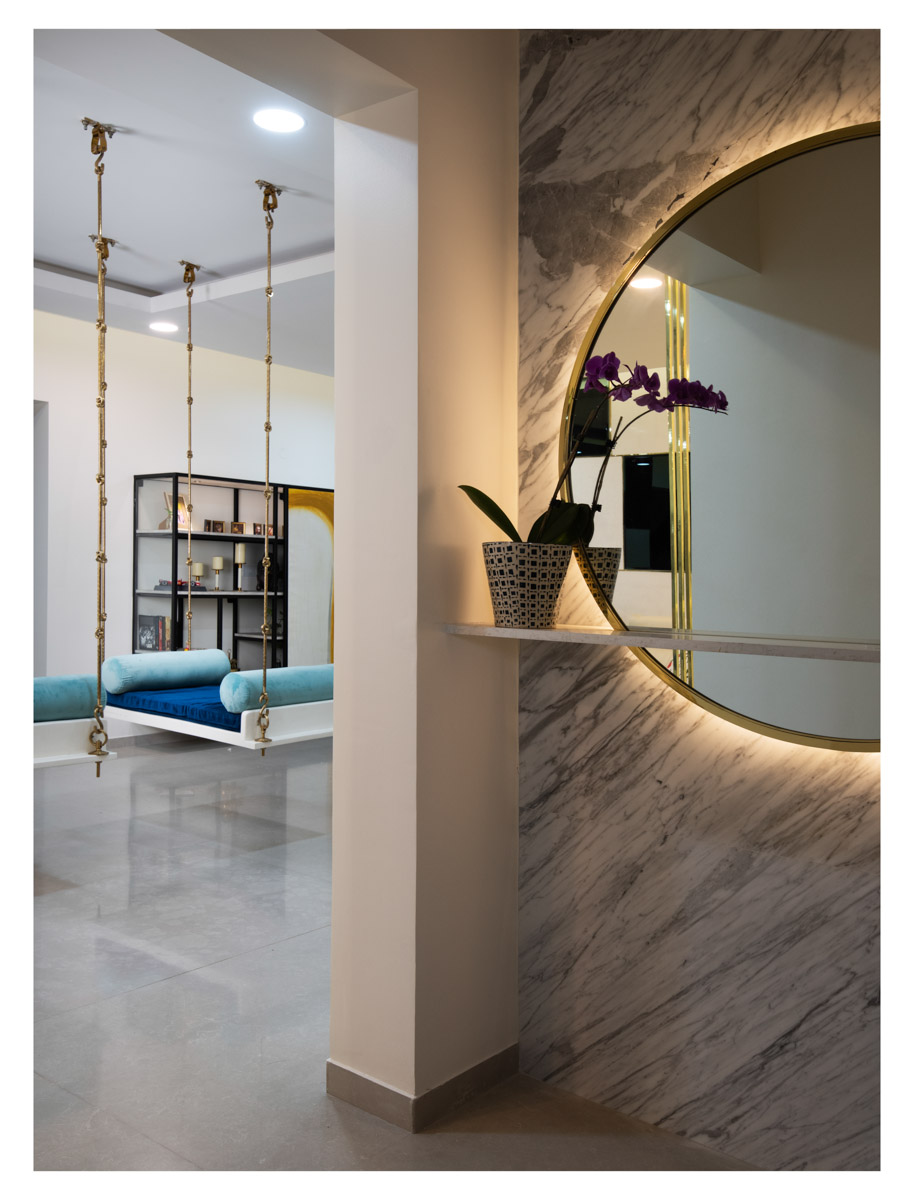 An exclusive statuario marble clad foyer is the first thing you see when you enter the house. The foyer leads you into a huge open living space that holds two swings, a formal entertainment area and a reading nook. The reading nook features a yellow leather chaise with an abstract shaped solid colour rug. This is quite a striking element in the otherwise neutral space and immediately draws the attention of the guests.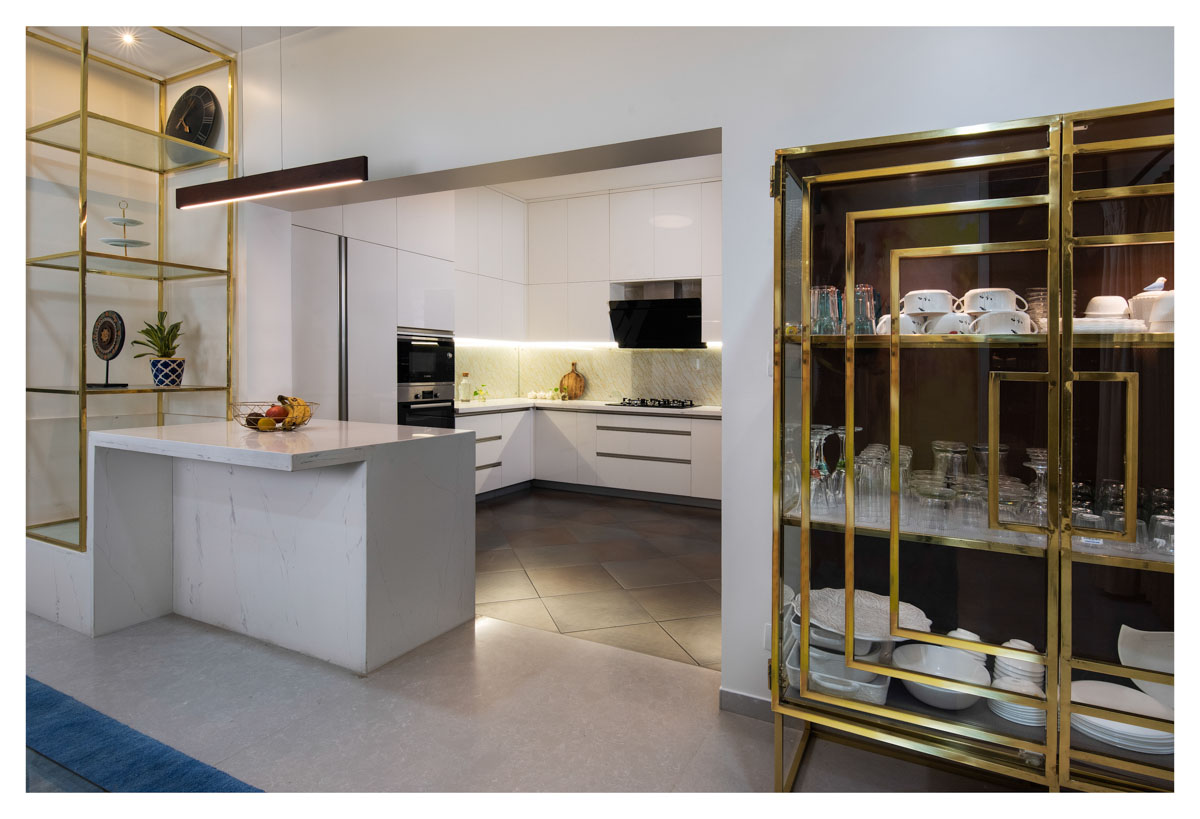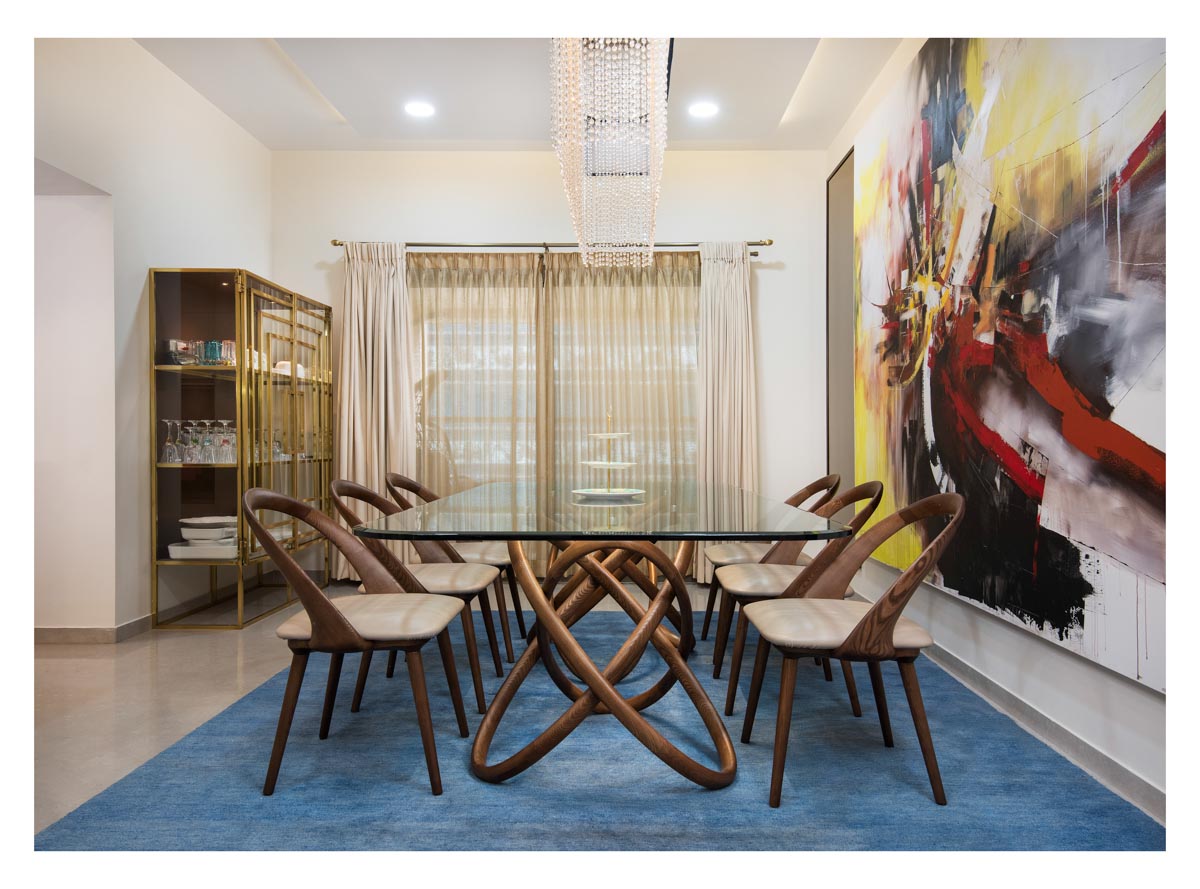 The apartment has a huge open kitchen with a formal dining space. The Kitchen is designed in a neutral tone. A white and gold backsplash adds a subtle glamour to the space and is complimented by the brass crockery unit. The dining room walls adorn huge paintings and the custom made from Benares. The contemporary dining table and chairs are made from striking solid wood legs and glass top that seats 8 people.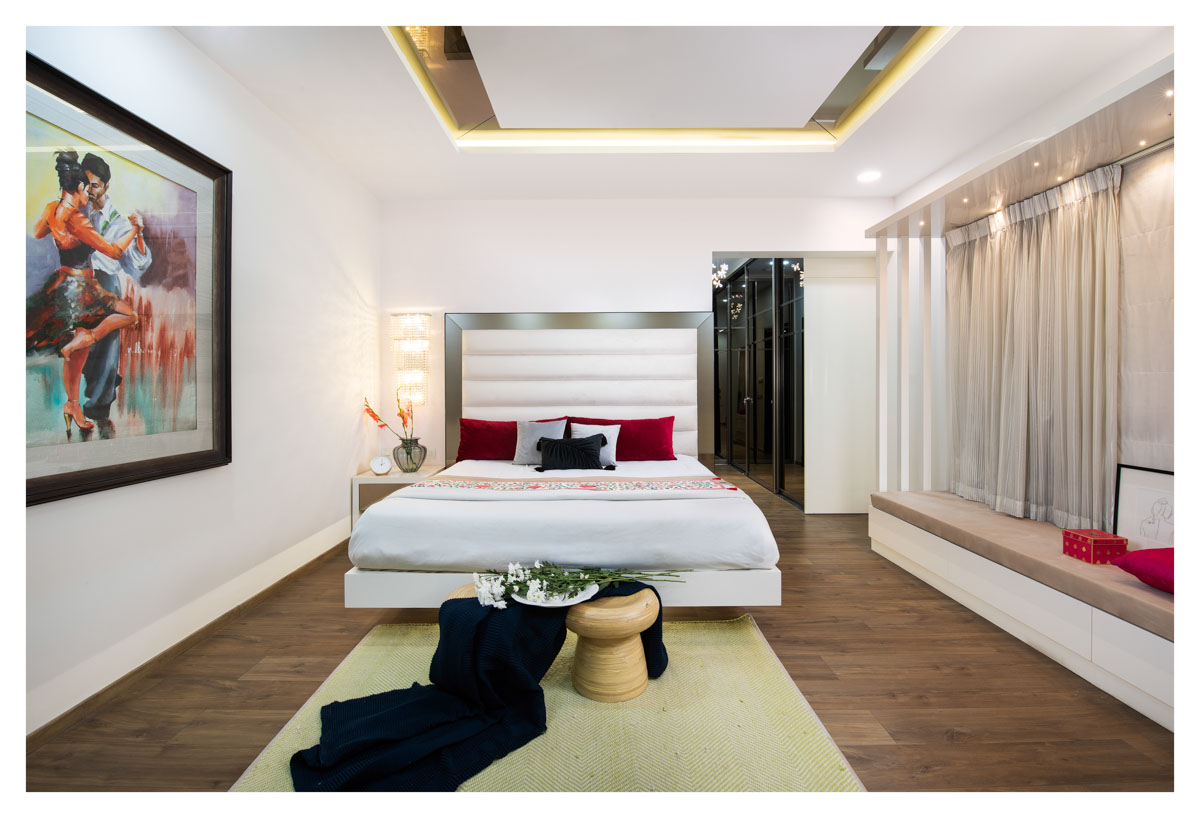 The 4-bedroom apartment is an expanse of white walls and colourful art hung all around. The master bedroom has a walk-in wardrobe with a long bay window and mirrored ceilings. The highlight of the house is undoubtedly the outdoor bar and garden area which overlooks the treetops of Bangalore. A huge quartz bar island forms the centre stage and is placed by a white bench on one side and a self- irrigating vertical garden to add to the beauty.
PROJECT CREDITS
Interior Design : Stories Design Studio, Bangalore
Principal Designer : Shailja Awasthi and Revathi Rao Gurram
Lighting : Purple Turtle
Furniture: Stanley
Design Team : Pushpendra Kashyap, Shubham Jain, Akshita Rana